#Business
SAP partners with ESRI to deliver Real-Time Spatial Data Analysis with SAP HANA
SAP is one of the well known brands across the globe for their enterprise software and business management solutions. What is the next BIG thing in the information technology domain? Certainly, its the location revolution 😉
SAP announced it's partnership with ESRI in the ESRI International 2013 Conference that is currently underway. Spatial data analysis has always been a powerful and informative one. Location Based Analytics, Visualization, Services and Solutions are the order of the day and SAP has invested its money where it ought to be!
SAP partners with ESRI mainly to integrate geospatial content with its Business Objects solution. A picture is worth a thousand words and an informative map is worth a million more!
GIS has been around for years now, the limitation in processing power of computers for visualizations of powerful maps and location based analytics has challenged the widespread use of such technologies but with all these limitations becoming a thing of the past. Geospatial technologies will play a very important role in Business Analytics in the coming years.
"SAP plans to provide real-time high-performance processing of spatial data with SAP HANA, a single platform for transactions, analytics and big data. By integrating with the Esri ArcGIS platform across SAP HANA, SAP BusinessObjects BI platform and SAP Mobile Platform, and by enriching SAP Business Suite applications with spatial content, we want to enable customers to combine the added dimension of location information with enterprise data, in real time. This will give businesses a new level of immediacy in their decision-making capabilities and will increase their competitive advantage."  Steve Lucas, executive vice president and general manager, Analytics, Database and Platform, SAP.
Source: ITBusinessEdge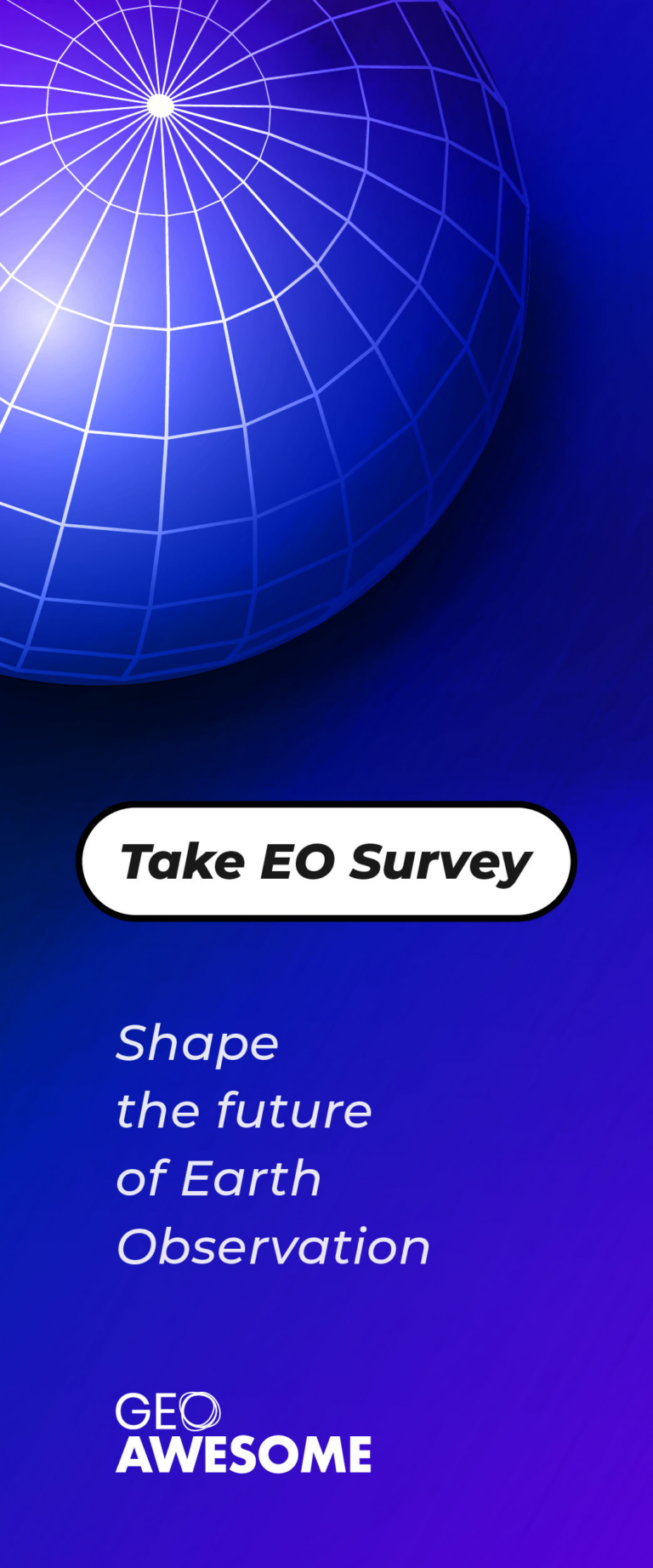 The community is supported by:

Next article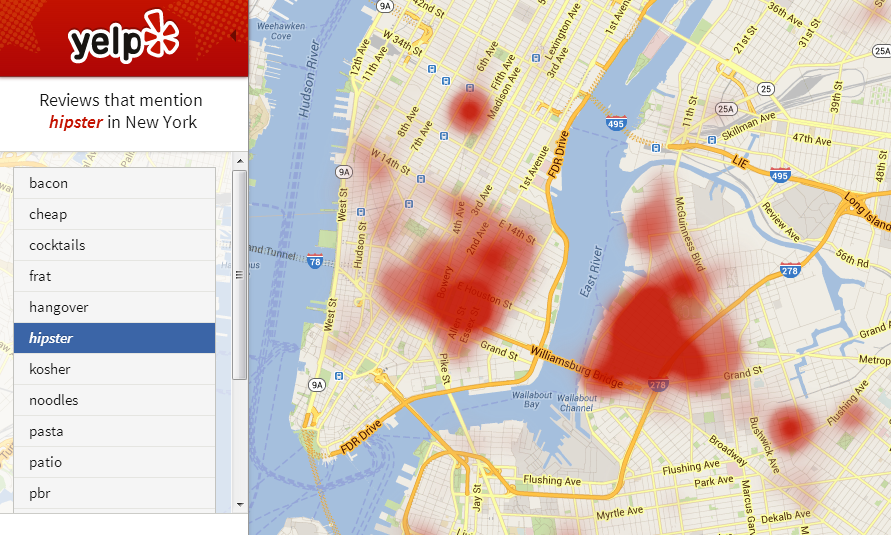 #Ideas
Yelp Mapping Hipsters In New York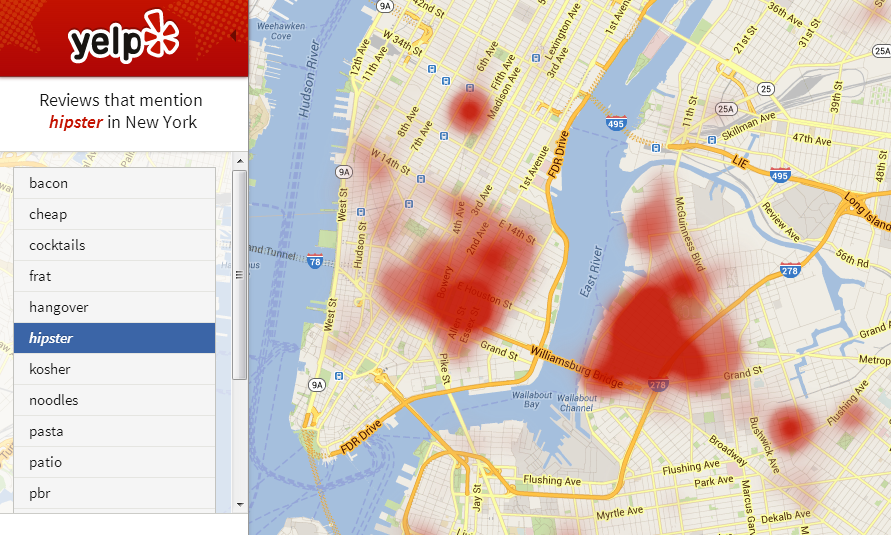 Yelp is making a use of its huge big data gathered over years and has released a new service where you can visualize heat-maps of occurrence of particular phrase in Yelp's reviews. Pretty cool! This particular map shows that most hipster areas in NY are Williamsburg, Brooklyn and the East Village you can map several other keywords from bacon to yuppie. We can read on official Yelp's blog:
With over 39 million reviews contributed to the site, Yelp plays host to a wealth of information on local businesses around the world. People come to Yelp to read and write reviews, look at photos and find business information, but that data houses even more local knowledge than we can see on the surface. Enter the Yelp Wordmap: a heat map showing density of keywords used in Yelp reviews to reveal fascinating patterns of local discovery.
So now let's look at the most 'hangover areas' in Chicago… I love this tool. It's a pity that it's not open for every city and every keyword.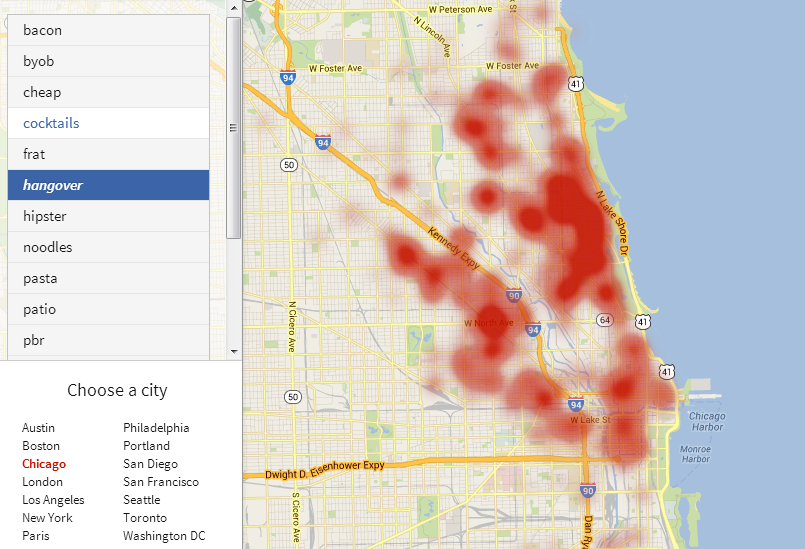 Read on