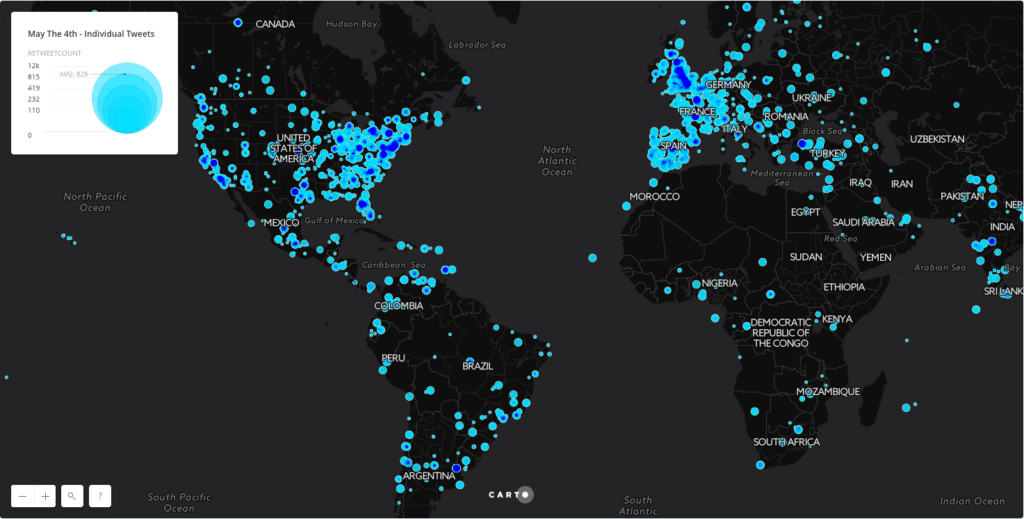 #Ideas
Revenge of the Nerds from L.A. to London
Sometime in the last ten years nerd culture became pop culture. Parks and Recreation's Donna Meagle is perhaps the perfect social barometer who went from mocking Game of Thrones viewers in October 2011 to shaming those who don't watch the show in April 2013. Today Game of Thrones has been the most pirated TV show for five years straight, Comicon International fills San Diego with a frenzy of over 160 thousand fanatics annually, and Klingon is coming to Duolingo this August (sorry Elvish). What a time to be alive!
But one franchise is so iconic that it is celebrated by adult and child humans across planet earth every year on May the 4th: Star Wars. This year's fanfare was particularly special because it marks the 40th anniversary of the debut movie Star Wars: Episode IV – A New Hope, the middle of a new franchise, and a year after the legendary Carrie Fisher passed away. This all means that the army of geeks were out in full force and, per usual, I wanted to see where they were tweeting.
Star Wars Day began in Toronto, Canada in 2011, but the phrase "May the fourth" was first used nearly forty years ago when Margaret Thatcher assumed office in the U.K. on May 4th, 1979. Given the origin on the holiday, slogan, and film trilogies, it is fitting that the largest group tweeting about the celebration out of a sample of seven-and-a-half thousand tweets indicated their home bases were located in the United States (149), London, UK (146), California, USA (65), and Canada (58). Yet, since the seventies, the force has spread across the globe from Southeast Asia to South America, with the greatest number of tweets coming from Marudi, Malasia (24), Israel (8), Palora, Ecuador (7), and Bogotá, Columbia (5).
Just like the Jedi masters, the Sith lords have chosen their lairs primarily in the U.S. and Canada and #revengeOfTheFifth was most tweeted by users out of a subset of three-and-a-half thousand tweets who said they are stationed in the United States (197), Chicago (63), Los Angeles (41), and California (39). Yet, it seems even Darth Maul's double-edged light saber was not enough to gain the same level of worldwide support for the dark side and tweets primarily came from Anaheim (6), Los Angeles (6), Toronto (5), and Manhattan (5). Perhaps they're playing the long game or maybe Yoda was mistaken about the challenges of being green.
#StarWarsTaughtMe and #StarWarsDatingTips meme mania on May 4th, 2017
Star Wars might have began a long time ago in a galaxy far far away, but it stays alive in the hearts of nerds, jocks, and bros alike on planet earth today through meme culture. This year, the franchise remained relevant through #starWarsTaughtMe and #starWarsDatingTips, which were even more popular than the #mayTheFourth and #revengeOfTheFifth hashtags and dominated the American twittershpere on May 4th, according to Trends24.
Unsurprisingly, the meme masterminds are made in the convention centers of Las Vegas, academic training facilities of Boston, and cultural and technological launchpads of Hollywood and Silicon Valley with a segment of six thousand tweeters self-identifying as coming from the United States (581), Las Vegas, USA (221), Massachusetts, USA (138), and California, USA (83). The tweets themselves came from DC (32), Alabama (21), Ardmore (12), and Los Angeles (12).
C-3PO may be fluent in over six million languages, yet Star Wars fanatics overwhelmingly prefer to communicate in English online. This could be because most are located in English speaking countries or since the franchise was originally released in English. Yet it would also support findings from a Digital Trends article that identified English as the most prevalent language in the digital space. For now. It also notes that all written speech is rapidly giving way to GIFs, emojis, and other forms of more visual digital communication; further proof that we will all soon be droids.
While only meme culture was viral enough to captivate Twitter on May the 4th, and mostly in the United States, the 40th anniversary of Star Wars Episode IV: A New Hope gave Twitter a new wave of ewok extremism worldwide, something even the Sith Lords can celebrate. Yet, mapping a subgroup of ten thousand tweets reveals most fans still mark their abode as somewhere in George Lucas' homeland: United States (235), Los Angeles, USA (254), California, USA (109), and New York, NY, USA (104). This time, however, the top tweet locations included Boston (11), Los Angeles (7), Rimac (San Borja, Lima, Peru) (4), Everett, WA, USA (2).
Ultimately, it seems that American students and studios in Boston, Los Angeles, and the entire state of California are most invested in the fates of the jedi, wookies, and dianoga, with other enthusiasts sprinkled more sparsely around the globe. Perhaps this particular sci-fi brand is past its prime. Or maybe it's just so quintessentially American at its core. After all, is there anyone more like the wild western rogue space cowboy than Han Solo? We will soon find out when Game of Thrones returns for its final season in July. Is your midichlorian count off the charts?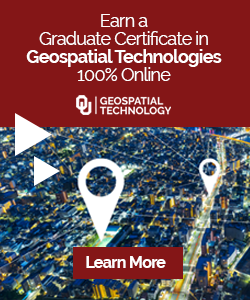 The community is supported by:

Next article
#Business
Facebook's disaster maps will help relief agencies track victims faster
Almost a fourth of the world's population uses Facebook. A vast majority allows the social networking platform to see where they are by giving its mobile app access to their location. And when disaster (natural or manmade) strikes, people often turn to the site to check on the people they care about – its Safety Check feature is being actively used since 2014.
Naturally, Facebook sits on a trove of data. It knows where the people who are out of the harm's way are centered. It knows where people affected by disasters are located. It knows where these people are headed.
So now, the company has announced a new initiative under which it would aid disaster-relief organizations, including UNICEF, the International Federation of the Red Cross and Red Crescent Societies, and the World Food Programme, by giving them the location data of users in the affected areas.
"Facebook can help response organizations paint a more complete picture of where affected people are located so they can determine where resources — like food, water and medical supplies — are needed and where people are out of harm's way," Facebook's Public Policy Research Manager Molly Jackman explained.
All such data would be aggregated and no individual users would be identifiable. Facebook will share the data in the form of three types of maps:
Location density maps: These would be rough but recent anonymized information of where people are located before, during and after a disaster. When connectivity goes down, which happens often during disasters, these maps can be compared with historic satellite imagery to find out the location of those who are most affected.
Movement maps: These would track the pattern of movement of people in the affected neighborhoods for several hours after a disaster strikes. This information is especially useful in letting disaster relief agencies know where aid and resources would be required the most. It would also help in understanding which roads or locations would be the most congested and should be avoided to speed up rescue efforts.
Safety Check maps: These maps will show areas where more or less people are declaring themselves as safe and where help may be needed the most.
Disaster relief agencies frequently struggle to collect real-time information from affected sites, often relying on labor- and cost-intensive methods like helicopter surveys or ground teams. Facebook's data-sharing initiative can make this whole process much more efficient and streamlined.
Red Cross said in a statement, "Using anonymized Facebook data, Red Cross hopes to see where families sheltered the storm and when/if they are returning to devastated areas. This data—combined with other datasets—might be able to help the Red Cross better target relief supplies to the families and communities most in need during the critical days after large-scale disasters."
Now read: Facebook created the most detailed Population Density Map to bring the rest of the world online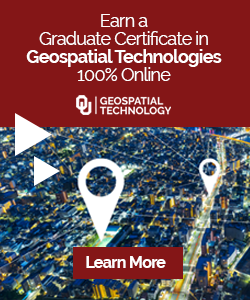 Read on