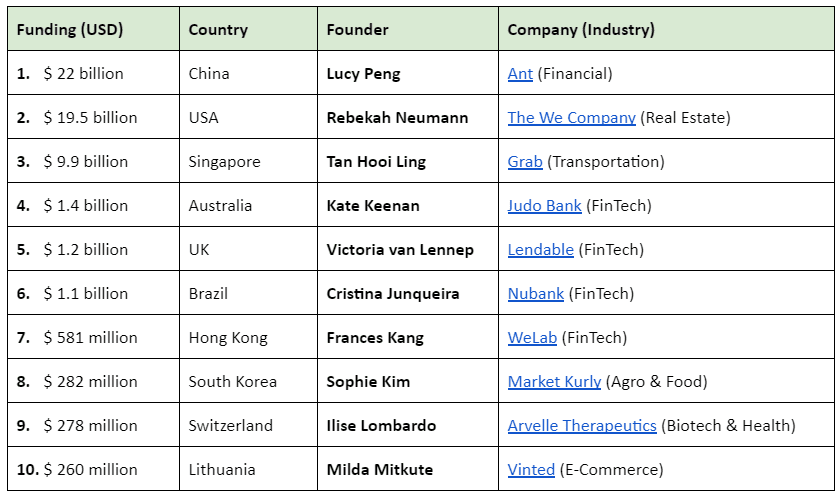 #Business #Featured #Ideas
Mapped: Most valuable female-founded companies across 102 countries
It's no secret that female startup founders face negative attitudes during investment pitches. Men constitute the bulk of early-stage investors (90%), and research shows that investors question women entrepreneurs more about the risk and losses associated with their ventures. This, when men are queried about their ambitions and achievements.
Interestingly, prejudiced investors are losing out of because of their bias. Data and evidence prove that female founders deliver higher profits; run more socially responsible businesses; and are driven by ideas more than money, which makes better business sense for long-term success.
But who are these high-achieving women entrepreneurs are and what they do?
An analysis of Crunchbase data by BusinessFinancing has found that these the top 10 female founders in the world who have received the largest funding hauls from investors: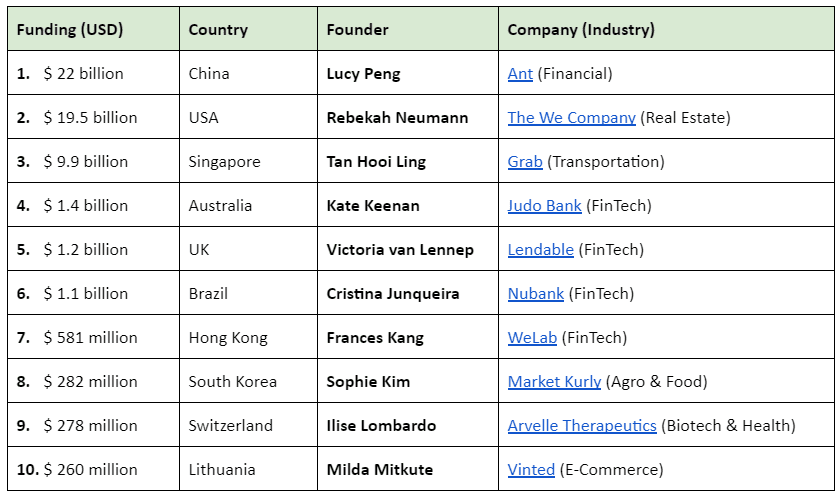 And here are the top female founders across 102 countries: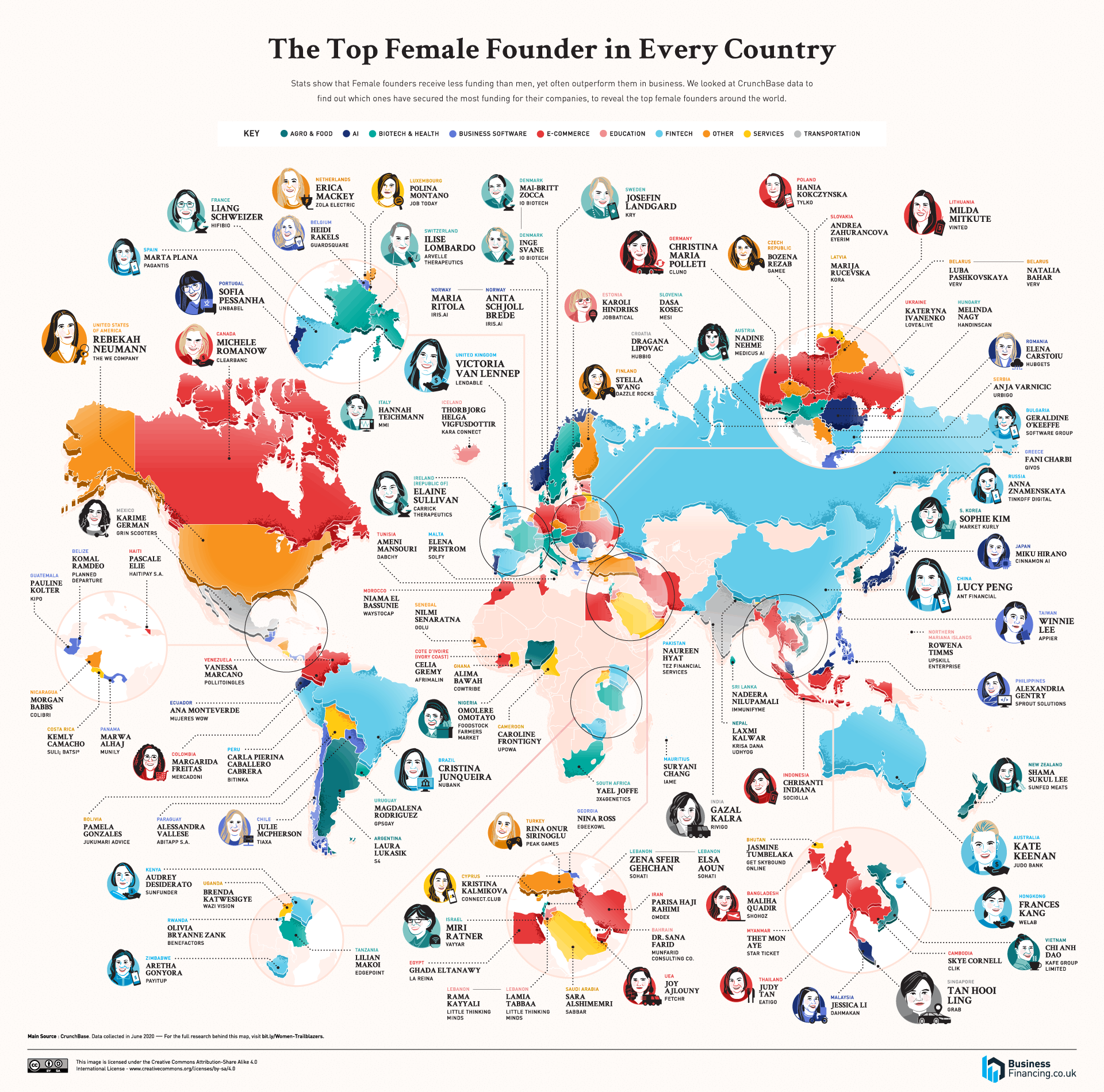 Let's dig in deeper.
Europe
In Europe, Victoria van Lennep has raised over $1 billion for her company Lendable that uses machine learning tech to automate credit decisions, offering customers fairer loan rates. Other popular startup sectors in Europe are biotech and gaming.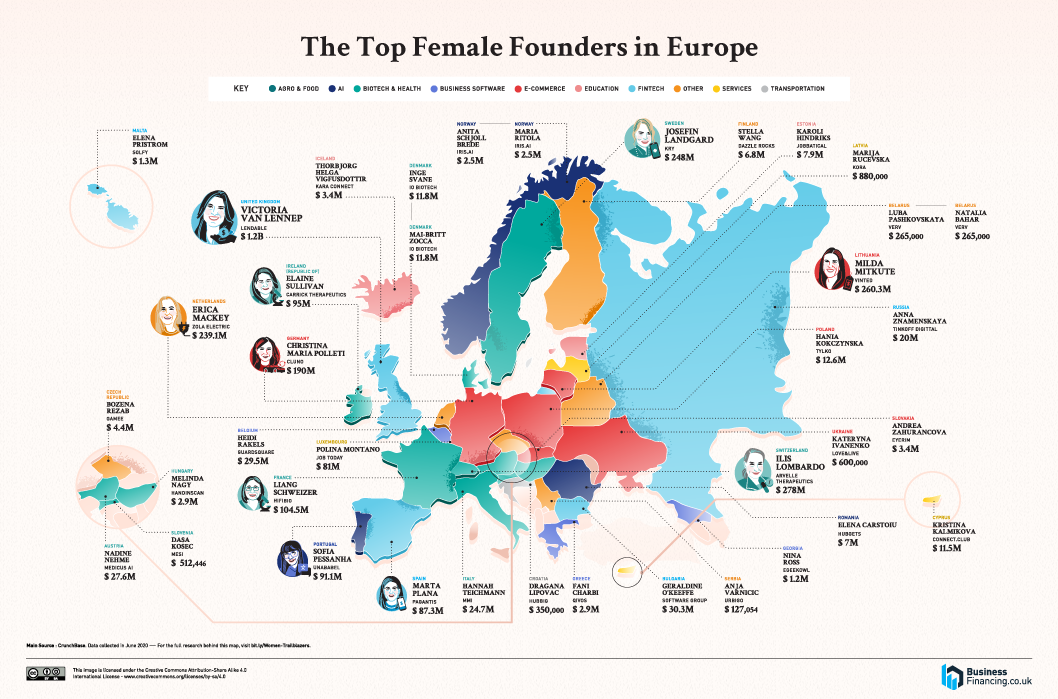 North America
Rebekah Neumann raised nearly $20 billion for The We Company, the parent company of WeWork, before stepping down in 2019 amidst controversy. E-commerce and business software companies are popular among female founders in North America.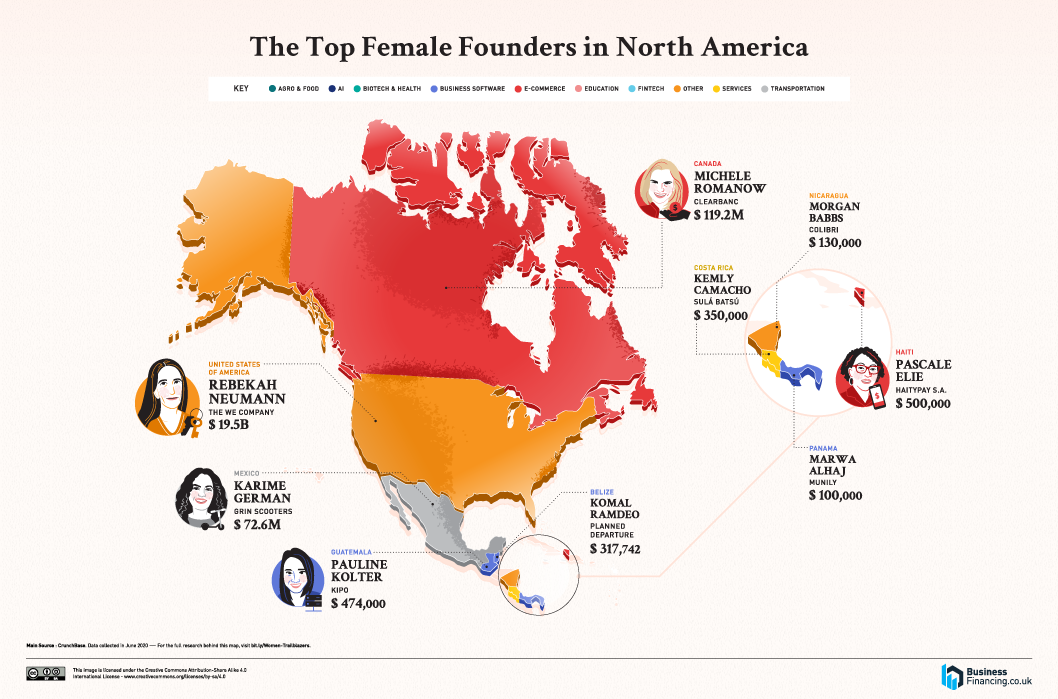 South America
Fact: Cristina Junqueira's water broke in the office during the initial months of her fintech startup Nubank. The female co-founder continued answering calls all the way to the hospital.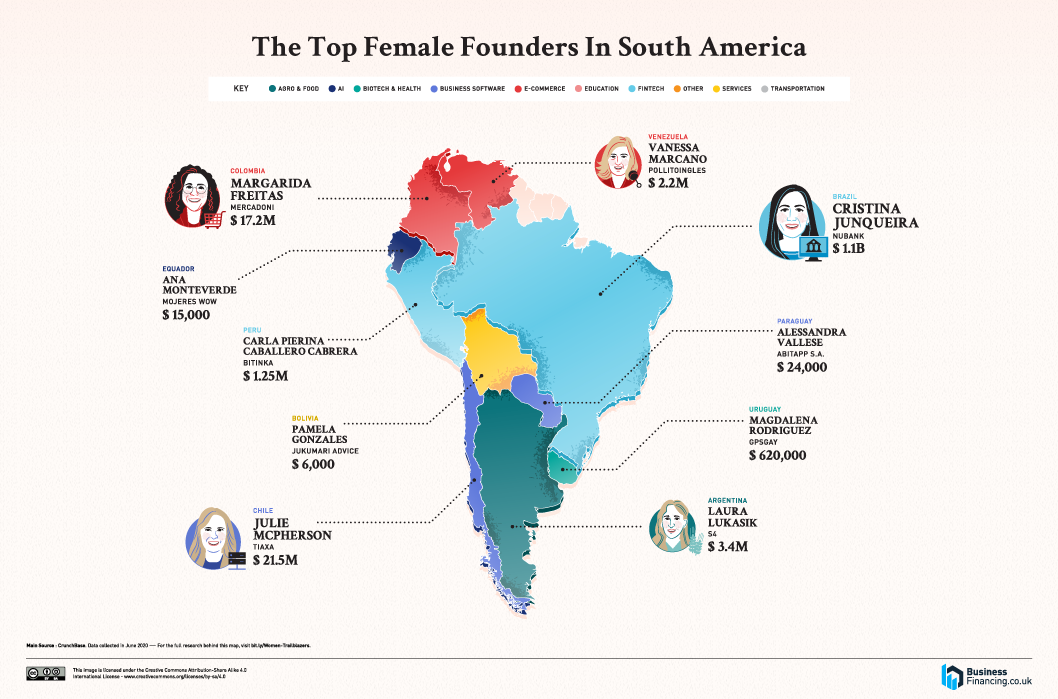 The Middle East & Central Asia
Here, Miri Ratner has raised $188m for Vayyar, an Israeli company that designed a '4D imaging' technology to detect breast cancer.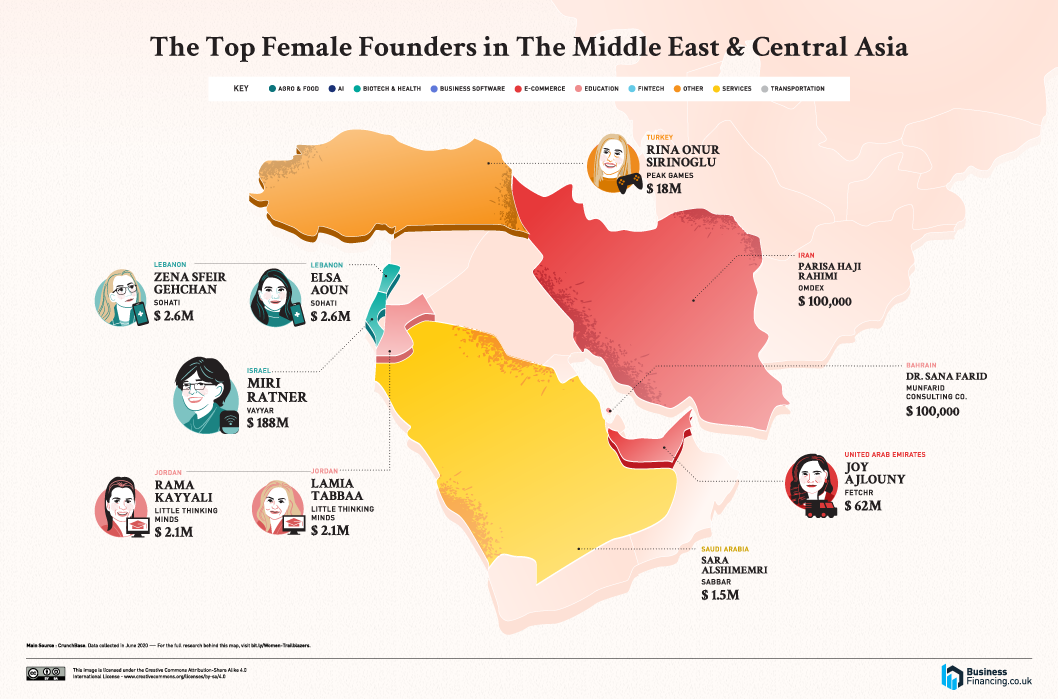 The Rest of Asia & Oceania
The world's top female founder, Lucy Peng, comes from here. As the sole founder of Ant Financial Services – Alibaba's online finance outfit – Peng has raised $22 billion to date.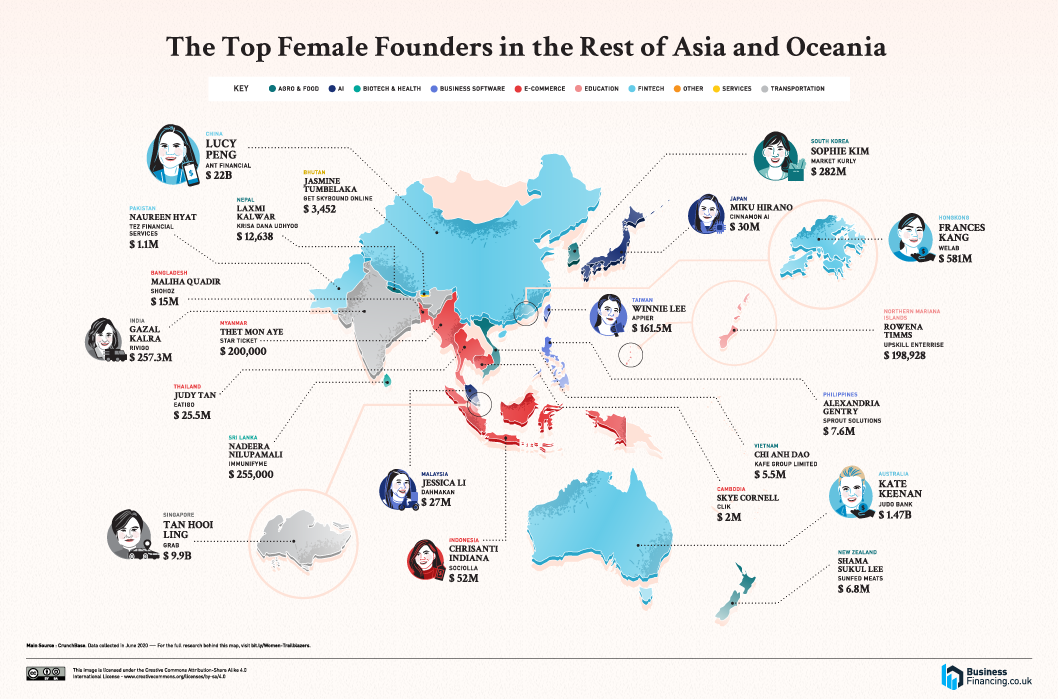 Africa
In Africa, Audrey Desiderato is the one to raise the most funding: $81.3 million. Her Kenyan company, SunFunder, funds solar energy companies in sub-Saharan Africa to provide power to areas without reliable electricity access.
The story of female startup founders may be of triumph over adversity, but it is just the beginning.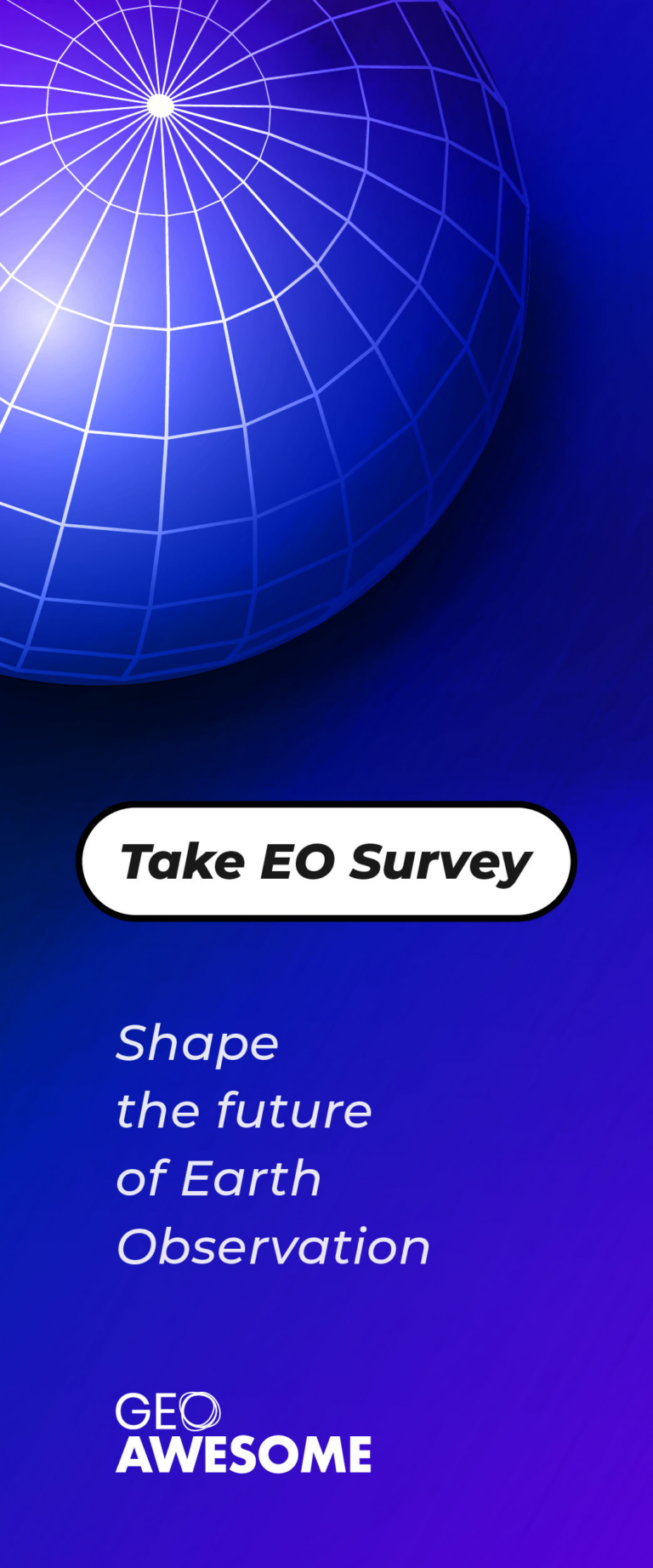 The community is supported by:

Next article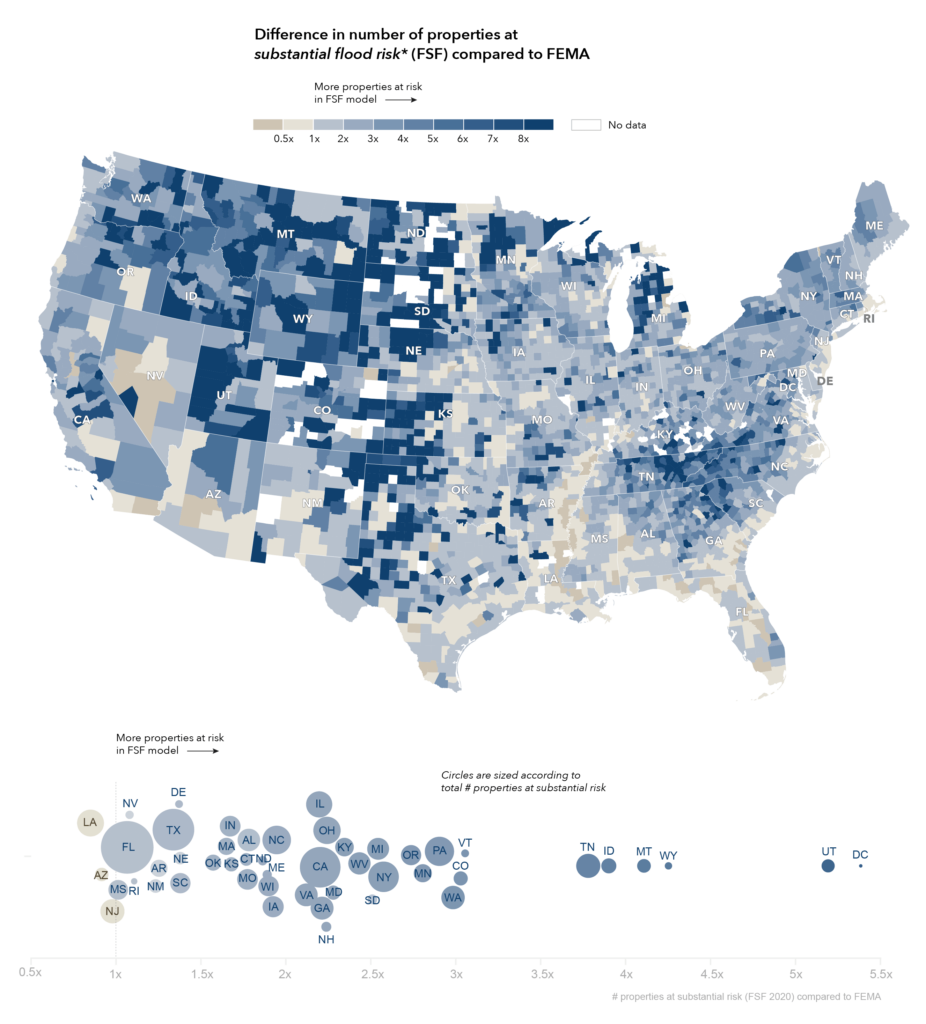 #Featured #Science
Map shows 5.9 million US property owners unaware of flood risk
If you are a US citizen, you may want to recheck your home's flood risk. A new national-level study has found that a total of 14.6 million properties across the United States are at risk of severe flooding. Of this, 5.9 million property owners are either not aware of or underestimating the risk they face because federal maps do not identify them as being within the Special Flood Hazard Areas (SFHA).
Non-profit research and technology group First Street Foundation has created a new high-precision, climate-adjusted flood model that assesses the risk of flooding at the individual property level – today and into the future – for all types of events, including fluvial (riverine), pluvial (rainfall), storm surge, and tidal sources. And now, the group has released flood risk data for over 142 million homes and properties across the US.
The findings, published in a new national report, say that around 1.7 times more properties are at substantial flood risk compared to the FEMA 1-in-100 SFHA designation.
Also see: Map shows locations where building foundations may crumble in the US
The greatest differences between the First Street Flood Model estimates and FEMA SFHA designation have been observed in the states of Washington D.C. (438%), Utah (419%), Wyoming (325%), Montana (311%), and Idaho (290%). This is chiefly because FEMA's mapping in some of these locations is not yet complete, while First Street is offering nationwide coverage.
Interestingly, in Arizona, New Jersey, and Louisiana the First Street model shows a lower count of properties currently with substantial flood risk in comparison to the FEMA SFHA. However, when future environmental changes such as sea-level rise that approaches or exceeds protective levee heights are factored in, additional properties fall into the high-risk categorization.
For example, after adjusting for climate change in Louisiana, the First Street methods uncover an additional 332,700 properties with substantial risk by the year 2050 – which means 248,800 more properties with substantial risk than FEMA defines currently. Similarly, in New Jersey, First Street estimates 8,100 fewer properties to be at substantial risk currently. But in the next three decades, 73,600 more properties will be at substantial flood risk than current FEMA flood maps.
If you also want to check your home's flood risk according to the new model, you can do so here.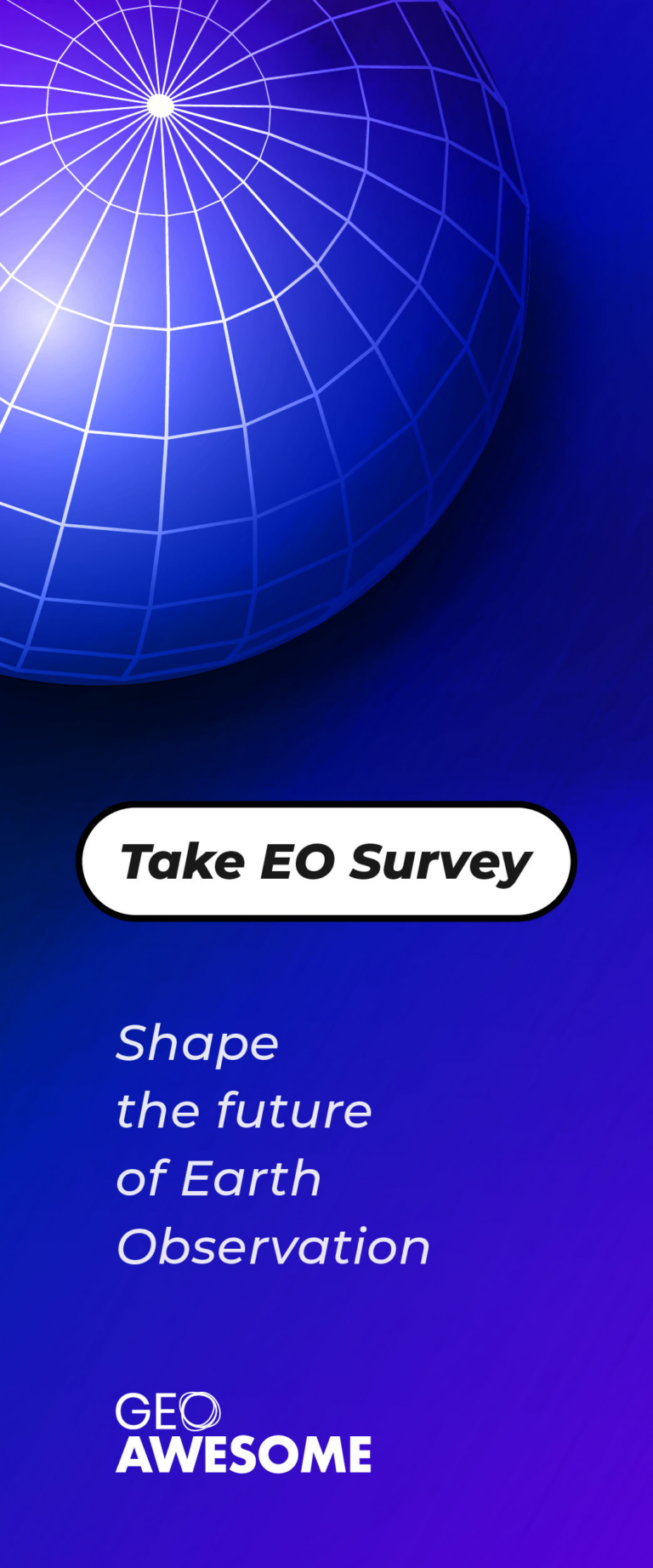 Read on