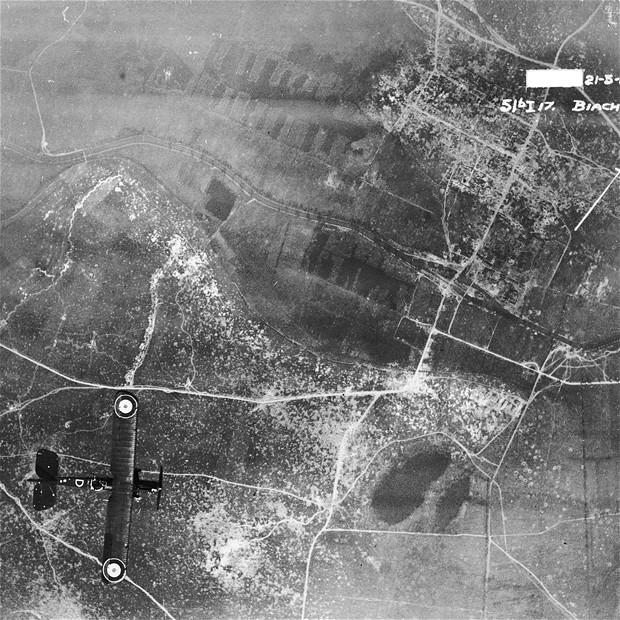 #Business
How drones are being used in and beyond the geospatial industry
It was not that recent in history that UAV's (unmanned aerial vehicles, or drones) were built and used for surveying and mapping. Back in 1915, the British military used aerial
photography to plan their battle tactics in the Battle of Neuve Chapelle. They captured over
1500 sky view maps of the German trench fortifications in the region.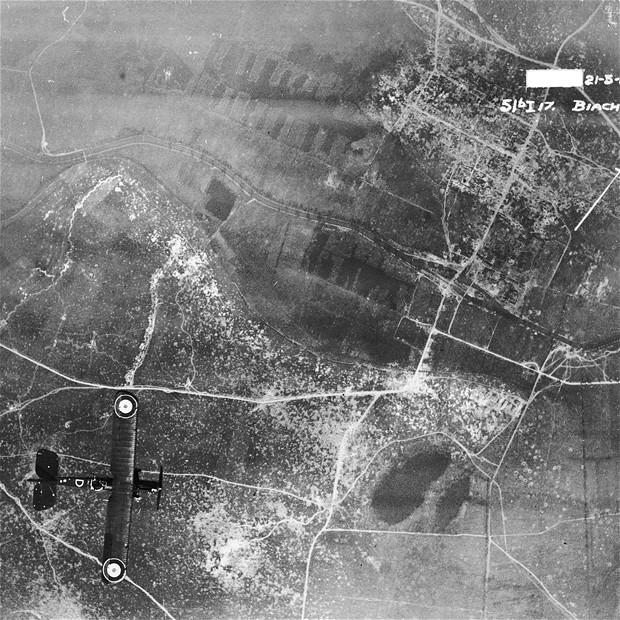 This had been one of the first times that it was possible to get a bird's eye view of an
area that they could not physically go to. There were benefits for the soldiers as well; should the aerial survey have failed or if the UAV was damaged in combat, nobody would have been hurt. Finally, they were able to use the insights from the aerial photos for their tactical advantage.
So even though there are rules to abide by and a fair amount of research required before flying a drone nowadays, they are being increasingly accepted and adopted by different types of industry for different uses. It's clear that drones are here to stay.
Not only do they have the ability to quickly go to many difficult to reach places, they now have the possibility of carrying cameras and sensors which when geolocated, and can provide valuable data insights to our environment. This blog will cover how drones are being used in and beyond the geospatial industry.
Drones for Transport
In general, drones can either be used for transport or surveying. The most well-known case of using drones for transport is Amazon Prime Air, where they promise to get packages to customers in 30 minutes or less.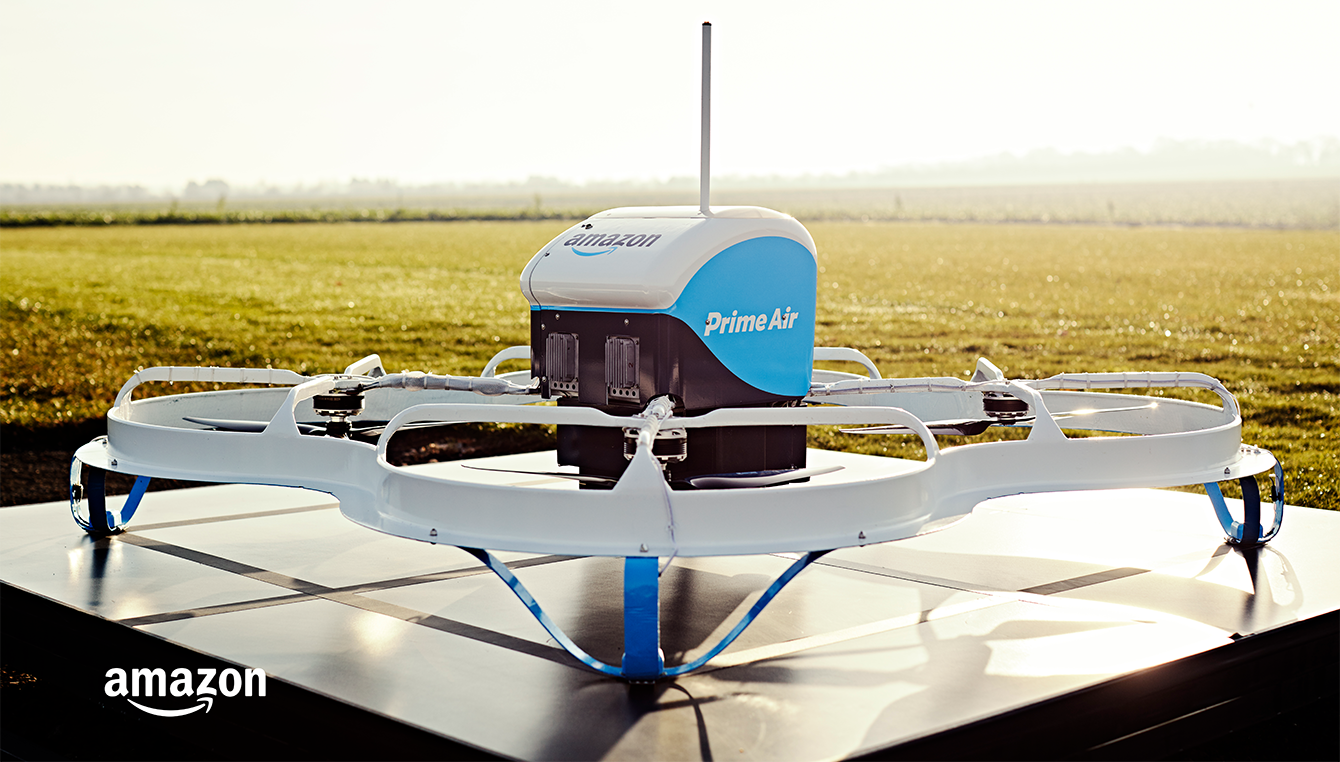 We have seen that drones can be compatible to a system like What3Words to deliver packages. Finally, drones can also be used for racing, and if you want to find out more, go to the Drone Racing League.
Drones for Surveying
As mentioned before, drones can carry cameras and a multitude of sensors. Outside of the geospatial industry, they are rising in popularity for filmmakers, as it seems like no video or vlog is complete without an aerial video nowadays. For an exhaustive list of sensors that could be a drone, check out our breakdown of
drone remote sensing sensors.
The rest of the blog will look at different use cases of drones.
Disaster Management
After a disaster hits, it is pertinent for relief workers to get an understanding of the changes in the environment before they take action. In the case of satellite imagery, a lot of valuable time could be wasted waiting for suitable images to come. With a drone, their operators can easily survey areas where human access would be dangerous (eg. a flood) and obtain the data and images that are needed. Not surprisingly, drones are already estimated to have saved one life per week.
Unfortunately, for anyone to pull out a drone to perform a survey may not be as straightforward. In some cases, drone pilots were restricted from flying in the areas without special authorization. The reasons were not out of line, as they simply wanted rescuers and first responders to have much free airspace as possible without drones getting in the way. This shows how drones are still not a top priority for disaster relief, but perhaps it will slowly get there.
Yet, the benefits of having drones assist in disaster management are clear. The question is by who and how.
Precision Agriculture
Agritech is a growing industry and every day more farmers from all around the world are taking advantage of what drones can offer to precision agriculture. Unlike uniform agriculture where all areas on the field are treated the same, prevision agriculture takes data from remote sensing to make more informed decisions to maximize crop yield.
One way to determine plant health is to use multispectral sensors and normalised difference vegetation index (NDVI) maps. These can show precisely where crops need more attention. Essentially, NDVI looks at the light reflected off plant matter to determine plant health. In our NextGeo series, you can read more about how a company has helped farmers move from analog to digital farming with drones and remote sensing.
On the transport side of drone capabilities, drones can also carry tanks of fertilizers and spray crops with less energy and more prevision than a tractor.
Asset Management
The use of unmanned and some completely automated drones for inspection has greatly benefited the asset management sector. Similar to the disaster management use cases, personnel can perform inspections from a safe distance. Additionally, traditional asset inspection required extensive logistics to transport equipment like scaffolding and other expensive equipment.
The benefit of regular inspection of assets allows for a more proactive approach to maintaining equipment and infrastructure, thus saving money on repairs and replacements on the long-run. Below are two examples of how drones can assist with asset management in the green energy sector.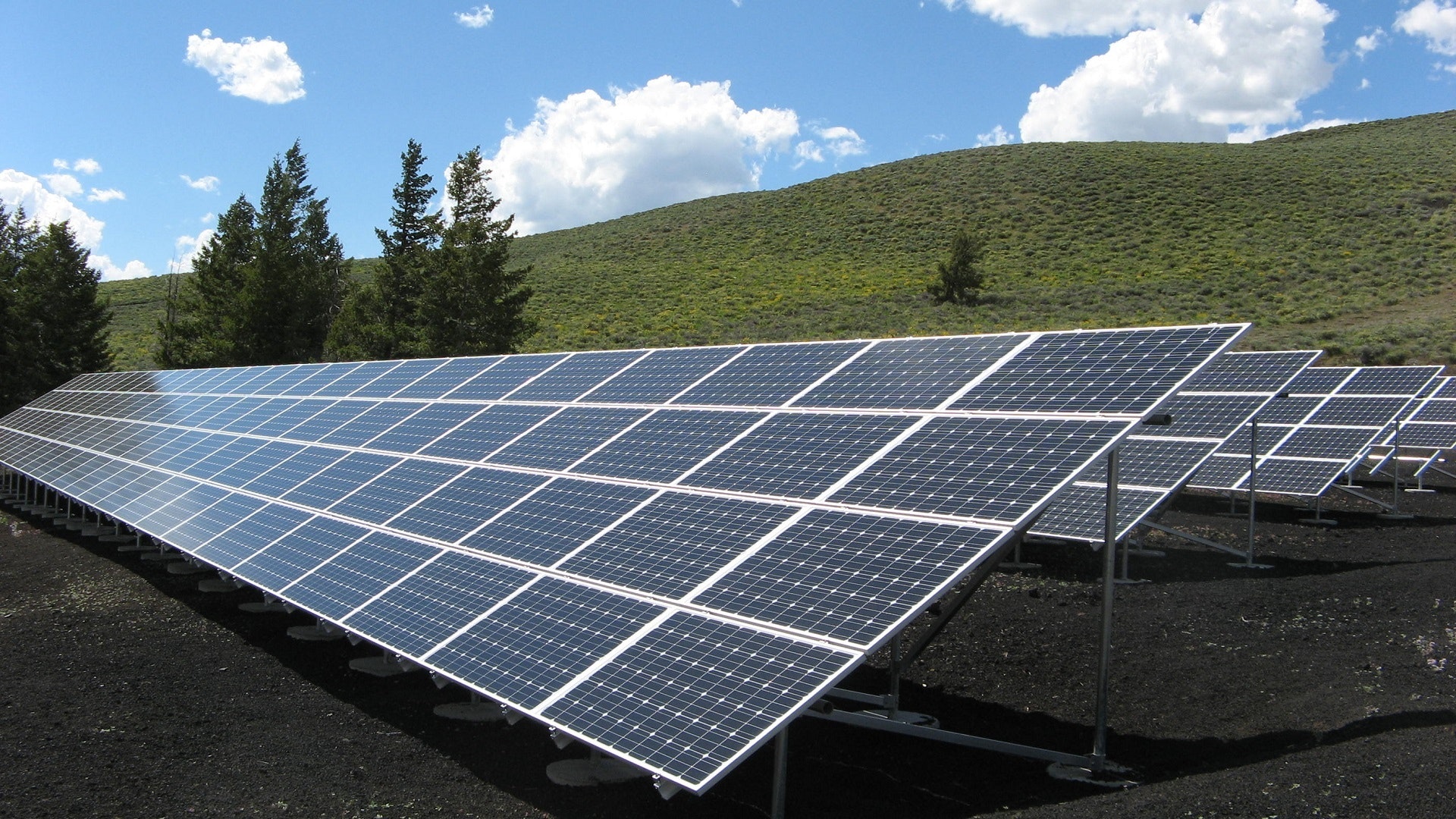 Solar Farms
With the world needing greener solutions for our energy needs, solar farms have been experiencing growth in the past years, and efficiently inspecting them is equally important. Solar panels can be damaged by physical objects, storms, or even overheating. Often, solar farms cover large areas and are typically placed in remote locations. It is also most effective to inspect for defects the solar panels when the sun is at its strongest, so you can imagine that it could be dangerous for a surveyor to do a manual inspection.
Wind Farms
Industrial wind farms are another source of green energy that could greatly benefit from regular asset inspection. At the time of writing, the largest wind turbines have 80m blades that sweep an area of 21,124 metres squared, which is larger than the London Eye. On of these alone could power over 8000 homes. Just like solar farms, the wind turbines are prone to wear and defects due to use and the weather.
With a drone, the time it takes to inspect the wind turbine could drastically decrease, which also means that it can run for more hours and generate more energy.
As technology continues to advance and drone technology is becoming increasingly adopted, there will be more ways and use cases to use drones for. Do you use drones for your work? We'd love to have you guest blog about it. Send us an email and introduce yourself at info@geoawesomeness.com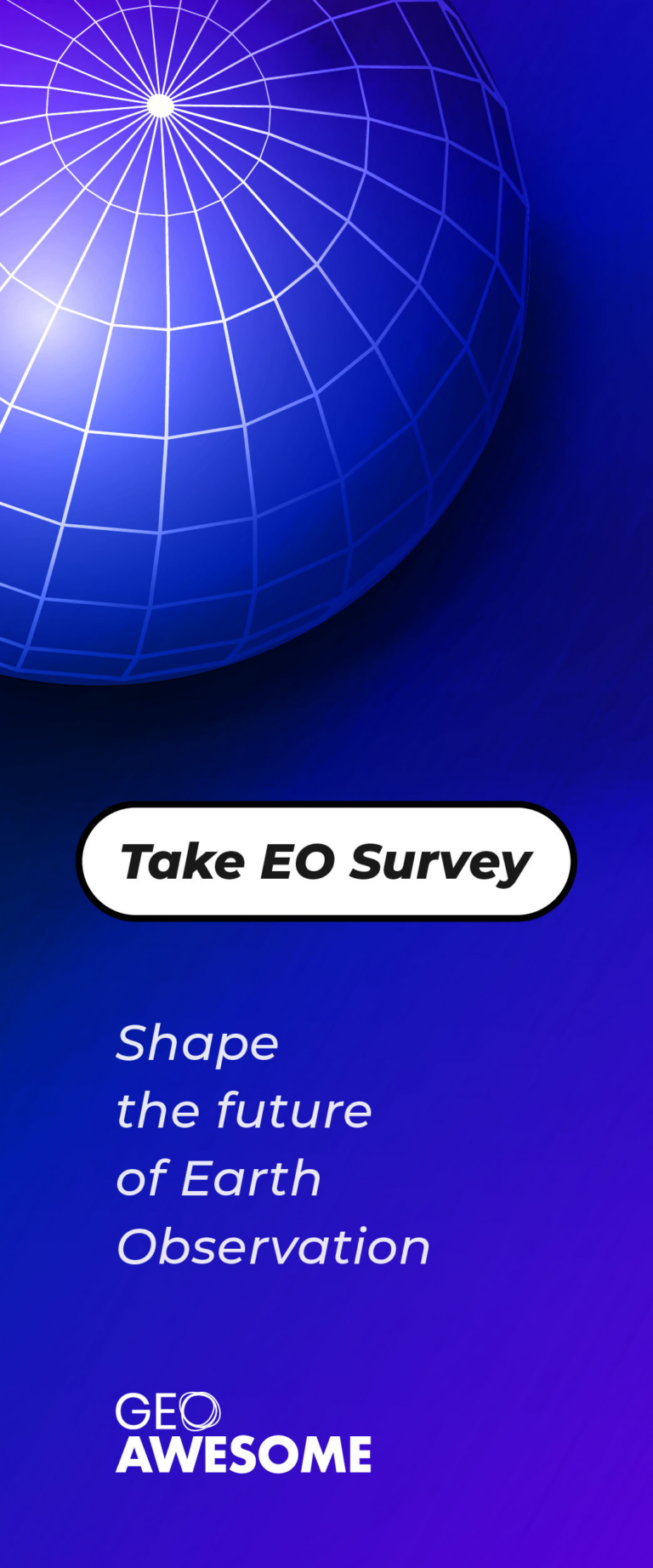 The community is supported by:

Next article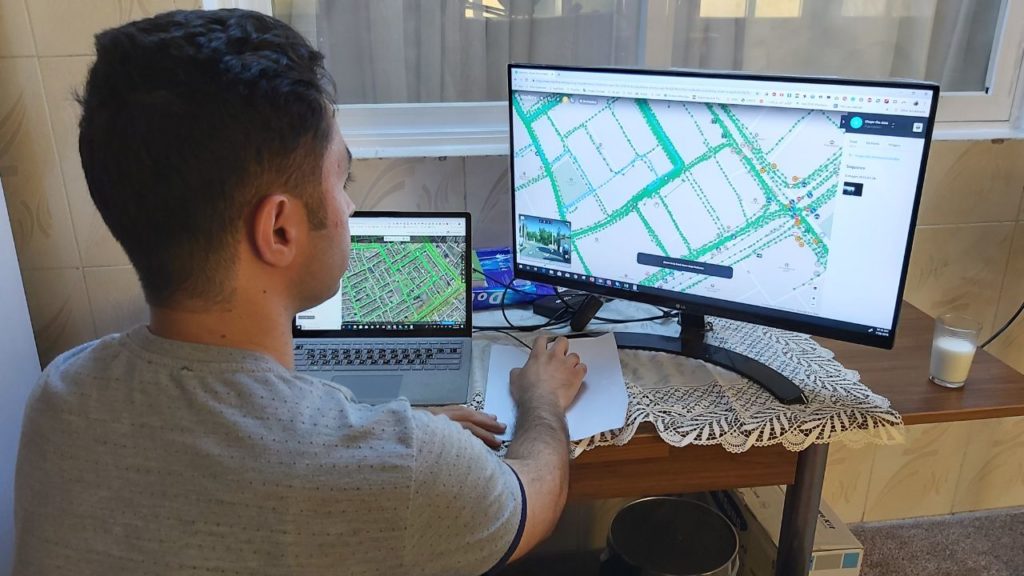 #Business #Featured #People
#Map2020 Mappers from Uganda, Iraq to present at HOT Summit in Germany
A campaign to map the undermapped regions of the world, #map2020, has wrapped-up with teams from Kampala, Uganda, and Erbil, Iraq winning the top slots to present their humanitarian projects at the upcoming HOT Summit in Germany. The campaign was organized by Humanitarian OpenStreetMap Team (HOT) and Mapillary, the street-level imagery platform that scales and automates mapping.
With submissions pouring in from 27 countries including Columbia, Ukraine, Nigeria, and Bangladesh, #map2020 saw 33 mapping teams collecting street-level imagery to address issues like waste management, natural disaster response, and damaged roads in undermapped regions.
The winning projects from Kampala and Erbil submitted over 100,000 street-level images each to tackle humanitarian challenges in their respective cities. Here are the deets…
Facilitating disaster response in Iraqi Kurdistan
In the capital city of Iraqi Kurdistan, Erbil, a team with backgrounds in humanitarian assistance operations captured over 103,000 street-level images to ensure disaster response agencies had dependable maps during times of crisis. The team focused on pinpointing features like transformers and manholes, and adding details to businesses like pharmacies and supermarkets. Overall, the Erbil team improved OpenStreetMap with almost 400 changesets.
Founder team member Mohammed Faisal is positive the new and improved map will prove to be an important tool for assessing the situation quickly when disaster strikes. "The aim is to provide relief workers with the tools to facilitate the decision-making process," he explains.
Improving sanitation in slums of Kampala
With illegal dumping of trash being a grave concern in Kampala (especially in slum areas) a student organization called YouthMappers saw #map2020 as the perfect opportunity to highlight the problem to city officials. Covering various regions of the city on foot, the group of volunteers captured more than 110,000 street-level images with Mapillary Android app and added over 50 illegal dumping sites to OpenStreetMap.
The biggest problem the students faced during the course of the campaign, however, had nothing to do with sanitation. It was the lack of reliable internet coverage.
"The internet connection in Uganda is a big problem. We had to let our computers run overnight and then in the morning there would be enough images uploaded," tells Henry Sseruwagi, who led the project.
While Mohammed and Henry look forward to taking their learnings to Humanitarian OpenStreetMap Team's global community meeting, HOT Summit, in Germany next month, Rebecca Firth, Director of Community and Partnerships at HOT, hopes that all groups will continue mapping in their areas.
The team at Mapillary, meanwhile, is doubling down to understand which OpenStreetMap tags are most useful for each humanitarian challenge and how data derived from images using computer vision can help to speed up the process.
To see all contributions to OpenStreetMap, you can search with #map2020 hashtag.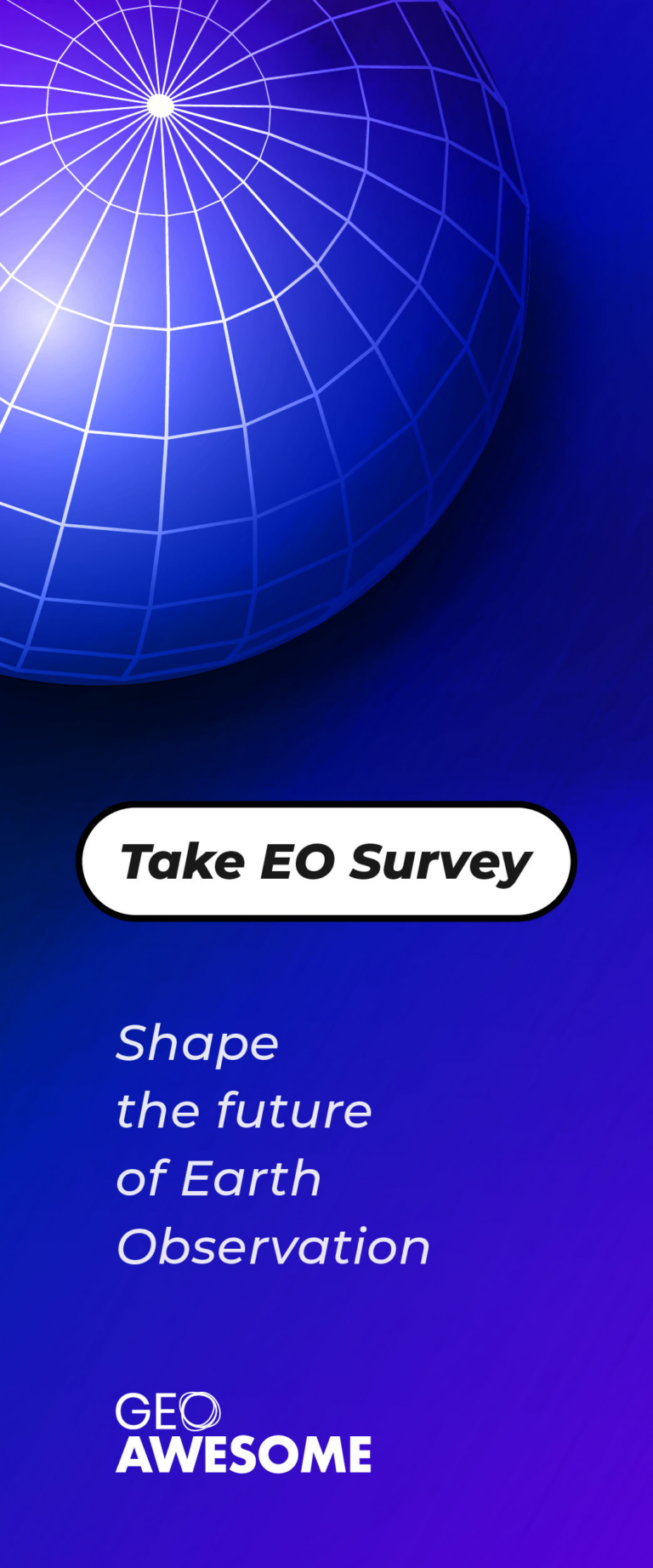 Read on