Come June 11 and using Google Maps API is going to get a whole lot expensive for those of you looking at more than 25,000 transactions per month. See the Google Maps API pricing structure that goes into effect that day:
Read: Insane, shocking, outrageous: Developers react to changes in Google Maps API
If you're as bummed out about the recent changes announced by Google for its Maps platform as we are, you have come to the right place. With less than 6 weeks to go before the amendments take effect, developers have their work cut out for them: Audit, change, test, and deploy an alternative. So, here's something that may make the job just a teensy bit easier: A list of Google Maps API alternatives you can give a try.
[Update, Dec 16, 2020: Amazon Web Services teams with Esri, HERE to offer developers affordable, pay-as-you-go location-based data, mapping services]
1) TomTom
One of the first platforms that come to mind when you think of a reliable Google Maps API alternative, TomTom offers developers 2,500 free daily transactions, global customer support, and a really lucrative pay-as-you-grow credit package. Depending on your volume and usage, you can expect additional transactions to be charged at $0.5/1000 call or even less.
Explore TomTom Maps APIs here.
[Update 25th September 2018: We interviewed TomTom's head of developer relations, Gregory De Jans to learn more about their mapping APIs. Here's all you need to know about TomTom's Mapping APIs]
2) Mapbox
If someone recognizes an opportunity when they see it, it's the team at Mapbox. As soon as the Google Maps API news broke, Mapbox CEO Eric Gunderson made a clarion call to developers to join his bandwagon. Between now and June 11, any developer who is new to Mapbox can sign up and use all the pay-as-you-go APIs for free. You don't even need to add a credit card to get started. Just tweet #WeAreBuilders to Mapbox along with a link to your map.
Explore more here.
3) HERE
The force behind Bing Maps (which are inexplicably expensive, IMO), HERE offers a powerful set of developer tools with great features. Though its free tier has less free calls per day, at $49 for 100,000 monthly transactions, HERE's API gives you better ROI than Google Maps'. And did we mention you can use their 90-day free trial key without sharing any payment information?
Find out more about their public and business plans here.
4) Leaflet
This modern, open-source JavaScript library has quickly become very popular among developers because of its flexibility and the fact that. If you are looking for complete freedom from ambiguity, one good option would be to run your own tile server based on OpenStreetMap and then connect to it using Leaflet. Another try-worthy combination for some projects could be the Esri-Leaflet one.
You can find out more about Leaflet API reference here and OSM's Tile Usage policy here.
5) OpenLayers
Capable of pulling tiles from several different mapping sources (Bing or OSM background, vector data from KML or GML files, WMS overlays, etc.), OpenLayers is another open-source JavaScript library that you can use to display pretty much any free map service. And with its large fan base and active community members, you can expect to find well-document information and plenty of live demos to get you started.
Find more information here.
6) LocationIQ
If your project requires geocoding or reverse geocoding, LocationIQ could be a good alternative. Its super-affordable pricing model gives you 10,000 free transactions per day for non-commercial use, while for commercial users, the bestselling plan is that of 50,000 calls per day for $100. LocationIQ's data is powered by OpenStreetMap.
Get to know them here.
7) MapTiler
Powered by open-data and open-source software, 
MapTiler
provides global Street and Satellite Map APIs. MapTiler is compatible with Leaflet, OpenLayers as well as open-source Mapbox SDKs (including Android, iOS and Unity games) thanks to vector tiles, giving developers the much-needed freedom of choice of the tools. Their maps can be easily customized with brand colors, tightly integrated or even redistributed — all at 80% less cost than Google Maps.
8) AND
Headquartered in the Netherlands, AND comes with three decades of experience in providing APIs for location-based services. Their Map API is powered by the proprietary worldwide AND Maps and they offer the full spatial functionality based on data from OpenStreetMap. Standard features include Map Viewing, Geocoding and Reverse Geocoding.
Find out more here.
9) Sygic Maps
Sygic is an enterprise-grade map-agnostic platform that features Cloud-based maps from HERE, TomTom, OSM and others. Though their pricing is not available online, they assure us that it is quite affordable and extremely transparent, and has helped them garner 200 million users in the last 15 years. A trial API key is available on a simple request here.
10) Jawgmaps
Paris-based Jawg's API has a free tier which would give you 50,000 map views for non-commercial usage. The super-useful video above shows how you can switch from Google Maps to Jawgmaps in just 1 minute! And the good part is you would understand it even if you don't know French. To see their complete pricing structure, click here.
Of course, this is not an exhaustive list and there are plenty more Maps API alternatives out there. Foursquare has great geocoding features, while those who host their data on CartoDB can easily utilize Carto's API services. Esri's powerful ArcGIS platform can prove to be the best bet for some projects, and OSM's database is utilized by several other API providers.
In fact, if you want to switch to OpenStreetMap, this website has a full list of companies that offer consulting, tile-hosting or other services for sites wishing to switch to OSM. You can even see which company is based where, check out the basics of making the switch, see case studies, and basically find out all the information you need.
If you have a recommendation that you think could help others out, feel free to leave a comment below. Also, let us know your thoughts on this subject by voting on this tweet:
The #GoogleMapsPlatform change is dominating our timeline. Really curious to see what you #GeoGeeks think about it. Did Google "read the room" wrong? ICYMI https://t.co/2XSvkRiV9T

— Geoawesomeness (@geoawesomeness) May 4, 2018
For your geocoding needs: OpenCage
OpenCage focuses just on the geocoding piece. The offer an API for forward and reverse geocoding based on open data sources like OpenStreetMap. There is a free-trial tier and then different pricing plans depending on volume. One unique point is there is no "surge" pricing, so if you have a spike in usage or just need to geocode a bit more you do not get hit by a surprising bill.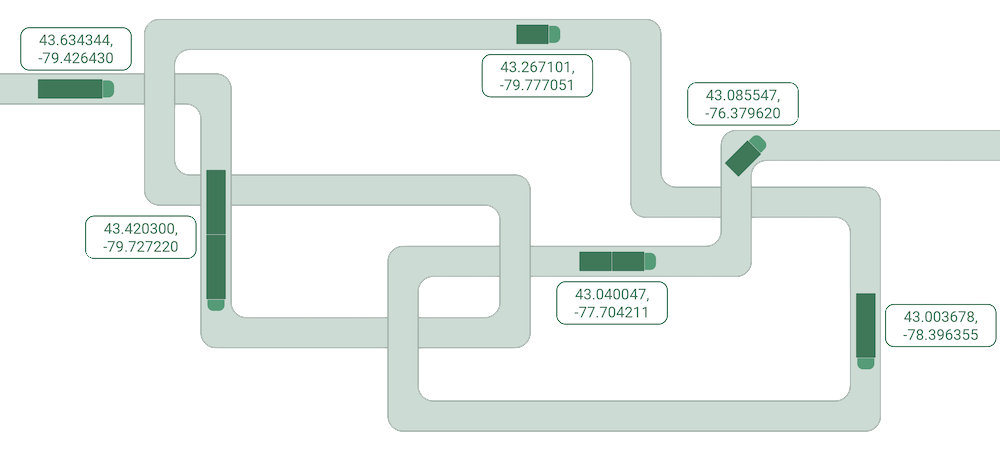 All the details are on the OpenCage site, where they have a detailed guide to switching from the Google Maps API.