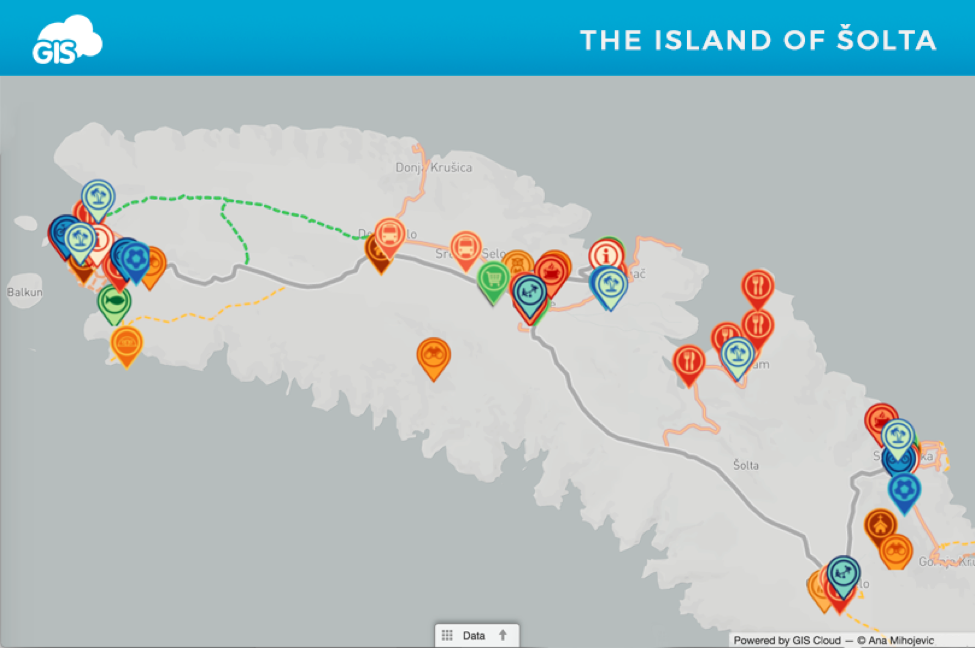 #Science
GIS In Tourism – Building an Interactive Map of the Island of Šolta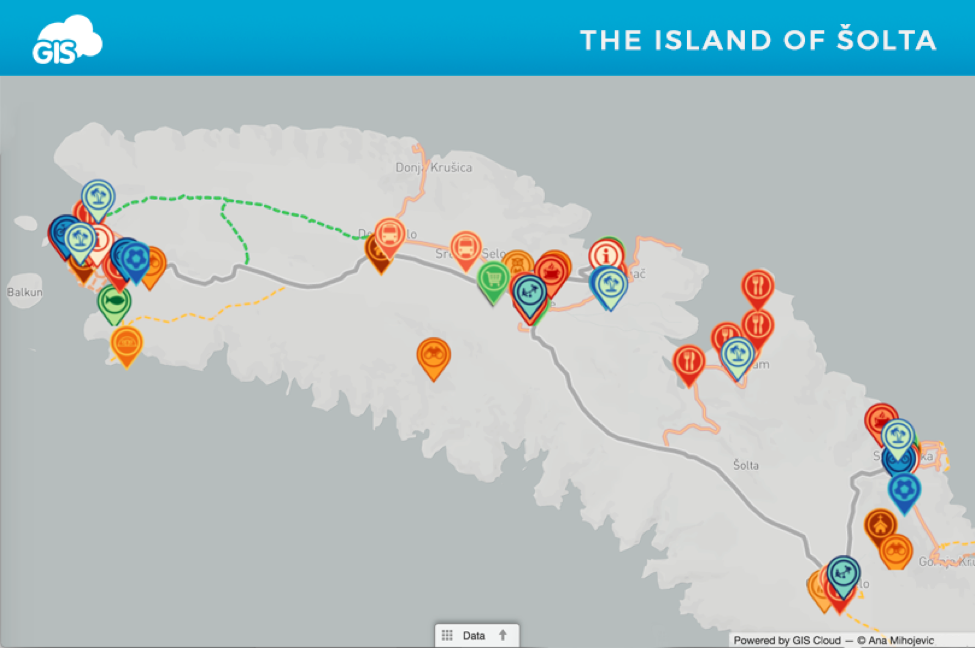 Tourist maps are one of the most widespread uses of GIS and online mapping, that is accessible and useful for a wide variety of people. Knowing that Tourism is one of the crucial industries to many communities around the world, having an interactive map with all the information necessary for tourists is of great use for all who take part in the related activities. Except for tourist maps, GIS can be also used for different planning and analyzing activities such as building tourist resorts and facilities. It is a great tool for tourist guides, who can have a good overview of important infrastructure, tourist offering, historic places. They can also use maps for planning optimal routes for sightseeing and determining shortest distance between important places, and these are just some of the examples of potential uses of GIS in Tourism.
So, let's see one real life example of building an interactive Tourist Map using GIS Cloud in a project done by Geography student Ana Mihojevic.
Inspired by the example of the City Crikvenica Map Portal, she decided to create a map of the Šolta island in Croatia. As she also participates in the local tourist offering, this was a great opportunity to use skills as a geographer for a purpose that also has a value for both her own business and a local community.
Šolta is a small island with ten villages, that became an attractive tourist destination for as many as 15 000 local and international travelers, and 150 000 overnight stays per year. This also affected the growth in the number of local services, restaurants and attractions. Creating a map was a perfect way to include all of these novelties in one place, also enabling local community to add their own offering and get additional exposure.
Challenge
As there are already small-scale maps available in tourist guidebooks and basic Google Map overview of Šolta, the idea was to include and validate all the existing info, update old and incomplete data, and collect new information relevant for tourists.
The prerequisites for building an interactive map of the island were:
Collecting the existing and adding new data
Having a possibility of quick and easy update of attributes, as information about certain locations is often changed (working hours, phone numbers…)
Select and categorize relevant information
Adjust the data to a user through filters, different layers, zoom and search options
Sharing the data with public through a simple and intuitive interface
Solution
Ana Mihojevic used GIS Cloud to create an interactive portal using database from websites of the Tourist Board of Šolta and My Šolta Association.
The information on the websites was listed, but it missed a spatial component – visualisation on a map. In GIS Cloud Map Editor, the information was organized and visualised on a map in just a few days. Ana used polylines to display roads important for tourists (main roads, walking and bike routes…). After that, different point features and their attributes for particular locations and parts of the infrastructure were added. Search by address option in GIS Cloud made it easier to add these points, and it was also more precise than manually pinpointing them.
Using Map Editor for updating attributes was easy and simple, it is an interactive and user-friendly interface for both tourists and local community. The map was published through Map Portal application, therefore accessible by local population and tourists.
Access the portal directly on this link.
The content was organized in 6 groups of features:
Services: tourist information centers, restaurants, bars, transport etc.
Activities: what to do while on holidays on Šolta. In this group are listed beaches, sports centers, rent a bike or scooter businesses.
Attractions: a list of Šolta's highlights like viewpoints from where you can see the panorama view, over the nearby islands or mainland. There is also a list of churches and locations where you can to try some of Šolta's authentic products.
Shops: locations of all supermarkets, green markets and a fish farm as well.
Healthcare and Safety: information about pharmacies, police and fire departments, and an ambulance in case of emergency.
Spatial Information: all the roads of Šolta, macadam roads, bike routes and seaside promenades.
Interactive Tourist Map of the Šolta Island is a project that demonstrated how to create a useful project for purposes of Tourism using GIS, in just a couple of days. This map gives an opportunity for local businesses to show their offerings while helping tourists in orientation and exploration of the island.
Ana Mihojević states that this type of map could even be used for other purposes and other industries such as real estate. It could be easily updated to a map of accommodation with listed hotels, private accommodation or even yacht marinas.
You can find the original article, written by Ana Mihojević, on GIS Cloud official blog.
Want to create a tourist map of your area? Sign up and try it for yourself.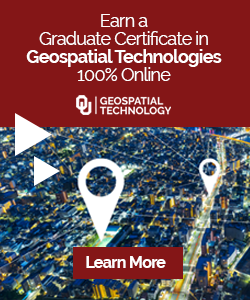 The community is supported by:

Next article
#Business #Ideas
Artificial Intelligence set to accelerate in 2017. Predictions by Pieter Gillegot-Vergauwen, VP Product Marketing, TomTom
Maps have existed for thousands of years and are still evolving to continue meeting users' diverse and changing needs. Part of this evolution is the level of details included in the maps; geometry and street names alone are no longer sufficient, and in recent years, additional attribution has been added to maps to enhance the user experience. To facilitate this attribution, TomTom is developing new, innovative tools, such as Artificial Intelligence to speed up the process of map development and updates.
At TomTom, we have already started this with Traffic signs. They provide critical information to drivers and vehicles, from warning them that they are going above the speed limit or approaching a dangerous curve to providing an environmental context for autonomous cars to plan their next manoeuvre. Capturing and maintaining these traffic signs to include them in our digital map database used to be done almost entirely manually, with operators browsing through thousands of hours of mobile mapping imagery to find and identify relevant signs.
With the introduction of laser radars in our mobile mapping fleet a few years ago, TomTom took the first step towards automating the detection of traffic signs. Indeed, sign reflectivity now allowed us to easily filter out images containing relevant sign content. Once the relevant sign content was singled out, sign classification, the complex process of identifying the category and type of sign, would occur. The human brain in naturally attuned for this complex visual process – but machines had to be taught.
Over time, our operators have classified almost 100 million signs across more than 100 traffic sign categories, creating a huge traffic sign evidence database. Taking it all a step further and through the supervised learning of deep neural networks on this traffic sign evidence database, TomTom developed its own Traffic Sign Classifier Artificial Intelligence. This AI tool allows TomTom to classify detected signs in an automated way with very high accuracy levels. Where needed, unclassified signs are revised by human operators, further improving the learning and competence of the Traffic Sign Classifier AI.
Once traffic signs are classified by the AI, TomTom's map fusion processes kick in, adding the correct signage data to the appropriate TomTom map layers, including our navigation and HD maps.
With the explosion of sensor equipped vehicles, traffic signs will no longer only be detected by TomTom's mobile mapping fleet but also, increasingly, by regular cars continuously driving the roads.
AI is set to play a crucial role in the quick and efficient processing of data, therefore enabling TomTom to bring the most up-to-date maps to its users for a safer and more comfortable driving experience and also, one day, for autonomous cars to make their own decisions.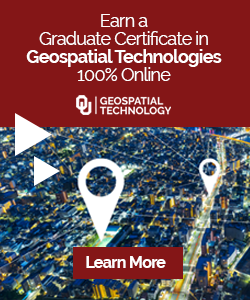 Read on