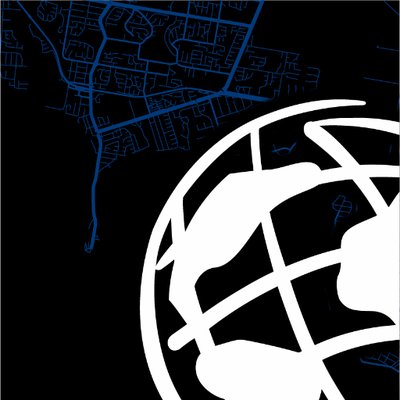 #Featured #People
Geospatial jobs of the week – Google, Uber Eats, Remsoft, and Apple are hiring
If your company is looking for new talent and you want to share the opportunity with our community, feel free to submit a job using the online form for us to review and include in our list! If you would like to know more about our Geospatial Job Portal, read about it here.
Are you enthusiastic about location data or anything geospatial, then this is the job portal for you! At Geoawesomeness, we're working on creating an interactive job portal to connect companies to enthusiastic talent! By the way, we spontaneously post jobs on our LinkedIn throughout the week, so make sure to follow us there!
Looking for more positions in GIS, design, or developer roles?  Go directly to our searchable Geospatial Job Portal!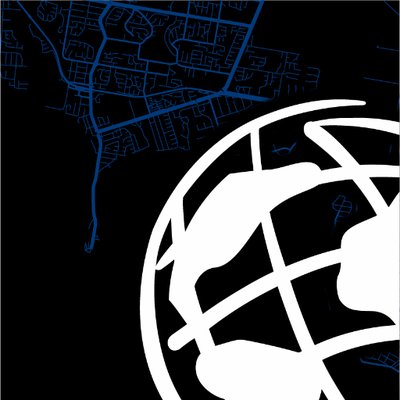 Featured Job: Senior Consultant, Support (ArcGIS Enterprise)
📍Sydney, Australia
Do you want to use your knowledge of ArcGIS Enterprise to help organizations to be successful? In this position, you will provide technical GIS support and training services to our clients, delivering an outstanding user experience, consistent with our client experience vision. Want to know more? Click here.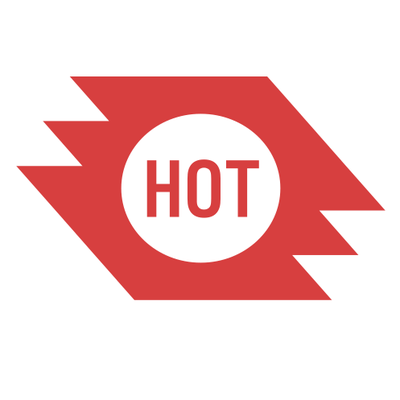 Featured Job: Director of Technology
📍Remote
HOT's Director of Technology serves as the organization's Chief Technology Officer as part of HOT's senior management team, reporting to the Executive Director. Leading via collaboration, the Director of Technology guides HOT's thinking around innovative open-source software tools and workflows, supporting our vision of enabling every person to contribute to a collective map of our world. This position can be done remotely or at a HOTOSM office location. Find out more here.
Google: Product Manager, Google Maps
📍Sydney, Australia
K2 Geospatial: Full Stack Web Developer
📍Montreal, Canada
Old Dominion University: GIS Analyst
📍Norfolk, Virginia USA
Trimble: Applications Specialist (Surveyor)
📍Christchurch, New Zealand
Uber Eats: Data Analyst Internship
📍Amsterdam, Netherlands
UNEP-WCMC: Front-end Developer
📍Cambridge, UK
Remsoft: Lead GIS Developer
📍Fredericton, Canada
Wildlife Conservation Society: Conservation Cartographer
📍Colombia, NY USA
Quantum Spatial: Geospatial Cartographic Specialist
📍Lakewood, CO USA
Maxar Technologies: Senior Software Developer
📍Westminster, CO USA
Apple: GIS Engineer
📍Berlin, Germany
We have so many more jobs in our job portal, and couldn't possibly fit them all in this blog. If you don't see anything here for you, go to our job portal!
Are there any specific things you'd like to see in our job portal? Feel free to get in touch.
Want to get your dose of Jobs in Geo directly to your inbox? Subscribe to our jobs newsletter here.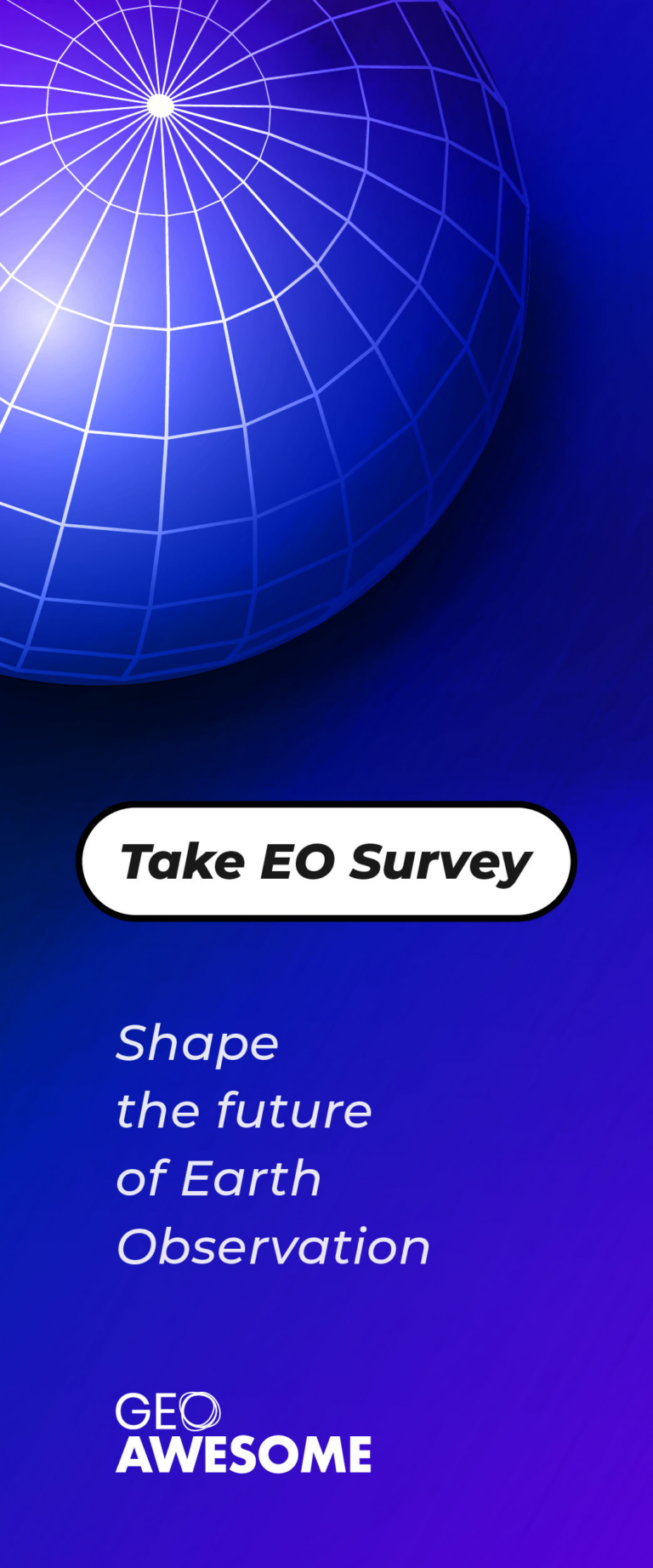 The community is supported by:

Next article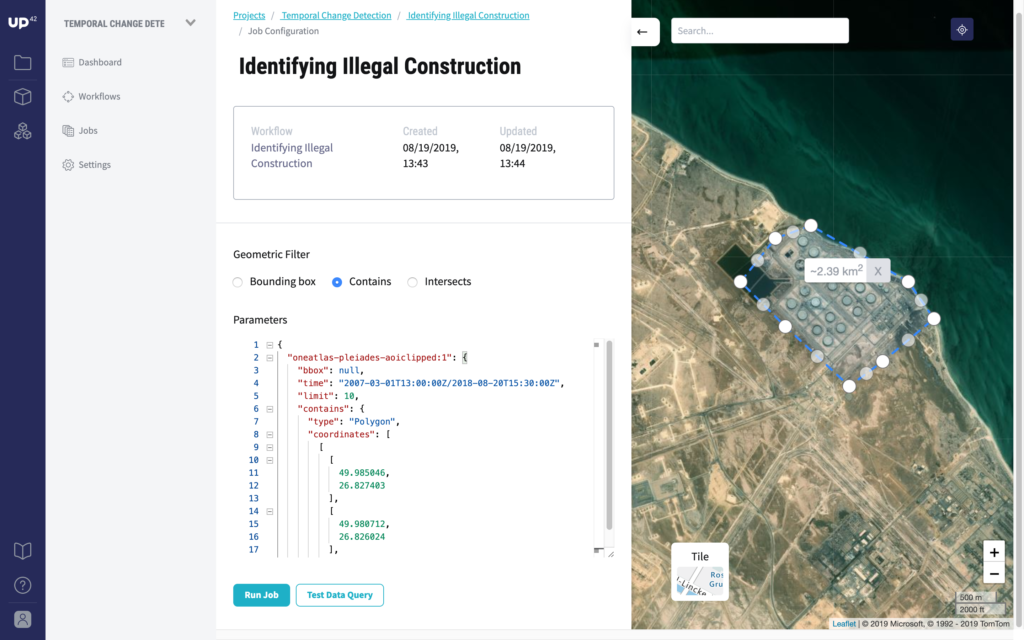 #Business #Featured
UP42 – Open platform and marketplace for satellite data and analytics is now public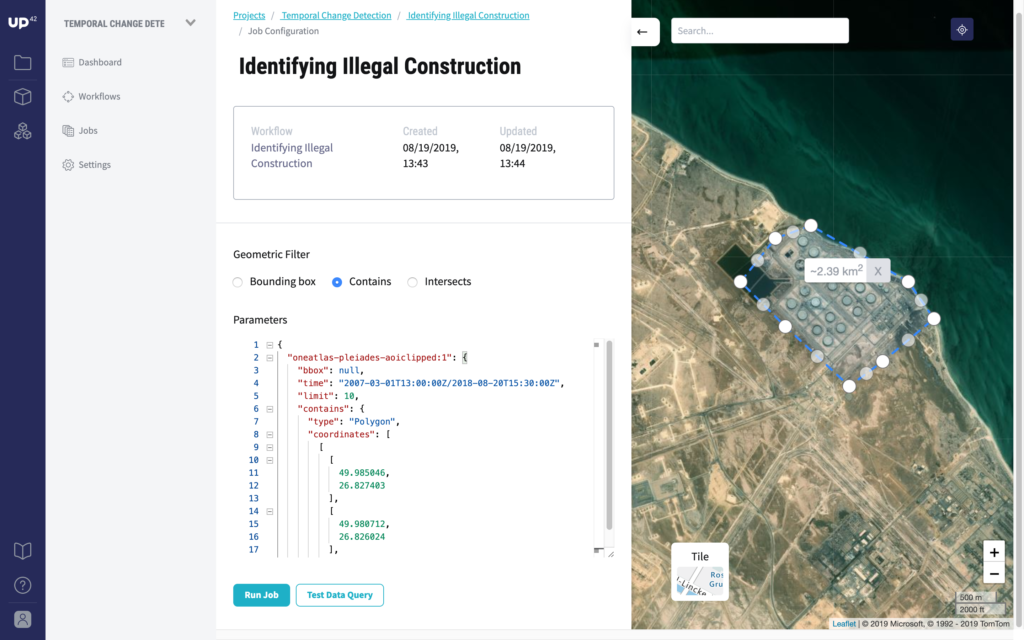 Available to beta testers since May 2019, space tech startup UP42 has now launched its open platform and marketplace for satellite data and analytics to the public. The Airbus Defence and Space subsidiary promises to give small businesses and startups – and even independent developers – easy access to a wide range of geospatial data and scalable processing workflows. Traditionally, only large corporates and governments have enjoyed access to the kind of data quality and analytical prowess that UP42 is promising.
UP42's continually-updated earth observation data sources comprise of everything from commercial and open-source high-resolution satellite/drone imagery to IoT data. So, you can expect to find data from Landsat-8, Sentinel-2, SPOT 6/7, Pleiades 1A/1B satellites as well as digital elevation models (DEM) by OneAtlas and public transportation data blocks.
Further, the geodata processing algorithms that have gone live on the platform today include the following:
Pre-processing tools to help prepare satellite imagery for data analysis. For example, the platform will remove cloud cover or ensure that images are lining up properly for pixel-based analytics.
Vegetation indexing and moisture/chlorophyll level detection to aid precision agriculture. The platform will help to identify regions that require additional care (e.g. watering or fertilizer) in order to maximize yields.
Object detection for urban planning, tracking traffic patterns, and energy production forecasts. UP42 can detect vehicles (cars and ships, etc.) or structures (wind turbines or storage tanks, etc.) in satellite imagery.
Change detection for monitoring activities like deforestation. The powerful tools of UP42 satellite data platform can detect change over time with as little as two images and can prove especially useful for tropical areas with heavy cloud coverage.
Apart from these ready-to-use tools, developers and data scientists will also be able to use their own algorithms by uploading the code directly to the platform or via the API and executing it in the cloud. "UP42's scalable, modular infrastructure, will adapt to an application's requirements in real-time, and developers will be able to scale their processing by leveraging custom Docker containers and other state-of-the-art technology," Eli Tamanaha, CEO of UP42 points out.
For those with entrepreneurial inclinations, the startup will offer an opportunity to monetize the processing algorithms on the developer platform. "Entrepreneurial developers will be able to unlock new customers, tap into new revenue, streams, and increase their visibility," Eli explains.
To learn more about the startup, we recommend reading Geoawesomeness' exclusive interview with Sean Wiid, CPO of UP42.
Related: UP42 has launched | New open satellite data and analytics platform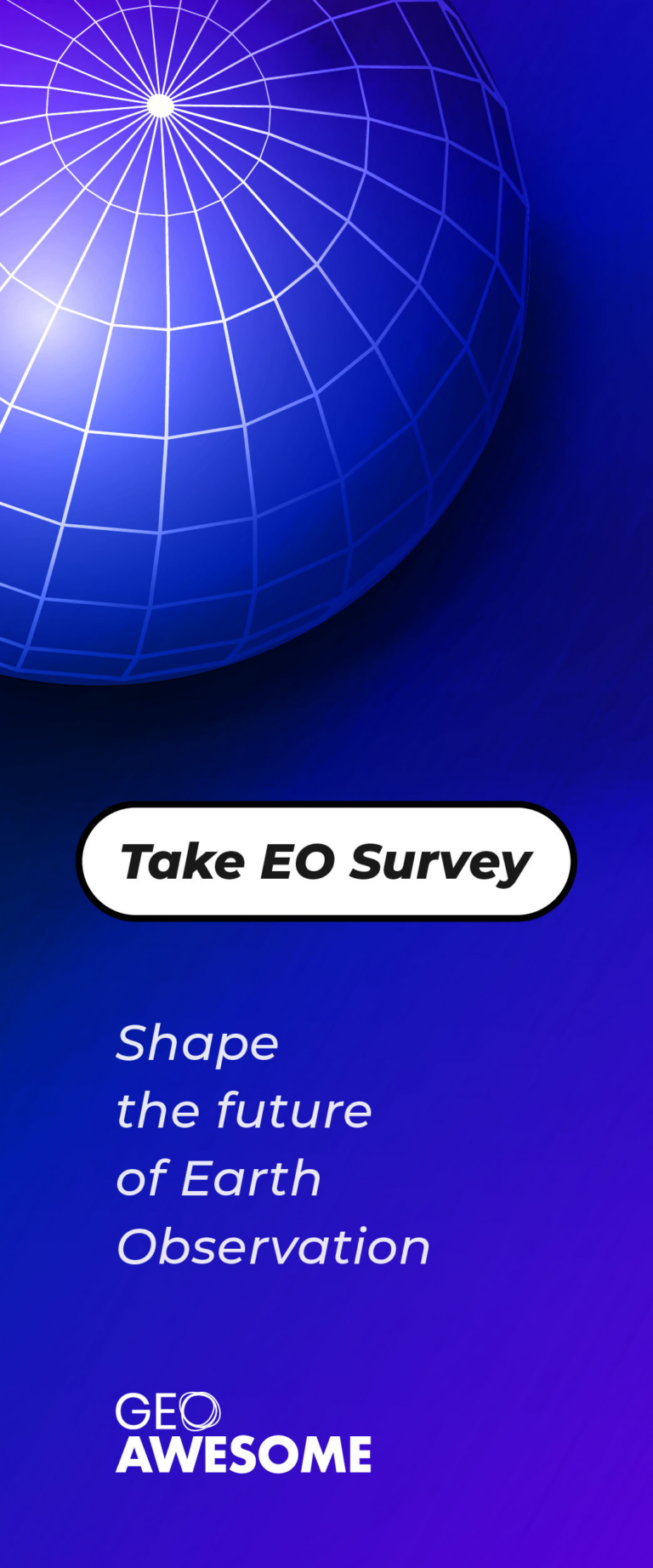 Read on