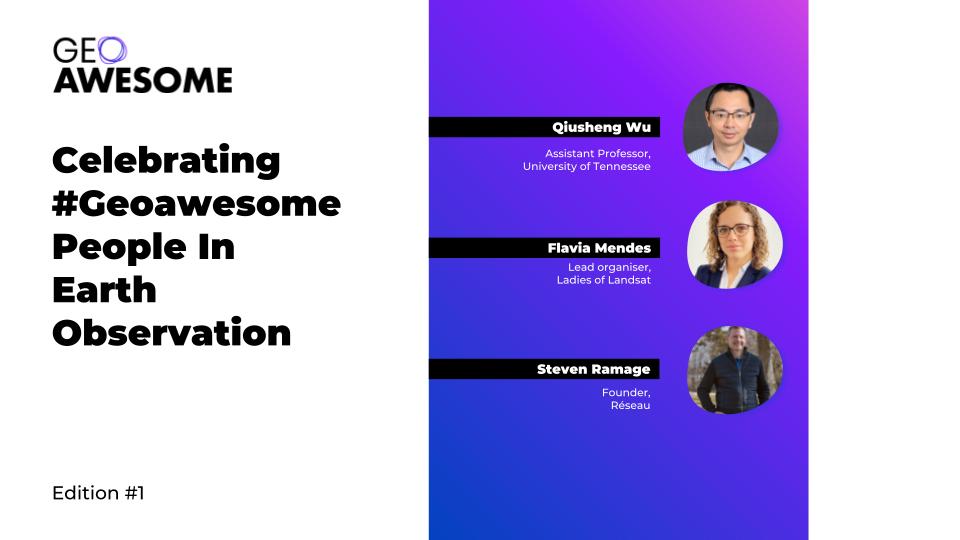 #People
Geoawesome People in Earth Observation: Edition 1
In this new series, we'll be highlighting #geoawesome people making significant contribution in one way or the other to the field of Earth Observation. Get ready to be inspired by their groundbreaking work, dedication to our planet, and the passion they bring to this ever-evolving field.
It's all about networking and getting to know new people! Happy networking 🙂
Steven Ramage
Steven is a seasoned professional in the geospatial industry, boasting an extensive career working with prestigious organizations such as Ordnance Survey, Open Geospatial Consortium, and the Group on Earth Observation. Drawing on his wealth of experience and expertise, Steven recently established his own consultancy firm, Réseau. This innovative company harnesses the power of geospatial science and technology to shape policies and drive initiatives aimed at protecting our natural environment and alleviating the impacts of climate change.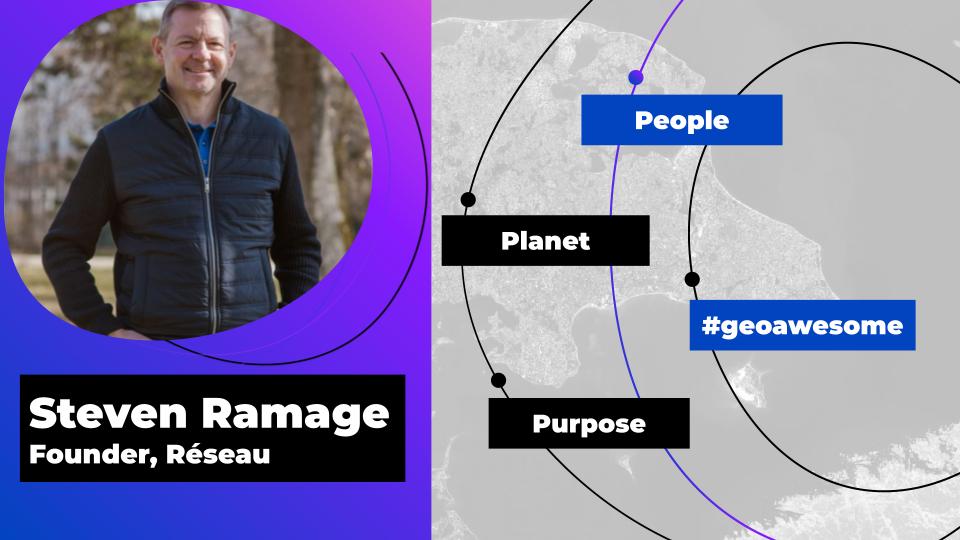 Dr. Flavia Mendes
Flavia serves as the Program Manager for Forest and Land Use at Planet. She has dedicated over 15 years to spearheading projects and products in both private and public sectors. Her extensive experience encompasses the use of optical and SAR imagery for land use mapping, monitoring, and modeling. With a deep-rooted expertise in forest conservation (REDD+), agriculture, and land use change in tropical forests, Flavia has made a significant impact in the field. In addition, she is a driving force behind the diversity initiative Ladies of Landsat, championing inclusivity and representation within the geospatial community.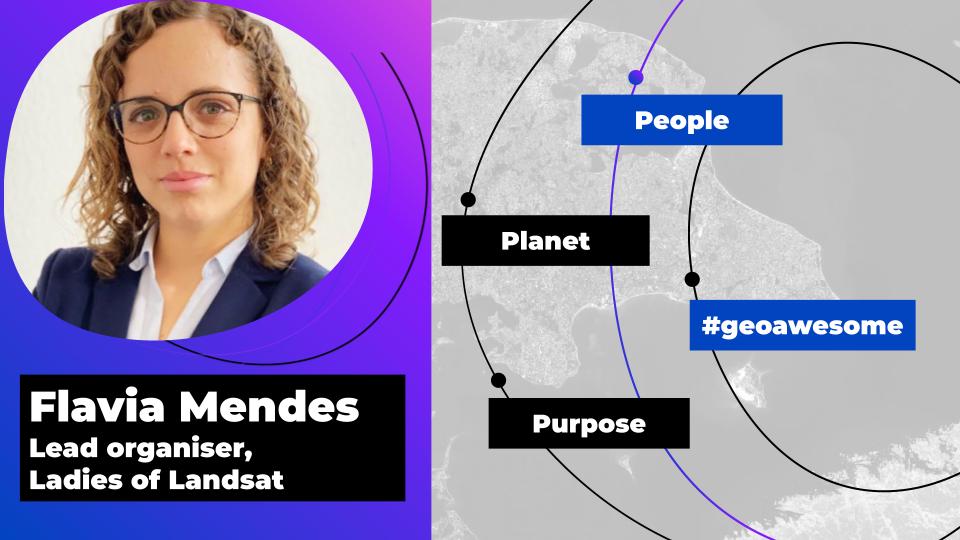 Dr. Qiusheng Wu
Qiusheng serves as an Assistant Professor in the Department of Geography at the University of Tennessee, Knoxville. His research is primarily focused on Geographic Information Science (GIS), remote sensing, and environmental modeling. He is particularly enthusiastic about leveraging geospatial big data, machine learning, and cloud computing platforms like Google Earth Engine and Amazon Web Services to investigate global environmental changes, specifically in relation to wetland and surface water dynamics. A fervent supporter of open-source software and reproducible research, Qiusheng has created and maintained a variety of open-source packages for cutting-edge geospatial analysis. For more information about his research, visit https://wetlands.io.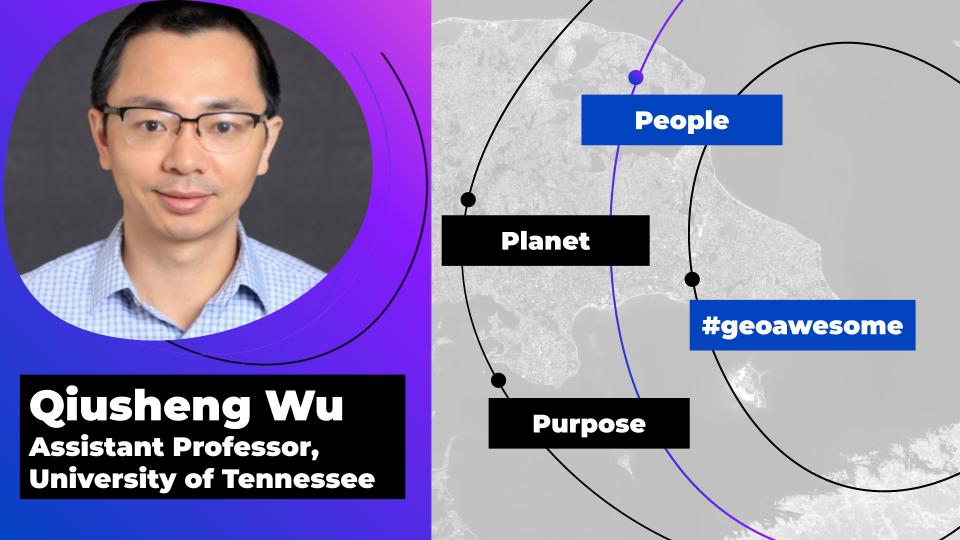 ---
EO Monthly Gazette
Interested in staying informed about the latest news and development in the world of earth observation? Sign up to our new monthly focused newsletter for the EO industry.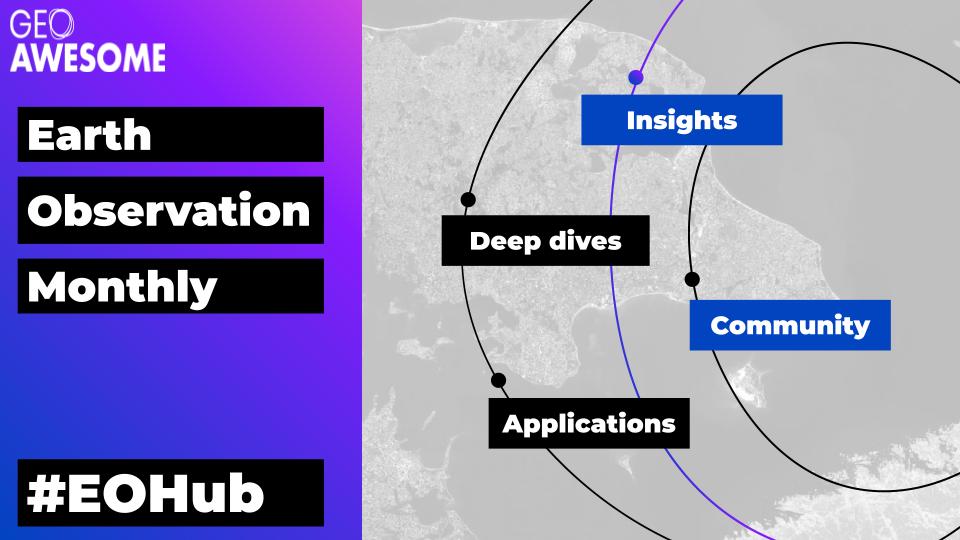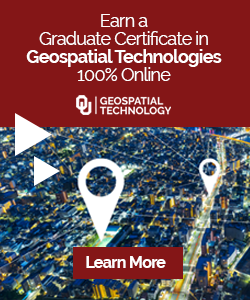 The community is supported by:

Next article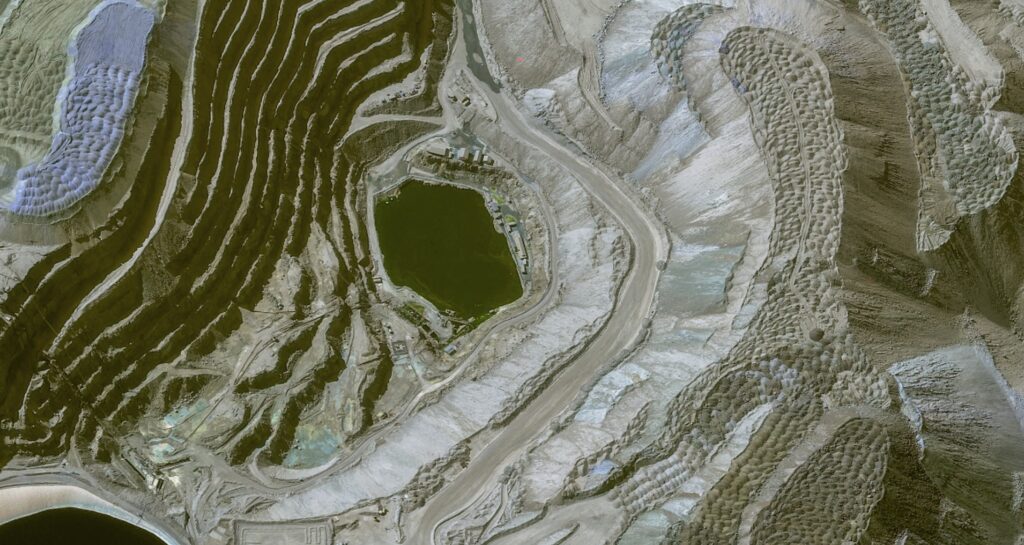 #Environment
Uncovering Europe's much needed critical raw materials from space
---
With EU Space, Europe gets the raw materials its green transition needs while the mining sector gets tools for reducing its environmental footprint.
What do semiconductor chips, electric vehicles, solar panels, heat pumps, wind turbines and clean energy technologies have in common?
They all depend on having ready access to critical raw materials like lithium.
"Raw materials are the essential ingredient to achieving our ambitious climate targets," says EU Commissioner for the Internal Market Commissioner Thierry Breton. "Without the necessary raw materials, there can be no green transition."
According to a recent Eurometaux study, this transition will require huge amounts of raw materials, including aluminium, copper, lithium, nickel, zinc, silicon and cobalt. To give you an idea of what we mean by huge, the report notes that Europe will require 330% more cobalt and a whopping 3,500% increase in lithium. This has been complemented by the study written by the Joint Research Centre of the European Commission.
The problem is Europe simply doesn't have the capacity to supply enough raw material to meet this demand. As a result, it has traditionally imported its raw materials from the likes of China and Russia. But this dependency means importing materials that are often mined in unsustainable or unresponsible ways. It also makes the EU vulnerable to having its supply cut off, which is exactly what happened following Russia's invasion of Ukraine.
"Without secure and sustainable access to the necessary raw materials, our ambition to become the first climate neutral continent is at risk," says European Commission President Ursula von der Leyen.
In an effort to mitigate its dependence on the extraction, processing and recycling of raw materials, the EU has launched the European Critical Raw Materials Act. The Act aims to build up reserves where supply is at risk by identifying potential strategic projects along the entire supply chain – from extraction to refining, processing and recycling.
And when it comes to efficiently extracting raw materials from the ground, there's no better place to start than space.
With the raw materials sector already leveraging the benefits of GNSS and Earth Observation for everything from exploration to site approval, construction, operations and closure, EU Space is well-placed to play a pivotal role in ensuring the rare earth independence envisioned by the European Critical Raw Materials Act.
Two powerful tools for the mining sector
Take Earth Observation (EO). The European Commission's Action Plan on Raw Materials, a precursor to the Critical Raw Materials Act, specifically proposes deploying EO programmes and remote sensing for resource exploration and mining operations.
The raw materials sector is already using hyperspectral imagery to assess the abundancy of certain minerals at a potential site. When the site is up and running, high-resolution EO data is used to monitor many aspects of a plant's operations, including pit slopes and ground motion effects.
The data provided by such Earth Observation programmes as Copernicus complements and enhances traditional detection methods by reducing location errors and providing faster, more accurate information on asset concentration and commercial yields.
But this is, as they say, just the tip of the iceberg. According to EUSPA's 2022 EO and GNSS Market Report, as the technology continues to mature, the EO sector will soon offer fit-for-purpose, turn-key solutions that the mining industry can integrate into their own workflows and systems.
Mining also depends on GNSS. In fact, the sector was an early adapter of augmented GNSS solutions, using it for everything from surveying mining sites to accessing remote areas and enabling the safe operation of heavy machinery. Today, with many activities being increasingly automated, GNSS has become a key enabler for the management of mining operations.
The use of high-accuracy GNSS in particular is used for such tasks as grading, dozing, drilling, collision avoidance and fleet management. It's also a key tool for machine guidance, with the determination of excavator bucket wheel position being a critical GNSS application.
While GNSS and Earth Observation are powerful tools in their own right, the raw materials sector stands to benefit the most when these solutions are used in synergy. For example, mining companies can use services enabled by EO and GNSS data to not only identify the most suitable areas for extracting raw materials, but also to aid in the permitting process, plan their development and monitor their operations. By assessing stability of pit slopes of tailings dams, their combined use is also improving safety around mining operations.
Keeping the green transformation clean
With all this being said, we cannot ignore the significant environmental impact raw material extraction has. According to EUSPA's EU Space for Green Transformation Report, mining is amongst the most environmentally harmful activities, impacting land, water, air, biodiversity and human health.
Thus, as Europe moves forward to secure the raw materials it needs to enable its green transition, it needs to do so in a way that aligns with its climate and environmental priorities.
Here too, EU Space can help.
While Earth Observation services may bring the most value in mineral exploration, ground stability monitoring and planning of mining sites, environmental monitoring also draws on EO powered solutions – especially when it comes to post-closure environmental management. For instance, when a mining site closes, companies can use EO data to guide their site clean-up, rehabilitation and waste management.
GNSS also helps mining reduce its environmental footprint. By optimising fleet management during mining operations, it is estimated that the use of precise navigation services can improve the efficiency of mining equipment, especially trucks, in terms of fuel consumption from 1.8 to 2.3%.  Furthermore, Galileo-enabled location-based services can be used throughout industry to track and optimise operations like warehousing and further reduce direct emissions.
Although accurate positioning is important, it alone is not enough. Robustness and resiliency are critical too. Here, companies like Septentrio, which manufactures GNSS components and receivers, are using proprietary algorithms to improve positioning robustness and resilience during operations. As a result, mining companies can maximise efficiency, achieve the highest levels of safety, optimise the utilisation of natural resources and help safeguard the integrity of surrounding ecosystems.
Not only does EU Space help secure the raw materials needed to enable Europe's green transition, it also ensures the processes for doing so don't compromise our other sustainability goals.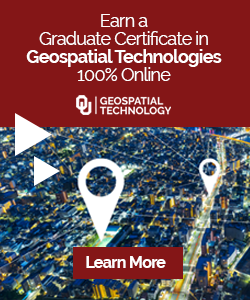 Read on