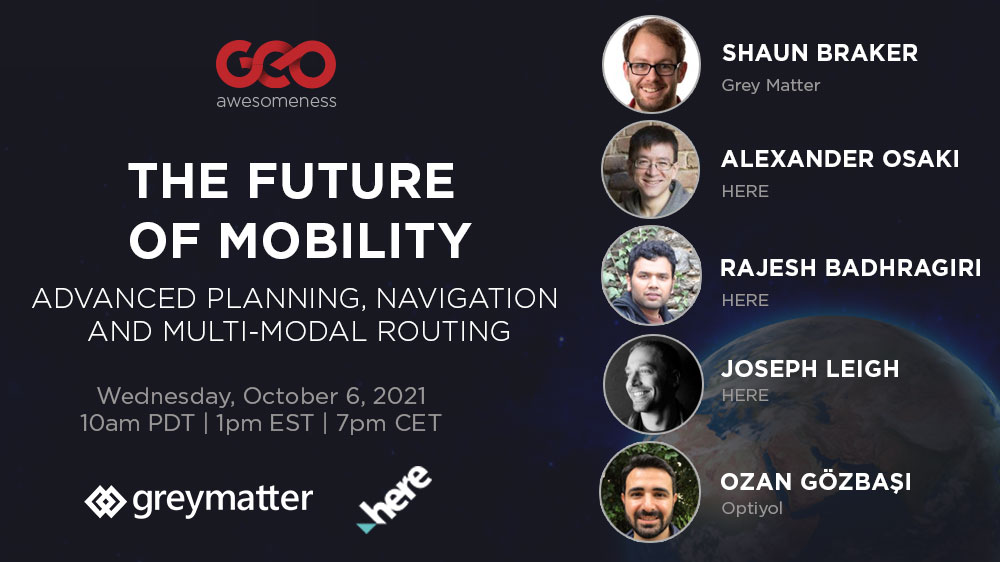 #People
Future of mobility – GDM #18 – October 6th 2021
In cities, smart mobility is crucial to making cities function effectively. Reducing congestion, improving traffic flow, and positively affecting health and safety are some of the many ways AI and location intelligence can bring about positive and sustainable change to the way we move. Simply put, increasing the efficiency of movement reduces emissions.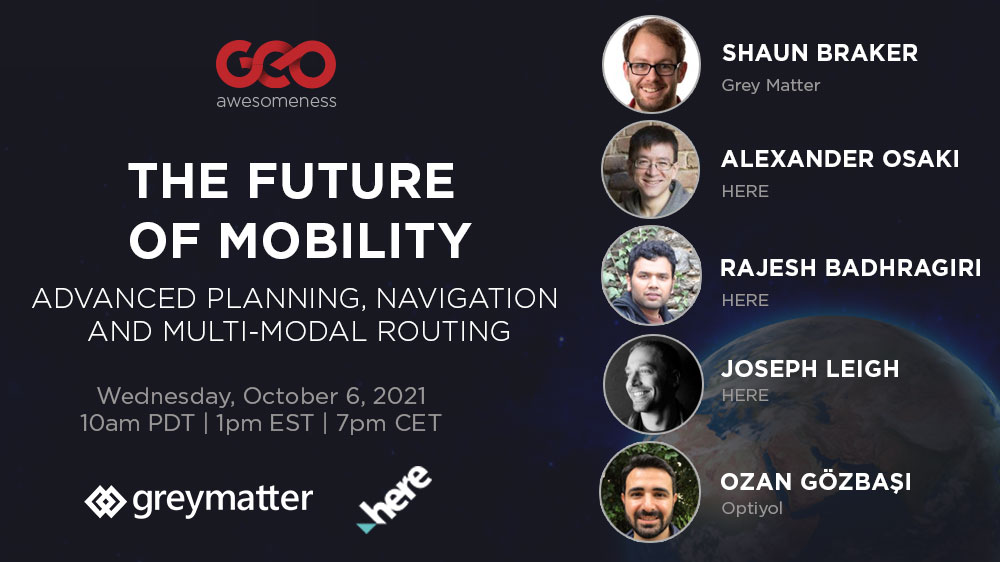 Building an optimised, safe and accurate routing solution for the movement of people, goods and vehicles involves considering indoor and outdoor spaces and having access to highly accurate geographical data that takes into account real-time congestion and incidents for stress-free ETAs. Think about the frequent friction points that exist when we face the, 'where do you park' question along the way to our final destination.
For our next meetup event, we have experts from HERE Technologies, Grey Matter, and Optymol, to discuss how advanced routing, and dynamic, accurate datasets can help you to optimise your operations with real-time information such as turn-by-turn navigation, speed limits, road closures, traffic conditions or changes to the tour. They will show you how HERE's advanced routing algorithms and rich map datasets promote safer and more efficient movement globally.
If you haven't already registered, secure your FREE ticket here. Minute-by-minute agenda for the event is available here.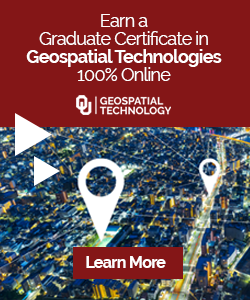 The community is supported by:

Next article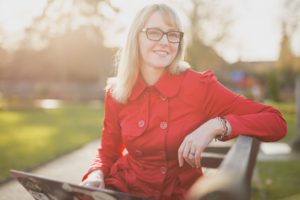 #People
Geospatial Expert Panel – Denise McKenzie – 2022 Top 100 Geospatial Companies
Geoawesomeness team is delighted to announce Denise McKenzie, Chair of the Association for Geographic Information in UK (Denise is a huge inspiration to me personally) joins us as an expert on the panel for the 2022 Top 100 Geospatial Companies.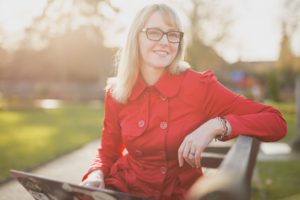 Denise McKenzie is Chair of the Association for Geographic Information in the United Kingdom and co- author of the Locus Charter, a set of principles to guide the ethical and responsible use of location data. She is a consultant in international geospatial policy, strategy and program management with a speciality in community building and public/private partnership, sustainability and ethical use of location data. In the broader geospatial community, she is a member of the steering committee for Women in Geospatial+ and an advisory board member for the Location Based Marketing Association and PLACE. Previously she has worked as the Co-Director of the award-winning Benchmark Initiative at Geovation, as a Senior Policy Officer in the Victorian State Government in Australia and as the Executive Director, Communication & Outreach at OGC where she led work such as the UNGGIM Geospatial Standards Guides. She is also completing her Masters in Sustainability at the University of Southampton.
Since 2016, Geoawesomeness has been publishing this annual list to enable the community to identify companies across the world working on geospatial topics and to foster collaboration.
In case you'd like to nominate a company, please do so via this
form
.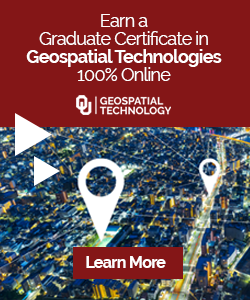 Read on