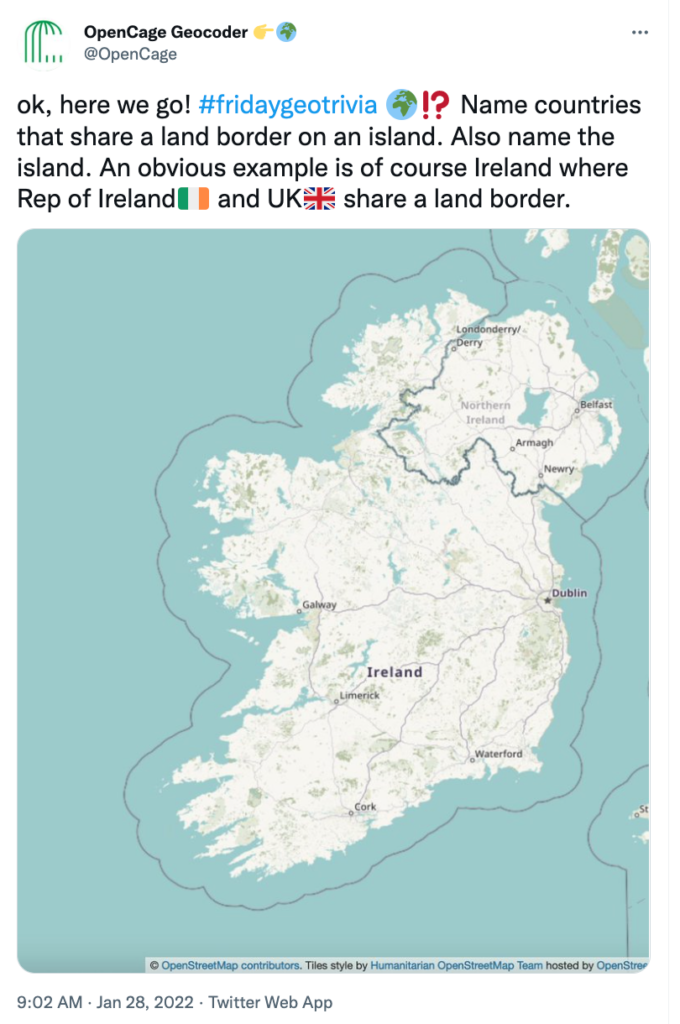 #Fun
#fridaygeotrivia – a twitter-based geospatial trivia contest
Interview with Ed Freyfogle of OpenCage about their monthly, twitter-based geo trivia competitions (#fridaygeotrivia)
Members of the Geoawesomeness community who are active on Twitter may have come across #fridaygeotrivia, a twitter-based geospatial trivia contest organized by OpenCage – makers of the OpenCage Geocoding API – on the final Friday of the month. It's a light-hearted, enjoyable way to let off steam before the weekend while learning interesting geo facts. 
Here are some examples of recent questions the "players" face: "list countries named after people", and "name countries that border at least eight other countries". 
The game takes place in real-time on Twitter, and is fast-paced and competitive as players race to show off their bit of obscure geographic knowledge. I had a chat with OpenCage founder, Ed Freyfogle, who organizes the monthly contests to learn more.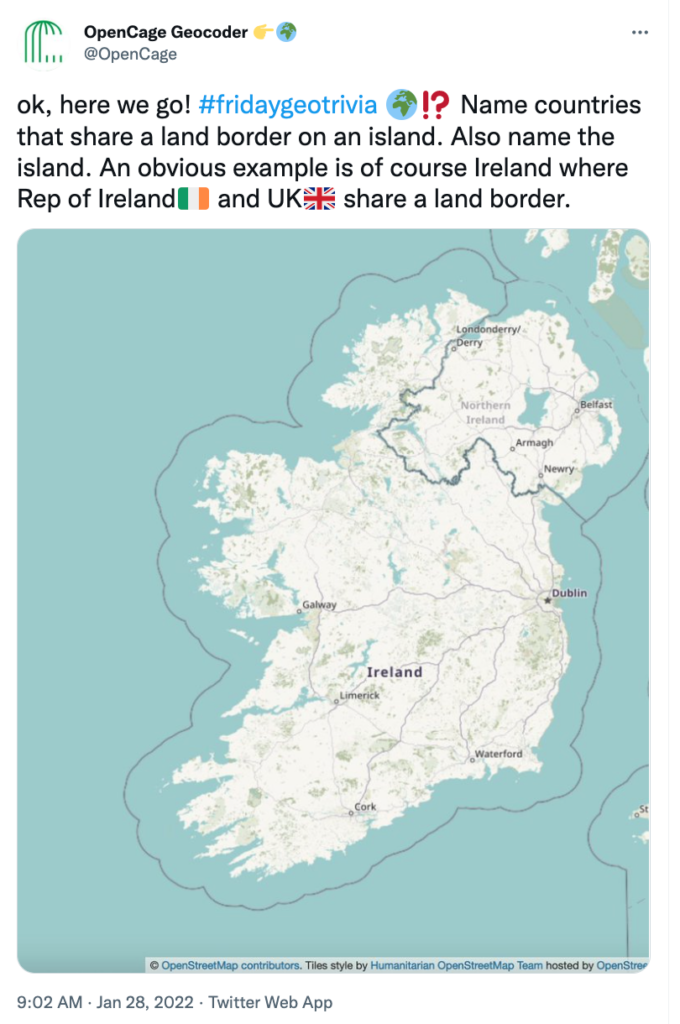 Muthu: Ed, thanks for taking the time to chat with us. What is Friday Geo Trivia? How does it work?
Ed: Friday geo trivia is a way to have fun with geospatial. In the age of remote working and home offices it's an attempt to create the kind of chat you might have at the pub on a Friday afternoon before calling it a weekend. 
The idea is conceptually simple: we pose a geo trivia question and people post their answers as fast as they can. The key is it is a single question that has multiple answers, so usually lists of countries. There is then one master twitter thread with all the correct answers. Answers have to use the #fridaygeotrivia hash tag and emoji country flags. 
What makes it fun is that people from all over the world are chiming in and racing to come up with answers, and of course the questions often reveal obscure geographic edge cases. After about an hour we declare a winner, and head off into the weekend. The answer is then posted on our blog, you can see all the past questions (and answers, though they are hidden until you choose to reveal them).
Muthu: Who plays #fridaygeotrivia?
Ed: Anyone who wants to! The goal is just to have some fun. Some of the players work in the geospatial industry, but many (including some of the best players) don't. Anyone can chime in, and one of the joys of the game is that it's very international. We have a few regulars, but also new people dropping in each time.
Muthu: How do you come up with the questions? Any favorites?
Ed: Honestly it's not so simple to craft a good question. It needs to be a question without a single definitive answer, it needs to be something that is a list, usually a list of countries. And obviously it can't be too easy or the game is over too quickly. Ideally there are some unexpected answers or edge cases that make people say "oh, interesting, I didn't know that". 
My favorite question remains asking for countries that have the same two-letter ISO codes and US postal system state abbreviations, for example "CA" is the code for both Canada and California. There are far more than you might suspect. 
Often the questions come from situations we experience in running the OpenCage geocoder. This is a great example, if someone searches for "CITY NAME, CA" do they mean California or Canada?
Muthu: Is using Wikipedia or Google or maps allowed? How do you prevent cheating? Can't people just search for the answer?
Ed: You can use maps, but you can't just google for answers or look them up on Wikipedia. If you do that is cheating and would be really lame and you will suffer from terrible geokarma for some time to come. But yes, given the stakes of the contest and the prizes, there is a major temptation to cheat. We rely on the honor and competitive spirit of the participants.
Muthu: That raises a good point, what exactly does the winner get? Is there a prize?
Ed: Yes, the prize is the bragging rights of being the winner, which is highly esteemed. That said, we're all winners due to the gained knowledge and fun. The #fridaygeotrivia journey is the destination. Nevertheless, I think we might start sending the winner a t-shirt or a hat or something. 
Muthu: When is the next #fridaygeotrivia? If someone is interested how do they join in?
Ed: It is always on the final Friday of the month, though we post a placeholder blog post on the OpenCage blog a few days beforehand with the exact time. We are based in Europe, so it is usually in the European afternoon. We have experimented with a few different times, we are trying to make it easier for our friends in North America to join in. At the specified time we then post the question on the blog and start a thread with the question on the @OpenCage Twitter account. Then people start answering as fast as they can. To get full credit you need to use the #fridaygeotrivia hashtag and the emoji flag of the country.
My one bit of advice for new players is to focus on the learning and having fun, that's the goal of the game. Sometimes people get a little too fixated on lawyering the question. That's not fun. Also, for the avoidance of all doubt, you are definitely allowed to drink alcohol while playing, though it may slow your typing.
We hope to see you at the next #fridaygeotrivia!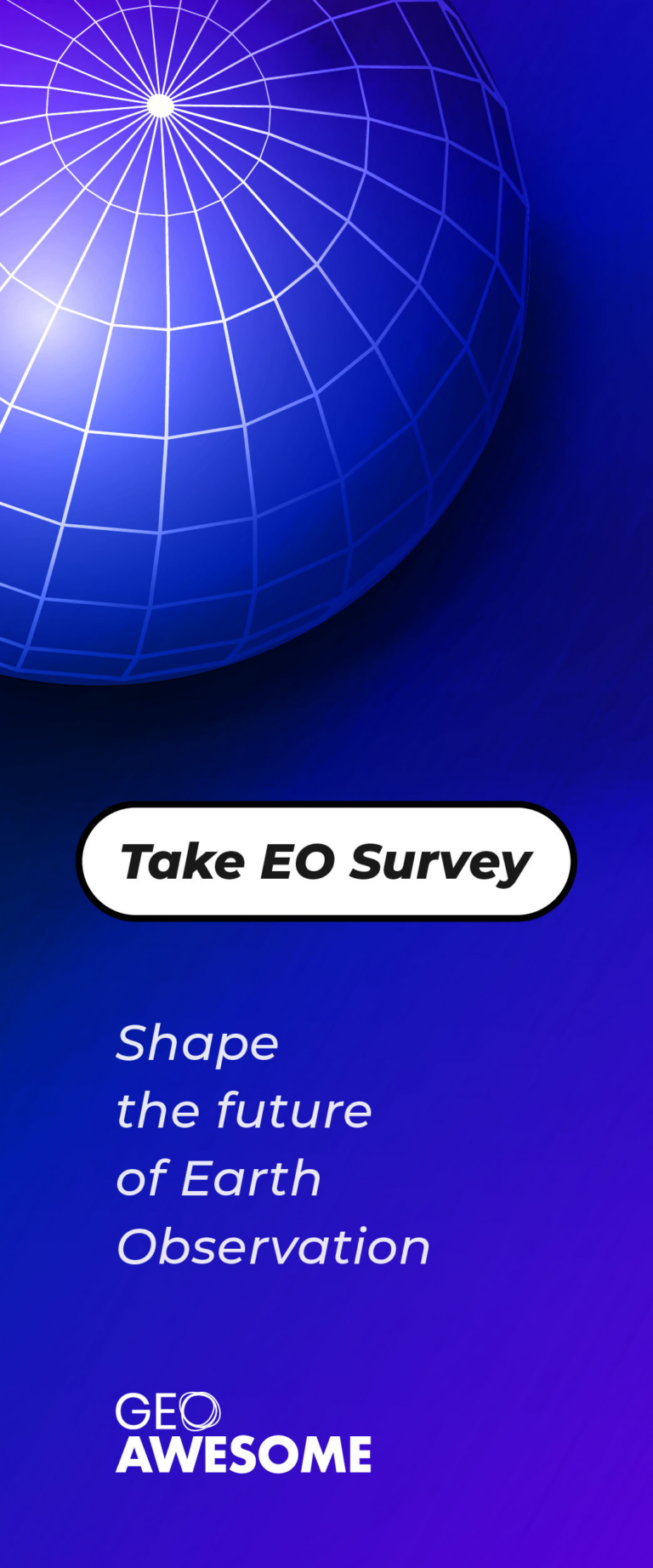 The community is supported by:

Next article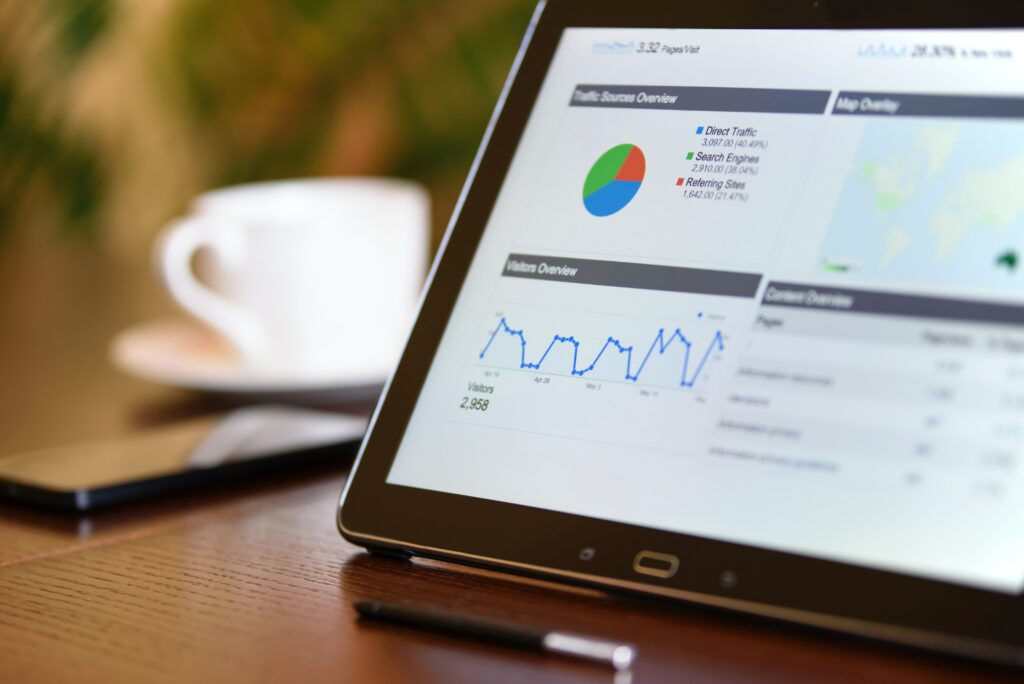 #GeoDev
5 applications for geospatial analysis 
Editor's note – Geoawesomeness Guest Features is an on-going series that spotlights the thoughts, experiences and expertise of our guest writers. We want to encourage a broad set of writers to inform, delight and challenge us all. Together, let's build a more diverse, inclusive and welcoming Geospatial community. 
---
During my time in university at the beginning of my career in geomatics/GIS, I was exposed to a limited amount of geospatial applications. I mainly utilized ESRI's ArcGIS to complete my assignments but as I entered into the workforce during my co-op terms, I started to learn more about other applications that could be used for geospatial analysis some of which were cost-effective while others required you to obtain a license that was quite costly and therefore was often inaccessible not only to students but to the general public and some organizations as well. 
In this post, I will highlight some of the geospatial applications that I have utilized throughout my career thus far and how they can help you analyze and transform your data. I will focus primarily on the usability and accessibility of these applications rather than just the advantages and the disadvantages of each application as it is important to know how seamlessly one can learn how to analyze their geospatial data in an effective manner. 
Note: Most of these applications are fairly easy to use if you have a basic understanding of GIS concepts and/or software. 
ArcGIS
Most people in the geospatial industry are familiar with ESRI products, specifically ArcGIS. However, these products are not always accessible to some individuals and organizations as they require you to obtain a license that can be quite costly. 
Esri does however offer free massive open online courses (MOOC) where you can learn how to conduct geospatial analysis using ArcGIS Pro and/or ArcGIS Online. It is important to note that like ArcGIS (ArcMap, ArcCatalog and ArcScene), you can only download and operate ArcGIS Pro on a computer with a Windows operating system making it inaccessible to those with macOS and Linux operating systems. 
Some tools that ArcGIS Online has that may be useful for data analysis: Join Features, Find Hotspots, Create Buffers and Aggregate Points. ArcGIS Online also provides descriptions on the function and usage of each tool so that you can figure out which ones are best suited for your analysis. 
Visit https://www.esri.com/training/mooc/ for more information about ESRI's MOOC program. 
FME
FME also known as Feature Machine Engine is an application where spatial and non-spatial data from multiple different sources can be loaded, manipulated and extracted using transformers and automated workflows. FME is typically not considered to be a GIS application however it is quite helpful in terms of conducting spatial analysis. If you wish to learn how to use FME, there is a 30 day free trial for FME desktop on Safe Software's website that works on multiple different operating systems including Ubuntu, Windows and macOS. You can also apply for a free license so long as you qualify (students, NGOs and recent graduates can apply). 
These are some of the transformers that I've found to be helpful in the past: Attribute Creator, Attribute Exploder, JSONExtractor, Feature Merger, Feature Writer and Duplicate Filter. Descriptions on the function of each transformer are available on Safe Software's website. 
Note: the transformers you choose to use are dependent on what type of output or result you want to be derived from your analysis. 
Training videos are available on Safe Software's website but if you need more training videos, there are many available on YouTube.Visit https://www.safe.com/fme/fme-desktop/ & https://www.safe.com/training/recorded/ more information about FME desktop and training. 
Quantum GIS
The use of open source software such as Quantum GIS (also known as QGIS) has become increasingly prevalent in the last decade. People have been driven to use open source software primarily due to its cost effectiveness along with its functionality and capabilities. For some large scale organizations, it can be costly to provide every employee with a license to software such as ArcGIS so as a substitute, organizations are encouraging their employees to learn more about open source software and utilize them to conduct their geospatial analysis. In fact, in my day to day for the last few years as both a GIS technician and a Data Analyst, I have been using QGIS to conduct my analysis and have trained other employees to do so as well. 
Unlike ArcGIS, QGIS can be downloaded using any operating system such as Linux and macOS. It may be argued that QGIS isn't as user friendly as ArcGIS in terms of explaining how to use geoprocessing tools and what outputs they derive, however there are geospatial forums online that can help you find out which tool(s) you may need to conduct your analysis. QGIS also offers a large number of plugins that can be useful to transform your data. 
Some useful processing tools and plugins are: Join by Attribute Value, Extract by Location, Topology Checker (to check for invalid geometry within a feature layer), Editing toolbar (Merge features, Split Parts, etc.. ), QuickMapServices plugin, MMQGIS plugin (geocoder/reverse geocoder). 
QGIS offers extensive training on their website so that you can learn how to use their software in a short span of time. QGIS North America's channel on YouTube also offers pre-recorded training sessions given at their conferences such as "An Introductory QGIS workshop for beginners" given by Michele Tobias. 
I also recommend following Spatial Thoughts on YouTube and checking out their blog as they discuss how to utilize a variety of geospatial tools in QGIS. The same goes for the company, Luna Geospatial run by one of my former colleagues, Cliff Patterson, who is quite proficient in QGIS and open source software. 
Visit https://qgis.org/en/docs/index.html for more information about QGIS. 
AutoCAD
In some cases when governments or organizations only have scanned maps or images available, AutoCAD can be a crucial tool in terms of transforming those maps/images into usable data. This can be done via digitization and the resulting output (.dwg files) can also be uploaded into other GIS applications such as ArcGIS and QGIS as sources of data.
Since I primarily used AutoCAD to digitize survey drawings at one of my former jobs, I was mainly using the line, circle and arc drawing tools to accurately measure lines on those scanned survey drawings.
AutoCAD has a free version that can be used by students and educational institutions for up to one year. You can also obtain a free trial for business purposes. Otherwise, AutoCAD can be quite costly to use. Note: AutoCAD can be downloaded using any operating system as well. 
Visit https://www.autodesk.com/training for more information about training options. 
Other data and visualization applications
Microsoft Excel and Tableau can also be used as geospatial tools in their own way. As a Data Analyst, I often use Excel to analyze or edit data before I load that data into another program such as QGIS. 
I find myself often using the vlookup function to search matches between tables (similar to the join by attribute value tool in QGIS). 
Applications such as Excel and Tableau even have the ability to transform your data into a map so long as you have x/y or lat/long coordinates within your table. 
Most individuals in the geospatial industry are proficient in Microsoft Excel, however if you need to learn how to use functions in Excel, there are many online forums and resources that can help you do so. 
If you don't already have access to Excel, Microsoft offers a free one month trial for Microsoft 365 (which includes Excel). For more information, visit https://www.microsoft.com/en-ca/microsoft-365/try
Tableau on the other hand isn't as widely used in the geospatial industry (as far as I know) but as mentioned it still has the capability to transform and manipulate your data. Unfortunately, if you want to use Tableau in the long run, you will have to obtain a license that can cost up to 840 USD per person. There is however a free 14 day trial for the desktop version that seems to work on all operating systems. 
Tableau is quite complex to learn on your own, however Data Camp and LinkedIn learning offer free courses that you can complete at your own pace in order to learn how to use Tableau. 
If you are looking for training resources on how to use Excel, Tableau or even PowerBI, visit Data Camp (https://www.datacamp.com/) for courses that are free of charge. 
Visit https://www.tableau.com/products/desktop for more information about Tableau Desktop 
If you are new to geomatics/GIS and you are looking for an application that caters to beginners, I recommend starting off with ESRI's ArcGIS products as well as QGIS. As I mentioned before, ESRI offers free online courses such as "Going Places with Spatial Analysis" that are super easy to follow at your own pace and allow you to learn how to use specific tools for geospatial analysis in ArcGIS Online. Also, since QGIS is an open source software, you can take your time to learn how to use geoprocessing tools and plugins (using QGIS documentation and the various videos/resources I previously mentioned) without being confined to a time limit as you would with products that have a limited time free trial. 
To conclude, geospatial applications have the potential to do a lot for your data so long as you have the right tools to analyze and transform that data into something magical and beautiful.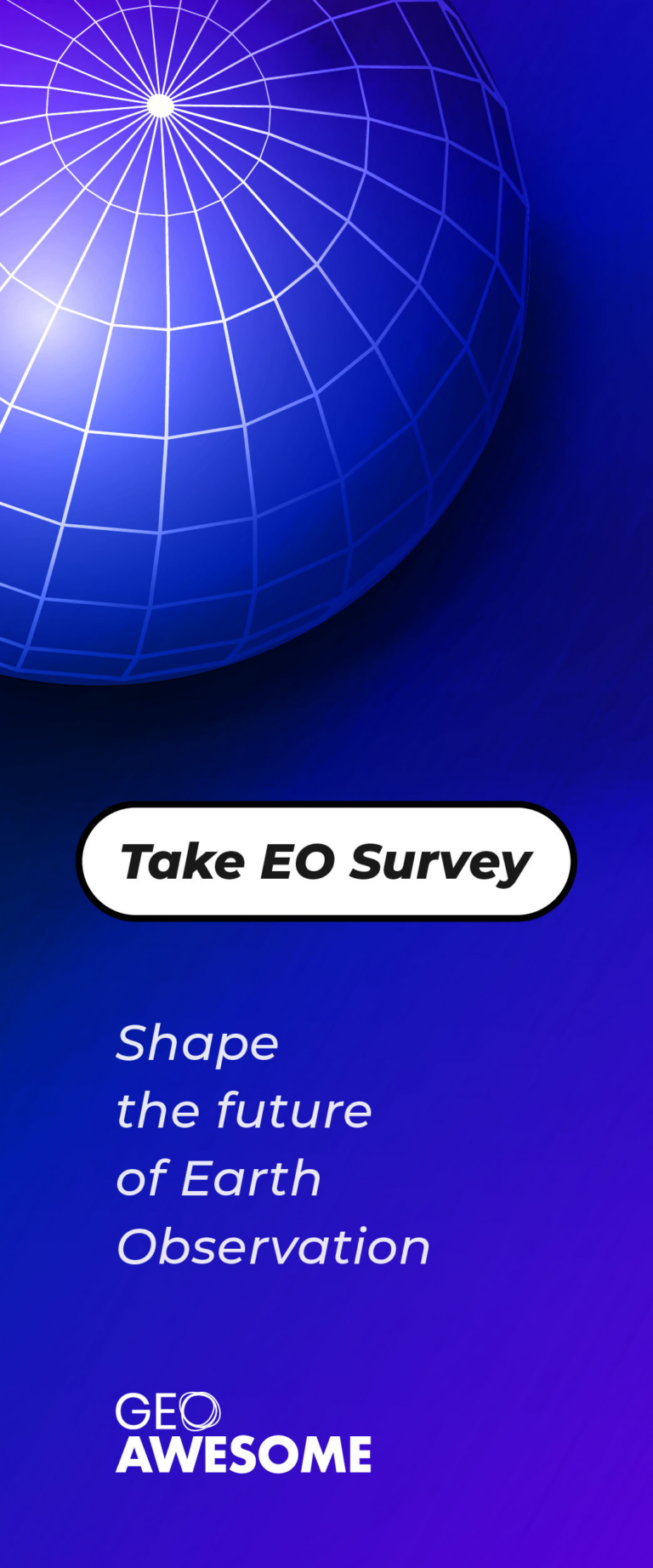 Read on