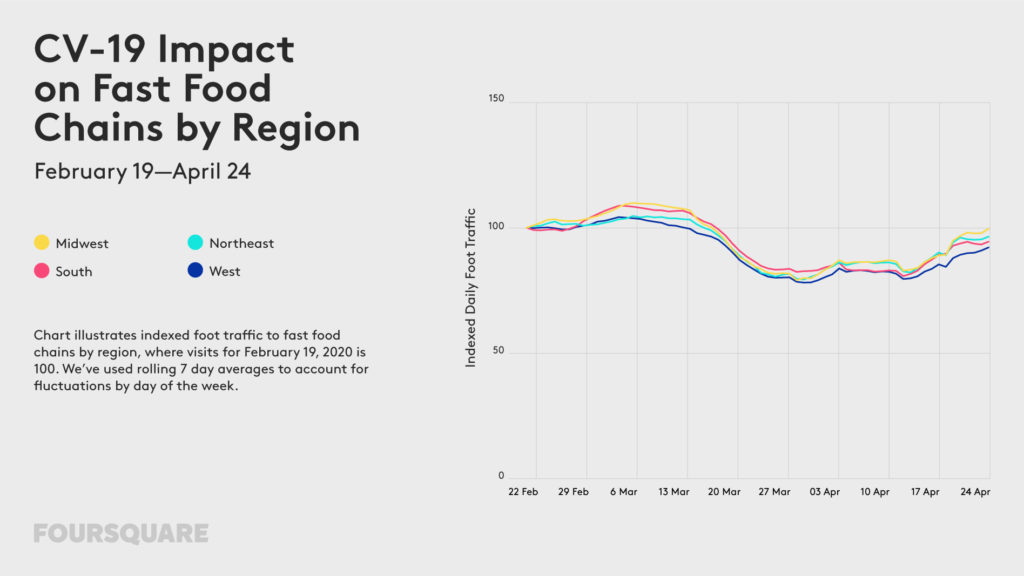 #Business #Featured #Ideas
Foursquare location data shows how foot traffic is increasing across US
Foursquare has spent the last few months studying how COVID-19 is affecting foot traffic across the United States. On April 30, the location intelligence company revealed the analysis of foot traffic trends from February 19, when community transmission of the novel coronavirus was first detected in the country, through April 24.
And what does that analysis tell us? That regardless of state-specific policies on the relaxation of coronavirus-related restrictions, people are feeling the itch to get back to the real world. While foot traffic had majorly bottomed out around the end of March, by April-end, upticks could be witnessed, indicating that consumer behavior is getting back to normal.
According to Foursquare data, fast food and gas station visits have returned to pre-COVID-19 levels in the Midwest and rural areas. Even casual dining restaurants are starting to show upticks, but that could also be prompted by new curbside takeaway options. Also, there has been a significant spurt in foot traffic to home improvement stores, which is a permissible destination in most US states.
These findings by Foursquare are based on anonymized and aggregated location data taken from the mobile apps of 13 million Americans who are a part of the company's 'always-on' panel. "Men, and generally people between the ages of 35-64, have shown more moderate declines across different types of places, and are also showing greater propensity to return," Foursquare explains in a blog post.
Let's take a deeper look at the foot traffic patterns for QSRs, gas stations, grocery stores, hardware shops, trails, and offices.
Fast Food Chains: Foot traffic to quick-service restaurants (QSRs) has risen over the past several weeks, with traffic down only 5% nationally as of April 24.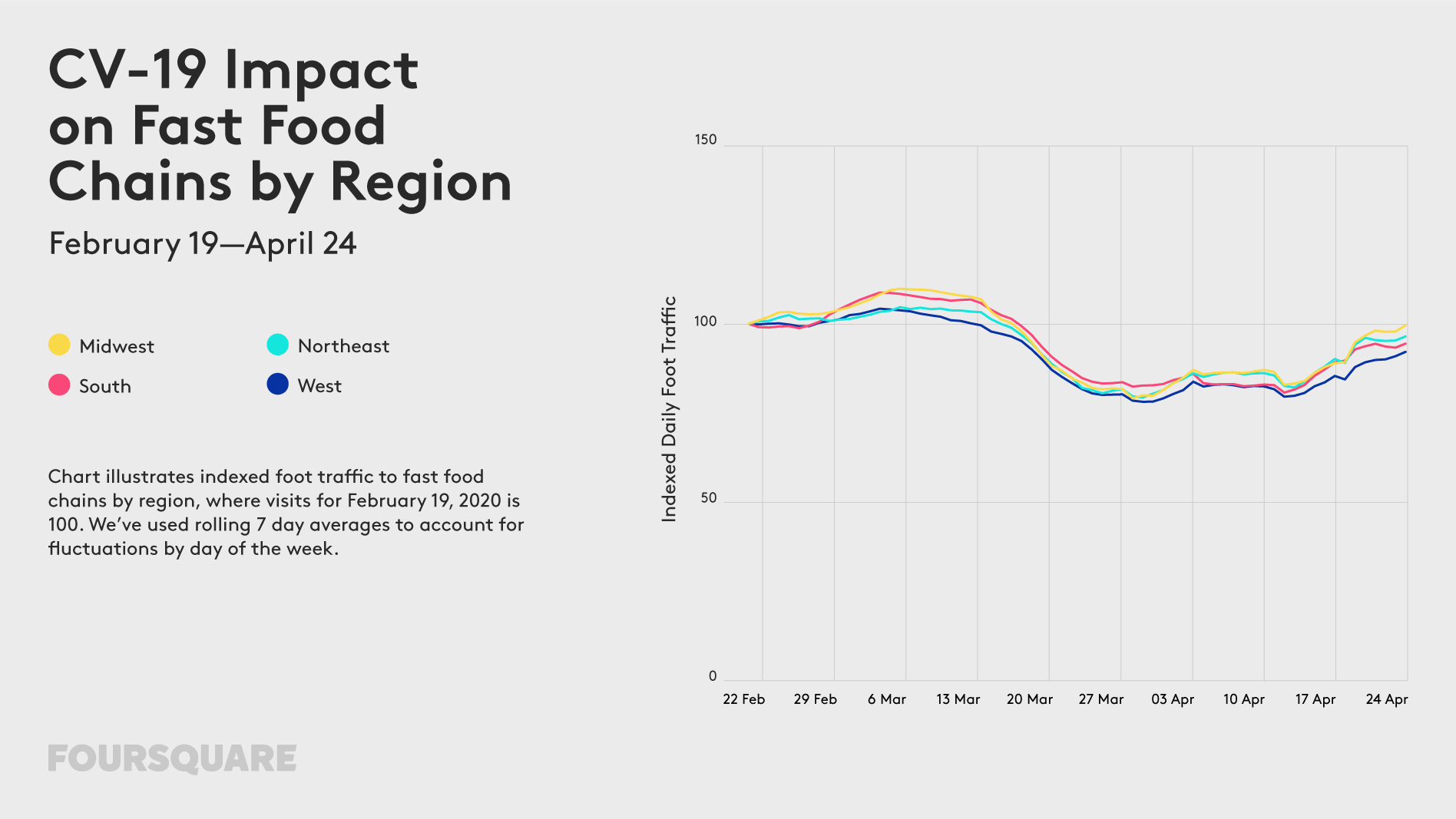 Gas Stations: Gas station visits have increased slightly since mid-April, down only 6% nationally as of April 24 (versus 8-11% in the weeks prior).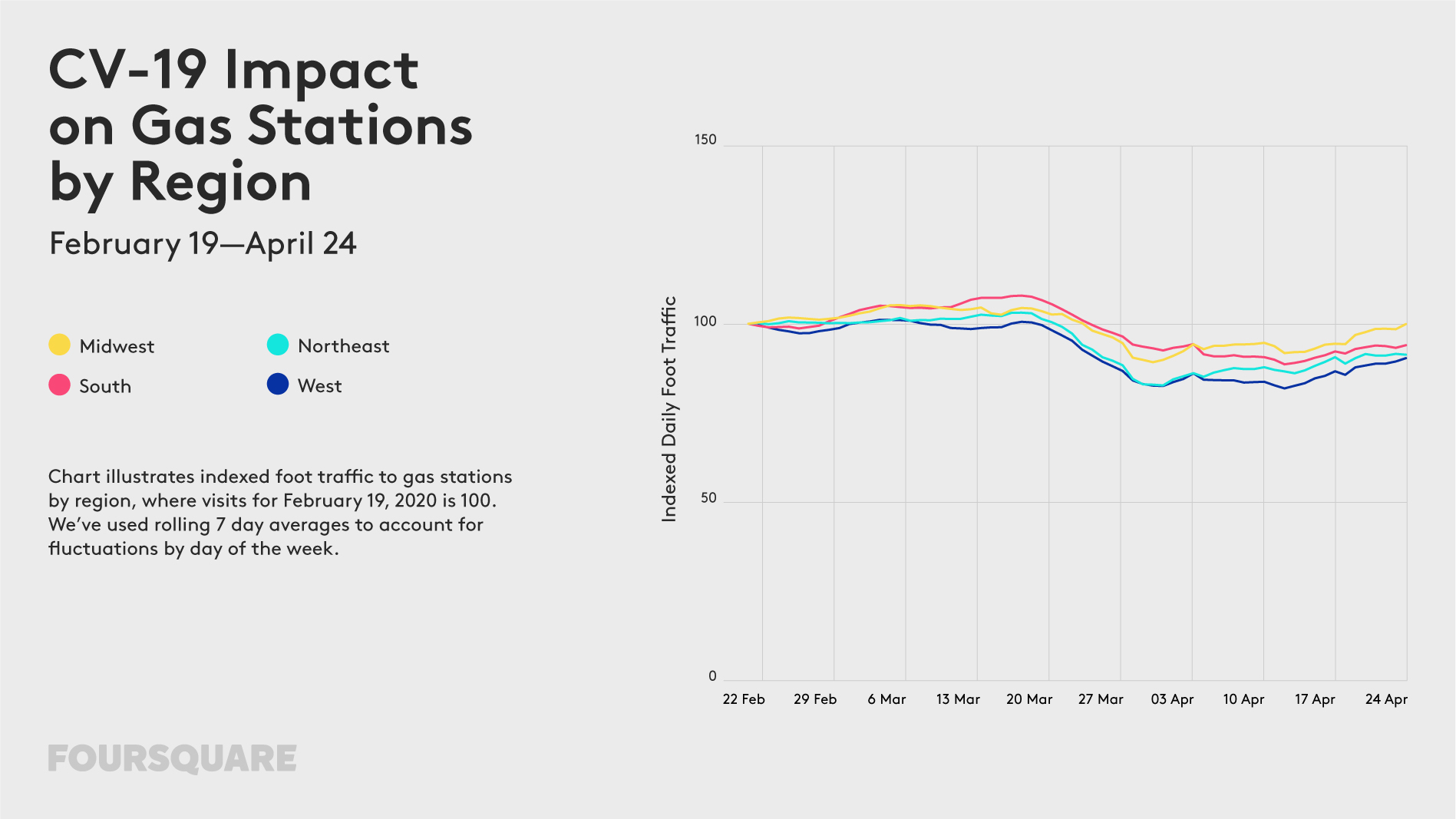 Grocery Stores: Surges in foot traffic to essential were observed in early to mid-March when consumers were in panic mode. This behavior settled down by March 23, as social distancing became the norm. Foot traffic has since returned to roughly normal levels.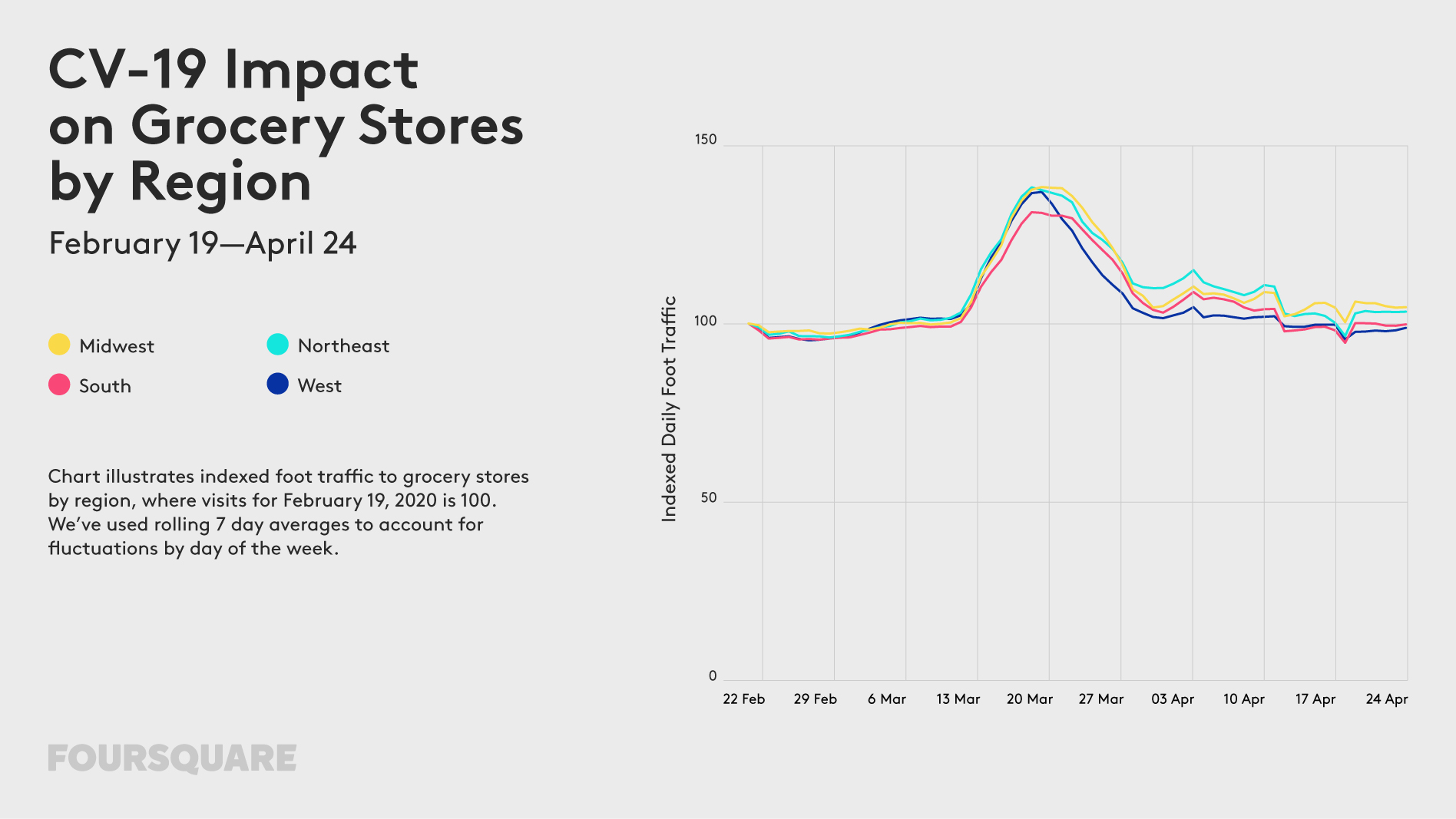 Hardware Stores: With people devoting more time and energy toward gardening and home improvement, foot traffic to hardware stores like The Home Depot and Lowe's have increased significantly in recent weeks – with visits up 56% as of April 24.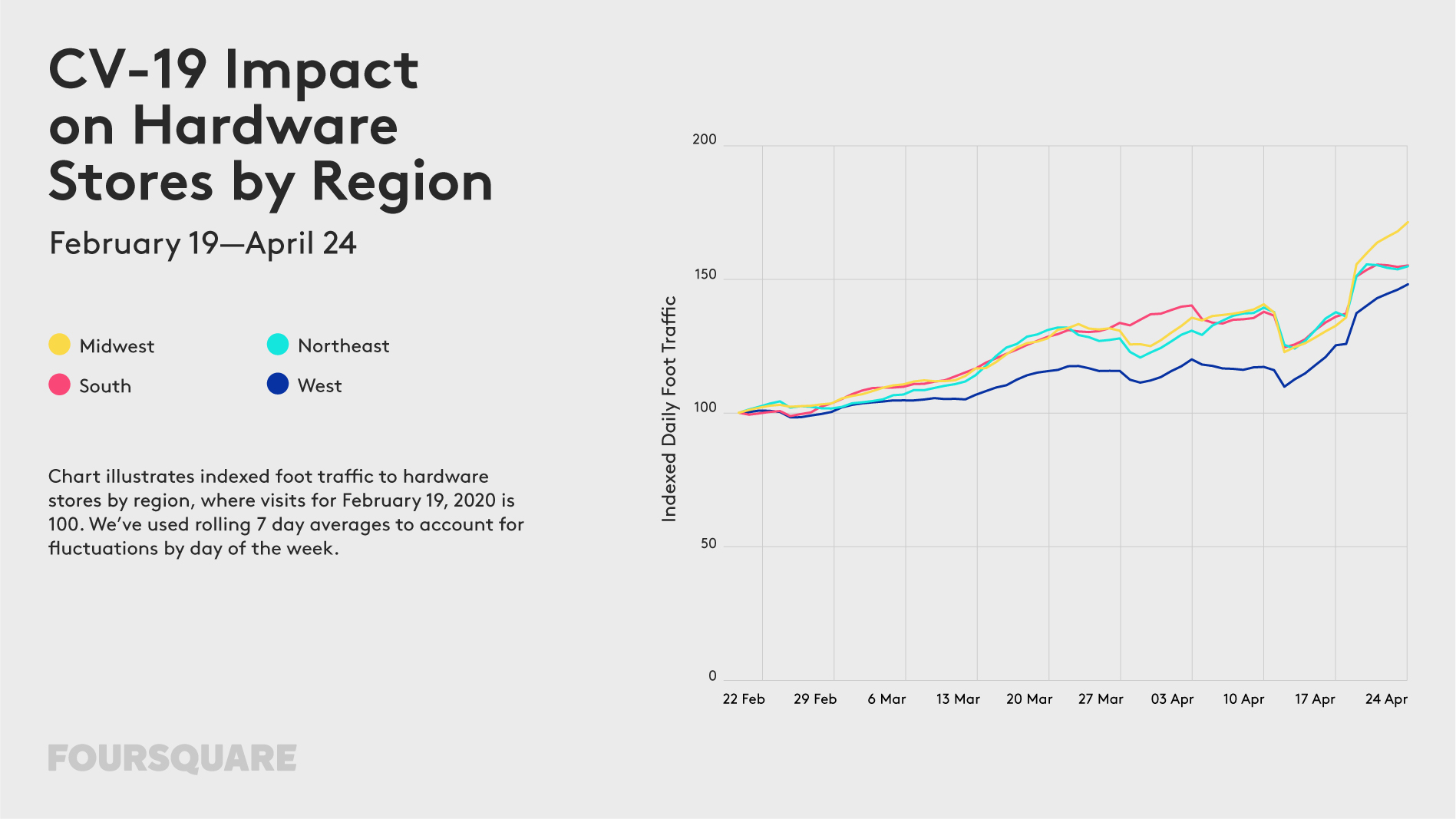 Hiking Trails: Trail traffic is up mostly in the Midwest (+77%) and Northeast (+57%). Although some of this could be due to seasonality, the growth in the last two weeks has been particularly notable.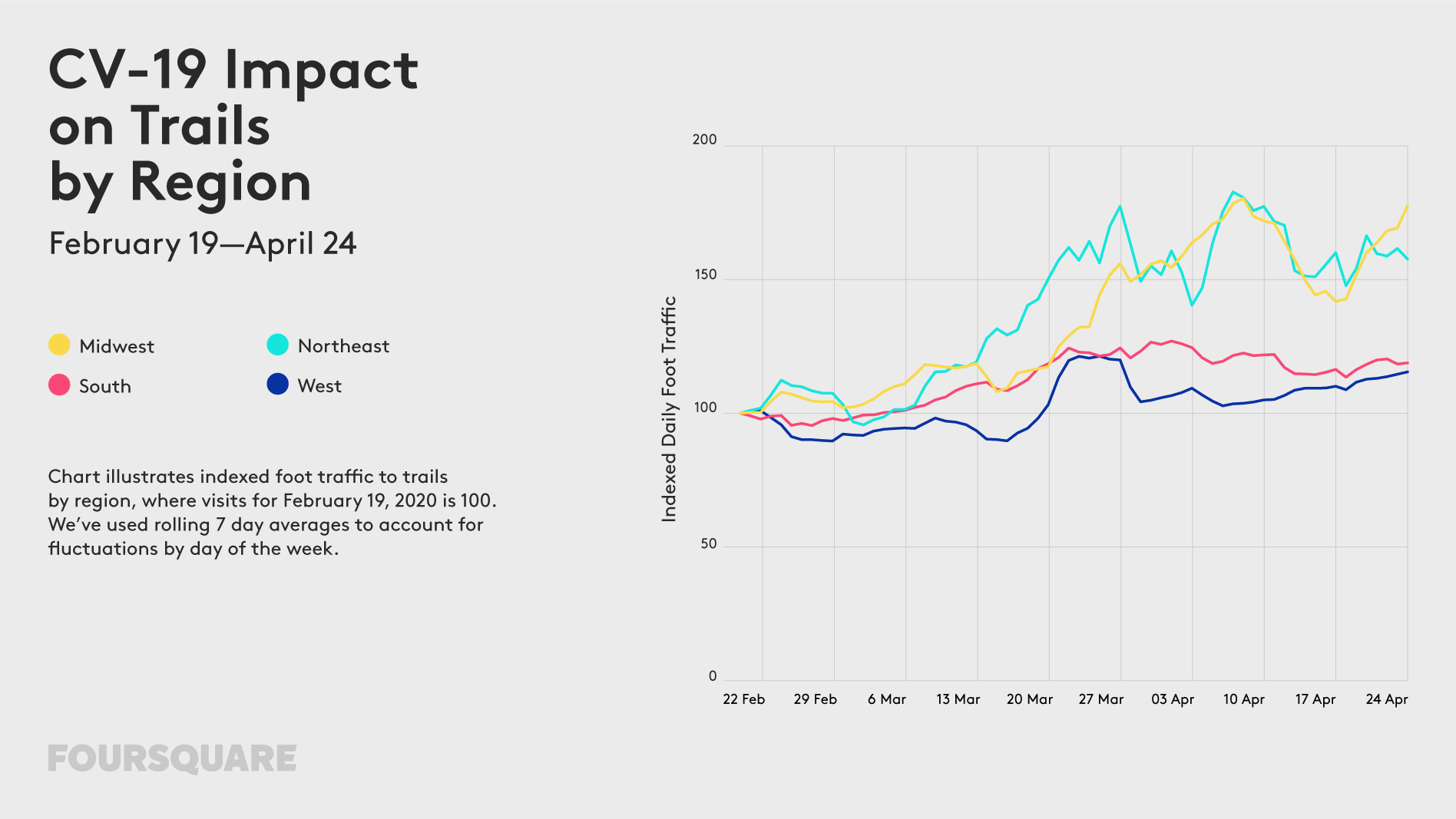 Offices: Foot traffic may be increasing elsewhere, but visits to offices have remained roughly stable since around April 1, down 40% nationally from the week ending February 19 to the week ending April 24.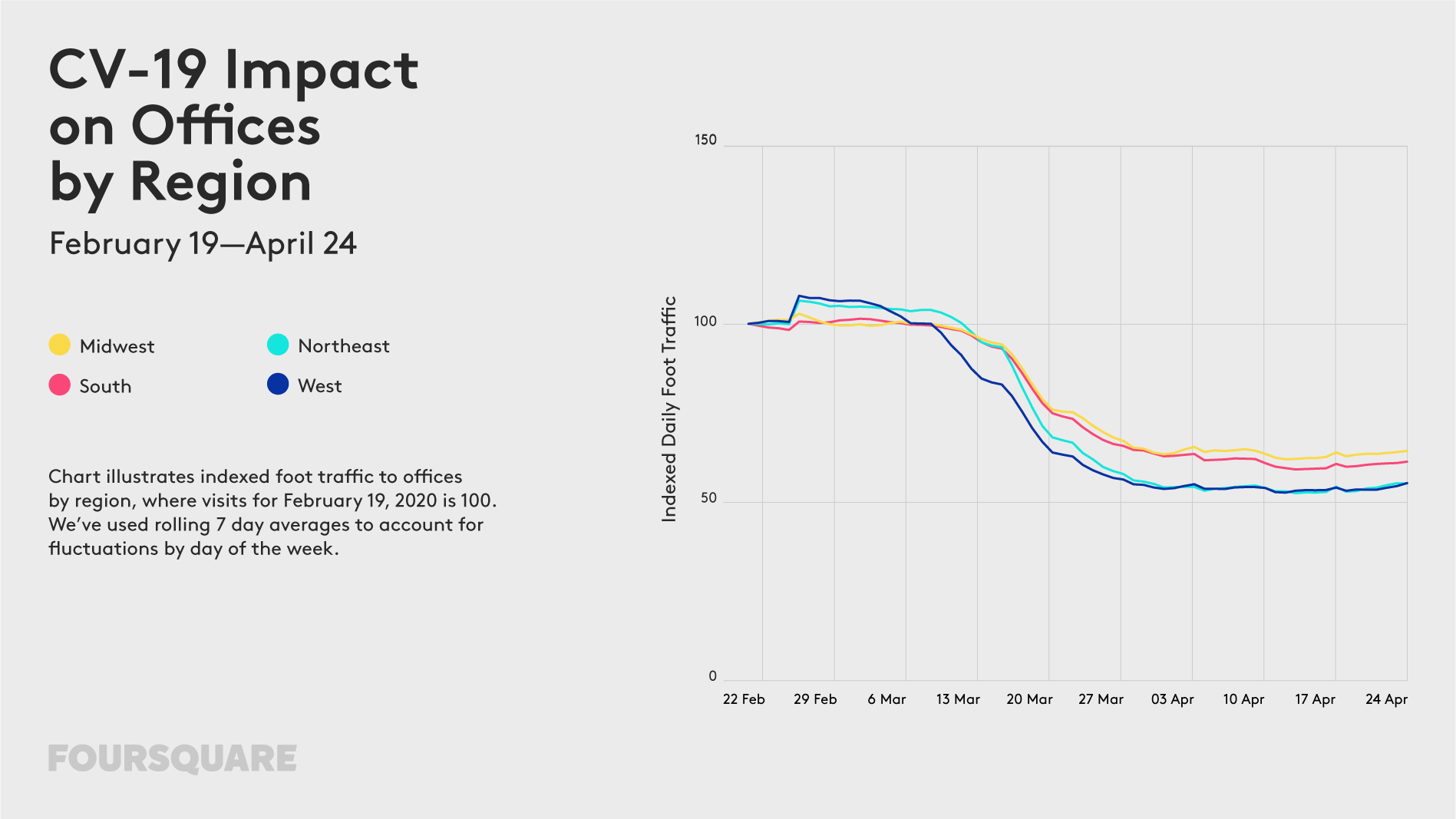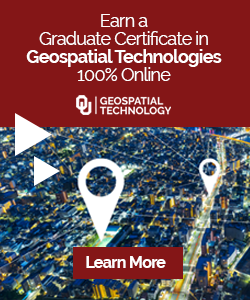 The community is supported by:

Next article
#Featured #Ideas
10 amazing ways people are using this free Google tool to make custom COVID-19 maps
Google is witnessing a huge surge in the number of people using its custom mapmaking tool, My Maps, during the COVID-19 pandemic. According to Google, there have been nearly 3 billion creations, edits, and views in My Maps between December 2019 and April 2020. In the same time period last year, that number was only 2 billion.
Launched in 2007, My Maps allows users to create their own custom maps on top of Google Maps. With a simple drag-and-drop interface, you can add placemarks, draw lines and shapes, and embed text, photos, and videos. Publishing the map publicly is also pretty simple. You can share the map via public URL or embed it on websites for others to see.
Also see: Facebook's COVID-19 symptom tracking map for US
"With My Maps, anyone can be a cartographer," Chris Herwig, Technical Program Manager, Google Earth Outreach, points out. "In the past few months, we have seen how powerful this small set of relatively simple features can be. People are using My Maps to be forces for good and coordinate relief efforts. Map by map, people are connecting each other to resources for caring for ourselves and others, while staying healthy and informed."
Using Google My Maps amid COVID-19
People are using My Maps for everything from mapping hand-washing and hygiene stations to visualizing information about school lunch pick-up spots. Here are 10 impressive ways Google My Maps is being used by communities around the world:
1. Massachusetts' Child Nutrition Outreach Program is using My Maps to help families find sites serving meals to children and teens during school closures:
2. A Maldives citizen created a helpful map that displayed local shops, pharmacies, and food businesses by zone, and received appreciation from the local police:

3. The National Transit Agency of Ecuador is using My Maps to help truck drivers moving food across the country find disinfection points, gas stations, mechanics, and other resources to help them on their journey:

4. Taiwan's CDC has used Google My Maps to visualize the traces of confirmed patients in their contact tracing website:

5. Urban Roots, a community-led environmental charity in Scotland, has been collaborating with the Glasgow Community Food Network map to direct people to food banks and free meals in Glasgow:

6. In the Philippines, the Department of Transportation is using My Maps to map free hospital shuttle service routes for COVID-19 medical frontliners:

7. The Wyoming Department of Family Services created a My Map to guide essential personnel like police officers, doctors, and nurses to childcare facilities for their children whose schools have closed:

8. In Australia, the New South Wales Ministry of Health has created a map of public COVID-19 clinics up and running across New South Wales:

9. Librarians across Mississippi have teamed up to create a map of parking-lot Wi-Fi access points:

10. Andy Jeffrey, a freelance developer from London, has developed a map with links and contact details for coronavirus support services, charity organizations and mutual aid groups in North London:

Are you also using Google My Maps to aid in COVID-19 management and mitigation efforts? Tell us your story in the comments!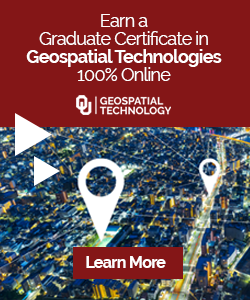 Read on