#Business
Facebook acquires activity-tracking app Moves

Last week Facebook announced it is buying Moves – daily activity and fitness tracking app. In a blog post, the Finnish startup said it will be working on Facebook's own products and services, but refrained from giving any specifics. Does it mean that Facebook is getting into sports and wearable tech hype? I don't think so.
PASSIVE LOCATION TRACKING
What's different about Moves from any other location-based sports tracker? It uses passive location tracking in a background of the phone without draining the battery. The idea is to use all several sensors of our phone to automatically recognise whether we're walking, bicycling, running or anything else. And this is the key.
Google and Apple are both studying and recording our daily behavioural patterns to provide more personalised services and better target ads. Facebook has even more personal data about each of us. By adding another layer of information to our user profile , the company could gain some competitive advantage over Google. There are start-ups like Locomizer who openly says: tell us where you are, we'll tell you who you are. Taking even broader approach and incorporating data about our daily movement patterns gives a lot of important targeting information. And in case of Facebook possible access to data of over 1 billion users world-wide.
FACEBOOK AND LOCATION = ?
What will the Moves team work on at Facebook? Mark Zuckerberg himself might not be fully sure about it but the message is clear: Facebook understands that its underutilising the location-based potential of the data and they want to make a better use of it. And they are quite open about it. 2,5 years they bought Gowalla, and several other start-ups like e.g. Glance, 1,5 years ago they've launched Nearby – for local places discovery, and last week new feature called Nearby Friends.
Of course there is an important issue of our privacy. Will we be willing to share our daily routine with Facebook? Or it's better to say our "location-based daily routine" as we already share a lot of personal stuff with FB. This is something that each of us should be aware of. Personally I don't mind it…yet.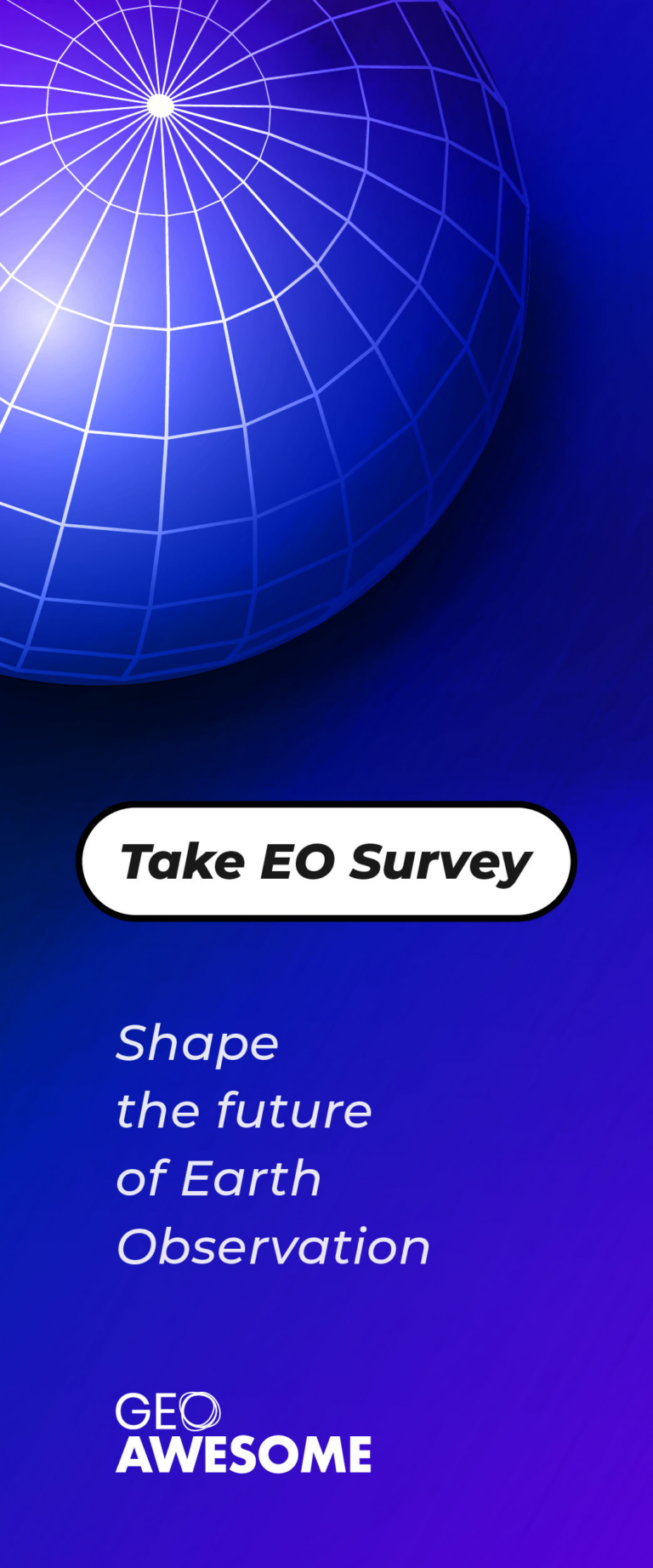 The community is supported by:

Next article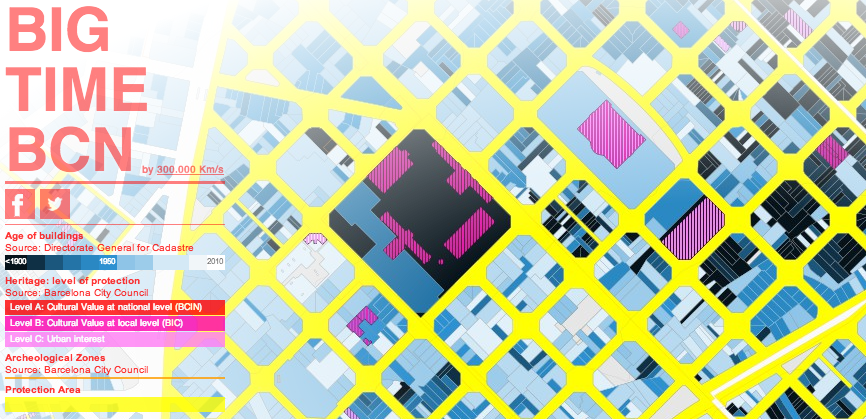 #Featured
Big Time BCN – Beautiful interactive map of the architectural history of Barcelona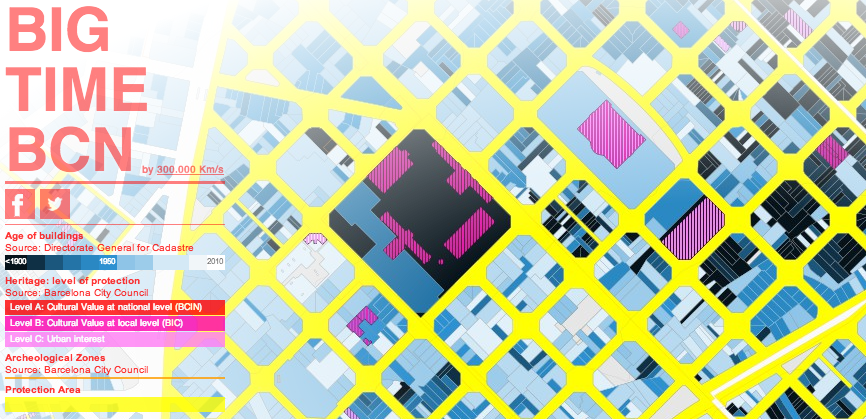 Barcelona is definitely one of the coolest and most beautiful cities in the world. And definitely one of my favourite places on the planet. Architecture, atmosphere, people, scent, food, sea… everything makes the city very inspiring. Maybe that's one of the reasons behind the most interesting map I've seen for some time.
Big Time BCN (Barcelona) is an interactive visualisation of data from more than 70,000 plots and 3,000 monuments created by Pablo Martinez, Mar Santamaria and Oriol Hostench fro,m 300.000km/s design firm. In addition to its most celebrated monuments, such as the Sagrada Familia or Parc Güell, Barcelona has several thousands of other places worth seeing. The map seeks to visualise these places in an flexible format in order to raise awareness about the richness and importance of architectural and urban heritage.
The web app has been done in Leaflet with cadastral map data. The colours of the map represent several levels of information. The first level represents the age of the building – black indicates structures built before 1900, lighter shades of blue indicate more recent structures. Another level of information is from pink to red and it stands for cultural value of the item. When you click on that elements you'll get a pop-up window with extra info about this particular venue. Yellow colour represents the protected area of urban heritage. 

There's also an Android app available which is basically mobile version of the website. Simple but might be useful. From the practical point of view the project is definitely no the best travel guide out there and not the best database, but from cartographic side it is a piece of really good looking map. Don't you think?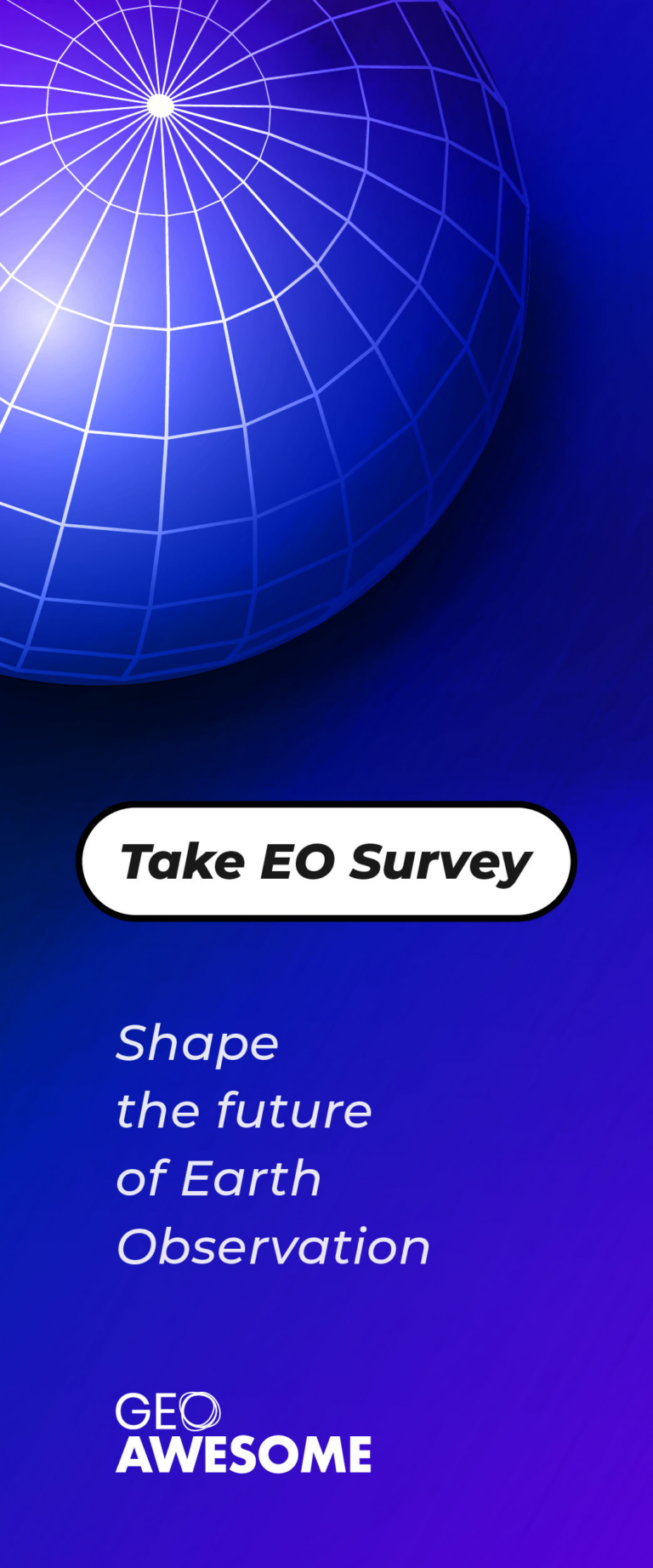 Read on