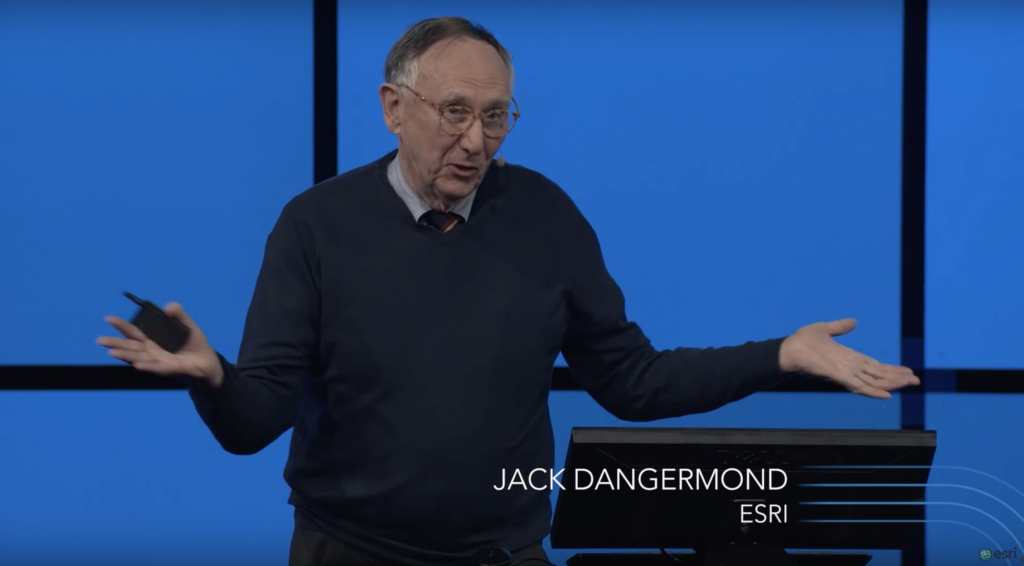 #Featured #Science
Where Esri is heading according to Jack Dangermond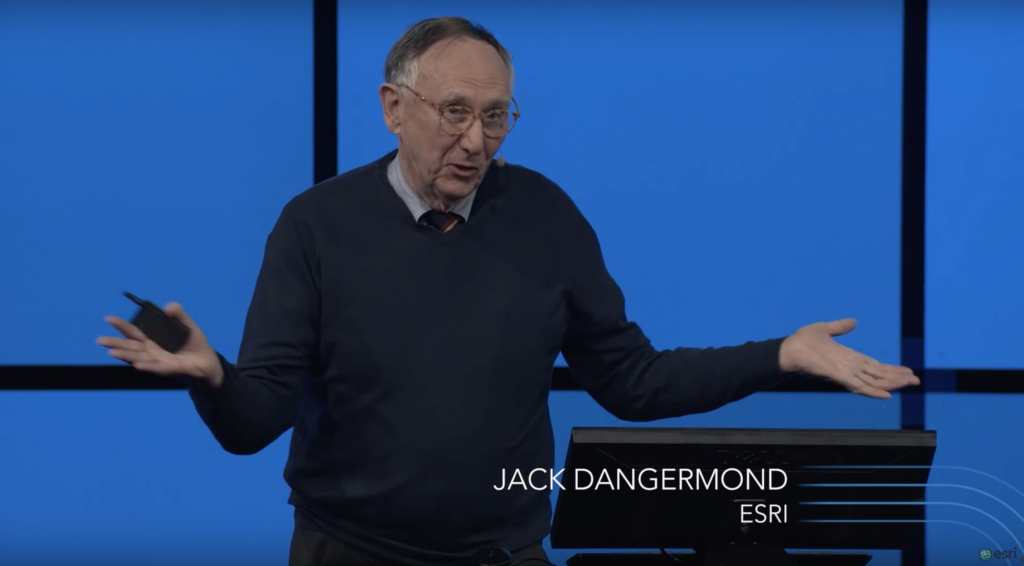 Each year Esri organizes a conference in Washington DC which brings thousands geo enthusiast and expert to seek the latest innovations in location analysis. It's a great opportunity to listen to specialists and leaders like Jack Dangermond himself,  who was willing to share his thoughts about further company directions and its achievements. During his speech, we heard about many fascinating things that happened in the geo industry, but at the same time, we learned that GIS has still challenges ahead. Our world is constantly changing, and these changes cover climate, public safety, transportation, pollution, the economy, natural resources and national security. Since Geographic Information System becomes essential to understand this massive amount of data, Esri dedicated itself to a new vision which is called The Science of Where. It is not yet another tagline but the essence of how GIS evolved and will evolve in the future.
So what is this Science of Where and why now?
Today, thanks to the cloud computing, mobility and data sharing, the new technology emerged, where people are capable of applying geographic data like never before. It is said that GIS integrates everything and everywhere. To make GIS users understand each other better, there is a need for a common visual language that combines mapping and advanced analytics in connection to real-time data. To grasp the idea of 'Where', Jack Dangermond shared his vision as a circle of six steps. It's about the measuring data and management, visualization and mapping, analysis and modeling, planning and designing, decision making and finally action. It is a science of geography powered with GIS technology which has to evolve constantly.
What does it tell us?
Personally, I found the idea challenging and fascinating at the same time. With a common language, comes integration, and it requires a lot of resources to gather geo technologies into a single platform. The fact that Esri spends almost 30% of revenue on R&D confirms it. On the other hand, this is how geographic systems need to evolve and be smarter. I would argue that there is no other choice. Nowadays the technology is all about integration and cloud services, and it seems that Esri does not want to be left behind. Generally speaking, from what we could hear, the following features were improved, and it will soon bring us closer to this idea.
Sharing
If you look at ArcGIS online or ArcGIS for Apps, you will immediately see how the concept is close to the essence of social sharing. You will find there, millions of map applications, story maps and other content produced by ArcGIS users worldwide, as well as by Esri and its partners.  More importantly, you can contribute and share your work through any device to the cloud! It is clear that sharing is the essential part of GIS.
Openness
In term of integration, Esri is open to all types of geospatial data including raster imagery data. No matter if it's a satellites imagery or drones-based orthophotos, the platform will host petabytes of data on cloud servers. But the openness is not exclusively for images. The company expanded capabilities of all types of apps by supporting a large number of script languages and libraries. To make GIS more open, and widely used, the company allows building your own apps on their platform. The new APIs and SDKs allowed for the create of over 500 000 apps last year!
Simplicity
The common language for geo user in the era of IoT is a great vision but besides openness and sharing it requires something more… To operate such large amount of information my intuition tells me, that the company strives for the simplicity and intuitive version of their platform through machine learning and smart mapping.
Mission
The greatest potential of "The Science of Where" lies within us. In the end, it's all about serving people with passions. Esri is committed to managing a GIS community by training professionals through books, materials, publication, e-learning and geo-portals. Currently, they support 5000 schools, trying to inspire young people who have made their first steps into the geospatial world.
As Jack Dangermond said, "With rapid changes occurring in our planet the geography has never been so important. This requires from us to be smarter and act together". Esri believes The Science of Where can transform the world for the better, by unlocking data's full potential in every organization.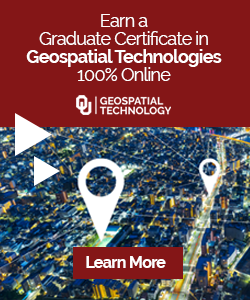 The community is supported by:

Next article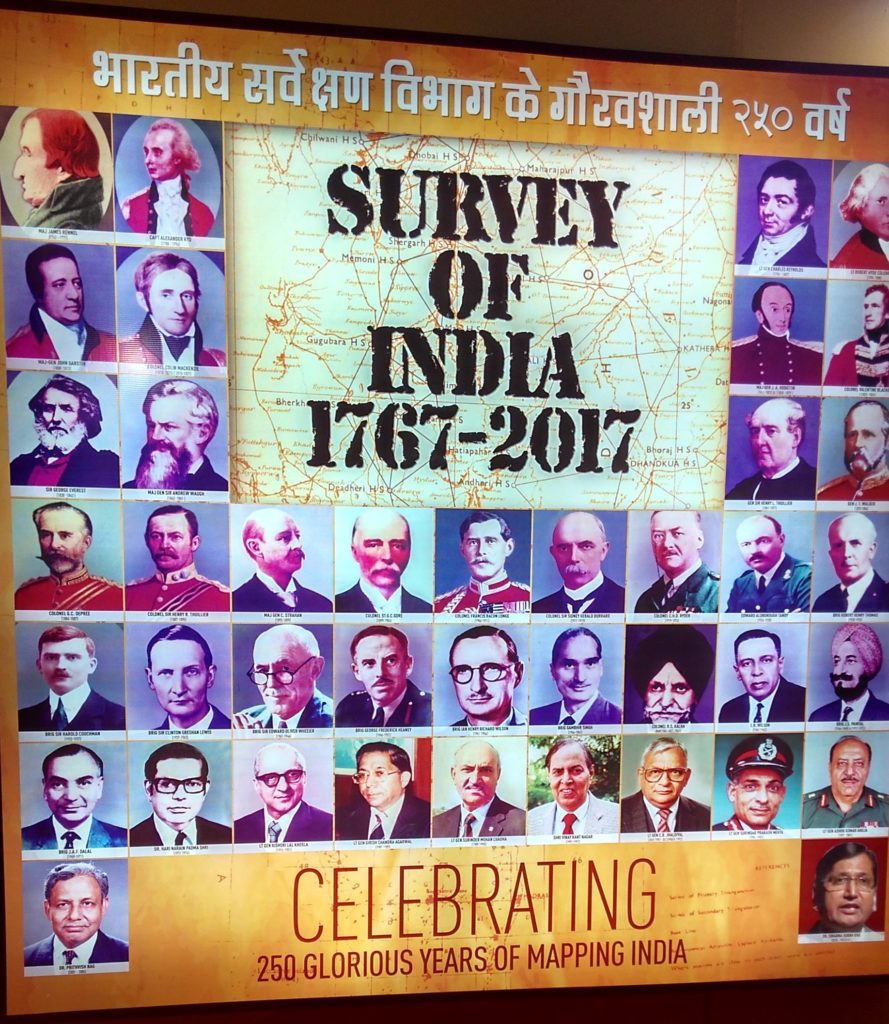 #Business #Ideas #People
Geospatial World Forum 2017 from the eyes of a geo-student
The city of pearls had more to offer this time apart from jingling bangles and awe-inspiring architectures between the dates 22nd to 25th of January exclusively for a geo student. An event of such great magnitude where leading persons from pioneer geo-industries make a technological show, is a must attend for every geo student.
Geospatial World Forum 2017 had clearly pointed out that the geo-spatial industry is not a domain to be treated separately but an industry which in itself is penetrating into every other domain in a compulsive manner heading for the next level of advancements. The geo-buiz summit reaffirmed the above statements when Marc Melviez, Director & CEO of Luciad referred geo-spatial technology as the 'next disruptive business model'.
Deep Learning + Artificial intelligence
The theme of GWF 2017 'Deep Learning + Artificial intelligence' took me to the next era where 'Data is the new currency'. Probably 2019 will witness the Augmented Reality shopping as Bengt Kjellson, Director General of Lantmatriet said. The scarcity for authenticated data is broken by the geo-spatial industry where every second thousands of geographic data are generated through satellites. With enormous data availability the process of deep learning is initiated to develop artificially intelligent systems. The discussions of the theme panel had an odd man out from the homeland, Vishal Dupar, Managing Director of South Asia NVDIA, whose presentations where concerned around the Indian problem such as poverty, health care, transportation and society which made me understand that Deep Learning and Artificial Intelligence can be a solution for all luxuries as well as necessities. Recollecting what Ed Parsons, geospatial technologist from Google said 'With Deep Learning and Artificial Intelligence we can do things on a scale never possible before'.
Celebrating 250 years of Mapping India
The vibrant inaugural ceremony had many remarkable moments, the witnessing of which will be cherished by me forever.  The inaugural address by Shri. M. Venkaiah Naidu, Minister of Urban Development and Information Broadcasting brought in lights about the GIS based Indian Government projects, one such is AMRUTH, GIS based Urban Development Master Plan for 500 cities in 26 – 30 months. Yet another proud moment was the celebration of 250 years old Survey of India, it was indeed the exuberance which filled the hall.
The Two living legends of the Geo-spatial industry
An historic moment, where you get to witness the two living legends of the geo-spatial industry sitting together and discussing their visions for the first time ever. What else a geo student can imagine about? Jack Dangermond and Charlie Trimble whose products I have been using in practical sessions of Academic syllabus. While Jack reflected a deep concern towards society and the future with statements like 'Our world and development is not sustainable', 'Our world is increasingly challenged' and 'I am worried about the future', Charlie Trimble was full of optimism focussing more on the technological advancements claiming that the technology will become much better than the problem itself in the future. It was undeniably a great sight for my retina to witness the respect they shared on each other's vision though there were differences in their beliefs.
Later with multiple parallel sessions I was fascinated towards the workshop on Deep Learning and Artificial Intelligence by Sundar Ramalingam Head of Deep Learning from NVIDIA, India. Rather than being a workshop it was more of a discussion-cum-learning platform. Attendees from various dimensions were present ranging from police officers to professors, army officers to entrepreneurs and me being the only student. Shooting out questions as a student without any hesitation was a privilege I enjoyed among other attendees of the workshop. At the end I figured out a rough sketch on how Deep Learning and Artificial Intelligence is all set to make the next Industrial revolution.
The next sessions for which I blocked the timings was for Smart Cities and Defence and National Security. Smart Cities projected the immense possibilities available with Geo-Spatial Industry combined with Deep Learning and Artificial Intelligence. Defence and National Security was filled with men in olive green uniforms, while they welcomed the geo-spatial applications as a solution provider for stressing defence and national security problems they were hesitant towards the adoption of the artificial intelligence concept since artificial intelligence hasn't gained the full confidence from the men in olive shirts. Explainability, auditability, accuracy, responsibility and fairness of AI has to be considered before the acceptance of AI in Defence and National Security claimed Lt Col Ashutosh Verma representing Indian Army.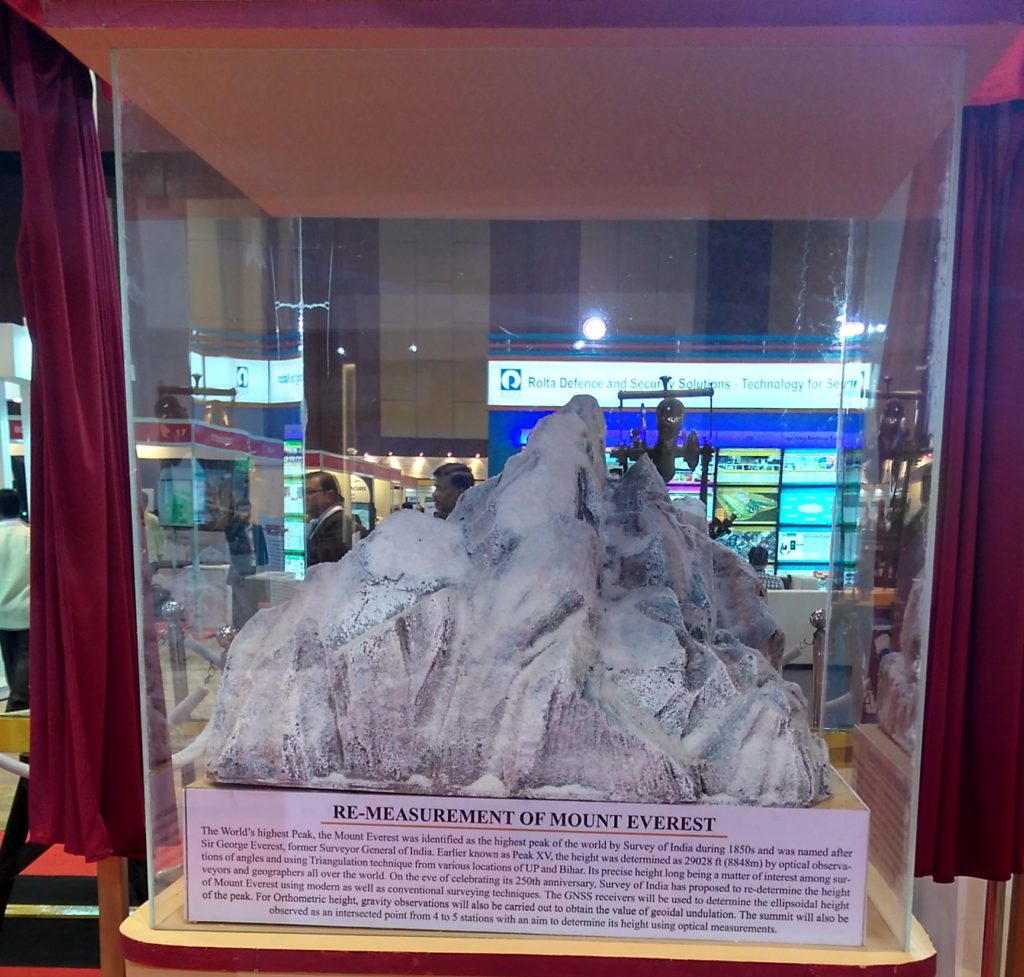 In the midst of all the techie-talking sessions a quick visit on the exhibitions had many intriguing information to be delivered. The first exhibitor to attract was SOI, celebrating 250 years of its establishment which read 'Survey of India to re-measure Mount Everest'. SOI also had a gigantic theodolite dating back to 1850's and many other old instruments most of which I have read in my academics. Moving from SOI after figuring out what the old instruments were used for and to the Bhuvan, ESRI and Leica I was able to realize the vast advancements in the field of geo-spatial industry, the development was quite clear and evident. It was certainly a true exhibition to look at the new software and hardware products by various leading as well as emerging geo-spatial companies.
Networking with the the industry!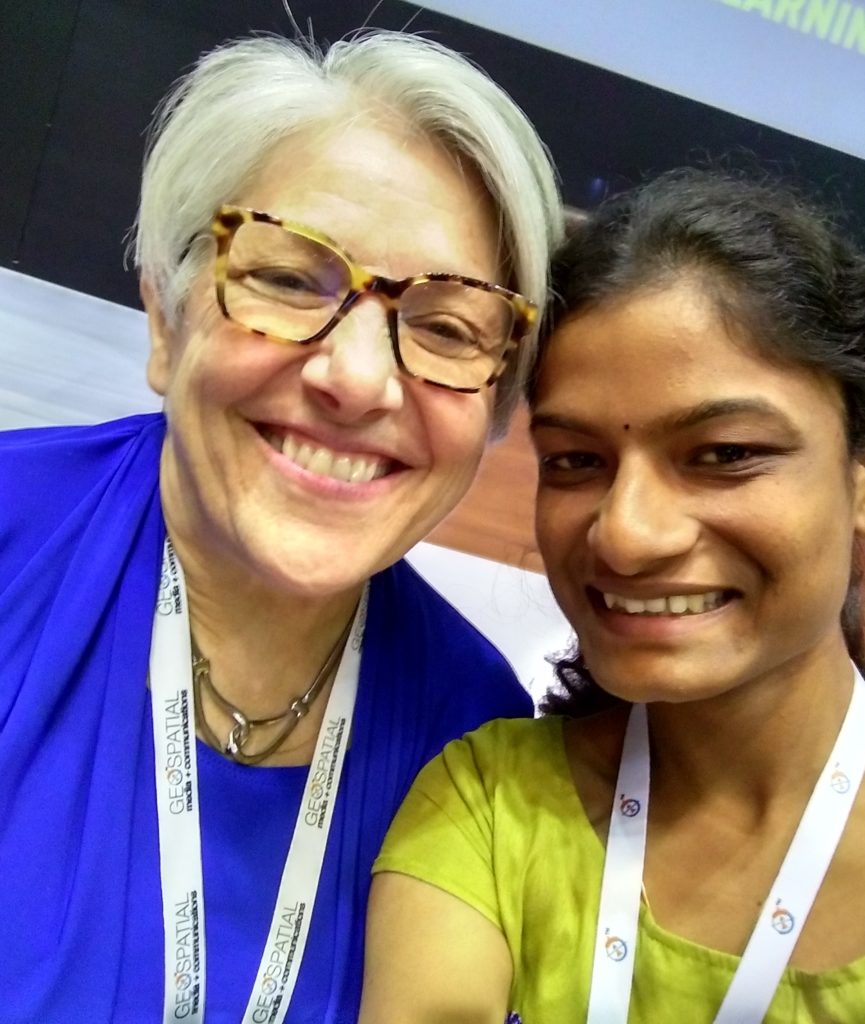 Networking was one important offer that I received from GWF 2017. Meeting Team Indus, tete-a-tete with Marc Melviez, sharing a selfie with Barbara Ryan, Secretariat, GEO, a networking lunch with Steven Ramange, Senior External Relations Manager, GEO and meeting professional from different dimensions say professors, engineers from government and private sectors, etc., The contacts that I have gained through GWF 2017 is immense. The Hall of Fame presented by GWF 2017 was a source of motivation and inspiration. Quoting few words from Sanjay's message 'These stories would offer inspiration and encouragement to next generation in pursing their quest' surely it is. Barbara Ryan, my personal inspiration right from the time I saw the speakers list is the only women amongst the 10 Hall of Fame legends with whom I have managed to get an autograph and a selfie on her birthday. Something that bothered me throughout the conference was the presence and participation of women and students (me being both) which I think, has to be addressed in the future.
On the whole GWF 2017 has changed my perspective about the geo-spatial industry providing rich geo-spatial concepts for my academics and more network for career excellence. As I personally told Sanjay that I, as a student will have more to take back from GWF 2017 than other attendees. Looking forward for GWF 2018, for more learning and sharing!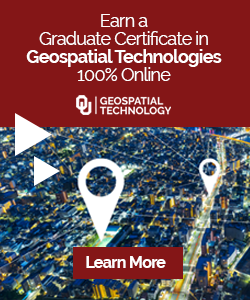 Read on