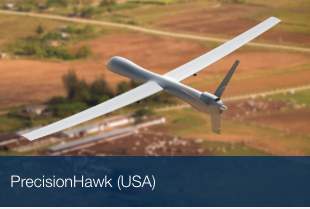 World Economic Forum's 2016 Technology Pioneers: 4 Geospatial companies in the list!!
Each year the World Economic Forum awards the most innovative and impactful early-stage tech companies on the planet with their "Technology Pioneer" award. The award launched in 2000 has some big names in the list including Google (2001), Twitter (2010), Wikimedia (2007), Mozilla (2007), Kickstarter (2011), Dropbox (2011) and many others!
https://www.youtube.com/watch?v=J-v5H5SW8B0
And the award goes to!! 
4 Geospatial companies were named as Technology Pioneers for 2016 and they all seem to have one common factor – data analytics & sustainability.
UAVs
Crowd Sourced map photos
Geospatial Big Data
Precision Agriculture
PrecisionHawk 
PrecisionHawk combines unmanned aerial systems, artificial intelligence and remote sensing technologies to improve business operations and day-to-day decision making. It brings value to an emerging market by offering an end-to-end solution for aerial data gathering, processing and analysis to provide actionable information across a wide range of data-intensive civilian industries. 
In April this year, PrecisionHawk announced that it has raised 18M USD to further its data acquisition and analysis business and later announced a partnership with DJI and MunichRE for insurance. Drones are going to have one of the biggest impacts especially with regard to Precision Agriculture and environmental monitoring. With the latest FAA rules for commercial drones opening up the commercial drone industry, PrecisionHawk is well poised to showcase the potential of drone data analytics!
Mapillary
Mapillary is a platform for crowdsourced and street-level map photos. Machine vision stitches photos together in 3D to create immersive ground level maps in real-time. The technology empowers users to decide which streets, roads and hidden paths should be mapped. Municipalities and non-profit organizations have used it to improve infrastructure in cities around the globe.
Mapillary is famous for being the open-data alternative for Google Street View but is slowly being an enterprise player in the infrastructure monitoring market and are also part of Esri's startup program.
Orbital Insight 
Orbital Insight is a geospatial big data company using deep learning to discover social, economic and agricultural trends through satellite-image analysis. The company's technology serves as a "macroscope" allowing the study of trends that are located in hidden places, with poor official data, or too large to be seen by the human eye. From cars in parking lots to trees in the rainforest, Orbital Insight can analyse any type of aerial imagery to deliver insights used to make market decisions.
Facebook showed the world how satellite imagery can be used to create the most detailed population map of the world, Google has been showing signs of (finally) working on a "Satellite Search Engine" and Orbital Insight is using satellite imagery to help enterprises make better informed decisions aka "Satellite Search Engine" for companies if you will!
Farmer's Edge 
Farmers Edge is delivering precision agriculture and independent data management solutions. Through the integration of highly accurate data science and services on the farm, it is helping growers around the world achieve the highest sustainable yields possible. The company collects and aggregates data enabling real-time decisions for growers, resulting in higher yields, better quality and less environmental impact.
Precision Agriculture has been a hot topic for sometime now and it's importance to sustainability cannot be stressed enough. Farmer's Edge (refreshingly) isn't only working with large-scale farmers.
Congratulations to all the technology pioneers of the year, especially to all the cool geospatial companies – PrecisionHawk, Mapillary, Farmer's Edge and Orbital Insights! #geoawesomeness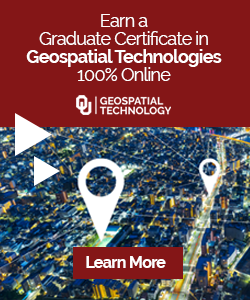 The community is supported by:

Next article
Explore the Earth from Space: Geoawesome Map of "space" photos
Pictures of the earth taken from space are always breath-taking! It's always amazing to see how vibrant and colourful our little blue planet is!
Explore the world with Tim Peake
Esri UK has an interesting map showing all the images taken by the British Astronaut, Tim Peake, who is currently living in the International Space Station. Some of the images geocoded in the map look totally out of this world! Definitely worth a few minutes 🙂
If the map above doesn't load properly, here is the link to the web map from Esri UK – view from above!
Read on