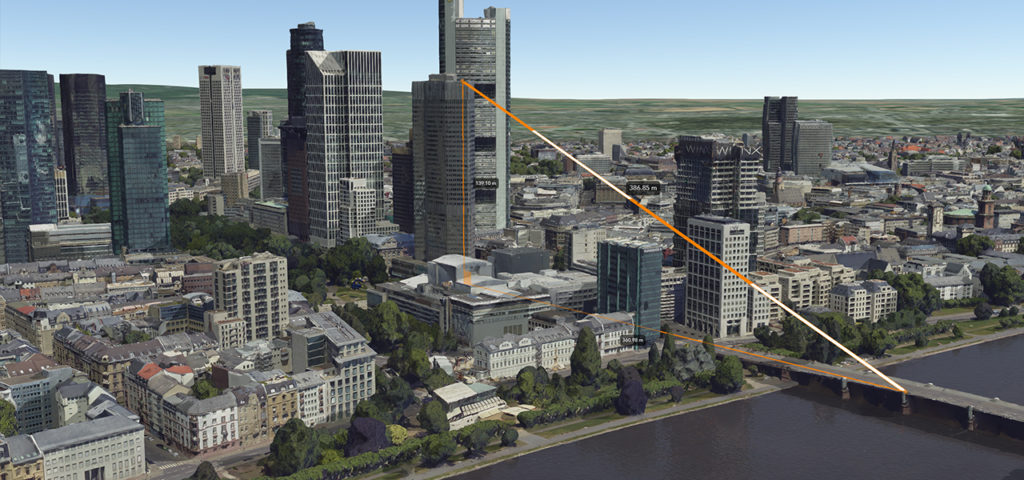 #
Why is nFrames acquisition by Esri huge news for the whole GIS industry?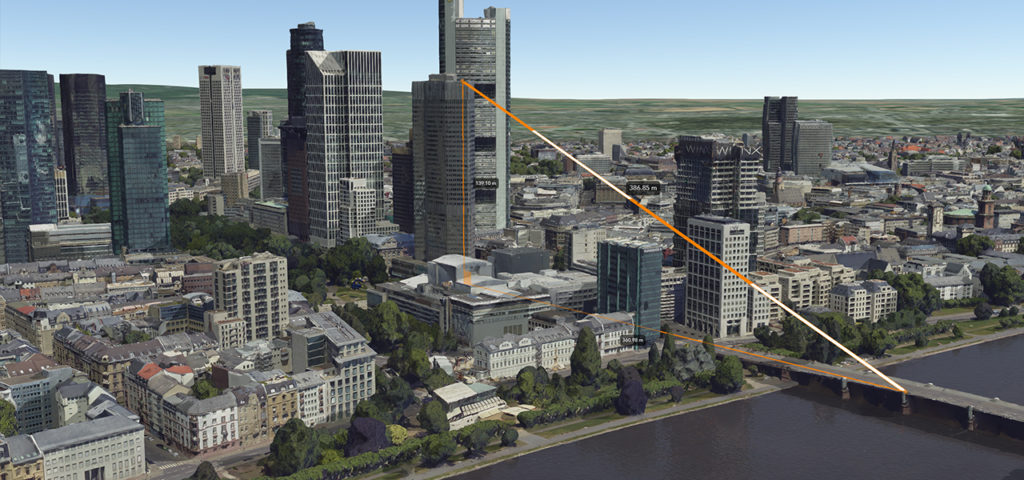 Big news arrived at the turn of the last week when Esri acquired nFrames, a Stuttgart based photogrammetry software company. I believe that this news is one of the most relevant in the geospatial industry we had a while.
But the news itself does not comes as a surprise, as with this acquisition, Esri is filling a significant gap in its 3D reconstruction segment. The word of Esri trying to fill this gap from internal R&D has been around for some time. Eventually, the company decided to look out in the market and nFrames is definitely offering one of the best products out there.
Esri has been developing 3D visualizations and modelling capabilities for a long time now, but their work has always revolved around vector data space in their products such as Esri City Engine or ArcGIS Pro. Although Esri can read all the open raster, point cloud and 3D mesh file formats it required 3D party software or engines to generate these products. In their Drone2Map product, Esri works on Pix4D engine. SiteScan, a product acquired from 3DR earlier this year, which is a drone mapping platform for the construction industry also works on Pix4D.
Being a third-party software, Pix4D curtails the workflow and the quality of the final product you develop e.g. the interface for accessing images based on 3D point clouds or measuring directly on orthorectified images, etc. Another limitation of Pix4D apart from being a third party software is that it has been developed for relatively small volume data processing. It works well for a typical construction site but not for the entire city or region.
nFrames software, on the other hand, had been designed primarily to work with huge aerial dataset. It easily scales 3D data creation to large cities or even whole countries and provides True Orthophotos, 3D point clouds, and photo-realistic meshes. With such capabilities, nFrames was never a competition to Pix4D or AgiSoft, but definitely one to the Bentley's ContextCapture, who has been an industry standard for 3D City Modelling around the world.
Esri is own for its a strong presence in government and public sector and with its own 3D reality capturing engine, the company will be able to potentially take a sizable chunk of the business from Bentley which traditionally didn't have to care about marketing and business development as its technology was far ahead of the competitors.
The current plans of Esri are to integrate nFrame's SURE with ArcGIS Pro and to deliver its users a package that covers it all end-to-end from the capture to analysis. The company also intends to incorporate SURE with its other products like Drone2Map and SiteScan too. We can expect that it will take 1-2 years for the whole integration process. nFrames team will continue to operate in Stuttgard as a new Esri, R&D centre focusing on building reality capture technology.
Hearty Congrats to nFrames Team!
Next article

#
What is the difference between othophotos, orthophotomaps, orthomosaics and true orthophotos?
The science of photogrammetry has been developing for more than a century. Initially being fully analogue, it is gradually being digitalized for the past 30-40 years. Back then, it was a field understood and practised by a fairly small and closed group of engineers. The data was used mainly by governments and the military, and it was extremely expensive.
Today, the science of photogrammetry is in a totally different place due to the rise of drones over the past 7-8 years. Photogrammetry is now practised every day by hundreds and thousands of people around the world. They fly drones, capture the data, and process it seamlessly to get orthomosaics and Digital Surface Models (DSM). This helps them greatly in farming, construction, urban planning, energy, mining, and many other sectors. The drones and so-called "low-altitude photogrammetry" is ubiquitous.
The important terms
What I've noticed though, is that when you commoditize a field of engineering, the previous scientific terms start to live their own lives. Also, I have noticed that some of these terms have a slightly different meaning in different languages. Below I will try to define some key terms that you may see out there. Some of the terms apply mainly to the traditional photogrammetry and some apply more to the low altitude photogrammetry. Don't worry, I will explain it all to you!
Orthophoto:
Firstly, Orthophoto is an effect of photogrammetry processing that uses the Digital Terrain Model (DTM), typically seen in the traditional airborne photogrammetry. In orthophotos, you will often see an effect where the terrain representation is very accurate, but you will see a tilt in the buildings and other tall structures which is an effect of using DTM that only maps the natural shape of the earth (excluding vegetation and all man-made objects and structures).
True Orthophoto:
True Orthophoto, on the other hand, is processed using Digital Surface Model that maps every shape and object visible on the ground (including vegetation and man-made objects). True Orthophoto gives a vertical view of the earth's surface, eliminating building tilting and allowing a view of nearly any point on the ground.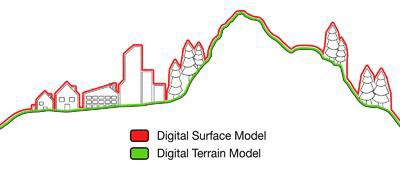 Traditionally measuring Digital Surface Model has been extremely difficult and expensive. It is typically done using LiDAR or ground measurements. On the other hand, Digital Terrain Models were widely available based on generalized countrywide elevation models. Therefore, True Orthophotos used to be very expensive to make and hardly available. These two products typically refer to the traditional airborne photogrammetry because according to the standards in many countries, they are required to be done using a metric camera and perfectly nadir images. It is, however, typically not the case in low-altitude drone photogrammetry.
Orthomosaic:
The product of drone photogrammetry is typically called orthomosaic. In reality, an orthomosaic is similar to True Orthophoto (as it is generated using Digital Surface Model), but typically not based on a metric camera (in which focal length and internal dimensions are precisely known and calibrated), as these are expensive and not widely available for UAVs. Additionally, orthomosaics can be generated based on both nadir and oblique imagery.
Drone-based Orthomosaics are generated based on the Digital Surface Model which is not done as a separate survey as in the case for traditional airborne photogrammetry. In drone photogrammetry, the DSM is generated based on the 3D point cloud which is the initial product of the data processing. This technology is developed and used by Pix4D which monopolized low-altitude photogrammetry around the world.
In some geographies, orthophoto and true orthophotos that are entirely done according to local official standards (typically traditional airborne photogrammetry) should be submitted to national geodesy and cartography resource repositories. In these countries on such data is accepted as an official geodesy and cartography documentation, which might have consequences e.g. when using the data in court.
Orthophotomap
Last but not least is the term known as an orthophotomap, which is very often used interchangeably with orthophoto and orthomosaic. However, the literature review says that it should be defined as orthophoto transformed to digital or printed map format which typically has map elements such as map grid, scale, north arrow, title, etc.
The EndNote
I hope that this post clears a bit the terminology to those who are confused. Please let me know in the comments if this is how you define these terms in your country or there are any differences. I look forward to opening this discussion and seeing your comments.
Read on