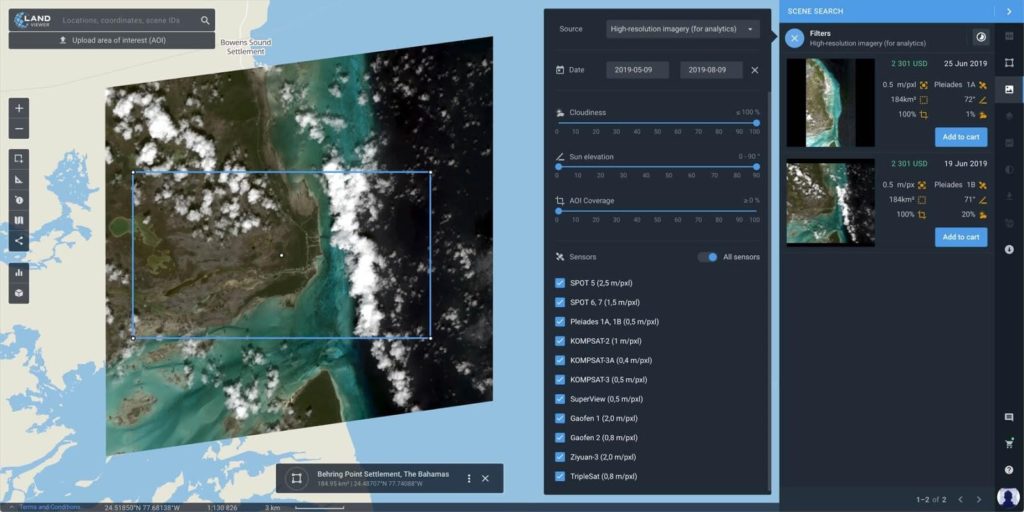 The latest high-res imagery at your fingertips
The quality of any satellite image is determined by its spatial resolution, and from this perspective, high-resolution imagery is undoubtedly beyond competition as it provides frequency, accuracy and detail like no other.
And to stay ahead of the curve,  EOS has partnered with four top high-resolution imagery providers – Airbus Defense and Space, SI Imaging Services, SpaceWill, 21AT – so that you can purchase the latest images directly from LandViewer, the official high-res data reseller, or view the images of your area of interest in high resolution on the map.
In other words, LandViewer collects the latest up to date satellite imagery from world-leading commercial satellite providers and incorporates it into one easy-to-use platform. This collection is constantly being boosted with new sensors, but, first things first.
Commercial imagery for viewing
Currently, LandViewer offers two data sources of commercial imagery:
High-resolution imagery (for analytics) – to find and purchase high-resolution images for further in-depth analysis. In this case, the price is based on the size of the area of intersection between the selected image and your area of interest (AOI).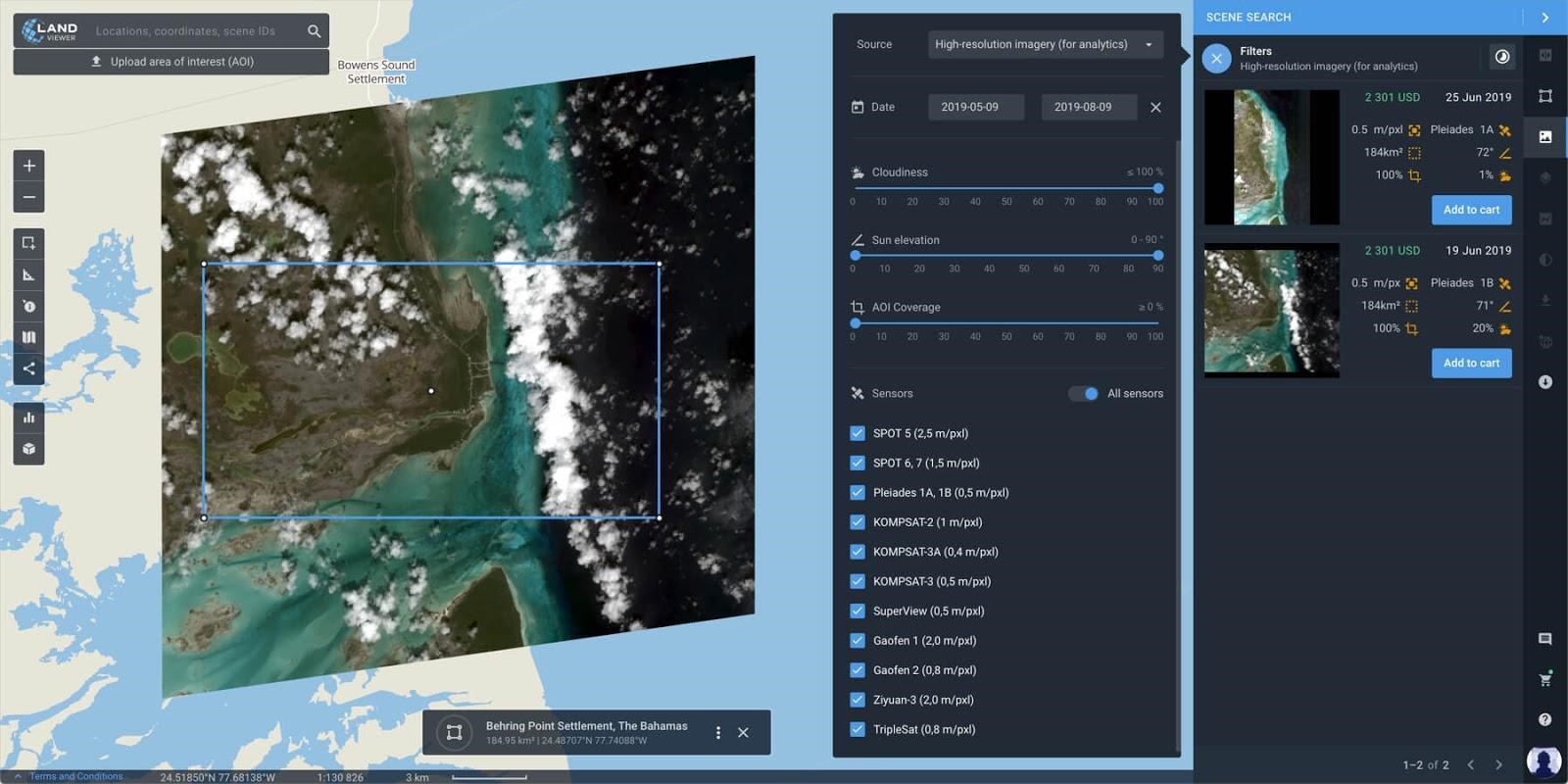 High-resolution imagery (view only) – to view high-resolution images for your area of interest (AOI). In this case, the price is based on the number of tiles within your AOI.
High-resolution imagery (view only) has been recently designed as a stand-alone data source with an aim to make it accessible, affordable and usable for the everyday business user.
High-resolution imagery (view only)
High-resolution imagery (for analytics)
Product: Picture
Product: bundle or pansharpened imagery  was georeferenced or orthorectified
Data source:

DigitalGlobe (WorldView 2, 3, 4, GeoEye 1)

Data source:

SIIS (KOMPSAT 2/3/3-A)

AirBus (Pleiades 1a/1b, SPOT 5/ 6/7),

SpaceWill (SuperView 1a/1b/1c/1d, Gaofen 1/2, -Ziyuan 3)

21AT (TripleSat 1/2/3)

Format: Jpeg ("rgb composite")
Format: GeoTIFF with bands and metadata file
Application: View without downloading
Application: download and using for analytics
Delivery: Online upload right after purchase
Delivery: Directly on your EOS Storage account within 1-2 days
Our unique selling proposition (USP)
The use of commercial imagery from LandViewer with a resolution between 0,3m and 1.5m means you can take a closer look at any asset of interest, anywhere in the world. And, in case you don't need to use the imagery for further in-depth analytics, it's possible to just view the images at just 0.7$ per tile, which is a real cost and time-saving proposition.
For this purpose, our software collects a huge amount of fresh satellite imagery acquired by our partners with a resolution of 30 and 40cm. This means that when images are viewed on the LandViewer platform, 1 pixel on the screen represents 30cm – 40cm on the ground.
Use the feature quickly and easily
The desired high-resolution images are just several clicks away, and launching the feature is very simple. The procedure is as follows:
Set your AOI (upload, draw)- The list of high-resolution (view only) imagery is generated according to the specified AOI. We also added one demo AOI, which already contains a list of the most suitable high-resolution images to allow you to test it and understand how it works. Try it prior to adding your own.
Check metadata – Displayed once you hover over the selected image. Make sure the image covers 100% of your area of interest. The details of the image are displayed directly on the image to allow you to make sure it is the image you need prior to paid viewing.
Confirm viewing – Once you confirm viewing, your account will be charged a single amount based on the number of tiles within your AOI. The information on the number of the tiles, the price for 1 tile (0.7$), and the final price for viewing the image are specified in the payment pop-up.
Make a one-time payment in a few clicks. Once you click the image and make the payment, the available for viewing high-resolution image will appear on the map.
Extra bonuses from LandViewer
On top of the many unrivalled pros of the high-resolution data viewing option, LandViewer has prepared some extra goodies for its users. These are:
All the viewed images are filtered and saved in the "Free available (viewer mode)" tab, so you don't have to pay twice to view the same image.
There are no size and quantity limits for the saved AOIs. All the saved AOIs appear in the "My AOI" tab by default.
The payment procedure is really fast and easy. All you need to do is check the payment details and click "Pay".
It takes just a few minutes to display your high-res image on the map.
Most popular fields of application
The option to view high-resolution satellite imagery has a huge range of applications – from forestry to disaster relief operations. Let's consider the most popular ones.
Construction Development
Objective track construction progress.
Customer construction developers, brokers, builders, project managers, and other real estate market players.
Solution – The service allows you to visualize and detect changes in the construction process as well as define the dynamics of such changes. This is of particular use to companies who invest in construction projects abroad and in countries with a tense political situation, as it is much easier to buy several images and take a few minutes to compare them than involve experts to monitor the construction sites, thereby wasting the most valuable resources –  time and money.
Description The Palm Jumeirah is an artificial archipelago in the United Arab Emirates created through land reclamation by Nakheel which extends into the Persian Gulf. It is part of a larger series of developments called the Palm Islands, including Palm Jebel Ali and Palm Deira, which, when completed, will together increase Dubai's shoreline by a total of 520 kilometres (320 mi). It has an estimated population of 10,500 as of 2016. It is located on the Jumeirah coastal area of the emirate of Dubai, in the United Arab Emirates.
Construction of the Palm Jumeirah island began in June 2001, and the developers announced the handover of the first residential units in 2006.
In early October 2007, the Palm Jumeirah had already become the world's largest artificial island. Also at this time, 75% of properties were ready to hand over, with 500 families already residing on the island. By the end of 2009, 28 hotels had been opened on the Crescent.
Picture_1  – Construction of the Palm Jumeirah island began in June 2001.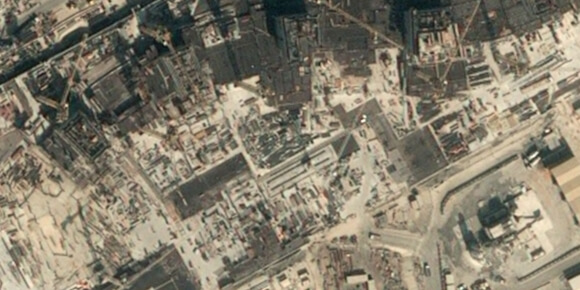 Picture_2 – The developers announced the handover of the first residential units in 2006.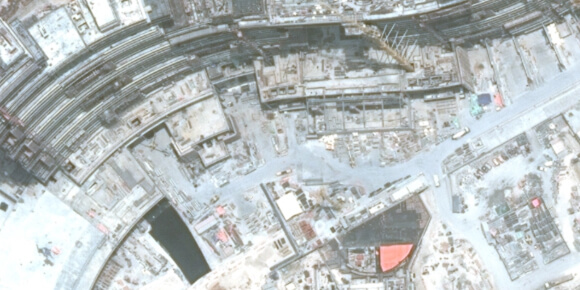 Natural disasters
Objective Monitoring of natural disasters and other acts of nature
Customer Disaster relief, Search and Development Establishments
Solution -The service allows you to visualize and track environmental changes around the globe – glaciers melting, changing coastlines, rivers, and lakes, assessment of damage caused by fires, floods and earthquakes, and identify abnormal changes to water resources and flora, etc.
Siberia chokes on forest fire smog, July 2019
Description   –  Large fires are an annual occurrence in Siberia, but this summer, smoke has enveloped some of its largest cities, including Krasnoyarsk, and locals are angry at what they perceive as government inaction. Though authorities have now increased efforts to put out the blazes, the fires are continuing to expand.
Russia's Aerial Forest Protection Service said it is battling 161 fires across 140,000 hectares (350,000 acres) of forest.
However, it has given up on 295 fires over 2.4 million hectares of "distant or hard-to-reach territories" and is simply monitoring them from space, the service said.
Picture_1 Pre-disaster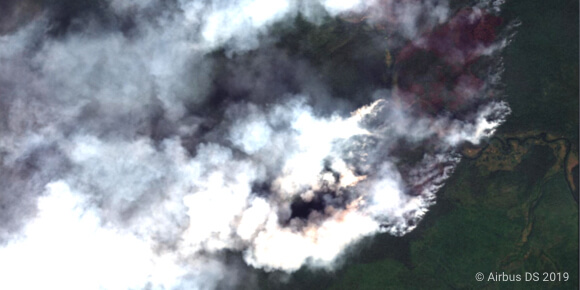 Picture_2 Post-disaster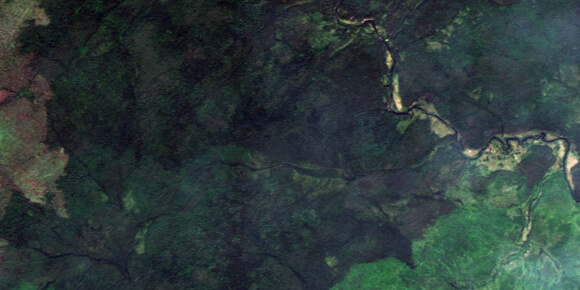 Agriculture
Objective Monitoring of crops, harvest, land cover
Customer Insurers, agro-traders, farmers and other agricultural market players
Solution – The service allows you to visualize and track changes in land cover, crop growth, field state, crop rotation, loss assessment, and risk prediction, among others.
Monitoring the harvesting of the rapeseed field
Description: For only one month of the new season, Ukraine exported nearly 13% of the general harvest of new crop rapeseed. In particular, Ukraine shipped 80.6% of the export volumes of the product to EU countries. At the same time, rapeseed by-products, including Ukrainian rapeseed oil and meal, are in demand on the global market.
In July of 2018/19 MY, the exports of rapeseed oil from Ukraine increased 8.7 times compared with the same period of 2017/18 MY. The supplied volumes to the EU totaled 81% of the general exports of the product from Ukraine. Also, Ukraine shipped 100% of rapeseed meal exports to EU countries.
Picture_1 – June 2019, crop growth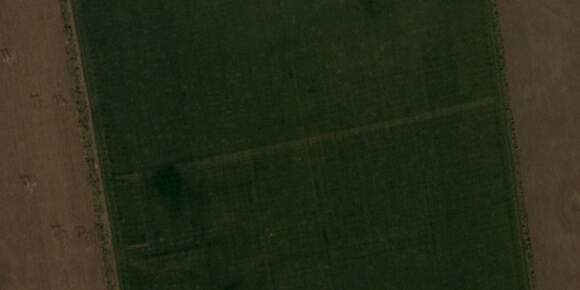 Picture_2 – July 2019, the end of harvesting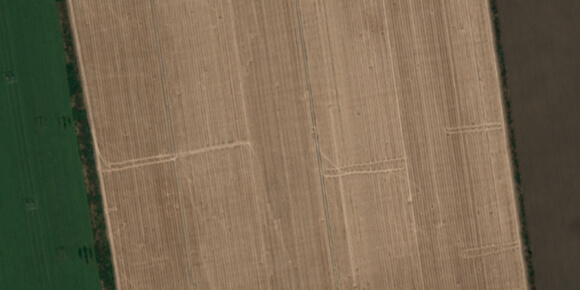 Result: Insurers and agro traders are able to elaborate on crop procurement and logistic spending plans in the most effective way.
Check LandViewer's step-by-step user-guide to find detailed instructions on how to work with Change Detection, or feel free to email us at support@eos.com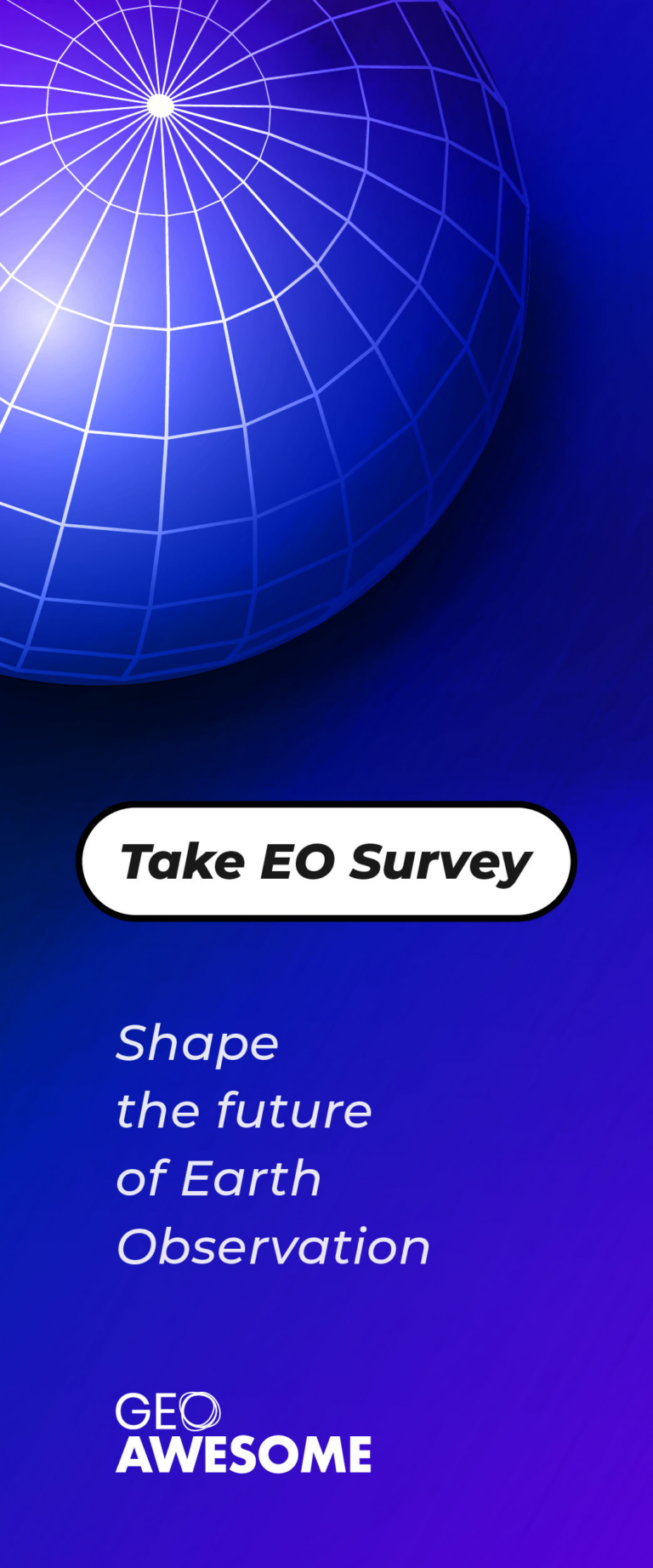 The community is supported by:

Next article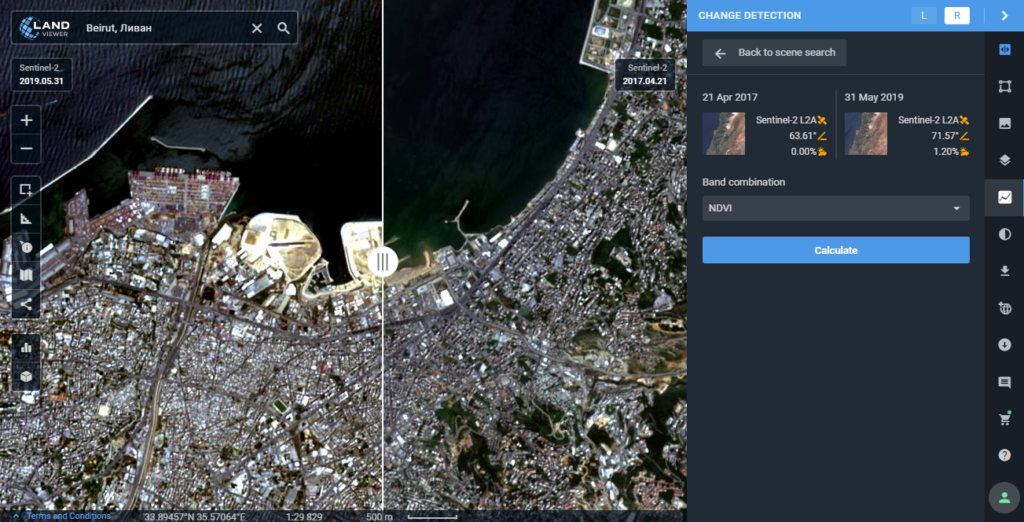 Landviewer Now Features Change Detection That Runs In Browser
The major utilization of remote sensing data has been to compare images of an area taken at different times and identify the changes it underwent. With a wealth of long-term satellite imagery currently in open use, detecting such changes manually would be time-consuming and most likely inaccurate. EOS Data Analytics stepped in by introducing the automated Change Detection tool to its flagship product LandViewer, which ranks among the most capable cloud tools for satellite imagery search and analysis in today's market.
Unlike the methods involving neural networks that identify changes in the previously extracted features, the change detection algorithm implemented by EOS is using a pixel-based strategy, meaning that changes between two raster multi-band images are mathematically calculated by subtracting the pixel values for one date from the pixel values of the same coordinates for another date. This new signature feature is designed to automate your change detection task and deliver accurate results in fewer steps and in a fraction of the time needed for change detection with ArcGIS, QGIS or another image-processing GIS software.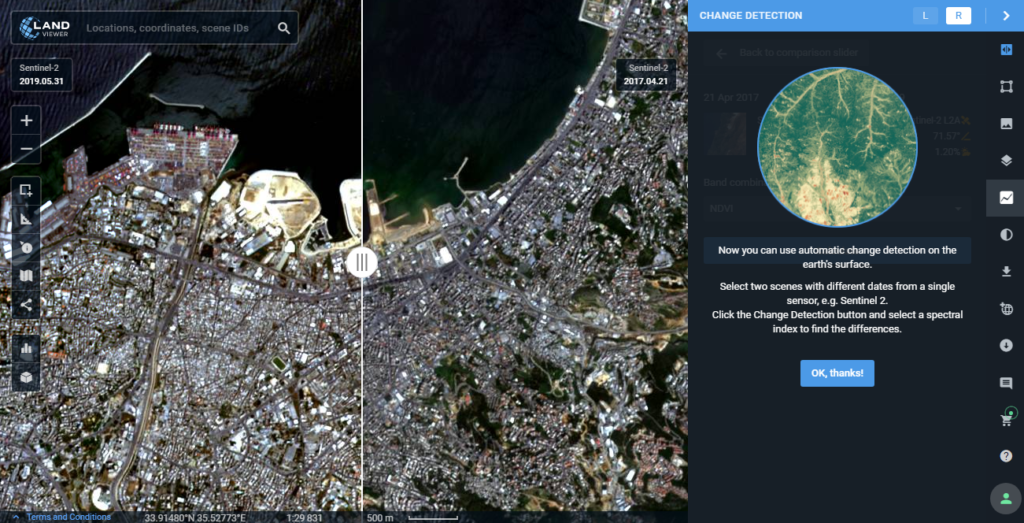 Unlimited scope of applications ‒ from farming to environmental monitoring
One of the main goals set by EOS team was to make the complex process of change detection in remote sensing data equally accessible and easy for non-expert users coming from non-GIS industries.
With LandViewer's change detection tool, farmers can quickly identify the areas on their fields that were damaged by hail, storm or flooding. In forest management, satellite image detection of changes will come in handy for estimation of the burned areas following the wildfire and spotting the illegal logging or encroachment on forest lands. Observing the rate and extent of climate changes occurring to the planet (such as polar ice melt, air and water pollution, natural habitat loss due to urban expansion) is an ongoing task of environmental scientists, who may now have it done online in a matter of minutes. By studying the differences between the past and present using the change detection tool and years of satellite data in LandViewer, all these industries can also forecast future changes.
Top change detection use cases: flood damage and deforestation
A picture is worth a thousand words, and the capabilities of satellite image change detection in LandViewer can be best demonstrated on real-life examples.
Forests that still cover around a third of the world's area are disappearing at an alarming rate, mostly due to human activities such as farming, mining, grazing of livestock, logging, and also the natural factors like wildfires. Instead of massive ground surveying of thousands of forest acres, a forestry technician can regularly monitor the forest safety with a pair of satellite images and the automated change detection based on NDVI (Normalized Difference Vegetation Index).
How does it work? NDVI is a known means of determining vegetation health. By comparing the satellite image of the intact forest with the recent one acquired after the trees were cut down, LandViewer will detect the changes and generate a difference image highlighting the deforestation spots, which can further be downloaded by users in .jpg, .png or .tiff format. The surviving forest cover will have positive values, while the cleared areas will have negative ones and be shown in red hues indicating there's no vegetation present.
Another widespread use case for change detection would be agricultural flood damage assessment, which is of most interest to crop growers and insurance companies. Whenever flooding has taken a heavy toll on your harvest, the damage can be quickly mapped and measured with the help of NDWI-based change detection algorithms.
How to run change detection in LandViewer
There are two ways you can launch the tool and start finding differences on multi-temporal satellite images: by clicking the right menu icon "Analysis tools" or from the Comparison slider ‒ whichever is more convenient. Currently, change detection is performed on optical (passive) satellite data only; addition of the algorithms for active remote sensing data is scheduled for future updates.
For more details, please read this guide to LandViewer's change detection tool.
Or start exploring the latest capabilities of LandViewer on your own.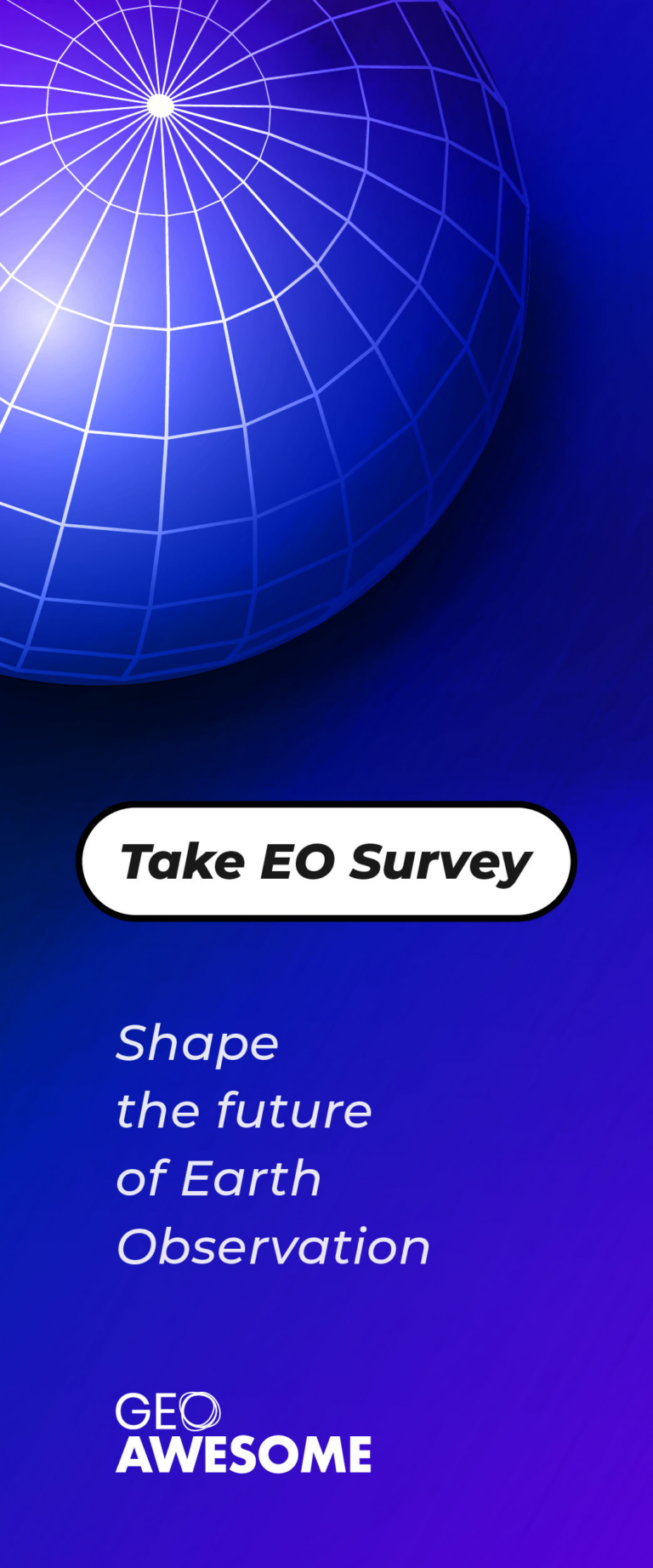 Read on