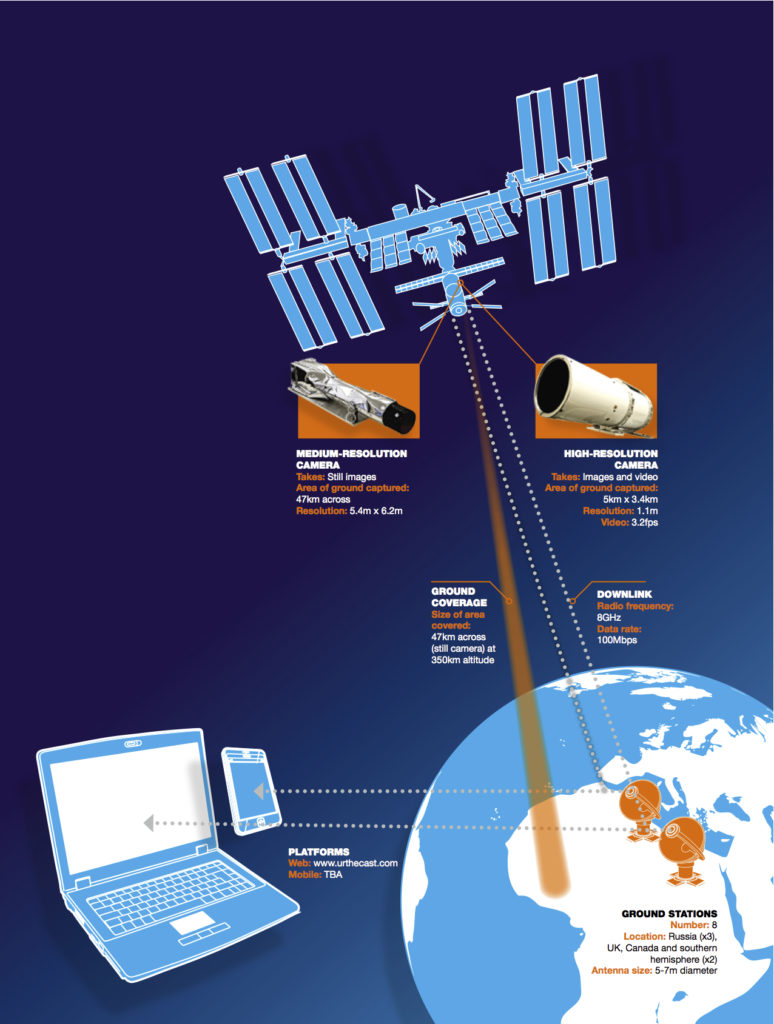 24-Hour Live HD 1m-Resolution Satellite Videoing of our World from Space – UrtheCast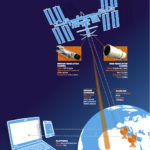 This is really intriguing, it is geo-mind-blowing, it's gonna change our geo-world. Bringing a new paradigm to  the way we observe the earth.
Just right today, one of my students asked me about the possibility of having a satellite acquiring real-time videos of the earth instead of imagery and smartly I answered him that yes, scientist are working on that, it is the next move for earth observation. I did not even know that UrtheCast is already doing the awesome job.
We are moving from satellite imaging to satellite videoing of the earth in real time. Multi-media geospatial products that integrates, georeferenced satellite videos, images, in-situ sensor data and so on for earth observation and monitoring would be the new direction for geo-geeks.
Courtesy of Spatial Source, Canadian-based company UrtheCast has announced a new video platform that will broadcast near-real time images and video of Earth, captured from the International Space Station (ISS).
A pair of HD video cameras will be installed on the ISS; a medium resolution camera will provide a three-colour still image with a swath of 45 kilometres and a resolution of 5.5 meters; and a high-resolution camera will offer a video image with a frame rate of 3.25 frames per second and a resolution comparable to much of Google Earth.
The platform will allow interaction with the feeds, too, with users being able to zoom in and out, virtually steer the camera from side to side, rewind, and fast forward as they check out areas and things of interest on Earth. Users are also able to search for videos of a particular location, type, or theme.
The UrtheCast web platform will combine a consumer-centric website, mobile application for smart phones, and an open application program interface (API). The API enables third party developers to create their own applications and upload them to the UrtheCast web platform.
ISS is a low orbit, human-inhabited satellite. The station travels at 26,000 km/h, orbiting Earth sixteen times per day, at an altitude of approximately 350 km. The ISS is a collaborative project between the Russian, Canadian European, Japanese, and US space agencies.
UrtheCast has signed an exclusive agreement with RSC Energia, who maintains operational control of the Russian segment on the ISS. RSC Energia will take UrtheCast's cameras, install them on the outside of the ISS, and provide the necessary maintenance and transfer of the data. The cameras are being built by UK based Rutherford Appleton Laboratories (RAL), who is a world leader in building cameras for aerospace and satellite purposes.
For more facinating explanations, see the video below
Source: Spatialsource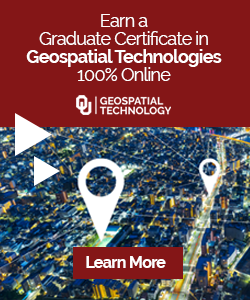 The community is supported by:

Next article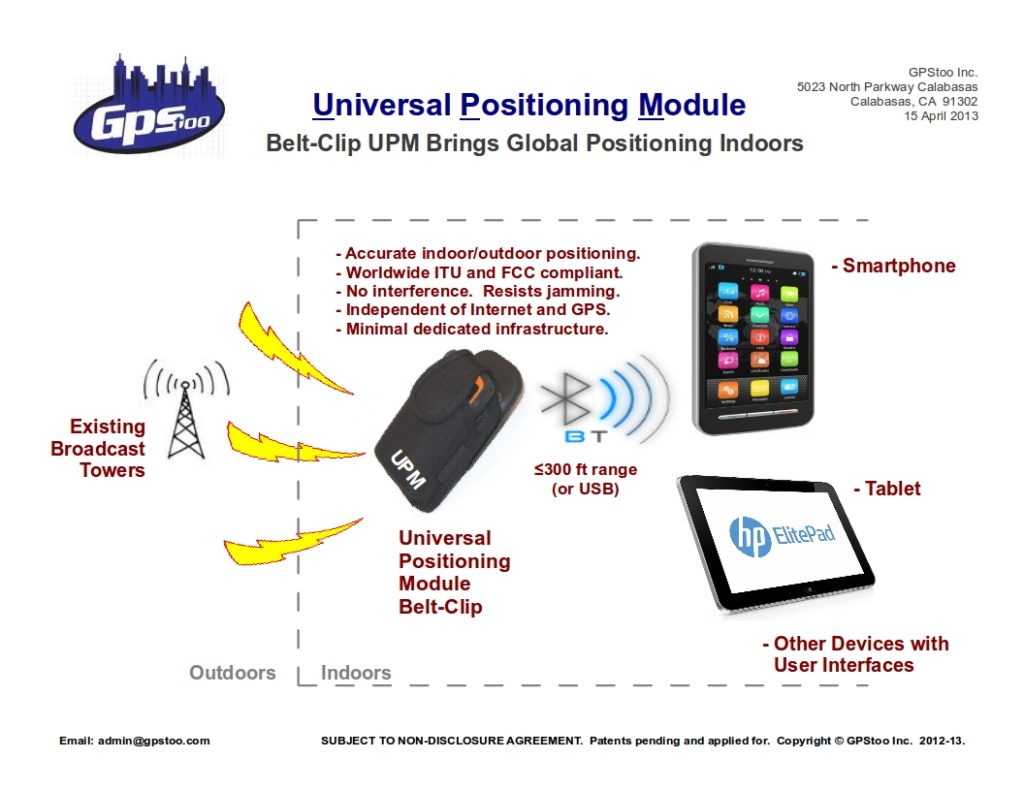 GPStoo: The new age of positioning!
GPStoo "The new age of positioning" has announced itself to the world at a time when there is increased excitement and anxiety in the GNSS and positioning industry; Excitement about the possibilities of Indoor positioning and marketing, anxiety over the possible jamming of GPS/GNSS signals and the subsequent loss of navigation and timing services.
GPStoo provides three-dimensional indoor and outdoor positioning using Existing broadcast signals.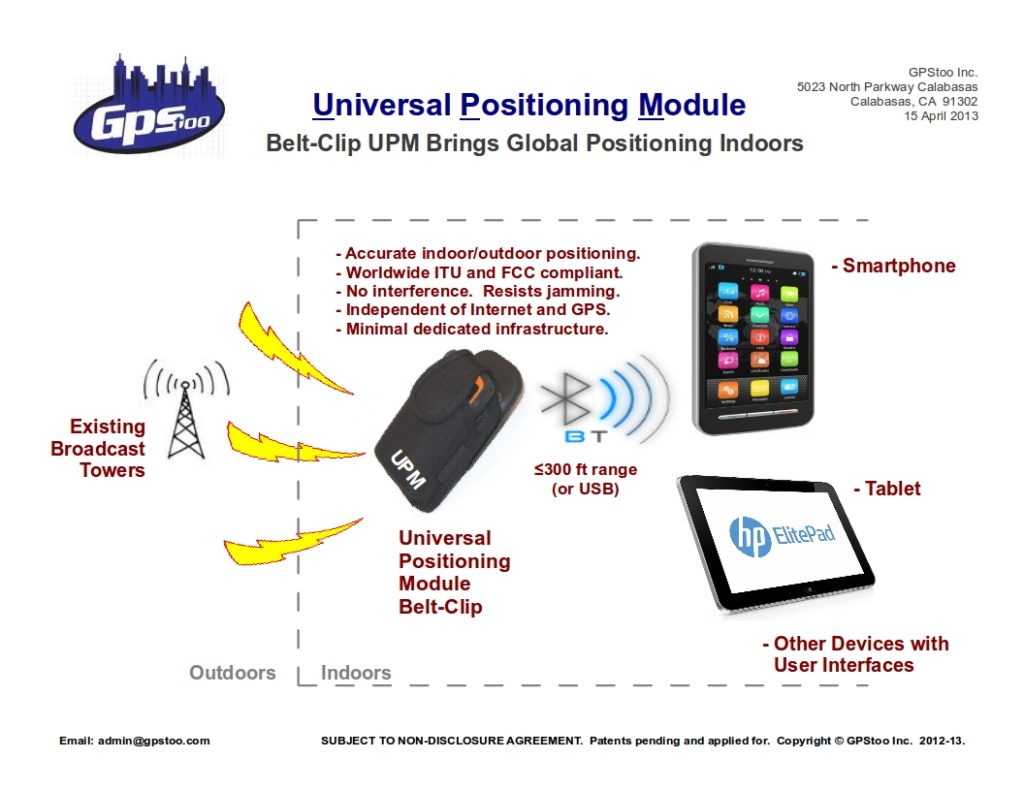 A lot of positioning companies in the recent history have been trying to penetrate the indoor positioning market using WiFi, Cell Towers and many more "out-of-the-box" ideas. Some with success while many have failed to take off. GPStoo promises a lot and hopefully this technology will take off.
The uniqueness of GPStoo lies in the fact that it's not only an indoor positioning service, it also provides outdoor positioning.
"GPStoo works at places where GPS does not"! This opens up a magnitude of applications and possibilities that would otherwise be limited by the indoor-outdoor divide. At the moment, equipment that can track GPS/GNSS satellites need special or alternative sensors and receivers to be able to provide indoor positioning. This could change for the better if GPStoo is adopted.
With its indoor and outdoor positioning capacities the only hindrance happens to be the accuracy of positioning; which is reported to be 3 meters or 10 feet (Lat, Long and Height). If over a period of time, GPStoo is able to achieve position accuracy at the sub-centimeter level then it opens the doors for more people and companies to utilize it.
GPStoo utilizes existing broadcast signals which ensures that they don't have any common vulnerabilities and resistance to jamming. More importantly, its independent of GPS networks! GPStoo had recently completed field trails and has begun operation in Southern California, USA. United States wide operations are said to be rolled out in 2013.
GPStoo certainly looks like an exciting technology, something that is not just a GPS alternative or indoor positioning service alone. Although no information was available regarding the exact frequency at which the "broadcast signals" operate, my guess is that they have to be near the commercial  telecommunication services which makes it Global. In addition, for GPStoo to be able to project itself as a viable and complete alternative to GPS/GNSS for outdoor positioning, Timing applications have to be supported.
Here's the link to their website GPStoo – the world's first three dimensional indoor and outdoor positioning system.
These are exciting times for Location enthusiasts!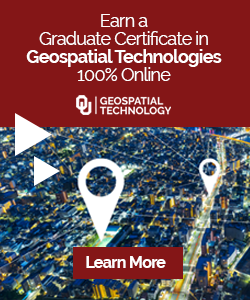 Read on