#Business
DJI Phantom 4 has landed. Safely, as it can avoid obstacles and track humans.
DJI – the world's biggest consumer drone maker has just released the new version of it's most popular quadcopter. If you thought that Phantom 3 was the best drone ever, you won't believe what you can do with DJI Phantom 4.
The release of the first Phantom was a revolution. Like iPod for music players and iPhone for smartphones. It was the first all-in-one, out-of-the-box remote-controlled aircraft that did not require from a user any knowledge about flying or constructing models. Basically DJI's Phantom drones have defined what regular people can expect from a camera-equipped quadcopter in the last few years. Of course for drone experts the product of the Chinese manufacturer was just a toy…
Phantom 2 introduced a lot of small improvements like longer battery life and new flying modes. Phantom 3 had a great camera and it learnt to fly indoors. It also featured a build-in Lightbridge module for camera real-time streaming. But it is the thought edition of the popular quadcopter that is a real revolution…
For a long time, Phantoms were lacking a key feature that most of the flagship camera drones offered – smart autopilot mode. With the Phantom 4, the autonomous features are where DJI gets ahead of the competition. With the new smart tracking, you can pick any object in view on the DJI app and the device will follow it keeping it in frame, based just on the camera image (without using any ground-based GPS tracking devices).
Another smart feature is called TapFly. It eliminates the need to learn the two-stick controller. You just need to push one button to take off, set a maximum distance the drone can travel, and just tap on a location on the video stream on your iPhone or iPad.
But the most awesome new feature is the Obstacle Sensing System. As the name suggest the device will autonomously avoid objects ahead of it to correct your mistakes and prevent you from crushing. The system works using two forward-facing optical cameras and two sensors on the bottom of the drone. The image recognition software maps its surrounding in a real-time and automatically redirects the Phantom 4 around any object that would disrupt its flight.
The new DJI Pjantom 4 sets the bar high for the competition. Of course for drone experts Phantom is still a toy but the new autonomous features bring it closer to being a "real drone" than ever before.
The Phantom 4 will cost $1,399 in the US and €1,599 in Europe.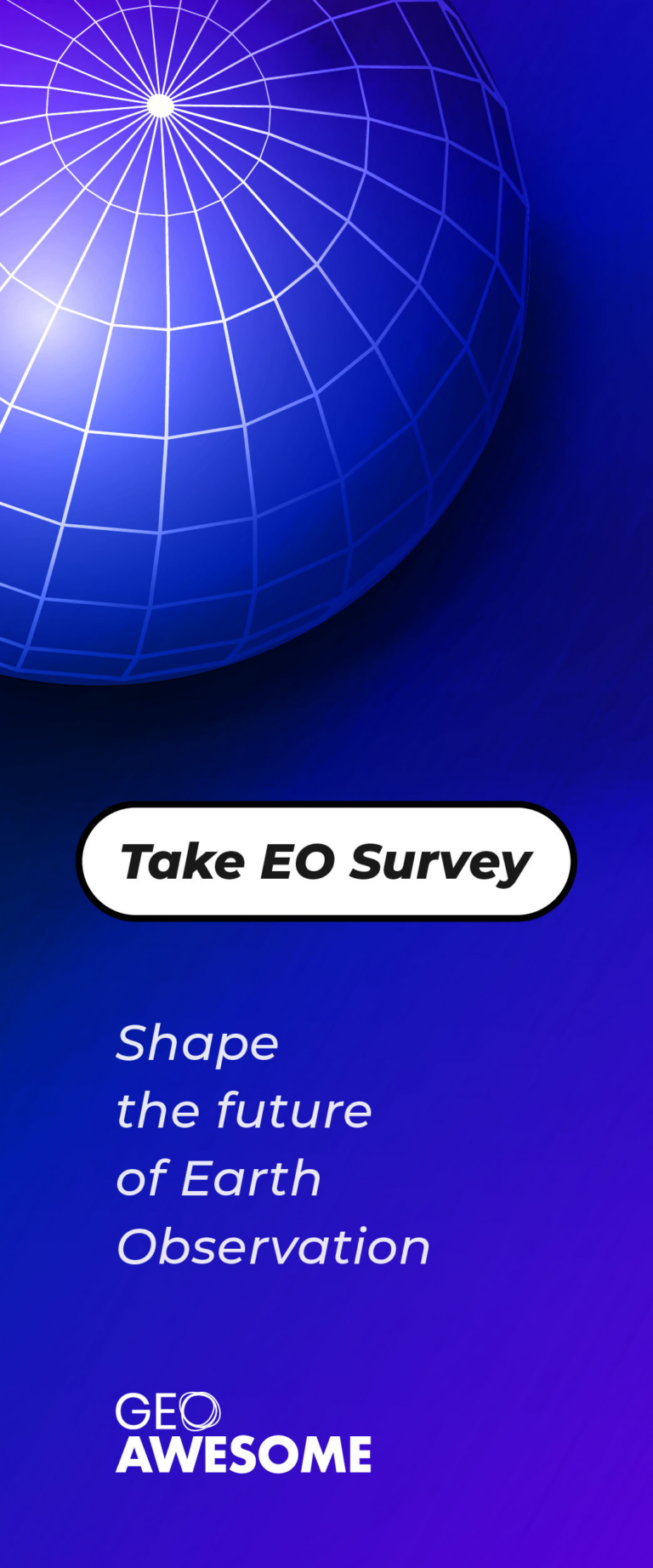 The community is supported by:

Next article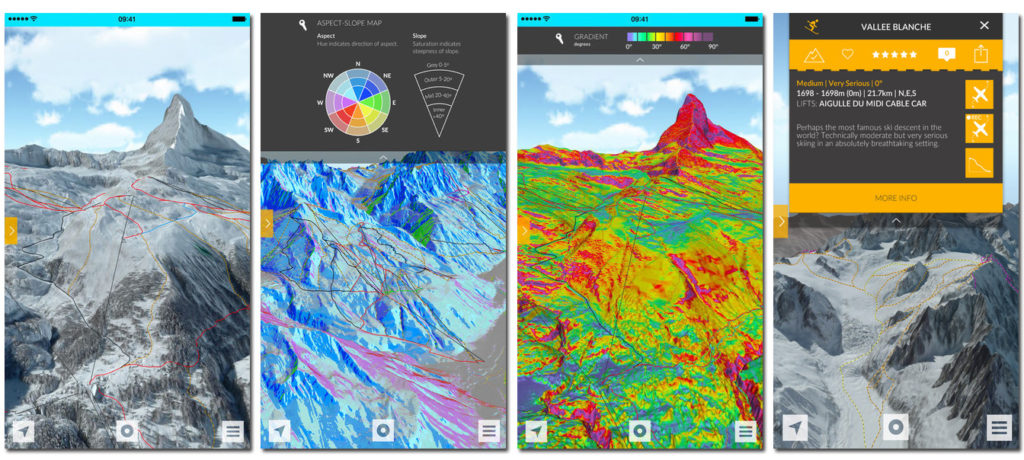 #Business #Fun #Ideas
Top 5 location-based skiing apps you should have on your phone before you hit the slopes
It's a middle of my skiing season and I've managed to test some of the coolest location-based skiing apps out there. From piste maps and avalanche conditions to sharing your location with your skiing buddies, these are the 5 top apps that you should install on your phone before hitting the slopes.
Fatmap
One of the best skiing apps ever. It features really precise 3D terrain maps for planning, recording and sharing your ski adventures. Fatmap offers advanced terrain analysis functions alike map of gradient as well as avalanche risk areas. Additionally for each winter resort available, it features phones to local rescue guys so that you wouldn't have to search for it in case of emergency. Fatmap is definitely the ultimate toolkit for skiing both on and off-piste. You can download it for free but for the paid features you'll have to pay $5-25 depending on the resort. The app is available for iOS and Android.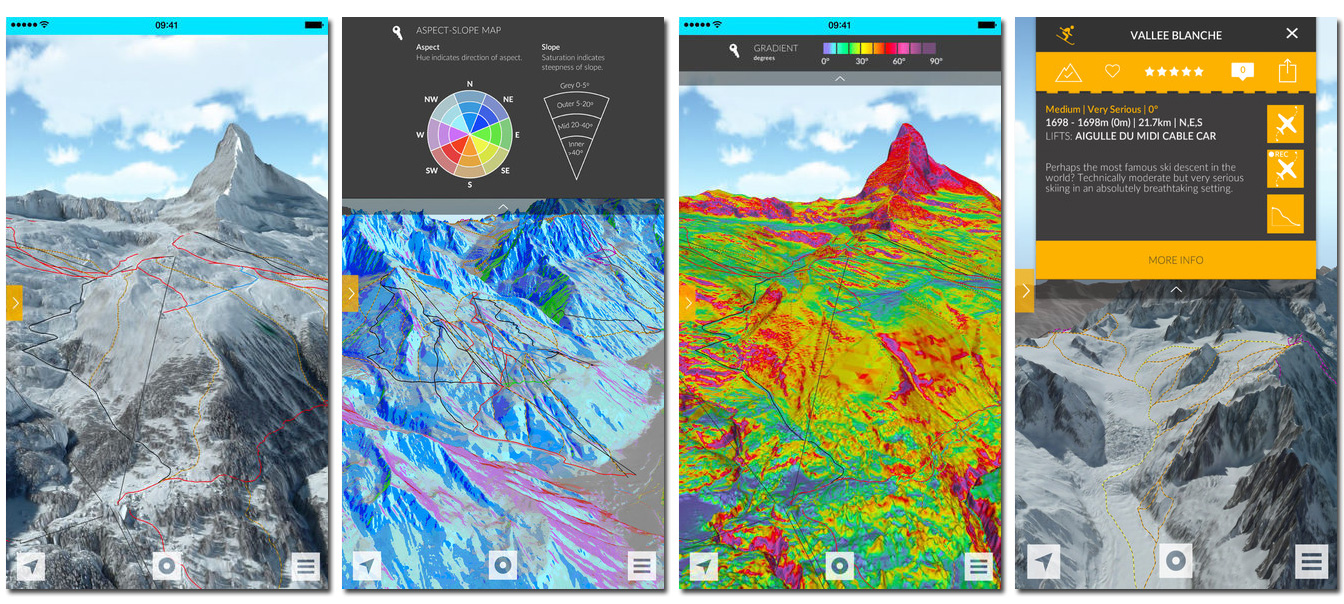 SkiLynx
Skiing is not only about hitting the slopes but also about hanging out with friends. SkiLynx is an app that keeps you connected with all of your skiing buddies wherever they are. The app lets you create a ski group allowing you to easily locate and communicate with your friends. SkiLynx tracks everyone is in a real-time, including details such as slope difficulty and percentage down the trail. There is a useful chat feature as well as the accompanying Apple Watch app, letting you quickly check in with everyone or set up a meeting in the middle of your skiing day. In addition SkiLynx features a regular GPS tracking and it records a variety of metrics which you can save and share over social networks. SkiLynx is available for iOS only and it costs $2.99.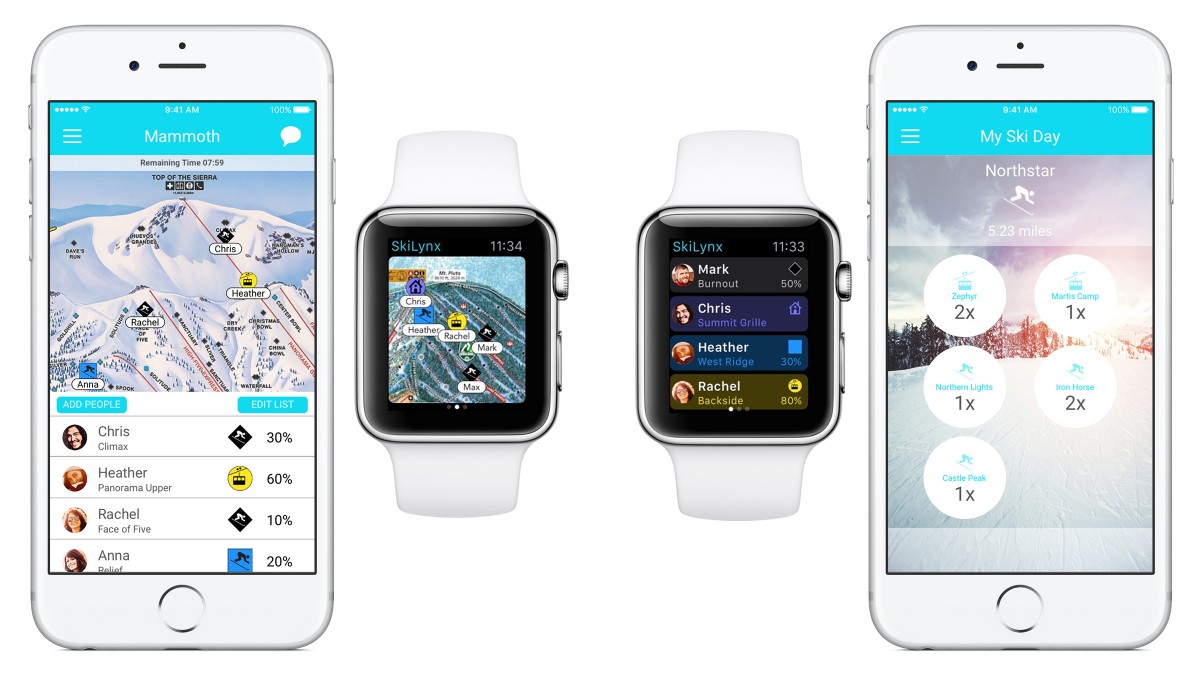 Avanet
Skiing is not only about awesome lines and high speed but it's also about avalanche safety. Avanet is the first global crowdsourced platform of mountain safety information. Designed to assist backcountry skiers and snowboarders as well as professional guides, Avanet uses GPS and map data to present users with geotagged observations by other mountain travelers that can warn you of hazards and potentially dangerous conditions, as well as contribute their own observations. Avanet can be used as a field safety aid and planning tool, navigation app, and your track logger. Avanet is a free iOS app.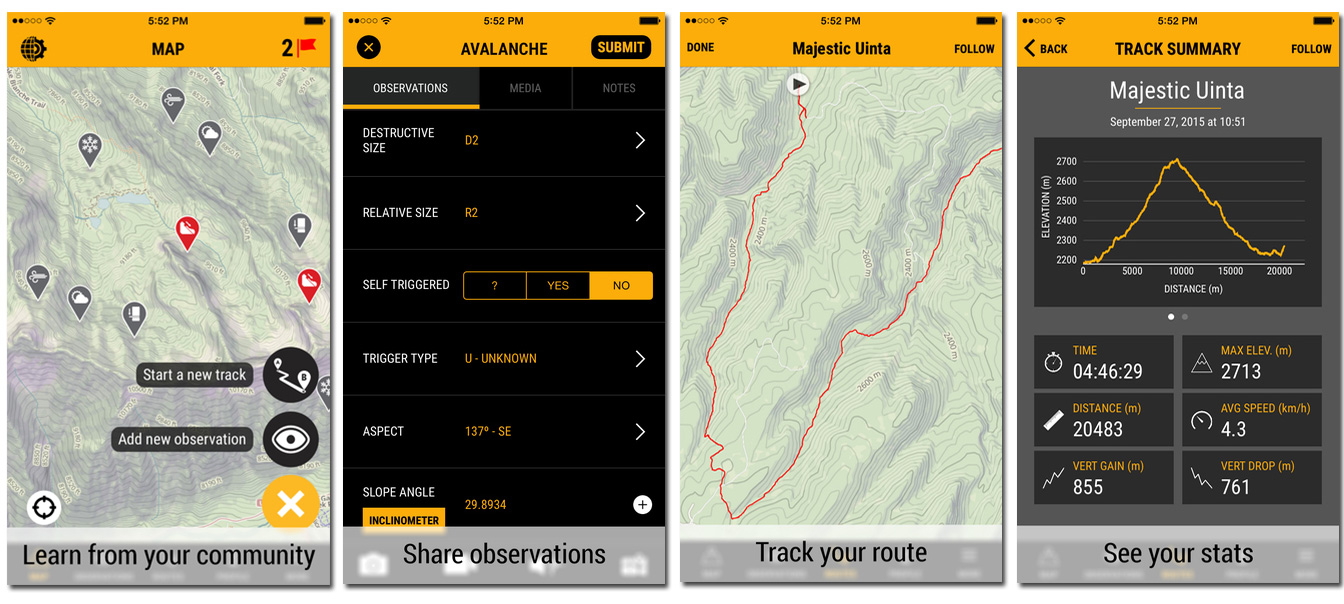 Ski track
Ski tracks is one of the most popular skiing apps out there. It is very simple and you might find the graphics not too fancy but it gets the job done. The app collects a comprehensive field data, including maximum and average speed, total distance traveled and slope angle. All of these metrics can then be logged, divided into different runs and plotted out on a map. The app is available for iOS and Android and it costs $.99 but it's worth it.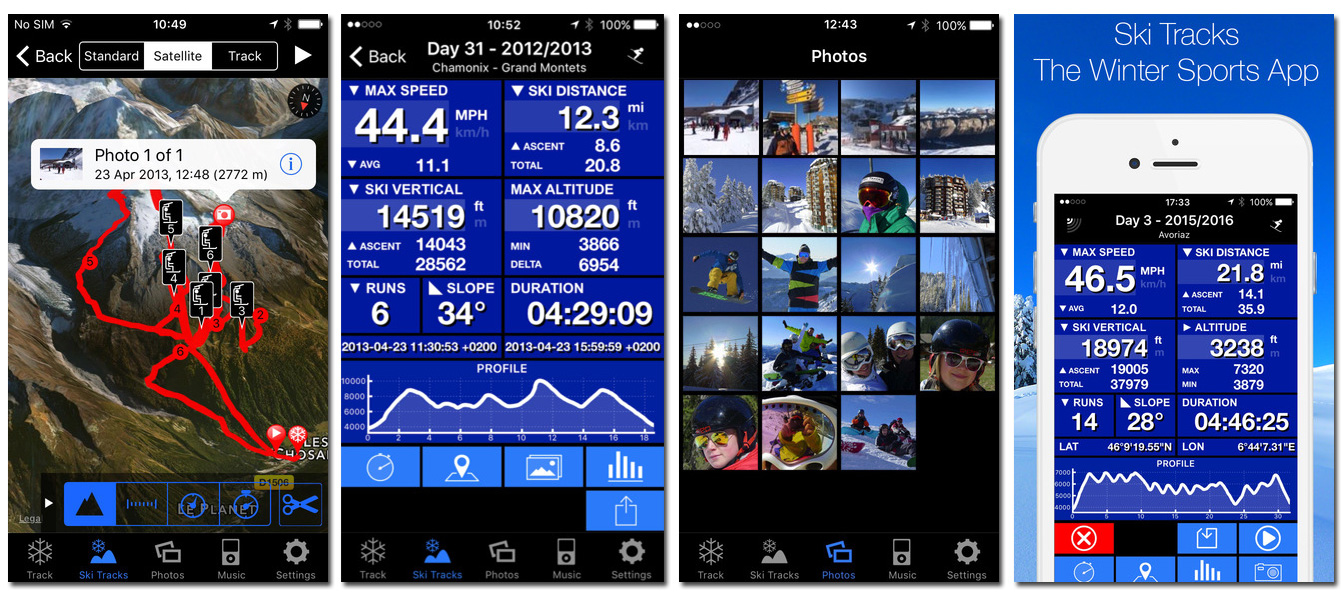 Endomondo
If you want to keep all your sport activities in a single app, Endomondo – one of the most popular fitness apps, gives you quite advanced skiing tracking features. The app takes advantage of GPS in a similar manner to tracking your jogging but it's enough for the most of less advanced skiers. Endomondo offers a free apps for iOS, Android and Windows.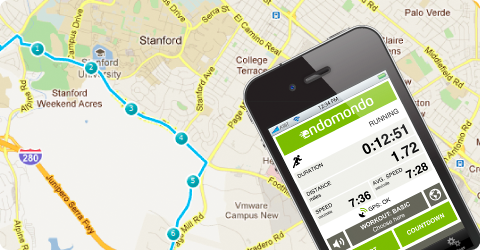 [td_smart_list_end]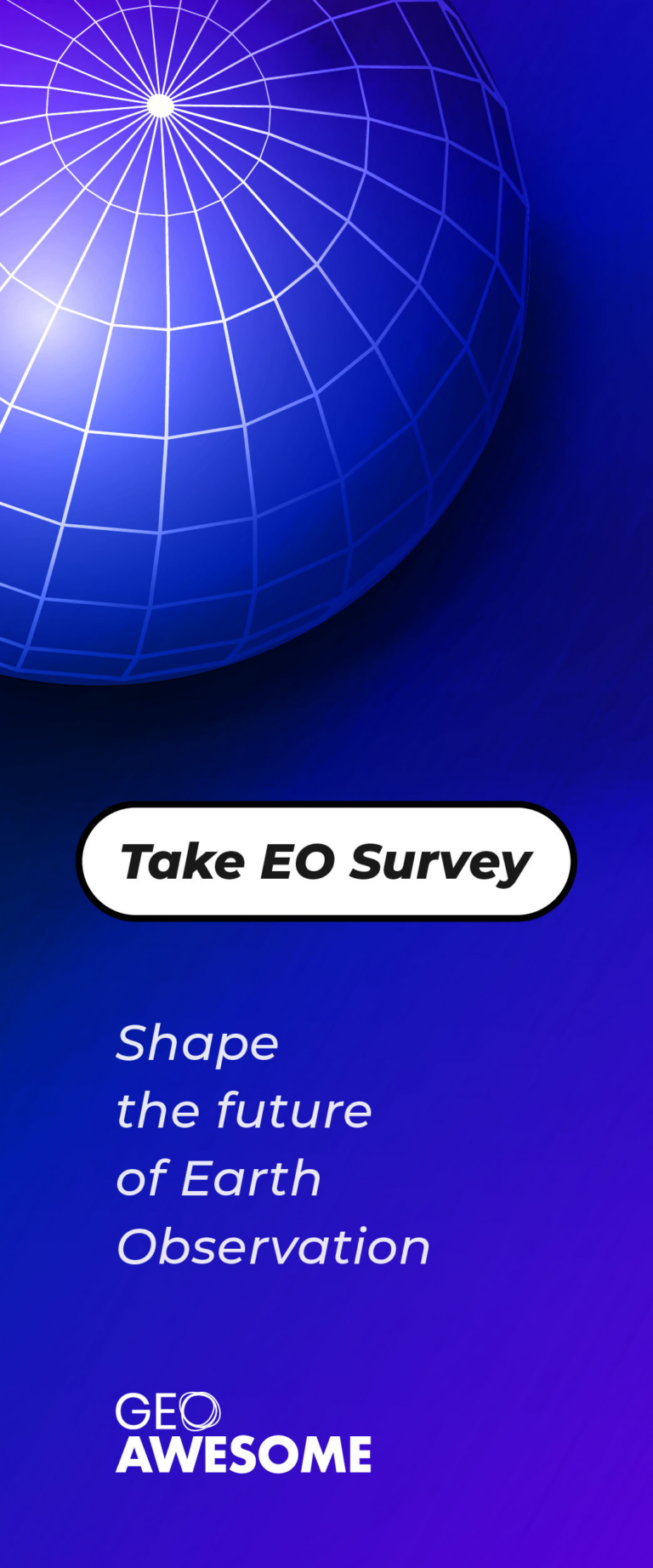 Read on