#Bez kategorii
Cesium for Unreal Combines High Accuracy with Visual Realism
There's no denying the value of a true digital twin. From planning and executing architecture projects to simulating security events, the ability to access and interact with a mirror image of the real world provides infinite possibilities for improving operations across industries.
Cesium for Unreal brings together Cesium's 3D geospatial platform with the Unreal Engine game engine for a real-time and highly accurate digital twin environment. 
A differentiator for Cesium's platform is the precision and accuracy it brings to data fusion. It allows users to combine a massive database of terrain data, satellite imagery and 3D buildings with interior and exterior BIM data, vector data, photogrammetric data and point clouds. The platform combines all of this data and streams a digital twin.
The game-changing integration with Unreal Engine from Epic Games aggregates this multi-source data and disseminates it in a real-time, high-fidelity view. This highly realistic view supports immersive AR/VR experiences, modelling and simulation and GPU-accelerated 3D geospatial analysis.
If users want to test drive Cesium for Unreal, good news: it's free and open source, even for commercial use. The hope from both Cesium and Epic Games is that this open approach will allow a community of users to form and improve the product together based on their experiences. 
Real-world Use Cases for Cesium and Unreal Engine
Cesium for Unreal has unlimited potential to solve problems for users across a range of industries. Check out just some of the ways users are benefiting from the collaboration between Cesium and Unreal Engine.
Clear Skies Ahead in Helsinki
Sami Heinonen, an extended reality strategist and experience designer, was looking to create a flight simulator based in Helsinki, Finland, to use with various digital aircraft. He started with open-source databases, gathering lidar and 3D Obj-files from the city of Helsinki and the National Land Survey of Finland, along with grayscale TIFF images of land height data. 
After cleaning up the images in Blender and Photoshop, Sami was left with a data-heavy and flat rendered image. He then recreated his project using the Cesium platform and Unreal Engine in less than an hour using drag-and-drop features.
The new version of Sami's project offers a more realistic view that pulls data as needed for a real-world simulation at scale.
Bringing History to Life in Modern Times
Cesium for Unreal is currently being used by consulting firm Light Heavy Industries to visualize the history of Bethlehem Steel, once one of the world's largest steel producers. 
Called "Echo of Steel", the project supports Pennsylvania's National Museum of Industrial History in producing VR, conventional, and mobile AR views and sounds from the historic steel plant. Using Cesium for Unreal, the Light Heavy Industries team was able to add their models to Cesium World Terrain data in just hours.
An Up-to-date View of High-growth Areas
Nearmap provides high-resolution aerial maps covering 71-90 per cent of the population in the U.S., Canada, Australia and New Zealand. Their imagery is especially valuable for companies needing a view of large-scale urban areas with high population and infrastructure growth.
Because their 3D meshes have such large coverage areas, Nearmap uses the Cesium platform to only load 3D Tiles when needed for the user's visualization. This has increased the accessibility and usability of the data for several industries and applications, including local government, water development, security and Smart Cities—and users can bring Nearmap data into Unreal Engine.
Preparing Drone Pilots for Operations
Shehzan Mohammed, product director at Cesium, demonstrated how Cesium for Unreal can be used to train drone pilots.
Using a high-resolution photogrammetry model from Aerometrex of Miami Beach, Florida, Shehzan changed the perspective of the demo from a person at street level to a drone soaring through the air. Because Cesium streams content, there was no hours-long wait to download the view like with a traditional gaming display. 
Shehzan was also able to change the view from third-person (watching the drone fly) to first-person (viewing the scene through the drone's camera lens), both of which could be used for training simulations. 
A Look Inside the Data
Cesium for Unreal lets users take an immersive look into their 3D geospatial data. The platform streams data as needed, changing the view for the user in real time. 
Cesium for Unreal is also the first high-precision globe in a gaming engine, combining real-world detail and accuracy with simulated environments. 
To learn more about what you can achieve with Cesium for Unreal and how it's compatible with other tools due to the use of open standards, be sure to check out the Geoawesomeness panel discussion with Cesium, Epic Games, and the Open Geospatial Consortium. 
The community is supported by:

Next article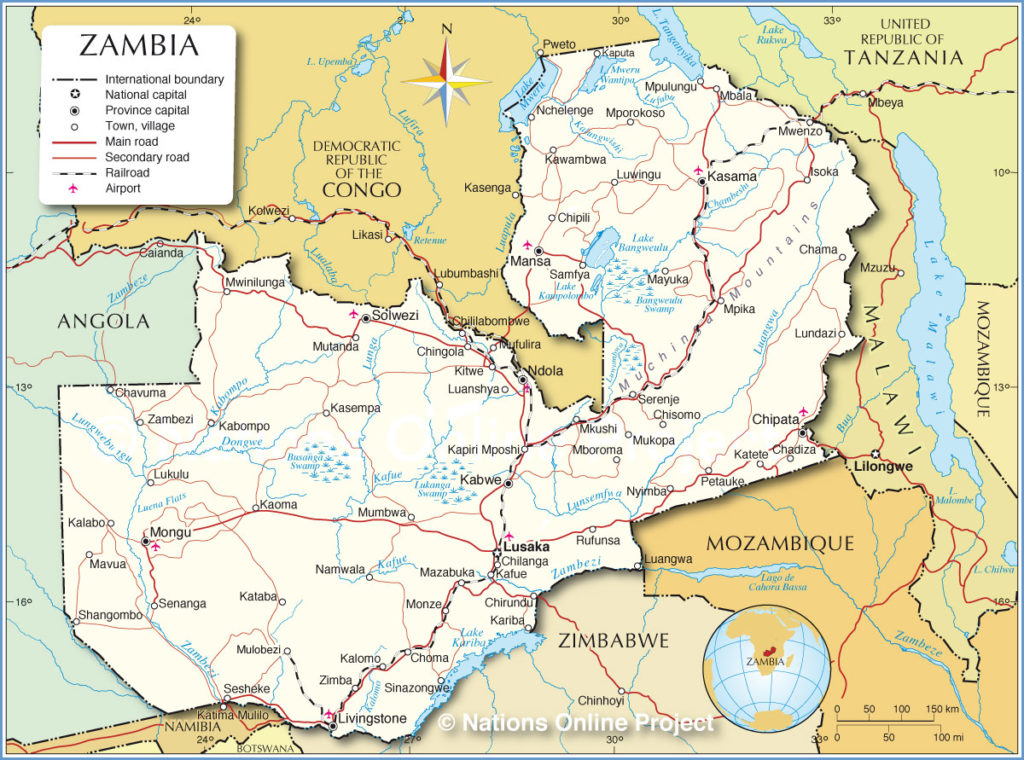 #Ideas
Putting AI to Work: Creating a Digital Base Map of Lusaka, Zambia
At the turn of the 20th century, the building of colonial railroads and the discovery of minerals was the key driver for urbanisation in Zambia—formerly known as Northern Rhodesia.
The railway line was used to transport minerals from the Copperbelt Province in the north—through Lusaka—to the border town of Livingstone in the south. The growth of the mining industry led to the development of settler, administrative and mining towns along the North-South "line of rail".
Currently, the population is concentrated in the urban centres along the "line of rail" with Lusaka City being the largest urban centre. The lure of better economic opportunities, infrastructure and services, and natural population growth drives the increase in Zambia's urban population.
Zambia's Urbanisation Challenge
This urban growth is not without challenges, among them a strain on the existing infrastructure. Other challenges include:
City boundary encroachment on agricultural and customary land

Proliferation of informal settlements

Environmental degradation
Zambia's urban population is on the rise and will reach 12 million by 2030—double its urban population as of 2015. Furthermore, in 2018, the UN Habitat reported that 40% of the Zambian population are in urban areas with an estimated 70% living in informal settlements. 
While significant social, economic and environmental problems characterise informal settlements, they're also centres of economic activity and employment. Considering that Zambian cities account for 80% of the GDP, urbanisation should be viewed as an opportunity for economic growth rather than a challenge.
To this end, the International Growth Centre (IGC) has been working with UN-Habitat to support the Zambia Ministry of Local Government to promote prosperous and inclusive urban settlements. They're working to ensure that Zambia's towns and cities are resilient to support economic growth.
One way of addressing the urban growth challenge is by adopting efficient urban planning practices that allow for expansion. Urban planning should be based on up-to-date quality data and information. Unfortunately, Zambia faces a digital map gap. There is a lack of sufficient spatial data needed for better planning for urban expansion and public service delivery. 
The other problem is that traditional data collection and mapping techniques cannot keep up with the high rate of urban sprawl in Zambia's capital, Lusaka. 
Therefore, how might we best address these obstacles and improve the availability of mapping data for better spatial planning in Zambia's towns and cities?
Addressing the Digital Map Gap
Luckily, with advances in Artificial Intelligence (AI) technologies, mapping can now be done at a higher speed, and more cost effectively. Indeed, mapping that would normally take months—if not years—can now be done in weeks. 
With this in mind, Ordnance Survey collaborated with the Commonwealth Association of Architects (CAA) to create an inaugural digital base map of Lusaka from aerial imagery. The base map—which focuses on the identification of informal settlements—will help to:
Identify the size of informal settlements

Compute an estimate of the number of people living in informal settlements and the population density—based on the number of buildings

Identify access to roads and public services within formal and informal settlements

Predict the growth of informal settlements
Furthermore, the base map will find application in poverty reduction, land management, housing, basic and social services, infrastructural development, and coordination of large-scale investments. It will also help to avoid future disasters resulting from unplanned urban growth.
Creating the Digital Base Map of Lusaka, Zambia
In this project, Ordnance Survey (OS) used AI to map an area covering 420km2 of Lusaka, Zambia. 
To do this, they first obtained aerial imagery from the Zambia Survey Department in the Ministry of Lands and Natural Resources. The aerial imagery had a spatial resolution of 20cm. They then identified different feature classes on the imagery, i.e. buildings, roads, trees, grass, water, natural surface, sealed surface, etc.
Next, they preprocessed the aerial imagery and determined the best training method. After that, they labelled the imagery to be used as training data and then trained the model. Afterwards, they applied the trained model to the rest of the imagery covering all of Lusaka City for classification. 
Lastly, they post processed the resulting map to clean up any major issues e.g. enforcing building corners at 90 degrees.
Statistical Overview of the Base Map
Here's a statistical overview of the resulting base map:
Buildings occupy 11% of total area mapped

The number of individual building features captured was 256,480

 82,389 other structures were mapped—including buildings under construction. These cover 1.5% of the total area mapped

Trees cover an area of 74.4km

2

  (18% of the total area mapped)

4,067km of road links were mapped 

The length of rail links mapped was 34km 

 65.1km

2

or 6% of the mapped area is covered with grass 
A Look at the Challenges  
The African urban landscape differs significantly in makeup and appearance from urban areas in America, Europe or Asia—which also have more data on which to train AI models. 
From rural suburbs to urban areas, Lusaka has a diverse and rapidly changing landscape. It has varying vegetation cover and building types, ranging from informal settlements to large commercial and industrial buildings. When training the model, the training data had to represent this diverse landscape, which was a challenge. 
Additionally, while the model correctly identified walls and other permanent structures, it failed to identify buildings which were under construction because they were roofless. Nonetheless, these were classified under 'other structures'. 
What Comes Next?
Leveraging on the lessons learnt in this project, Ordnance Survey will improve the model, making it more applicable in mapping other regions.
"This programme will promote the value associated with accurate and relevant spatial data. The rapid delivery of a scalable and replicable national digital base map is not only relevant to cities such as Lusaka, but also has far reaching benefits at national and regional scale. OS data will provide the evidence and information to support critical decisions when upgrading existing informal settlements and planning future infrastructure to promote economic prosperity." Andy Wilson, Africa Region Director, OS
Need more information about this project? Please email internationalenquiries@os.uk
View the base map: Commonwealth Data Platform Experience – Lusaka (arcgis.com)
References
Read on