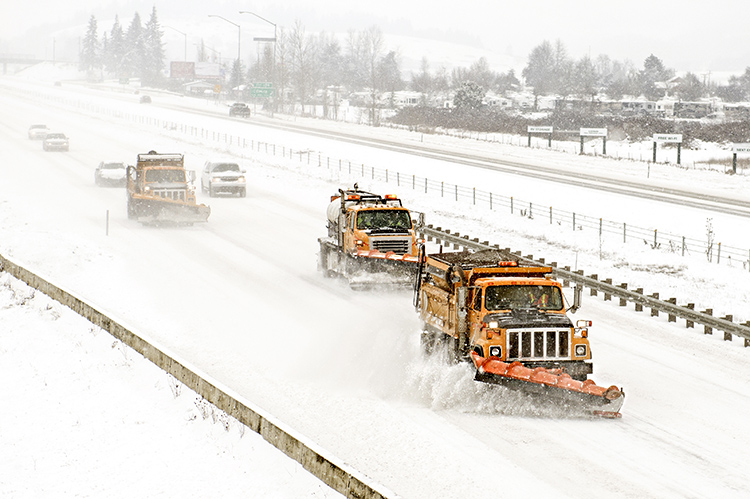 #Business
Case Study: Fighting the Snow with a Fleet Management Solution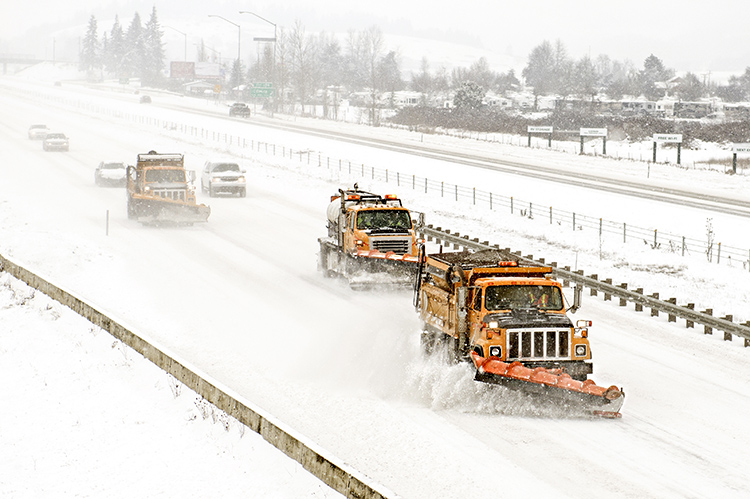 Many local governments in areas that get regular snowfall maintain a fleet of snow plows. In the winter season, speed and efficiency of snow plow fleet are of a great importance – especially in highly urbanized cities. We bring you a case study showing how to make a snow fleet management system more efficient with a simple software solution, featuring a story coming from the City of Zagreb.
PROJECT INFO
City of Zagreb is the capital of Croatia. As the climate of Zagreb is moderate continental with hot summers and cold winters, during winter season, snowfall is a common occurrence. This causes various traffic difficulties. That is why it was important for the City of Zagreb  to have a solution for effective management of their snow plow trucks fleet.
What were the challenges?
City of Zagreb wanted to replace an outdated fleet management workflow that was slowing the decision making process during snow emergencies because they didn't have an overview of the situation on the streets and the cleaning progress in real time. The decision making process was complicated by the fact that City of Zagreb officials needed to manage multiple subcontractors from one account. They wanted to have a possibility of having a full control of vehicles and their expenses on a daily basis. This data should be available on a map accessible by multiple users, both in the office and in the field, using different devices. Considering the fact that mapping data consists of larger datasets and contains a lot of information, the challenge was to have a fast solution with an optimal loading speed. City of Zagreb needed to make their snow emergency response faster, better and more efficient.
At the same time, they wanted to improve their daily workflow and reporting process, and be able to create custom reports with accurate data updated in real time.
What was the solution?
In a need of a more 'up to date' approach, City of Zagreb adopted and deployed GIS Cloud tools for their winter fleet management. Cloud based GIS turned out to be a necessity for a successful coordination between multiple users, contractors, and on multiple devices in a real time. Also, cloud GIS made their reaction time faster and workflow more efficient because they were able to track and monitor the progress of snow removal process while making decisions on site.
In order to use their existing data, an integration between Map Editor and Fleet and Workforce Management apps was achieved.
As a powerful mapping tool, Map Editor enabled publishing of existing data, editing and labeling, as well as managing and sorting the data in corresponding folders. The idea was to divide a given area (city of Zagreb) in multiple tasks, where each task represents a group of streets. Their mapping effort would then be connected to the GIS Cloud Fleet and Workforce Management solution, giving the each unit their assigned task.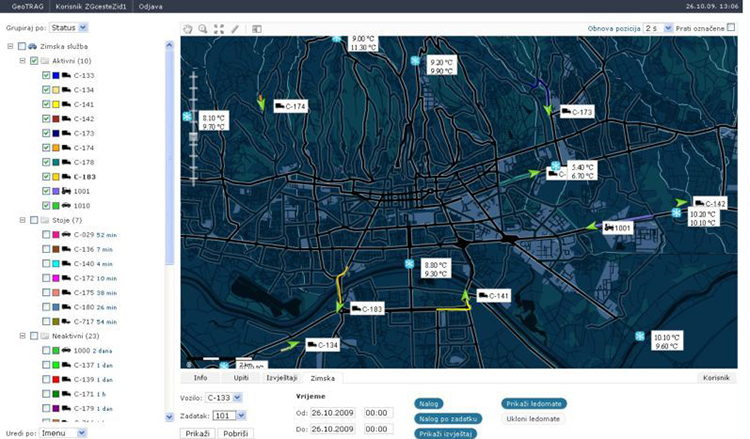 An overview of vehicle consumption is possible in Fleet and Workforce Management app so this way City of Zagreb has a full control of managing different types of costs (i.e. salt and other means for defrosting). This enables cost assessments for future, giving them information on what can be reduced and for which subcontractor in particular.
With GIS Cloud Fleet and Workforce Management Solution, real time coordination between drivers and dispatchers was accomplished, having an overview of driver's locations at any time. This real time solution, enabled a faster response time and more effective decision making in critical situations. With customization options, set of various reports could be made like mileage, fuel consumption, speed limitation etc.
As a novelty, a system for early ice detection was incorporated, where multiple sensors are tracking different criteria like air and pavement temperature, humidity etc. Once a given threshold is crossed, this integrated system in Fleet and Workforce Management app will notify the dispatcher, giving him the necessary information for effective decision making.
GIS Cloud Fleet and Workforce Management Solution was ideal for City of Zagreb, as it accelerated the outdated workflow by using and customizing existing GIS Cloud applications. Real time vehicle tracking was enabled by using fast and responsive maps and by making the decision process inter-operable. With decreased response time, severe winter conditions became much more manageable.
To sum it up, these were the results:
Integration between Map Editor and Fleet and Workforce Management (overlap between fleet and their own data)
Vehicle Tracking in real time (monitoring of the status and path that certain vehicle has passed)
Report about every vehicle regarding the beginning and ending of the drive, time, miles, fuel consumption, speed limitation, status of the vehicle
Real time collaboration between the driver and the dispatcher
System for early detection of ice on the pavements (17 sensors over the city reports current status of the pavements regarding the temperature of pavement and air, humidity of the pavements and the freezing point which depends on rainfall, fog and salinity of pavement)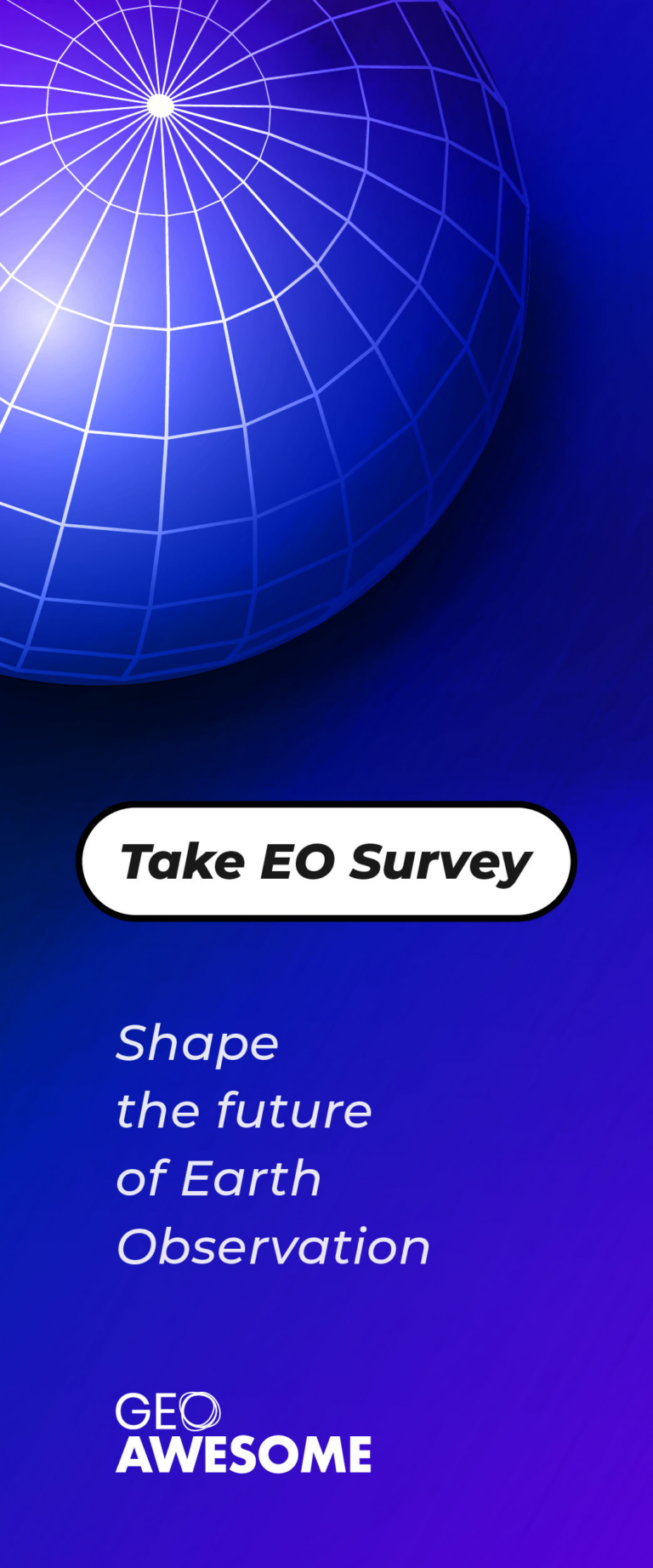 The community is supported by:

Next article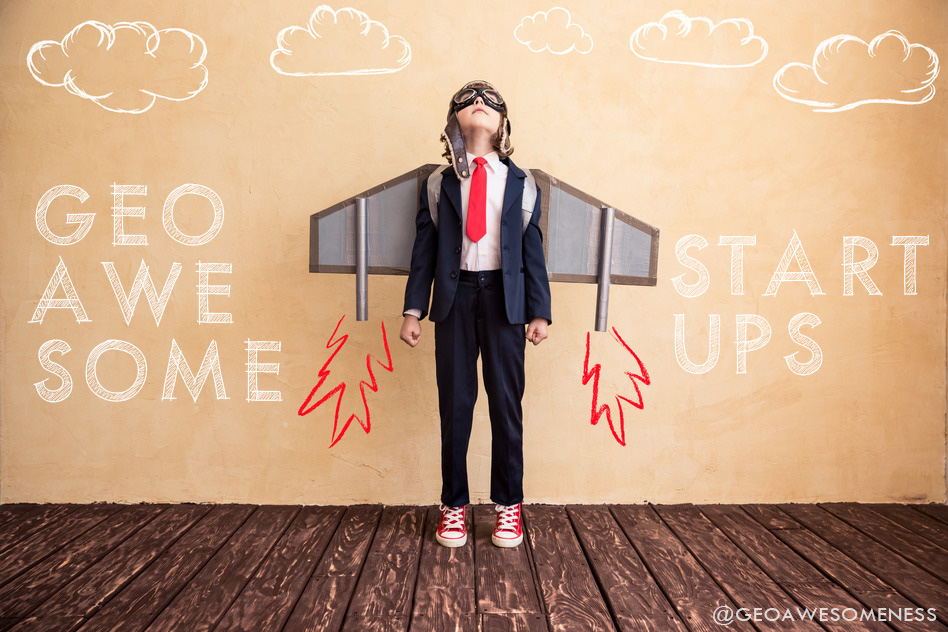 #Business #Fun #Ideas
List of the top 100 geospatial start-ups and companies in the world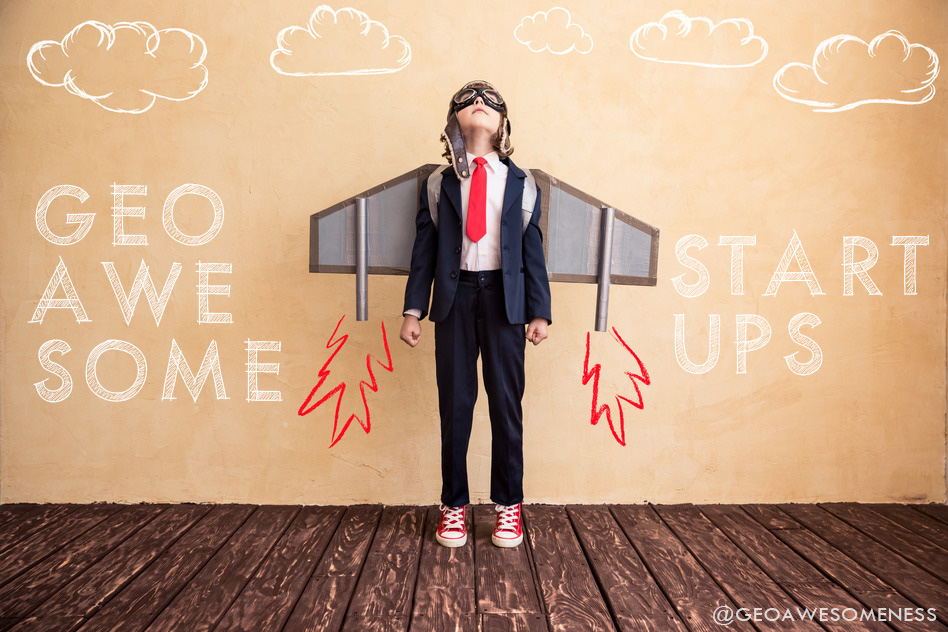 Maps, drones, apps, ibeacons, navigation, GPS, remote sensing… we love everything "location". This of course includes geospatial companies and start-ups. We talk to them and write about them.
We've decided to work on a data base of geospatial comapanies. It's a long term project but we've got some first results to share with you. Here is the list of the top and the most influential geospatial companies across the world.
---
Help us identify the top 100 geospatial companies and startups 
Update (29th August 2018): We are in the process of updating this list. Do you see anything awesome geospatial company or start-up missing? Let us know via email or send us a tweet @geoawesomeness. If you like us to consider your startup or company – that is awesome!  tell us more about your geospatial startup/company!
---
| wdt_ID | Organization Name | Industries | Headquarters City | Headquarters State | Headquarters Country | Total Funding (in USD) | Operating Status | Founded | Full Description | Website |
| --- | --- | --- | --- | --- | --- | --- | --- | --- | --- | --- |
| 1 | Maxar Technologies | Aerospace, Geospatial, Government, Information Technology, Real Estate, Software | Richmond Hill | Ontario | Canada | 1.053.700.000 | Active | 1.969 | MacDonald, Dettwiler and Associates, Ltd., through its subsidiaries, provide information solutions for decision making and operational performance to businesses and governments worldwide. It operates through two segments, Information Products and Informat | http://www.maxar.com/ |
| 2 | Momo | Location Based Services, Mobile Apps, SMS | Beijing | Beijing | China | 998.844.306 | Active | 2.011 | Momo is a free location-based services instant messaging application that enables smartphone users to chat with people nearby. It allows users to connect with others in the same location and share free texts, audio notes, and photographs over the internet | http://www.immomo.com |
| 3 | Pioneer Corporation | Consumer Electronics, Manufacturing, Navigation, TV Production | Kanagawa | Fukushima | Japan | 539.490.114 | Active | 1.938 | Pioneer Corporation is a global manufacturer of electronic products for the consumers and professional markets. It manufactures and sells audio and video equipment for household, industrial, and automobile use. The company produces and sells visual and mu | http://pioneer.jp/ |
| 4 | Planet | Aerospace, Big Data, Geospatial | San Francisco | California | United States | 351.100.000 | Active | 2.010 | Planet is a startup based in San Francisco and founded by former NASA employees that collects information about our changing planet via a fleet of compact, highly capable Earth-imaging satellites. Planet's mission is to image the entire Earth every day, a | http://www.planet.com/ |
| 5 | NextNav | Electronics, Location Based Services, Mobile, Navigation, Telecommunications, Wireless | Sunnyvale | California | United States | 278.425.496 | Active | 2.008 | NextNav operates a platform intended to offer indoor location services and applications. Its platform offers location-enabling technology with carrier-grade reliability for use in buildings and urban areas where satellite-based geographical positioning se | http://www.nextnav.com/ |
| 6 | Innoviz Technologies | Artificial Intelligence, Automotive, Autonomous Vehicles, GPS, Robotics | Tel Aviv | Tel Aviv | Israel | 252.000.000 | Active | 2.016 | Innoviz is a leading manufacturer of high-performance, solid-state LiDAR sensors and perception software that enable the mass-production of autonomous vehicles. InnovizPro is a solid-state LiDAR that offers outstanding performance and value for automotive | http://www.innoviz.tech/ |
| 7 | Zipline | Drones, Logistics, Robotics | Half Moon Bay | California | United States | 233.000.000 | Active | 2.014 | Zipline is a California-based automated logistics company that designs, manufactures, and operates drones to deliver vital medical products. Zipline's mission is to provide every human on Earth with instant access to vital medical supplies. In 2014, Zipli | http://flyzipline.com/ |
| 8 | Mapbox | Automotive, Business Intelligence, Cloud Computing, Data Visualization, Enterprise Software, Location Based Services, Mapping Services, Open Source | Washington | District of Columbia | United States | 227.175.000 | Active | 2.010 | Mapbox is the leading location data platform providing maps, turn-by-turn navigation, location search, and data to over 1.7M registered developers — powering companies like Facebook, IBM, Instacart, Lonely Planet, Snapchat, Tableau, The Weather Channel, | http://www.mapbox.com |
| 9 | Momenta | Artificial Intelligence, Autonomous Vehicles, Computer Vision, Information Services, Mapping Services | Beijing | Beijing | China | 203.150.880 | Active | 2.016 | Momenta is an autonomous driving startup operating out of Beijing. Its deep-learning based software in perception, HD semantic mapping, and data-driven path planning enables the realization of full autonomy. Momenta offers multi-level autonomous driving s | https://www.momenta.ai/ |
| 10 | Smartbox Group | E-Commerce, Gift Card, Internet, Location Based Services, Retail, Retail Technology | Dublin | Dublin | Ireland | 196.635.530 | Active | 2.008 | Smartbox is a provider of experience gifts across eleven countries in Europe. With almost 40,000 providers, the company distributes experience vouchers and gift cards online and 12,0000 points of sale through its branded websites and e-retailers. | http://www.smartbox.com/ |
| 11 | 3D Robotics | Drones, Robotics | Berkeley | California | United States | 178.775.000 | Active | 2.009 | 3DR makes advanced drone technology easily accessible to the construction, mining, and surveying industries for use in data analysis. It helps users in land mapping and site scanning services in collecting accurate aerial data of the jobsite, turning urns | https://3dr.com/ |
| 12 | Telogis | Enterprise Software, Fleet Management, Navigation, SaaS, Software, Transportation | Aliso Viejo | California | United States | 141.280.000 | Active | 2.001 | Telogis provides a comprehensive cloud-based Mobile Enterprise Management (MEM) software platform for companies that require dynamic routing, real-time work order management, navigation, telematics and mobile integration services for their mobile workforc | http://www.telogis.com |
| 13 | Qianxun Spatial Intelligence | Geospatial, GPS, Location Based Services, Navigation | Shanghai | Shanghai | China | 141.209.031 | Active | 2.015 | Qianxun Spatial Intelligence is a world's leading high precision positioning service provider for government, enterprises, and consumer markets needs. The company offers dynamic centimeter and static millimeter positioning capabilities. Qianxun Spatial | https://www.qxwz.com/ |
| 14 | PrecisionHawk | Aerospace, Artificial Intelligence, Autonomous Vehicles, Drones, Robotics | Raleigh | North Carolina | United States | 136.000.000 | Active | 2.010 | PrecisionHawk is an information delivery company that combines unmanned aerial systems, remote sensing technologies, and advanced data analytics to improve business operations and day-to-day decision making. PrecisionHawk brings value to an emerging marke | http://precisionhawk.com |
| 15 | Quanergy Systems | 3D Technology, Autonomous Vehicles, Information Services, Information Technology, Mapping Services, Navigation, Robotics | Sunnyvale | California | United States | 135.308.960 | Active | 2.012 | Quanergy Systems is a Silicon-Valley-based technology company offering smart sensing solutions. It is the leading provider of time-of-flight LiDAR sensors and perception software for real-time capture and processing of 3D spatial data and object detectio | http://quanergy.com |
| 16 | Near | Analytics, Artificial Intelligence, Location Based Services, Marketing, SaaS | Singapore | Central Region | Singapore | 134.000.000 | Active | 2.012 | Near is the world's largest source of intelligence on people and places, processing data from over 1.6 billion monthly users across 44 countries. The Near Platform powers data-driven marketing and enrichment offerings through a suite of SaaS products. The | https://near.co |
| 17 | Moovit | Internet, Navigation, Public Transportation, Ride Sharing, Software, Transportation | Ness Ziona | HaMerkaz | Israel | 131.500.000 | Active | 2.012 | Moovit is a Mobility as a Service (MaaS) provider and the world's #1 transit app. Moovit simplifies your urban mobility in +2700 cities all around the world, making getting around town via mass transit easier and more convenient. Moovit has more than 30 | https://moovit.com |
| 18 | Orbital Insight | Analytics, Big Data, Computer Vision, Geospatial, Machine Learning, SaaS | Palo Alto | California | United States | 128.700.000 | Active | 2.013 | Orbital Insight is a geospatial analytics company, used by data-driven organizations that need to understand the changing physical world. Our SaaS technology unlocks global insights, anywhere and anytime, revealing hidden infrastructure, supply chain, soc | http://www.orbitalinsight.com/ |
| 19 | Mapbar | Mapping Services, Navigation | Beijing | Beijing | China | 127.463.051 | Active | 2.004 | Beijing Mapbar Science and Technology Co., Ltd. (Mapbar) is a domestic provider of online maps and wireless maps in China. The company has 3,500 local websites, industry portals, and cooperative partners such as Baidu, Tencent, Yahoo, Netease, Alibaba, Ct | http://www.mapbar.com |
| 20 | Estapar | Apps, Facilities Support Services, Location Based Services, Parking, Real Estate | Sao Paulo | Brazil | Brazil | 125.000.000 | Active | 1.981 | Estapar manages and operates vehicle parking lots in Brazil. It provides technical, management, advisory, and relevant planning services to private and public companies, as well as for the special areas of paid parking on public roads or parks. Estapar b | http://www.estapar.com.br/ |
| 21 | Belvedor (ZhuBaiJia) | Adventure Travel, Automotive, Location Based Services, Real Estate, Travel | Beijing | Beijing | China | 112.535.299 | Active | 2.012 | Zhubaijia offers online booking for rental of apartments for short trips or special tours. It provides private guides, transportation, and tour services. | http://www.zhubaijia.com/ |
| 22 | Airobotics | Aerospace, Drone Management, Drones, Internet of Things, Robotics | Petah Tiqva | HaMerkaz | Israel | 108.100.000 | Active | 2.014 | Airobotics has developed a pilotless drone solution, the first of its kind in the global market. Airobotics provides an end-to-end, fully automatic solution for collecting aerial data and gaining invaluable insights. The industrial grade platform is avail | http://www.airoboticsdrones.com |
| 23 | WayRay | Augmented Reality, Automotive, Consumer Electronics, Media and Entertainment, Navigation | Zurich | Switzerland | | 108.000.000 | Active | 2.012 | WayRay creates cutting-edge augmented reality technologies for the automotive industry and beyond, in addition to offering unique consumer electronics products. WayRay was founded by Vitaly Ponomarev in 2012 and is headquartered in Zürich, Switzerland, w | https://wayray.com/ |
| 24 | Latecoere | Aerospace, Drones, Machinery Manufacturing, Manufacturing, Marketing | Toulouse | Midi-Pyrenees | France | 106.800.000 | Active | 1.917 | Latecoere specializes in the manufacturing and marketing of structures for the aeronautics sector. Latecoere develops, manufactures and offers product support activities (repair, replacement, etc.) in the field of both Aerostructures and Interconnection S | https://www.latecoere.aero/ |
| 25 | DJI | Aerospace, Consumer Electronics, Drones, Manufacturing, Photography, Wireless | Shenzhen | Guangdong | China | 105.000.000 | Active | 2.006 | DJI develops and manufactures innovative drone and camera technology for commercial and recreational use. Their platforms empower them to capture images that were once out of reach. Their flying and camera stabilization systems redefine camera placement a | http://www.dji.com/ |
| 26 | Factual | Analytics, Digital Marketing, Geospatial, Internet, Location Based Services, Mobile, Mobile Advertising | Los Angeles | California | United States | 104.000.000 | Active | 2.008 | Factual is the location data company the world's most valuable brands and tech companies trust to understand and intelligently grow their businesses. Factual provides product and engineering teams, marketers and data analysts access to the world's mos | http://www.factual.com |
| 27 | YI Technology | Consumer Electronics, Drones, Information Technology | Bellevue | Washington | United States | 100.000.000 | Active | 2.014 | YI Technology, the leading international provider of advanced, intelligent imaging technologies, has announced the launch of the industry's first and only action camera that provides 4K60 video recording with the longest ever recording time. | http://www.yitechnology.com/ |
| 28 | Baedal Minjeok | Food Delivery, Location Based Services, Restaurants | Seoul | Seoul-t'ukpyolsi | South Korea | 98.000.000 | Active | 2.011 | Baedal Minjeok Seoul-based restaurant delivery app. Baedal Minjeok, made by Korean startup Woowa Brothers, is similar to GrubHub in the US (which Goldman Sachs also owns a stake in) and FoodPanda in Singapore. Almost all of its transactions take place via | http://smartbaedal.com |
| 29 | ispace technologies | Manufacturing, Navigation, Robotics, Space Travel, Sustainability | Tokyo | Tokyo | Japan | 94.230.904 | Active | 2.010 | ispace technologies Inc. is a space resource exploration company founded in 2013 to develop micro-robots that will locate the resources necessary to extend human life into outer space. Their main focus is to locate, extract, and deliver lunar ice to custo | http://ispace-inc.com/ |
| 30 | Grindr | Apps, iOS, LGBT, Location Based Services, Social Media, Social Network | West Hollywood | California | United States | 93.000.000 | Active | 2.008 | Grindr is an all-male location-based network that allows gay, bi, or curious men to connect and hang out with one another. Since launching in March 2009, Grindr has become a global sensation and surpassed 7 million users in 192 countries. On a daily basi | http://www.grindr.com |
| 31 | DroneDeploy | Drones, Internet of Things, Mapping Services, Robotics, SaaS, Software | San Francisco | California | United States | 92.552.367 | Active | 2.013 | DroneDeploy is a provider of cloud-control software solutions for drones which include automated flight safety checks, workflows, and real-time mapping and data processing.The company has partnered with leading drone manufacturers like DJI to provide its | http://www.dronedeploy.com |
| 32 | DeepMap | Autonomous Vehicles, Computer, Machine Learning, Mapping Services, Software | Palo Alto | California | United States | 92.000.000 | Active | 2.016 | DeepMap is solving the HD mapping and localization and big data management challenge for L4/5 autonomous vehicles. They are based in Palo Alto, CA, and have blue-chip investors supporting a world-class team from Google Earth, Google Maps, Apple Maps, and | https://www.deepmap.ai/ |
| 33 | Trapeze Networks | Cyber Security, Information Technology, Location Based Services, Real Time, Security, Video, Wireless | Sunnyvale | California | United States | 91.120.000 | Active | 2.002 | NonStop Wireless Trapeze solutions provide the highest levels of reliability, performance, security and management for today's most demanding mobile applications, including data, voice, video, and real-time location services. Trapeze is committed to deliv | http://www.trapezenetworks.com |
| 34 | Bonial.com | E-Commerce, Information Technology, Local Shopping, Location Based Services | Berlin | Berlin | Germany | 90.000.000 | Active | 2.008 | Bonial.com operates the leading location based shopping platform worldwide, with a complementary portfolio of brands and products to connect shoppers with their favourite local stores and brands. Reaching 25 mln users each month, their brands focus on all | http://www.bonial.com |
| 35 | Saildrone | Drones, Industrial, Manufacturing, Marine Technology, Robotics | Alameda | California | United States | 88.500.000 | Active | 2.012 | Saildrone designs and manufactures wind and solar powered autonomous surface vehicles called Saildrones, which make cost-effective ocean data collection possible at scale. We are busy building the world's largest high resolution ocean datasets, working wi | https://www.saildrone.com/ |
| 36 | BAE Systems | Aerospace, Manufacturing, National Security, Navigation | Arlington | Virginia | United States | 84.787.828 | Active | 1.999 | BAE Systems engages in the design, development, manufacture, and support of defense and aerospace systems used in the air, on land, at sea, and in space. The company provides electronic systems and subsystems for military and commercial applications; sec | http://www.baesystems.com |
| 37 | MapAnything | CRM, Data Visualization, Location Based Services, Software | Charlotte | North Carolina | United States | 84.100.000 | Active | 2.009 | Founded in 2009, MapAnything is a location services company for your Salesforce data. Its mission is to become the world's leading business platform for "Where" software. MapAnything provides a suite of "Where" apps and platform services to d | http://mapanything.com |
| 38 | Sandbox VR | Content, Digital Entertainment, Location Based Services, Virtual Reality | San Mateo | California | United States | 82.000.000 | Active | 2.016 | Sandbox VR is a virtual reality startup that offers a premium, fully-immersive virtual reality experience. The company combines motion capture in real time with virtual reality technology to create a new medium that is the closest thing to the Star Trek h | https://sandboxvr.com/ |
| 39 | Stereotaxis | Biotechnology, Health Care, Medical Device, Navigation | St Louis | Missouri | United States | 80.000.000 | Active | 1.990 | Stereotaxis is a healthcare technology and innovation leader in the development of robotic cardiology instrument navigation systems designed to enhance the treatment of arrhythmias and coronary disease, as well as information management solutions for the | http://www.stereotaxis.com |
| 40 | Wayz.ai | Location Based Services, Mapping Services, Navigation | Wuhan | Hubei | China | 80.000.000 | Active | 2.017 | Wayz.ai is a Chinese smart location and mapping service startup. | http://www.wayz.ai |
| 41 | Webraska | Information Services, Navigation, Wireless | Poissy | Ile-de-France | France | 78.948.640 | Active | 1.998 | Webraska is the worldwide provider of wireless navigation, mapping and traffic information services and technologies. | http://www.webraska.com/ |
| 42 | GeoEye | Geospatial, Image Recognition, Service Industry | Dulles | Virginia | United States | 78.000.000 | Active | 1.991 | GeoEye, Inc. provides imagery, imagery information products, and image processing services. | http://www.geoeye.com |
| 43 | IP Unity | Information Technology, Location Based Services, Mobile, Network Hardware, Telecommunications, VoIP | Milpitas | California | United States | 75.485.000 | Active | 1.999 | IP Unity delivers a carrier grade services platform for enhanced voice and telephony applications over ATM, TDM and VoIP Networks. The company's media servers, applications servers, enhanced service applications, and application partners allow customers t | http://ipunity.com/ |
| 44 | TeleCommunication Systems | Mobile, Navigation, Public Safety, Telecommunications, Wireless | Annapolis | Maryland | United States | 75.450.000 | Active | 1.987 | TeleCommunication Systems (TCS) is a leading provider of mission-critical wireless data solutions to government customers, public safety, and carriers. TCS produces wireless data communications technology solutions that require proven high levels of relia | http://www.telecomsys.com |
| 45 | AirMap | Aerospace, Autonomous Vehicles, Big Data, Drones, Navigation, Robotics | Santa Monica | California | United States | 75.357.664 | Active | 2.014 | AirMap is helping make drones a part of everyday life by building the foundations for the low-altitude air navigation systems of the future. The emergence of small, powerful, and autonomous drones, is transforming society. Drones are being used for agricu | https://www.airmap.com |
| 46 | Validity Sensors | Biometrics, Enterprise Software, Mobile Payments, Navigation | San Jose | California | United States | 72.600.000 | Active | 2.000 | Founded in 2000, and headquartered in San Jose, California, Validity is the world leader in Natural IDâ"¢ authentication, providing fingerprint sensor solutions with the highest levels of performance, security, cost-effectiveness, and design flexibility. | http://www.validityinc.com/ |
| 47 | Utility Associates | Hardware, Information Services, Information Technology, Internet, Navigation, Telecommunications | Tucker | Georgia | United States | 70.900.000 | Active | 1.998 | Utility Associates, Inc. offers mobile resource management solutions to command and control field operations. It offers AVaiL, which delivers a mobile operations command and control service that provides a view of the current location and status of mobile | https://www.bodyworn.com/ |
| 48 | Interact Public Safety | Computer, Electronics, Geospatial, Government, Information Technology, Public Safety, Security, Software | Winston Salem | North Carolina | United States | 70.202.607 | Active | 1.975 | InterAct is a leading provider of public safety incident response and management software. We help first responders coordinate, communicate and react to unplanned events quickly, safely and accurately so these heroes can save lives. Founded in 1975, In | http://www.interact911.com |
| 49 | Skydio | Aerospace, Drones, Mobile, Navigation, Robotics, Sensor | Redwood City | California | United States | 70.000.000 | Active | 2.014 | Skydio is a robotics company that makes flying tools that free your hands and mind. The company's unique computer vision and motion planning algorithms coupled with the same cheap image sensors and processors in mobile phones give drones the ability to na | https://www.skydio.com/ |
| 50 | Gearworks | Location Based Services, Mobile, Wireless | Eagan | Minnesota | United States | 69.341.107 | Active | 1.999 | Gearworks provides location-based mobile business applications – in collaboration with wireless carriers – that enable customers to manage their mobile resources. Gearworks products operate under the etrace, Field Force Manager, appmosphere | http://www.gearworks.com |
| | Organization Name | Industries | Headquarters City | Headquarters State | Headquarters Country | Total Funding (in USD) | Operating Status | Founded | | |
DID YOU LIKE GEOAWESOMENESS? SUBSCRIBE TO OUR WEEKLY NEWSLETTER
[wysija_form id="1″]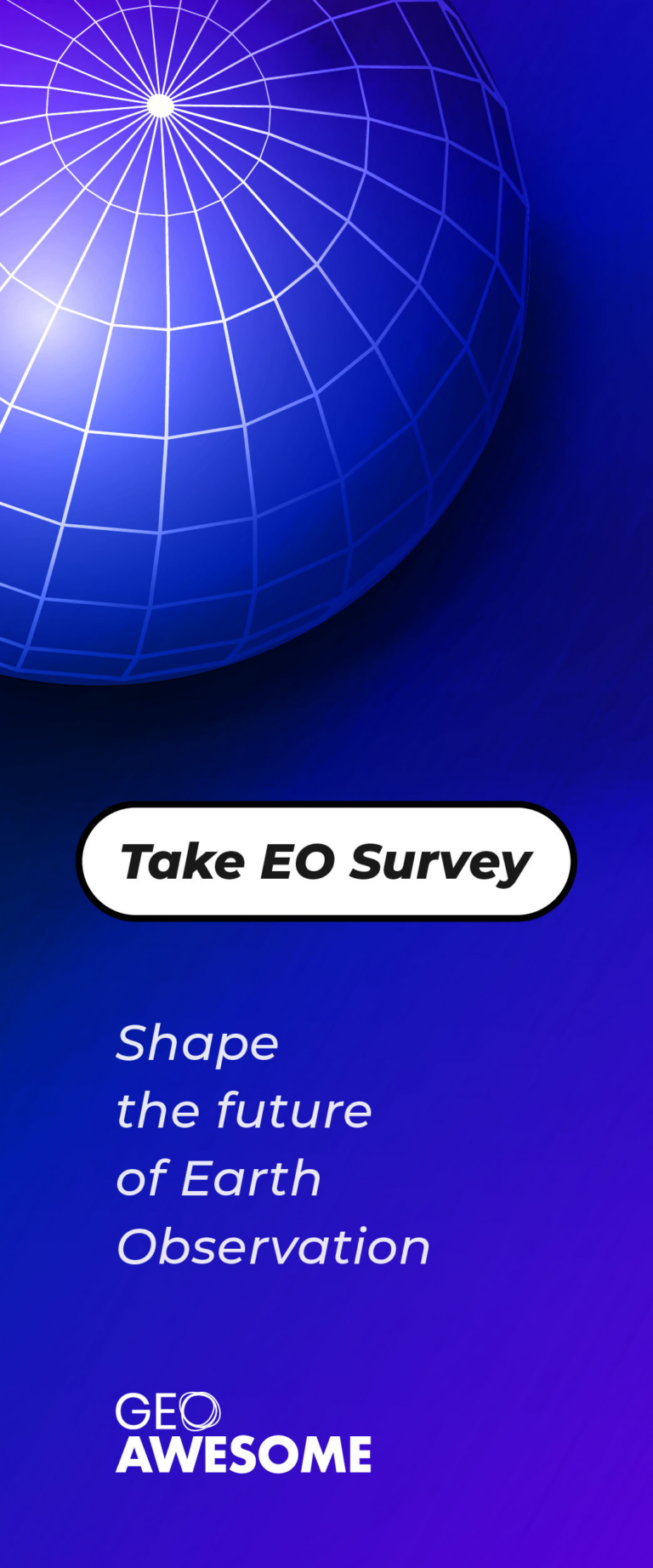 Read on