#Business #Science
Case study: Chennai Silver Lining – A Community Sanitation Planning Using GIS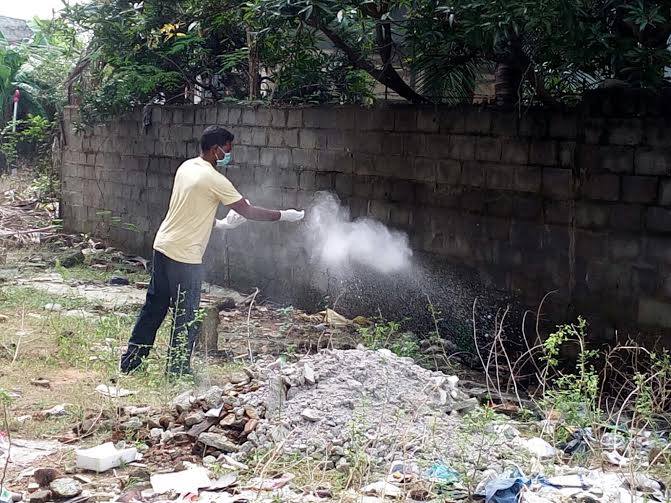 We talked about recent flooding and using GIS for emergency relief with one of the volunteers for the Chennai Silver Lining – A Sanitation Drive project. We bring you a story about great community initiative of Chennai's citizens who decided to reduce the health risks of flooding to Chennai's population.
The Project
A group of volunteers led by Mr. Sai Shankar decided to initiate Chennai's Silver Lining project after the heavy rainfalls from Nov 30 to Dec 2 2015, which caused severe flooding that poses significant health risk for the Chennai Population. They wanted to prevent the post-flooding epidemic breakout by reaching out to every corner of Chennai with a 7 days action plan, to sanitize the water deluged area with bleaching powder. Chennai Silver Lining project needed over 100 volunteers in different parts of a district. They used guidelines about post-flood emergency health precautions – community sanitation from Disaster Management Education Planning & Training (ADEPT). The idea was to prevent outbreaks of diseases like typhoid, dysentery, infectious hepatitis, and other diseases associated with floodwaters.
Cleanup Procedure
Cleanup procedures include using sanitizing agent such as hypochlorite in the form of bleaching powder or commercial household bleach, which is the most widely accepted, safe and effective sanitizing agent. Hypochlorite is used for eliminating bacteria, viruses and fungi during the cleanup process. It is important not to waste any time during a flood relief, because pathogenic organisms will not become airborne as long as the surfaces they have contaminated remain wet. They can enter the body and cause disease through water splashing into the mouth, mucous membranes, open cuts, etc. Once dried, organisms can be spread on dust particles by air movement. Therefore, it is important to "sow" bleaching powder into all wet and marshy areas and bring all contaminated surfaces into contact with bleaching powder as soon as possible. Volunteers needed to act quickly and those with experience in GIS decided to use cloud based mapping solution for the sake of fast and effective team coordination. They used GIS Cloud's Map Editor to create HUB points with location name, address and contact number in the map. Later, this map was published with GIS Cloud's Map Portal so that it would be accessible to wider public and volunteers.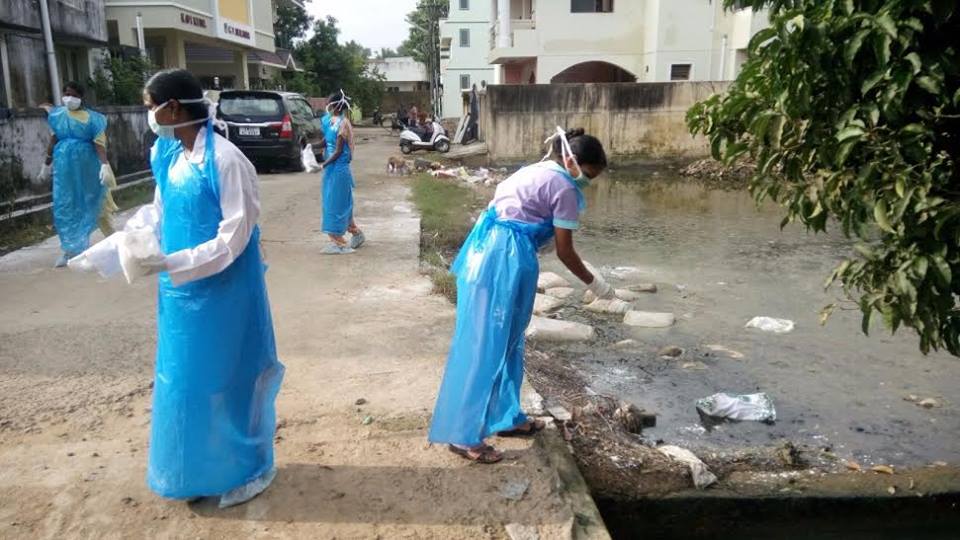 Chennai volunteers were motivated to create Silver Lining project after they have studied the after-effects of flooding and decided to help their community by organizing themselves to help with the flood relief. They have organized 13 HUB stations, marked on a map, for different areas of Chennai and conducted the project with the help of Chennai's community. The full number of volunteers and percentage of area sanitized still isn't available, but project participants claim that Chennai Silver Lining achieved a community based success that proved the strength of a unity in extreme circumstances.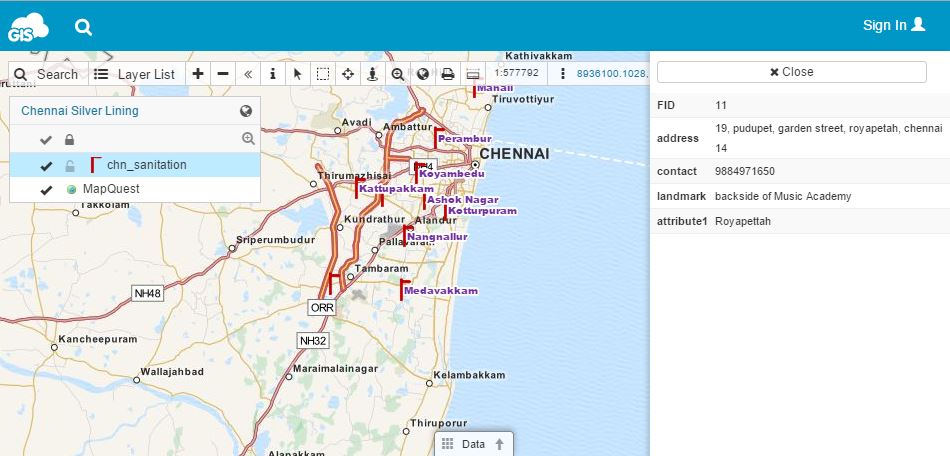 Importance of Good Preparedness for the Future
This project offers a good example of a community-based initiative that highlights the importance of spatial thinking in disease prevention. Roots of using spatial thinking in risk management in the case of disease date to 19th century when Dr. Snow used a map to find the source of cholera outbreak. In the 21th century, we have various web mapping tools which can do the same, and more. Chennai Silver Lining project volunteers agreed on importance of education for encouraging the spatial thinking of students, policy-makers, government and NGOs, because "prevention is better than cure." In this case, GIS proves to be a great decision-making tool that can be used for any risk and mitigation plan.
They believe that GIS can be extensively used to re-survey the complete LU/LC of Chennai district and make it as a digital copy. Volunteers would like the Metropolitan authorities to have this map for future decision-making and coordination activities, initiating research and development in the National Disaster Management. This map should be available to the public, being a good start in encouraging spatial thinking for all the people.
Chennai Silver Lining project serves as an exemplar case for both GIS and non-GIS experts that want to do something for their community by applying spatial thinking and spatial knowledge to a concrete project or a cause. Cloud-based GIS tools are a great way for the volunteers in different initiatives to organize themselves, collaborate and improve their decision-making with the help of technology. You can see Chennai volunteer's map here.
Read more at GIS Cloud blog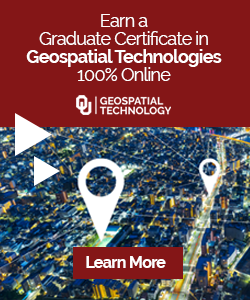 The community is supported by:

Next article
#Business #Ideas
Toyota enters map making business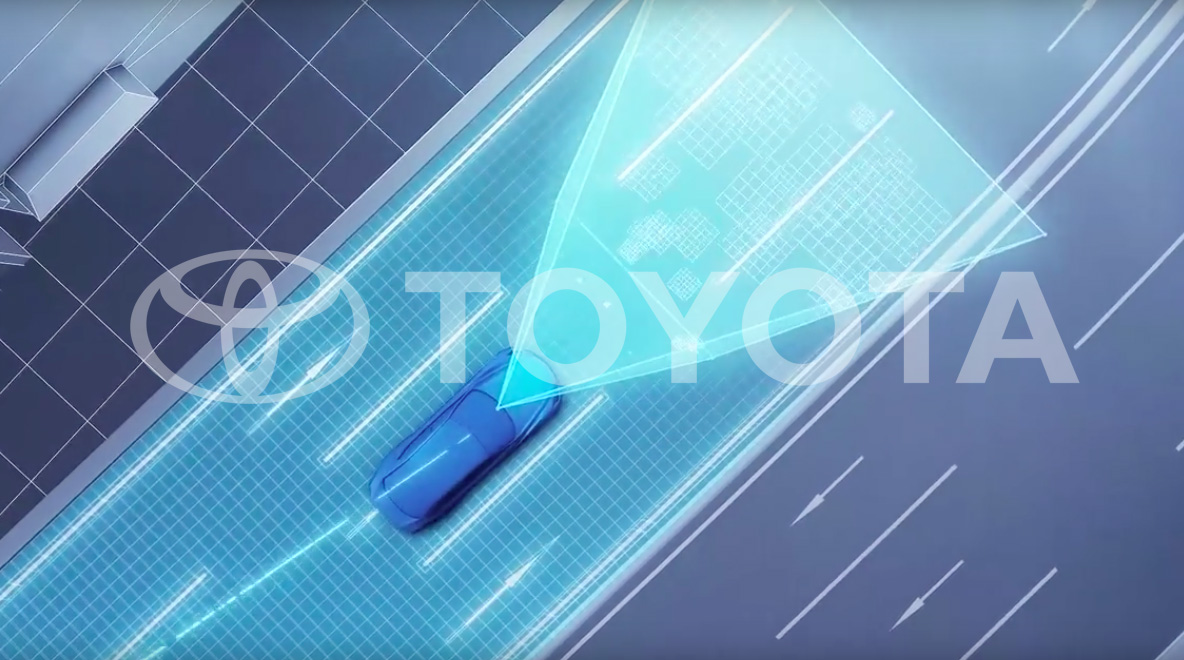 It has been a very interesting year for the mapping industry. Apple has launched it's mapping cars, Uber acquired Mapping cars department from Microsoft, Tesla announced it's own mapping technology and finally HERE has been acquired by a consortium of German car makers.
Last week Toyota announced that it is developing its own mapping technology
I thought that nothing more could surprise me this year, but I was wrong… Last week Toyota announced that it is developing its mapping technology. It will be revealed at the CES 2016 in Las Vegas next month, but we already know a couple of details.

The system uses data from cameras and GPS units installed in production cars. Newly sold models but also in a number of Toyota cars already on the roads today. The images and GPS data gathered will be uploaded to Toyota data centers, "where it is automatically pieced together, corrected and updated to generate high precision road maps that cover a wide area," according to the Toyota press release.
Toyota claims that using its production cars to gather data will allow creating more accurate maps than using dedicated mapping cars like Google, TomTom, Here, Apple and Uber. It argues that this approach will allow for real-time updating of maps, and will be more cost-effective than road survey using a fleet of expensive vehicles full of sensors.
The truth is that similar mapping technologies are already in use. TomTom has patented technology called "bird's eye mosaic" which generates a similar output based on mapping car images. In practice, it's a very useful data layer but still one of many used for high-resolution map making required for autonomous cars. Today uploading images/videos from millions of cars, processing, detecting changes and editing a map is a process which still requires a lot of human activity. But in the perspective of 5-10 years, this is how the future will look like, and Toyota envisions it.
The question is why would Toyota be interested in maps?
The question is why Toyota would be interested in maps? There are four components needed for a self-driving car to become a reality on roads around the world: hardware (cars with a lot of sensors), software (smart algorithms that will safely interpret signals from these sensors), legislation (laws which will allow the car to drive without a human driver), and… Maps which are needed for the car to know where to go and how to get there. All of these are needed to make driverless cars hit the roads. Cars and sensors, as well as the system to operate it, are already there and Toyota is one the market leaders in that area. The legislation is still a couple of years away, but the significant progress has been done in that area. And how about maps?
The problem with maps is that they are so critical competent of the autonomous car equation, that car makers are afraid to rely on external data suppliers to provide it. This is why German car makers acquired HERE from Nokia, Uber bought part of Bing Maps from Microsoft, Apple started to collect its data and Google is operating StreetView vans around the world. The only independent data supplier for autonomous cars is TomTom (as OpenStreetMap is still a little but too unpredictable regarding data completeness and accuracy). Now imagine that Toyota would be fully dependent on TomTom maps and TomTom would be acquired by Apple. The new owner has resources to terminate the contract between TomTom and Toyota at any cost. In that scenario, the whole Toyota autonomous cars business would be at risk.
I look forward to CES to learn all the details about Toyota mapping project.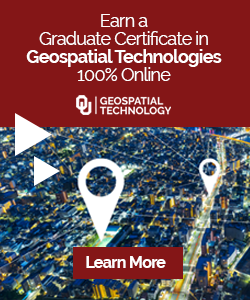 Read on