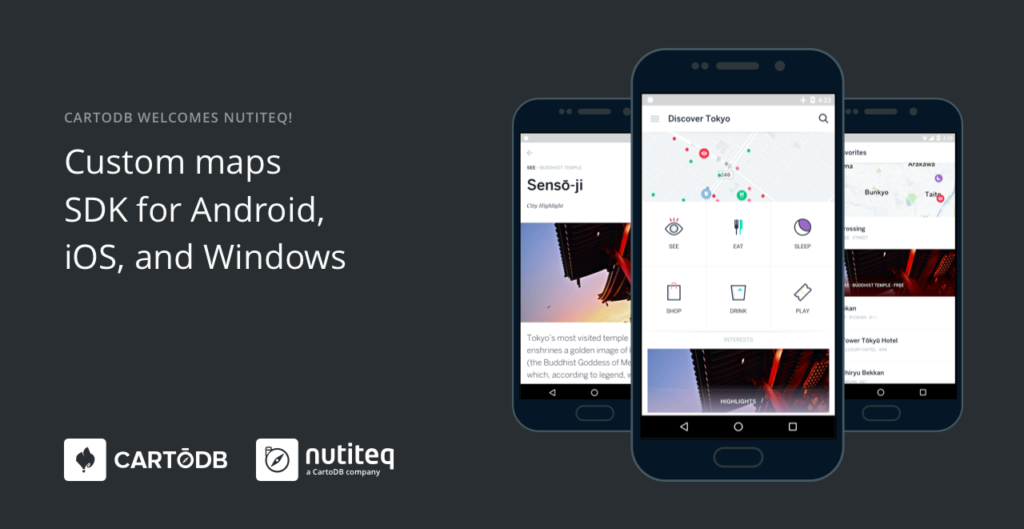 #Business
CartoDB acquires Nutiteq, a cross-platform mobile mapping SDK
CartoDB has acquired Nutiteq, a cross-platform mobile mapping SDK platform that is used by 15 million users including Lonely Planet, Accenture among others. The acquisition of Nutiteq is a strategic addition to the startup that is famous for its 1-click mapping tool. Guess we know where a percent of 23M series funding that CartoDB raised in September last year is headed now 😉
CartoDB's core strength has been its dynamic visualisations that enable businesses to discover trends from location data. Its Twitter maps have been simply awesome (Read:  mapping geotagged tweets). With the acquisition of Nutiteq, CartoDB's users will now get the opportunity to be able to develop apps using Nutiteq's SDK as a one-stop solution for vector basemaps, custom maps, online and offline routing, etc. From the initial impression, it does look similar to some of the capabilities of Mapbox. It would be interesting to see how this develops.
Interested in reading the official blogs by the two companies. Here's the link to Nutiteq's post and this one redirects to the CartoDB's post.
Best wishes to CartoDB and Nutiteq from the Geoawesomeness team 🙂 Mapping startups are certainly on a roll!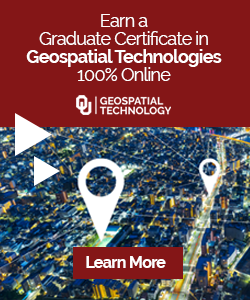 The community is supported by:

#Business
Next article
#Business #Ideas #Science
Taking Location tech to the masses
Data, data everywhere but not a byte is used! GIS analysis can be a powerful driver for Business intelligence but how often it is utilised? Regardless of the accuracy of the numbers in the tweet below, Javier (CEO of CartoDB) has a point here. Organisations are either not making use of location data or in some cases, they end up not making best use of (their) location data.  (Related: Can Twitter do more with its location data).
80% of data has a location component, but only 10% of organizations are making use of it – @jatorre, @cartodb #datadrivennyc

— dr. katie yo (@_katie_yo) February 16, 2016
Data, data everywhere but not a byte is used!
One of the biggest challenges for any technology is to move beyond the early adopters and attract the masses. Until Google maps came around, using a map for directions meant you needed to know how to read the map. Look at where we are now!
Location tech is still very niche and not always well understood. GIS software are notoriously famous for being difficult to navigate and being CPU resource hoggers. They are definitely getting better and more accessible but (basic) GIS analyses are not yet as simple as getting answers on Google. Why should running an GIS analysis to get the coverage area of a fast-food chain outlet be any more difficult than using a "Near me" feature on your smartphone?
Why should running an GIS analysis to get the coverage area of a fast-food chain outlet be any more difficult than using a "Near me" feature on your smartphone?
The next biggest revolution in Location tech is not just about adding (more) cool features but its more about getting it to the masses.
Geotrends 2016 – What to expect across Geoindustries this year?
Taking Location tech to the masses
There are a lot of factors that enable a particular technology to go mainstream and reach the masses. Ease of use is definitely one of the biggest factors. Smartphones existed well before the iPhone came on the scene but the iPhone gets the credit for taking the tech to the masses. Yes, I do agree that it's comparing Apples ( 😉 ) and oranges but for location tech to go mainstream it needs to be simple to use.
Visualising your data on a map shouldn't require one to be a computer science expert and that's why when CartoDB launched it's one-click mapping tool, even tech blogs such as TechCrunch took to the web to write about it or for that matter, the WIRED article about Mapbox studio. Location tech is certainly gaining traction with Tech blogs (Read: Locate this! The battle for app specific maps).
Location intelligence for the web
Motion Intelligence, the company behind the Route 360°-technology certainly shares in my rumbling earlier about making (basic) GIS analysis simpler to use. They came up with a really nice simple solution for location intelligence analysis. For e.g. if you need to know how many customers can reach your new McDonald's (or Burger King) outlet within a given travel time, one can visualise that by simply adding an address to a web map. No kidding!! Check it out – here's the link to their geoawesome McDonalds vs Burger King map.
Of course, one could argue that such analysis however fancy they look but may not really be useful as business intelligence. Yes, perhaps that true but I'm sure that will change very soon.
Location tech is at a stage where (digital) maps were before Google maps existed. Its very powerful but still only a small percentage of the world uses it. But all that is changing and changing fast!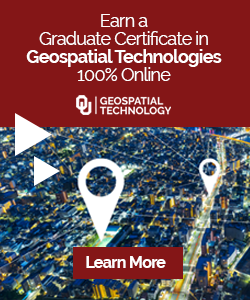 Read on