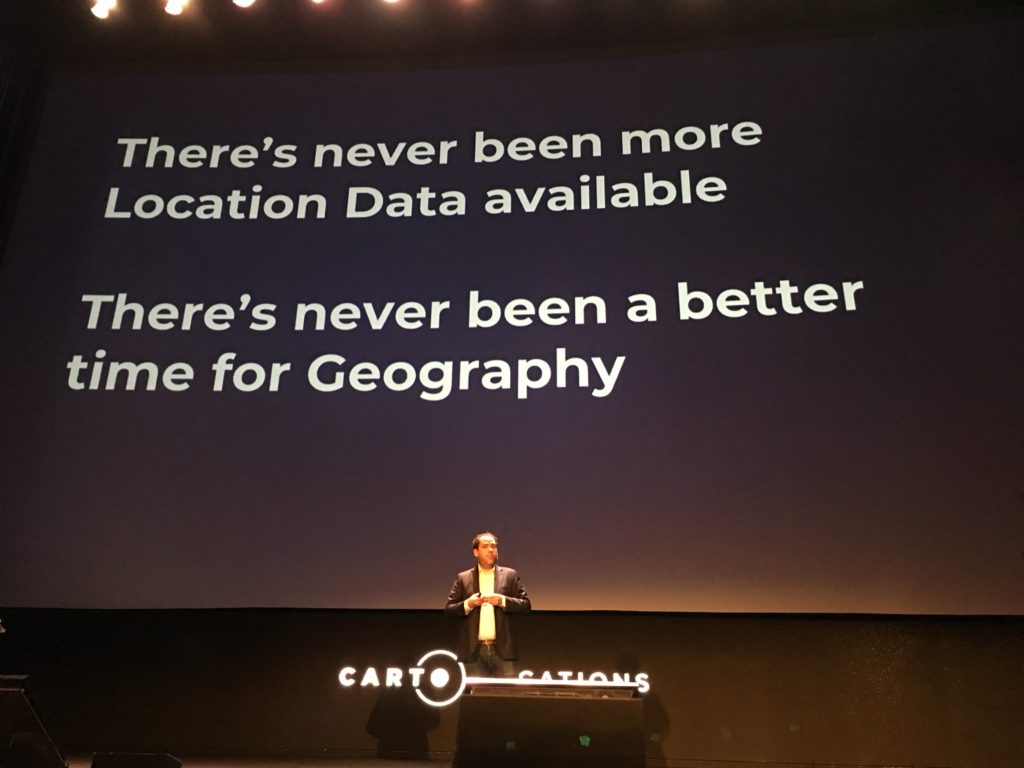 #Business #Ideas #People
Missed out on attending the Location Intelligence Event of the year? Here's an overview
CARTO held its second edition of the "CARTO Locations" event earlier this year in Madrid and in New York. CARTO Locations is a unique event that is not only a user conference but also a (great) technical conference about all things Location Intelligence. It is the event you should attend if you like an answer to the question, "What would the world build if they had access to a tool that made GIS easy and intuitive? What insights would they derive from their data?"
Why such high praise for CARTO Locations?
When I first read Eric's account of his experience at the first edition of CARTO Locations conference held in 2017 which he called "One of the best Location Intelligence events ever", I wanted to get a firsthand experience of the event and see for myself if it really lives up to such praise. Plus, I also wanted to say hello to the amazing people at CARTO in person for a change 🙂 I had the opportunity to attend the event in Madrid earlier in April this year. And what do I think about it? Well, the fact that I am still blogging about it roughly 6 months after the event was held, answers the question, I suppose.
CARTO Locations is definitely one of the most interesting and informative conferences on Location Intelligence. In my humble opinion, it is definitely the Location Intelligence event of the year. At the end of 2 days, you leave the conference all excited and hyped about all the things you can do with Location Intelligence! I'm not sure how many events have the same kind of impact. And make no mistake, CARTO Locations 2018 was definitely about CARTO showing off their products but they struck a fine balance between that and ensuring they showcased amazing work and products from all across the Location Intelligence community. 
CARTO Locations 2018 Overview
If you missed the event or didn't see all our tweets from the event, Here's a quick recap of the top highlights of the event. You can watch all the keynotes here.
There's never been a better time for geography
The event opened with an incredible and positive keynote by Javier, CEO of CARTO. A picture says a thousand words and Javier's slide said it all (image below). Javier spent close to 5 minutes talking about Madrid, his hometown and how the city has been using data to transform itself which honestly, was totally refreshing and interesting to hear about. His keynote set the tone for the entire event – "What can you do with all this location data? What insights can one derive? What does the future hold for Location intelligence". 


Mastercard Retail Location Insights
When you think about MasterCard and GIS (or Location Intelligence) what's the first thing that comes to your mind? I can tell you what I didn't have in mind – a website that helps customers locate an ATM near them (from the 90s!).
On a serious note, MasterCard's keynote was truly the most insightful keynote (for me). What do you do when you have global spend insights from 2.3 billion cards that are making 160 million transactions every hour? You anonymize and aggregate that e-commerce information stream with the power of location intelligence, and create a platform that would provide industries like banks, governments, retail and real estate companies with dynamic insights.
Mastercard Retail Location Insights is the result of collaboration between CARTO and Mastercard helps governmental organizations and corporates measure and validate the sales-based performance of any retail location. Imagine your city has decided to build a new bike-sharing service and are building multiple bike-stations across the city. How do they measure the financial impact of these newly built bike stations? That's where Mastercard Retail Location Insights comes into play!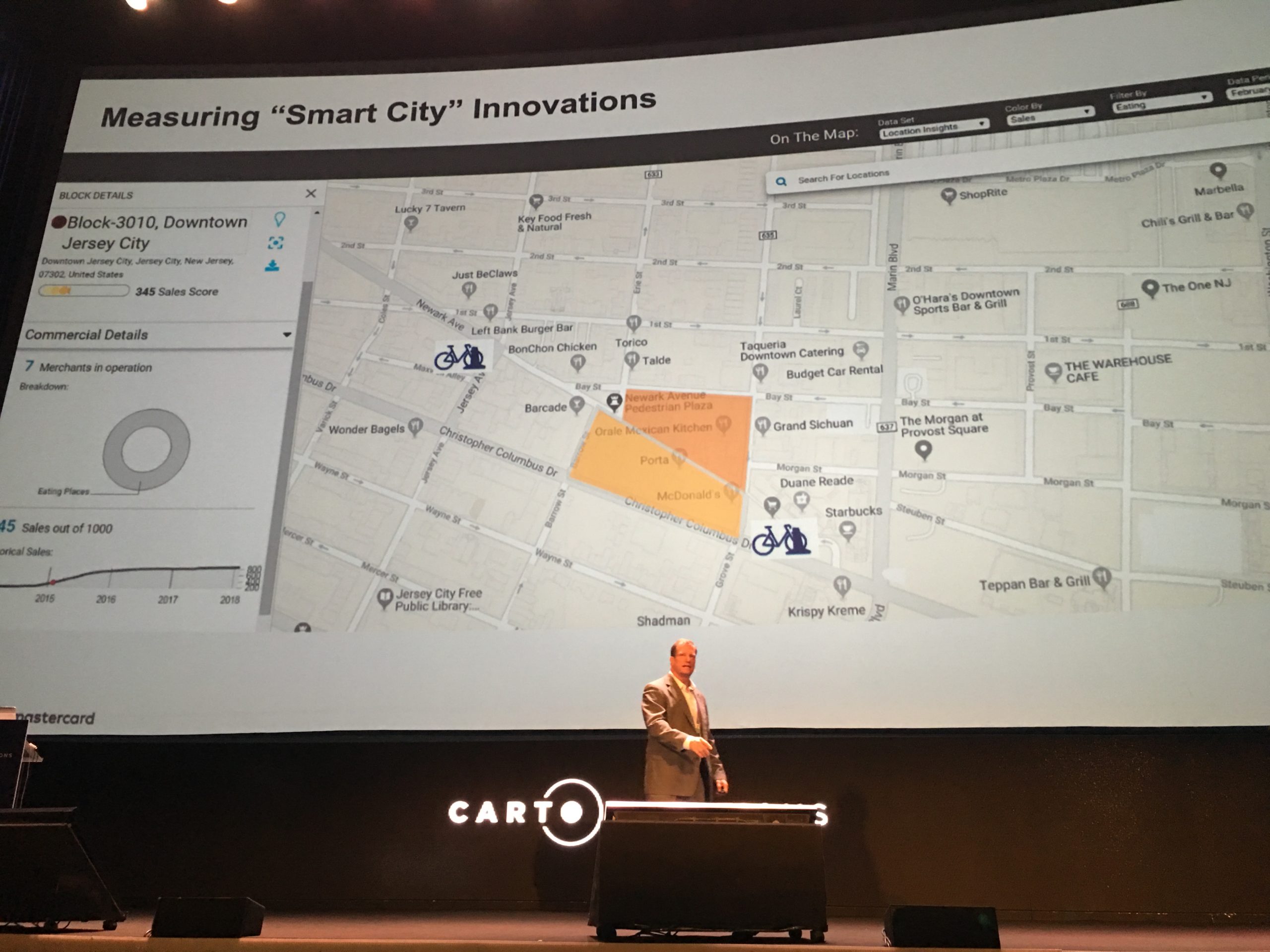 Transforming Mobility with TomTom Location Data and Technology
TomTom knows how important location is for a lot of industries. Maps are getting more and more sophisticated with multiple layers today – Road networks, address data, geocoding, points of interest, ADAS etc. The biggest challenge today is to maintain the content that has been captured. TomTom has 3,000 Cartographers all over the world driving the roads every day with mobile mapping vehicles – just to ensure that the datasets are consistent in coverage and quality all across the world.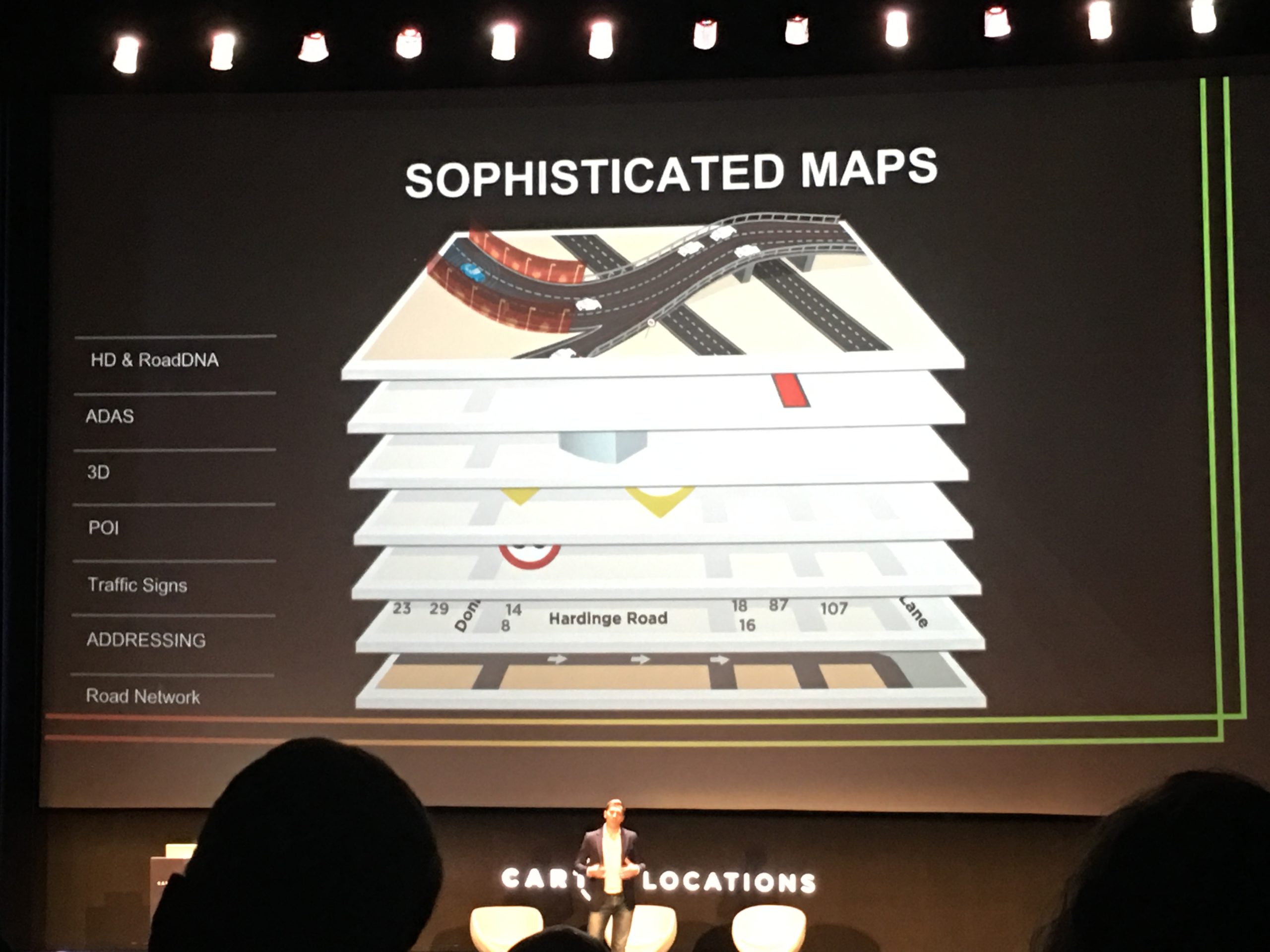 There were rumours and hushed conversations that TomTom and CARTO were planning to announce something big (read a partnership) during the conference and yes, they did just that. TomTom announced that all this data is available via web services and searchable APIs. And now, TomTom is partnering with CARTO to make all this information available on CARTO Engine, CARTO Builder and CARTO Data Observatory platforms.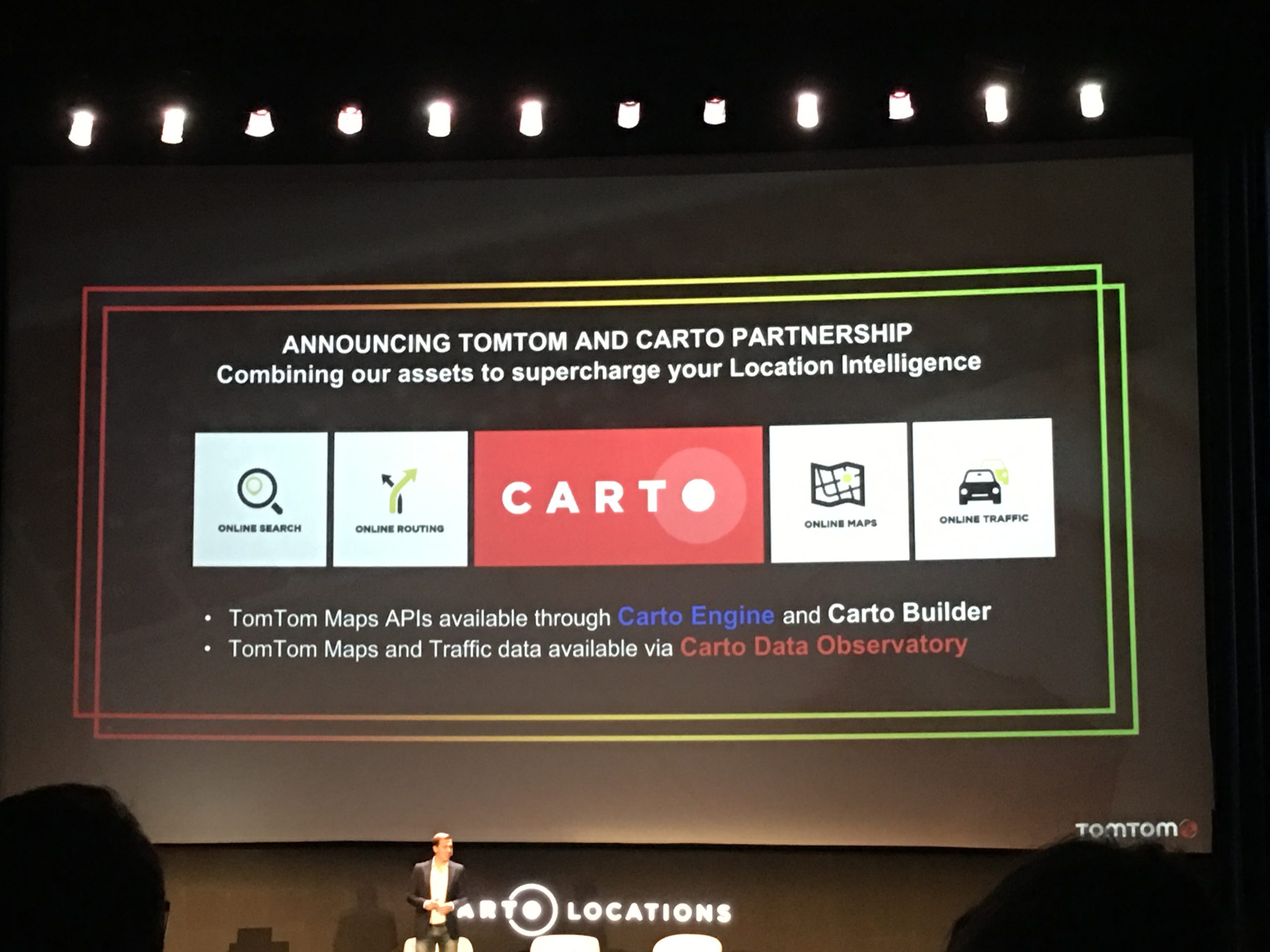 Descifra: The Predictive Power of Geospatial for Retailers
Rodrigo Sarmiento, co-founder and data scientist at Descifra shared his perspective on how retailers can bake in complex algorithms to location-based technologies to predict sales performance and future store locations.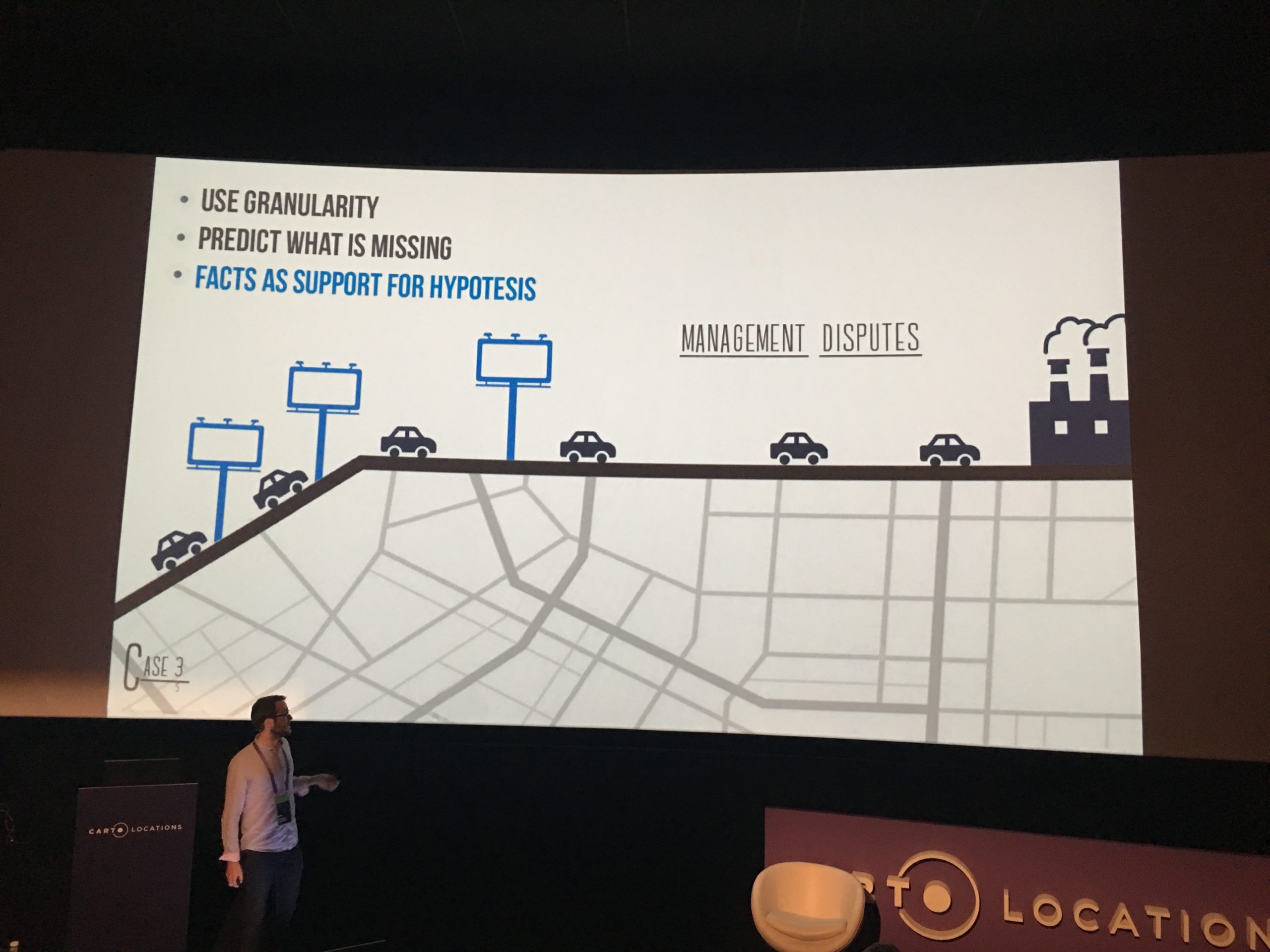 When a gym approached the company looking for insights on where it should invest its marketing budgets, they decided to keep it simple and collected GPS data from cars and tracked the gym clientele of their origin-destination. But simply knowing where people lived was not enough; so they added income levels to the data to determine the sweet spots for advertising locations. This is only one of the many examples he gave to demonstrate how a practical data-product thinking approach can go a long way to ensure that companies make products that have real value to the users.
Another interesting thing that Rodrigo mentioned is that a lot of times, just because data has a spatial component does not mean that you can fuse them together in a complex combination or to quote him "What people don't realize while using location data is that geo is something which can make apples talk with oranges by fusing complex combination together.". Now, that's something to think about the next time you work with location data. 
Textile: Location in the Era of Privacy
Andrew Hill, co-founder, and CEO of Textile, explored the implications of changing privacy trends on collecting, storing and analyzing location data. Since the geospatial technology was born into an era of centralization, for him it is really cool to see it move into a whole new phase of decentralization.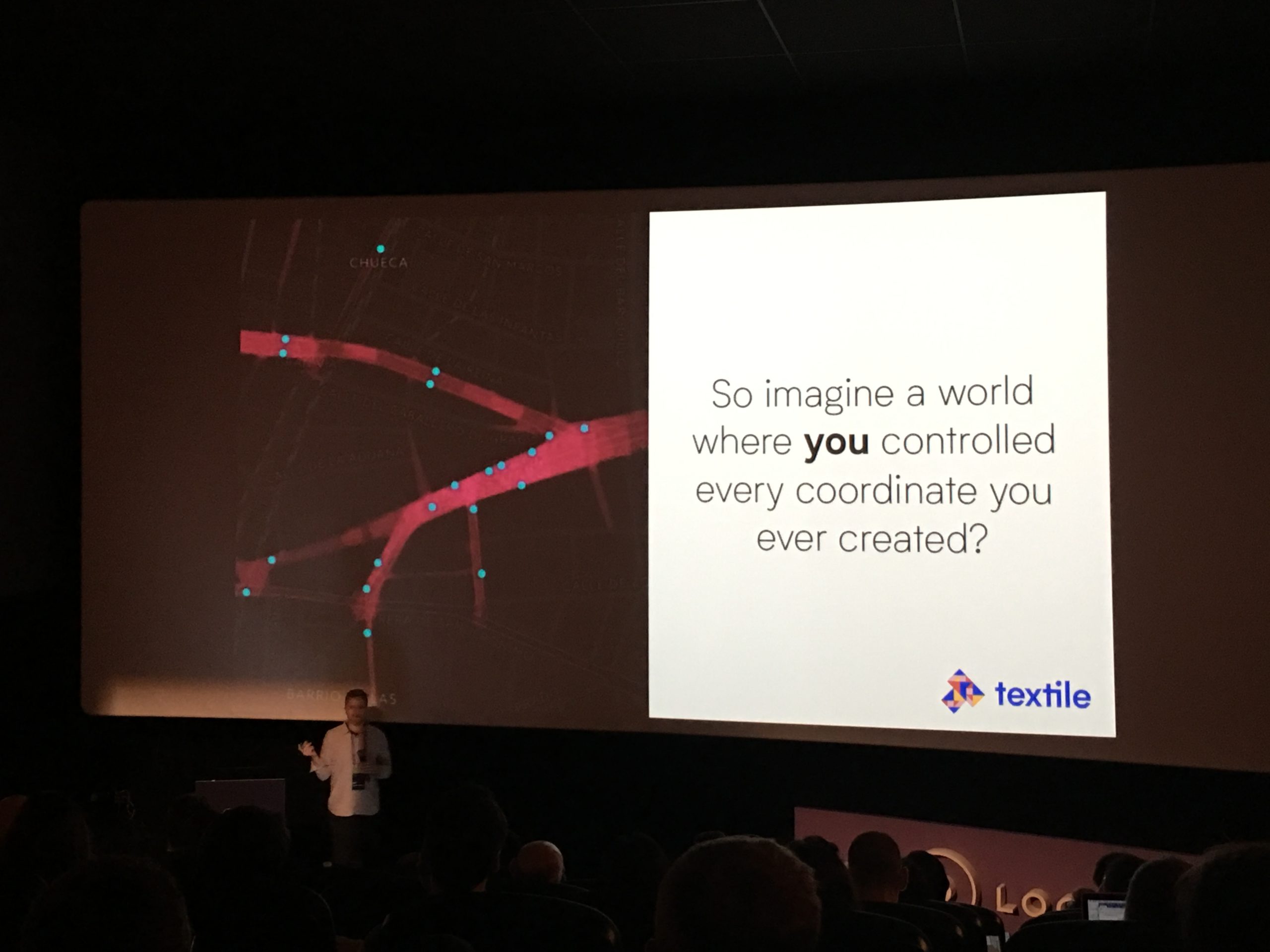 Today, 80% of websites have trackers, but how many of us are aware of where that data is going? For Andy, the issue that is more interesting is our own control over our data. Did you choose to let your data be a part of the US Elections or be sold to different marketing agencies? He asserted how we don't control our own geospatial data. Google Maps may remember every place we have ever visited, but most of us wouldn't even have a copy of that data.
For him, crypto networks are an interesting option to decentralize geospatial data because they are immune from fluctuating business models. That's why Textile is building a digital wallet for individuals to own and control all their personal data. Now, their app also has a location opt-in setting, but you get to choose whether you want that data to be stored or not.  
Geographica: Squaring the circle
Geographica COO Paula Juliá talked about how her organization was solving the four very important problems – real-time data, optimization of daily processes, the location of people and things inside a building, and predictive data analytics. She showcased a few interesting applications (that are actually out there in the world) that are leveraging the powerful Geographica engine, using CARTO technology, to 'square the circle' for a wide range of use cases.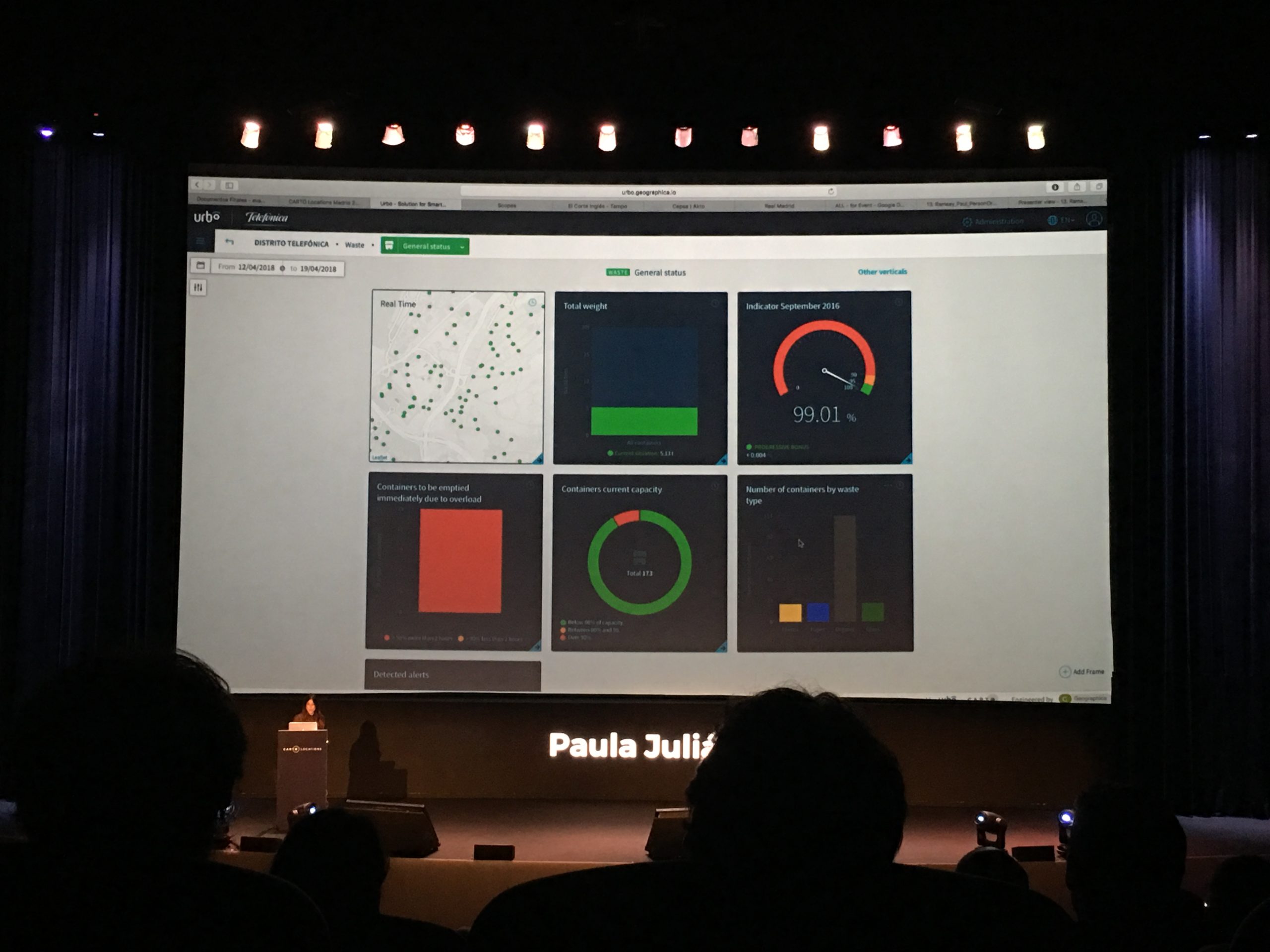 For example, their application for Telefónica conveniently collates real-time data gathered from all over the city into one dashboard. But what is really cool is how Geographica is helping organizations save operational cost by leveraging that data. By analyzing the 'fill level' of garbage cans at the time of collection, the company was able to optimize garbage collection days for a city. They were also able to provide the best collection route by taking various factors into parameters, including vehicle type, work hours, break time, which side of the road the can would be placed, etc. 
And of course what is an event in Madrid that doesn't mention Real Madrid 😉
It did take a while but we finally have our first reference to #RealMadrid ?? "How do you turn a basketball court into a map?" #cartolocations @Geographica_GS pic.twitter.com/KWi9RJcdvO

— Geoawesomeness (@geoawesomeness) April 19, 2018
Final thoughts
I went to Madrid excited to see what CARTO has in store for the future and imagined that the event would mostly be about CARTO and I couldn't have been more wrong! Yes, CARTO was there but it was amazing to hear about how completely different organizations like MasterCard, GreenPeace, Vodafone, TomTom, Vodafone, and many others think about the future of Location Intelligence.
A long story short – it was 2 full days of geo-awesomeness!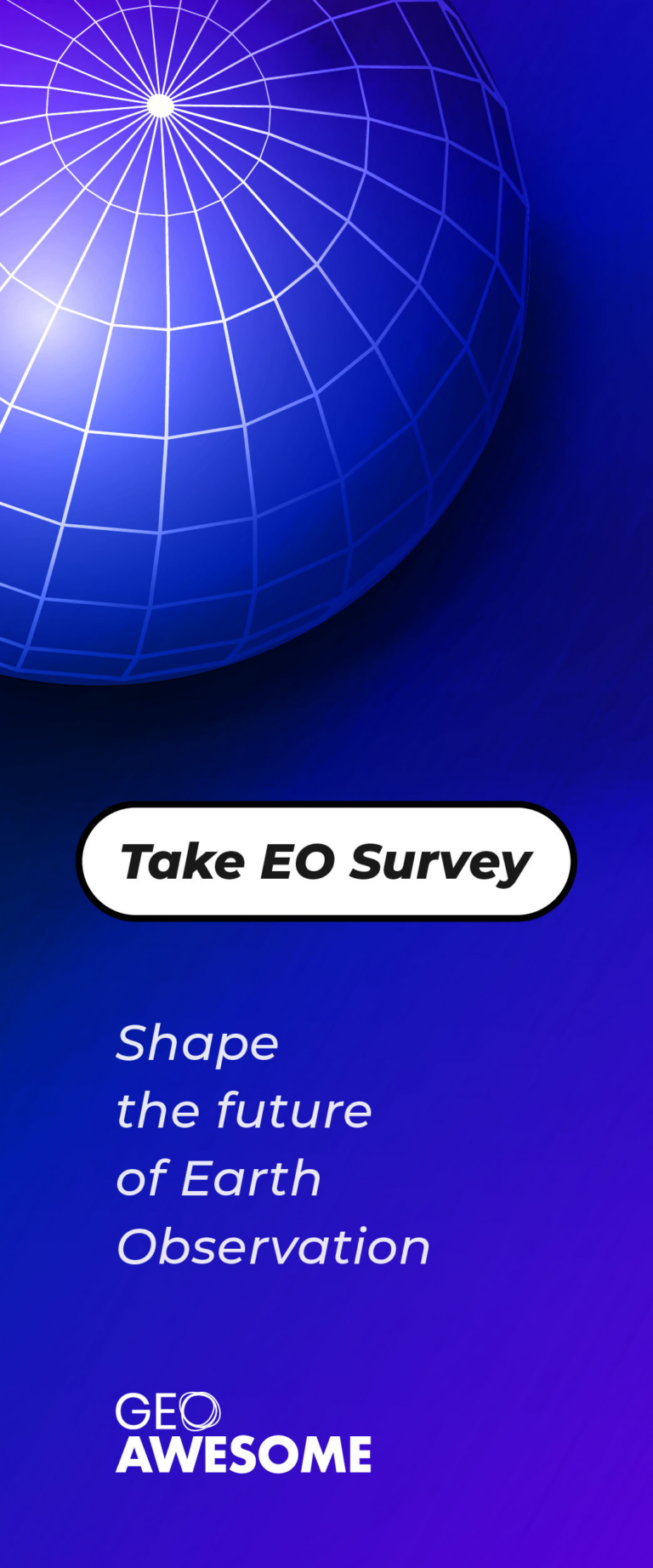 The community is supported by:

Next article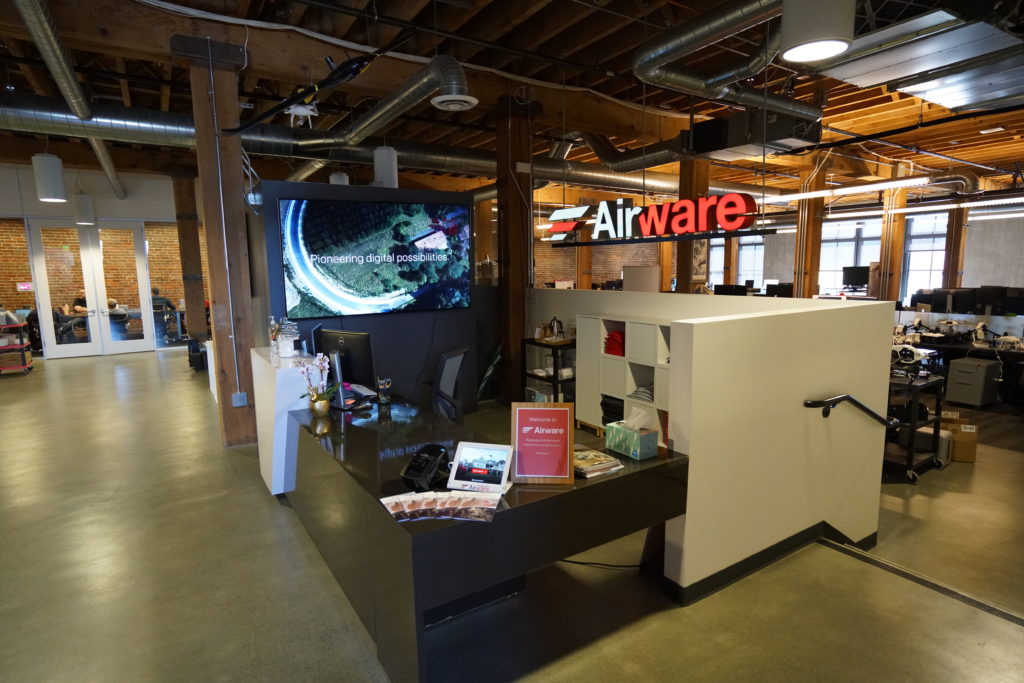 #Business
Airware shutdown: How to crash and burn a $118M drone startup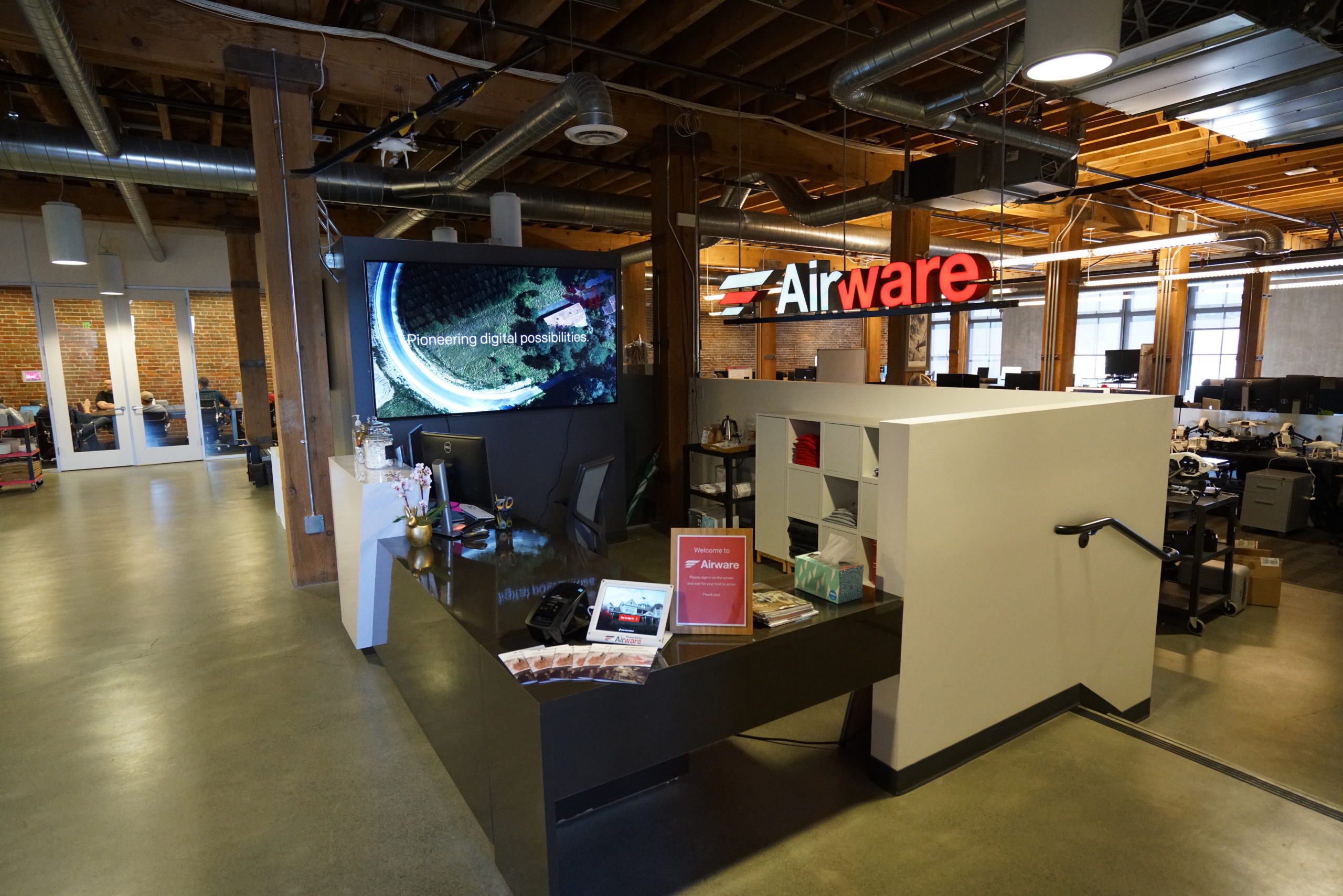 On April 19, 2018, Yvonne Wassenaar, CEO of Airware, announced in a blog post that the commercial drone technology provider had closed $8.5 million of funding, bringing its total backing to $118 million.
"We will continue to expand both our go-to-market and our product development partnerships to support our global expansion and increase the value of our solutions. And we'll keep innovating. It is in our DNA," Wassenaar insisted, pointing out how the drone startup was aggressively driving market momentum and growth since it was founded in 2011.
Fast-forward to September 14, 2018; Airware published another blog. But this time, there was no author; no one to take the ownership of the statement which read: "History has taught us how hard it can be to call the timing of a market transition… Unfortunately, the market took longer to mature than we expected. As we worked through the various required pivots to position ourselves for long term success, we ran out of financial runway. As a result, it is with a heavy heart that we notified our team, customers, and partners that we will wind down the business."
And just like that, Airware shut down. Screenshots from the Airware alumni Slack channel sent to TechCrunch detailed how the employees were told in the morning that the company will close its doors effective 2 pm that day. Almost 100 employees were laid off with just one week of severance pay.
But, where did Airware go wrong? Right from its inception, there was much hype about the company's 'vision'. The funds were also flowing in steadily. In 2016, it acquired a French cloud-based commercial drone analytics company called Redbird. The World Economic Forum acknowledged it as one of 30 global Technology Pioneers. The company also had quite a few lucrative partnerships under its belt. And, to top it all, its new office in Tokyo, Japan, had commenced operation only four days before the shutdown announcement. So, what really went wrong?
Turns out, Airware is a classic example of weak leadership combined with a startup mismanaging its funds, despite having a long list of prestigious investors backing it. A crazy amount of money that Airware raised was sunk into developing not just proprietary drones but almost everything from processors to the autopilot OS. An ex-employee detailed on Hacker News how "nothing was 'good enough' so everything was invented."
Of course, eventually, Airware founder Jonathan Downey had to concede and divest the hardware side of the business in favor of software develoment. It had become clear to him that there was no winning over the reliable, low-cost drone solutions China had started providing. Unfortunately, the pivot to software came way too late.
Meanwhile, some industry insiders are of the opinion that the company had a bigger problem than a plain hardware/software dilemma; it was simply out of touch with reality. Av8Chuck, an advanced member on UAV Coach forum ranted: "They failed because they were led by a millennial [who had] no idea [of] the history of [drone market] transformation… We competed head-to-head on a couple of large projects and they had no idea what they were doing and how two guys in a garage could compete, let alone win that size of contract."
Whatever be the case, there's no denying that the commercial UAV industry today is booming. Even developing countries like India are opening up the skies to legalize drone operations. So, here's hoping Airware's fate will not lead to bearish sentiments putting a damper on this soaring party.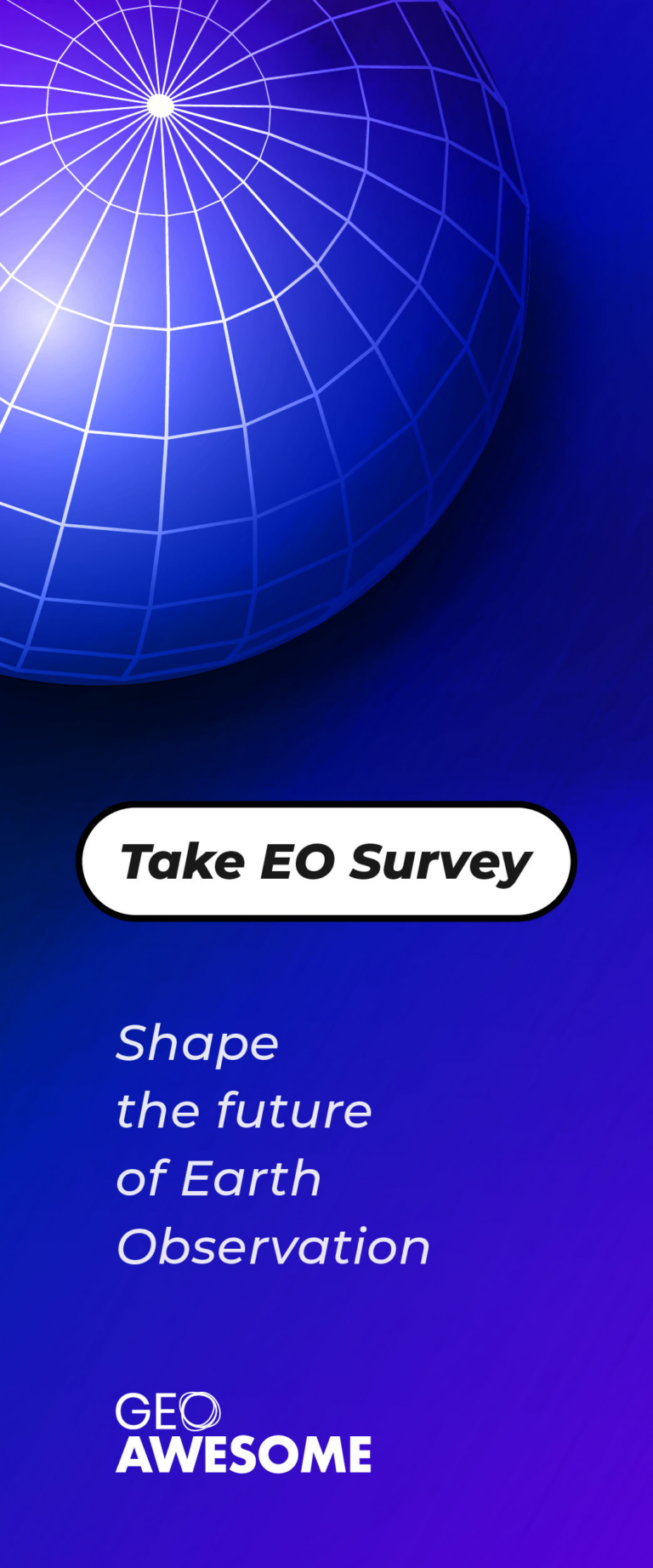 Read on