#Business
Boundless Introduces Open GIS Platform for the Enterprise
Open Source software isn't something new nor is it a fringe movement anymore. More and more companies across the world are building solutions and then Open-sourcing it. Although Open Source solutions like QGIS, GeoServer and others are extremely popular among the GIS community, the cost and ease of setup and maintenance of such solutions in a corporate environment left a lot to be desired.
On one hand, Open Source solutions provided cost-benefit, faster bug fixes and features for the enterprise customer but the task of setting it up and getting the different libraries and solutions to work together was a technical barrier.
Open GIS Platform – Boundless Connect and Boundless Desktop 
Boundless, one of the leaders in the Open source GIS community has decided to tackle this challenge by announcing the launch of an integrated Open GIS platform with two products – Boundless Connect, a subscription service to the most comprehensive repository of GIS data, and Boundless Desktop, a full-featured, professional desktop GIS, bringing a powerful ecosystem of geospatial knowledge, tools and resources to the enterprise.
https://player.vimeo.com/video/191209152
"With the launch of Boundless Connect and Boundless Desktop, we have taken a major step forward in delivering the most complete, commercially supported open GIS platform. As the need for an alternative to costly, closed GIS systems grows, Boundless is proud to partner with the open source community to provide new tools and open solutions that foster growth of the largest repository of the world's geospatial knowledge and resources." – Andy Dearing, CEO of Boundless. 
The global market for GIS is expected to be worth $14.6 billion by 2020 and it certainly looks like the Open Source community is ready for it. What do you think? Has Open Source finally come of age?
Do you think #OpenSource has finally come of age in the #GIS industry? Amazing to see how many geo startups have embraced it #Geoawesomeness

— Geoawesomeness (@geoawesomeness) November 15, 2016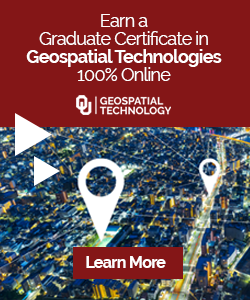 The community is supported by:

Next article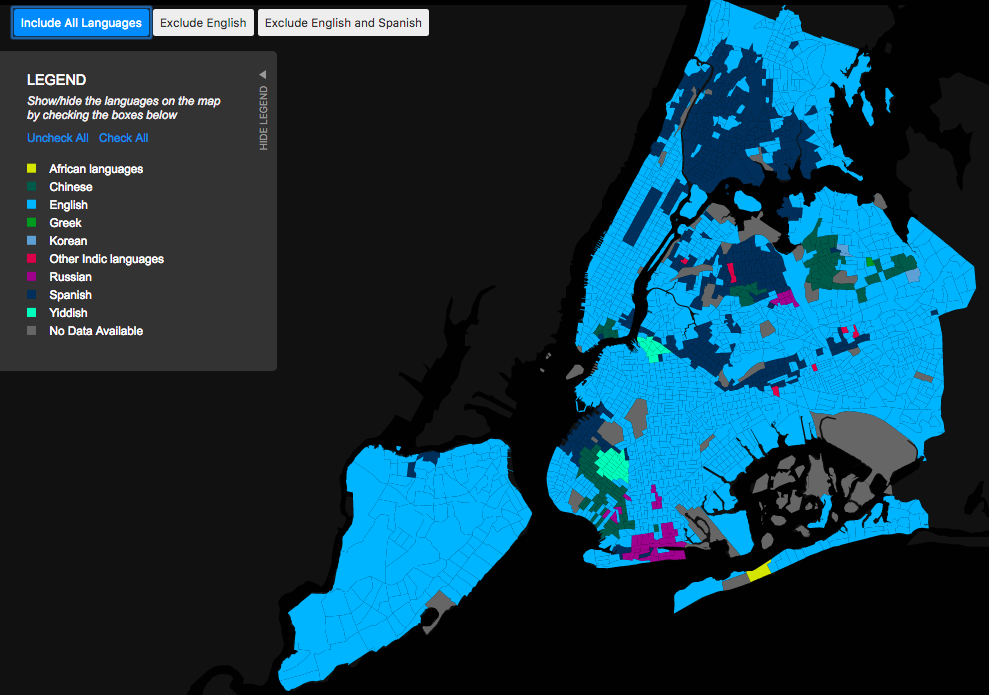 #Ideas
This map shows languages most frequently spoken at home by New Yorkers
New York City is one of the most cosmopolitan cities in the world, where you can hear languages from all around the world. Jill Hubley a Brooklyn-based web developer and designer decided to map this diversity and he created an interesting project that shows languages most frequently spoken at home by New Yorkers.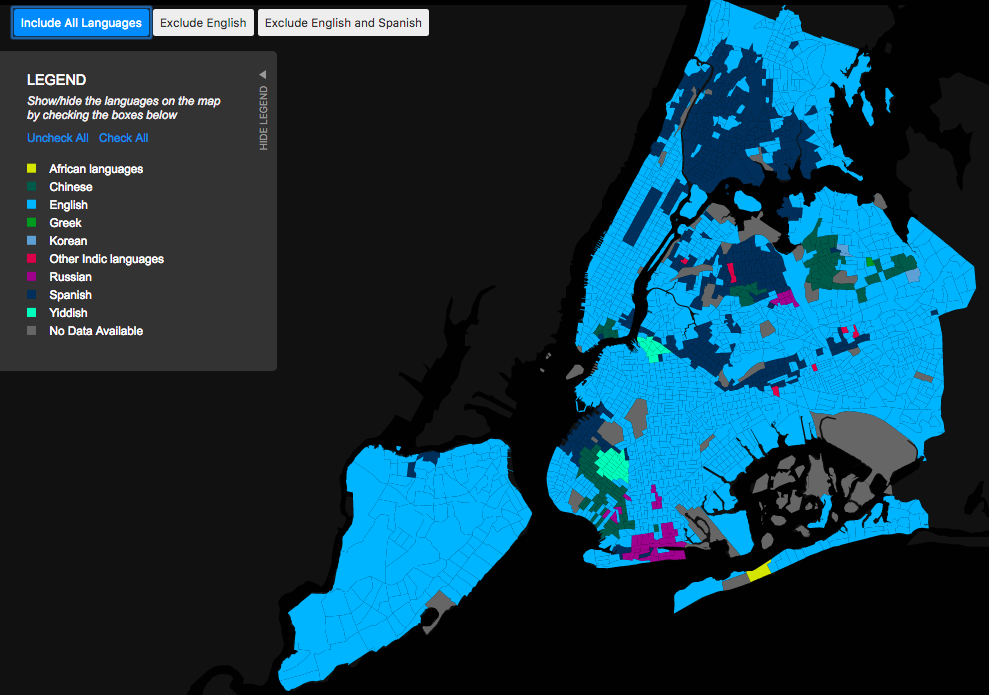 As you might suspect the most frequently spoken language in NYC is English (light blue) with Spanish (dark blue) and Chinese (dark green) being the first one in a couple of neighbourhoods. The fun starts when you exclude English from the list (by pressing a button on the top):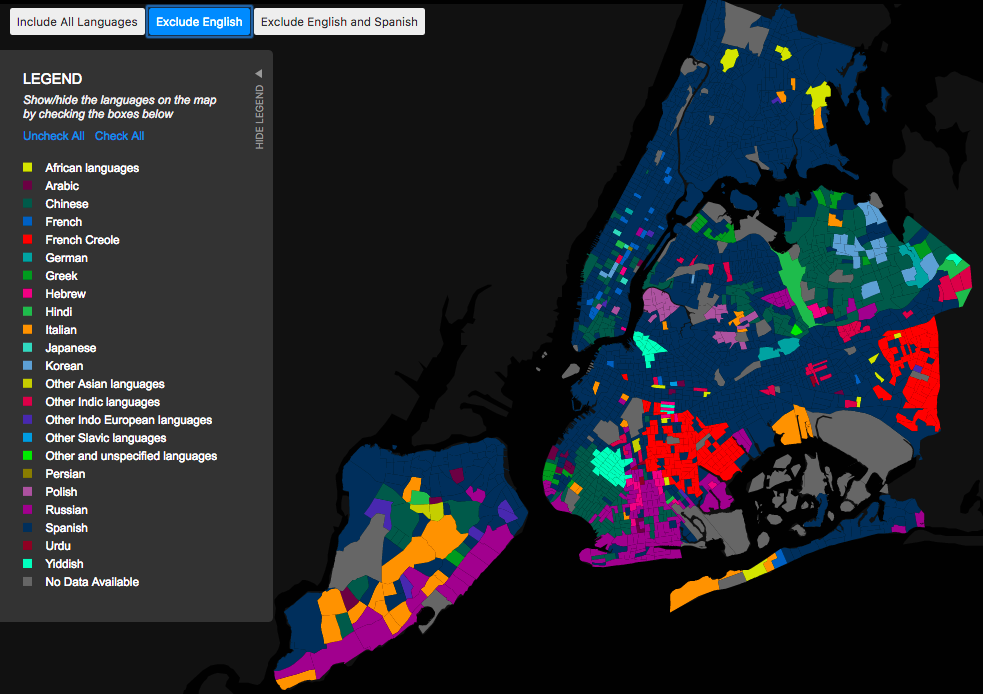 We can see that without English, Spanish and Chinese languages are overtaking the city. Hubley prepared one more scenario with both English and Spanish excluded but the map allows you to play around and switch on and off all the language data layers.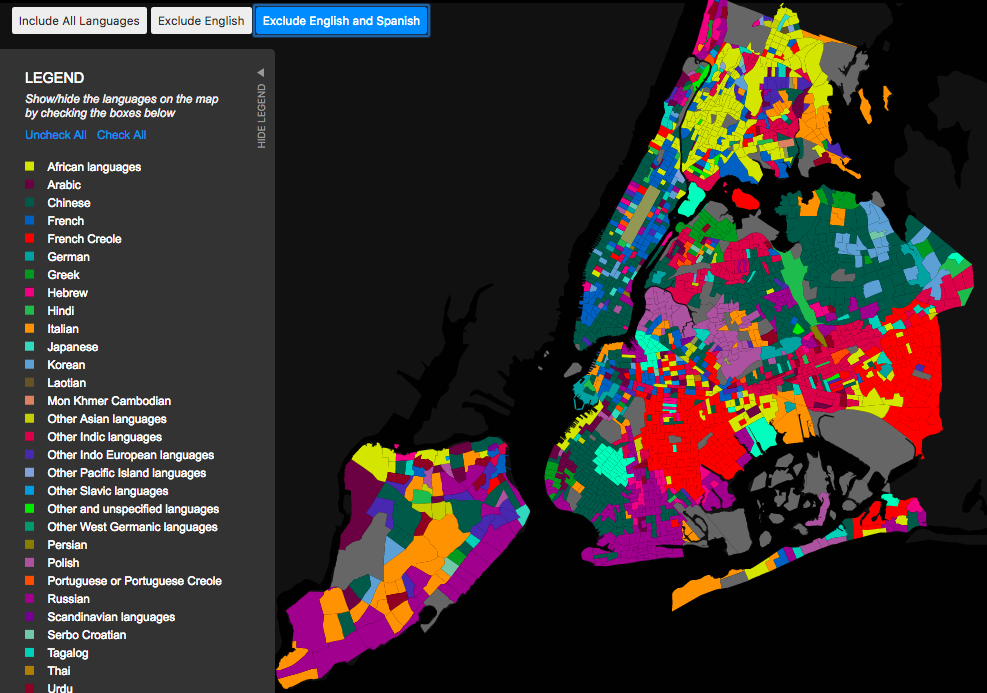 Now you can see how diverse and multicultural the city is! From Russian spoken mainly in Brighton Beach to large areas in Brooklyn where French Creole is the main language.
The project has been initially created for an exhibit at the Queens Museum entitled, "Map Mosaic: From Queens to the World". Than Hubley decided to expand it to all five NY boroughs and make it interactive.
The map is based on the data coming from the 2014 American Community Survey of the U.S. Census, which asks people if they speak languages other than English at home. It's built with D3.js and a touch of jQuery.
The map might not be the most beautiful visualization ever but it amazes you and therefore it does a really good job. Cool project!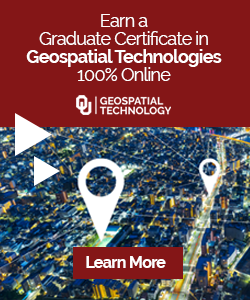 Read on