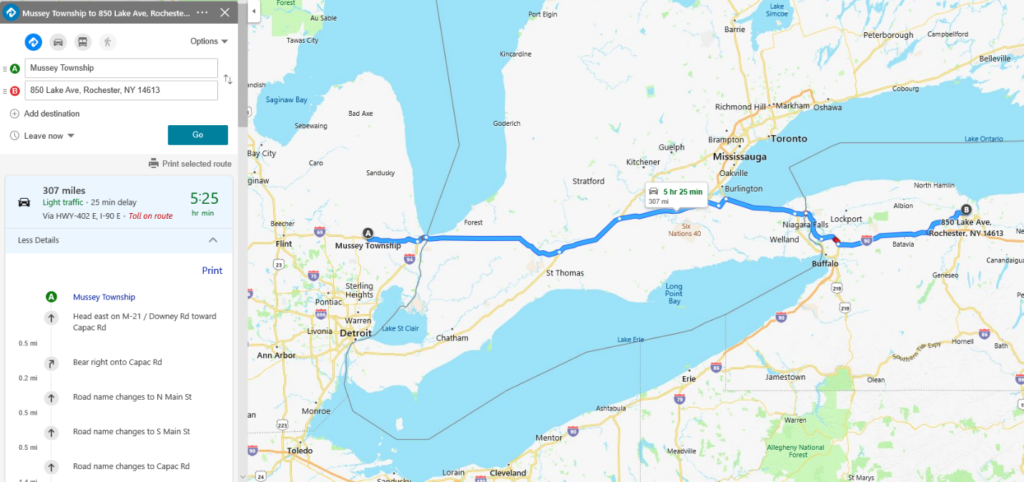 #Business #Featured
Bing Maps is changing its base map data provider
Microsoft's mapping service Bing Maps has announced a change in its base map data source. The Bing Maps Platform, which is typically powered by multiple data providers, will now get its base map data from TomTom for all the regions across the world save China, Japan, and South Korea.
This switch to TomTom is not entirely surprising because Microsoft has been collaborating closely with the Dutch mapping company since early last year. In February 2019, Microsoft announced that TomTom's location-based services will be utilized across Microsoft technologies for a multitude of mapping scenarios across Microsoft Azure, Bing Maps, and Cortana. TomTom, on its part, was going to use Microsoft Azure as its preferred cloud provider.
In continuation to that, a couple of months ago, Microsoft started rolling out the new TomTom base map data to Bing.com users and Microsoft first-party products. And now, the migration period for the Bing Maps Platform has started.
All Bing Maps Platform customers will be automatically migrated to the new base map data source over the coming months. However, even as this change takes place, REST APIs and SDKs that are part of the Bing Maps Platform will continue to remain available.
"This deep partnership with TomTom is very different from anything Microsoft has done in maps before," Tara Prakriya, Partner Group Program Manager of Azure Maps and Connected Vehicles, had said during the partnership announcement last year.
Anders Truelsen, Managing Director, TomTom Enterprise had added, "TomTom is proud of the relationship we've built with Microsoft to offer Microsoft Azure customers access to build location-aware applications and look forward to deepening that relationship as we extend our high-quality location technologies to an even larger audience base. We're excited to be chosen as the location data provider to power mapping services across all of Microsoft, including Bing, Cortana, Windows and many other leading products and the innovations that will come forward in this continued relationship."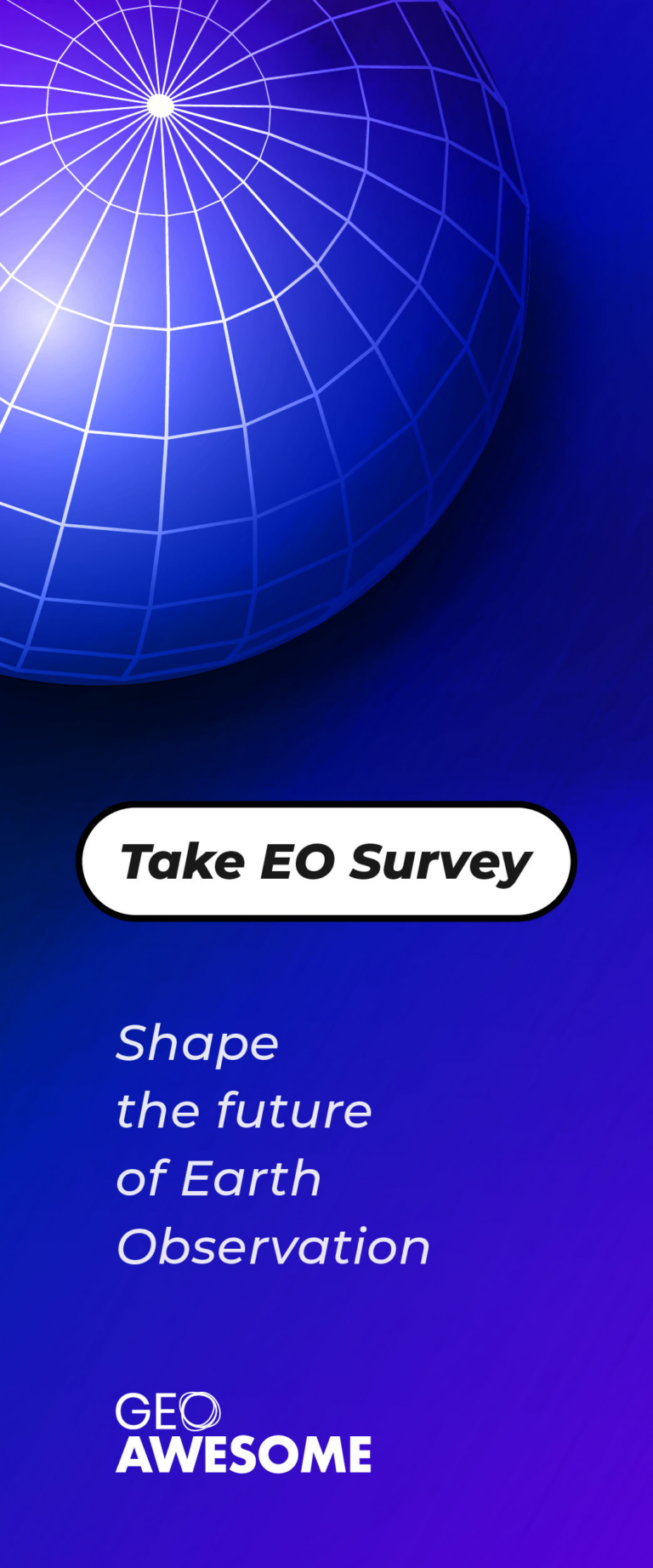 The community is supported by:

#Business
Next article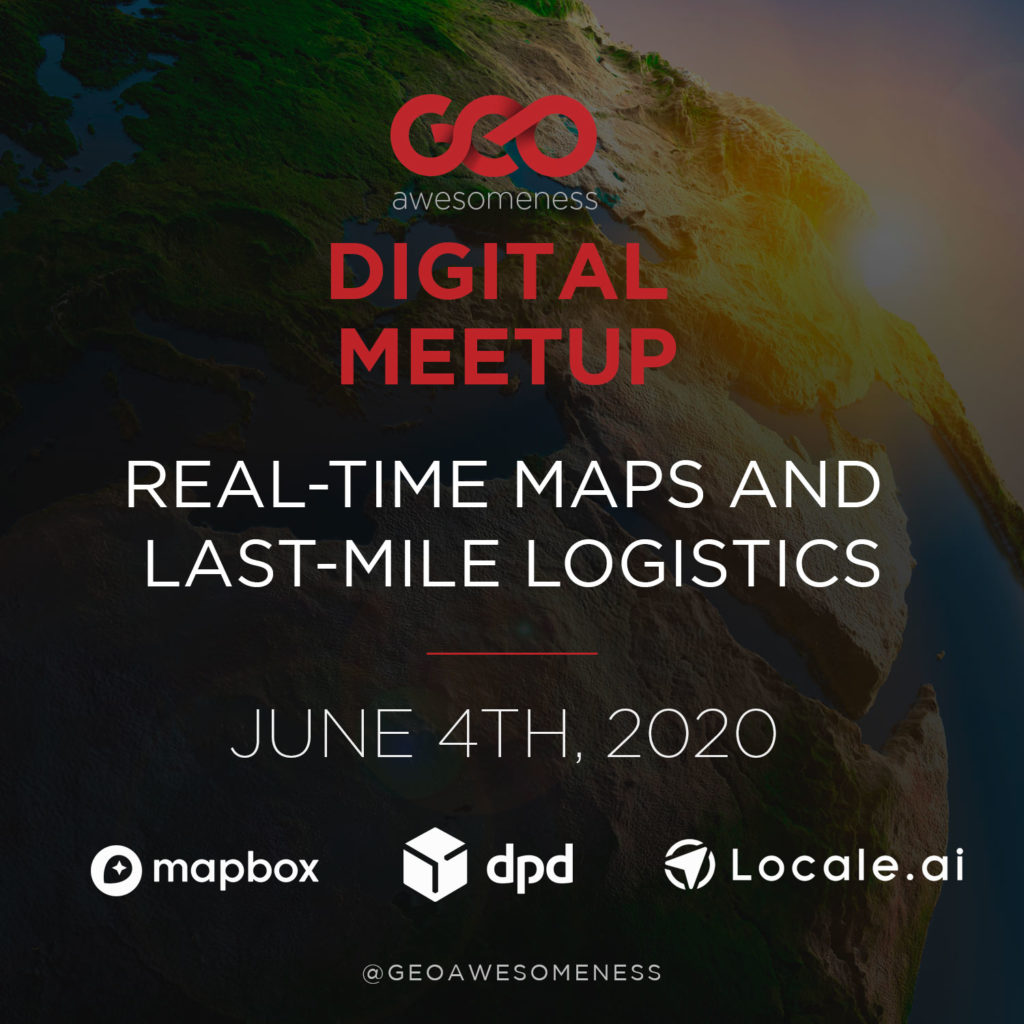 #Business #Featured #Ideas #People
Digital Meetup #1: Real-time maps, location intelligence and logistics
It's my pleasure to invite you all to the upcoming Digital Meetup on 'Real-time maps, location intelligence and logistics' scheduled for 4th June 2020 at 16.00 UTC. We have 4 fantastic speakers from the logistics and location intelligence industries talking about their work and how geospatial data and technology are enabling the logistics industry to be more efficient and profitable.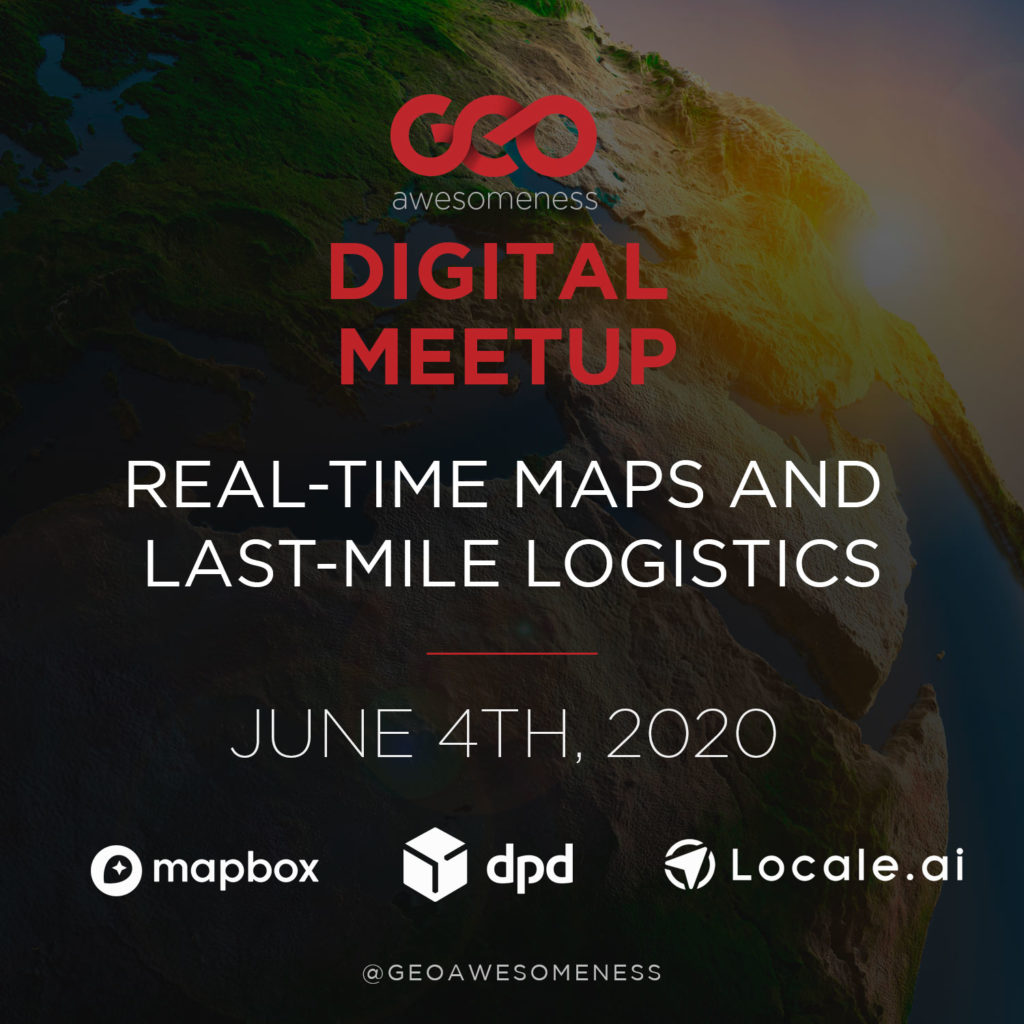 Agenda and list of talks
Last-mile delivery in the COVID era, Hossam Bahlool, Mapbox
Building blocks for logistics, Max Glaisher, DPD
Managing supply-demand gaps by combining marketing, order transactions and supply availability data, Aditi Sihna, Locale AI
Galileo Green Lane – easing pressure at the EU's internal borders, Kwaku Sumah, SpaceTec
---
Last mile delivery in the COVID era
COVID is changing the global flow of goods. Some of it temporary; some of it permanent. Let's talk about tooling for on-demand and last mile delivery services that makes customers happy and helps scale operations.
Speaker profile: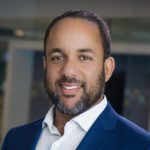 Hossam Bahlool is General Manager of Navigation and Driver Experiences at Mapbox, responsible for strategy and execution of a powerful set of APIs, SDKs, and driver apps for automotive and logistics. Prior to joining Mapbox, Hossam led the product management and marketing organizations at Immersion driving the adoption and monetization of haptics in digital content and devices. Previously, he led global product management and marketing at Telenav and was responsible for developing and executing the automotive product strategy and marketing vision. Before joining Telenav, Hossam co-founded Jingu Apps, the first mobile messaging discovery platform, acquired by Rebellion Media. He has held leadership positions at various high tech companies including BlackBerry, Nortel, and the Canadian Space Agency. Hossam holds a Bachelor's degree in Computer Science from Concordia University and a Master's degree in Business Administration from McMaster University.
---
Building Blocks for Logistics
Logistics company's delivery billions of parcels every year to shops and consumers invest hundreds of millions into building efficient delivery networks that can scale to millions of parcels by managing hundreds of thousands of drivers and vehicles at thousands of locations every day! This requires T&L's to make decisions that maximize driver time, utilisation of assets, local knowledge, as well as reliable third-party location data services for planning, navigation and route optimisation.
Speaker Profile:
Max Glaisher, Product Manager, Innovation. Background experience in software design and product management roles for 6 years in the Transportation and logistics industry.  Headed up Product development at a Venture back start up called Pie Mappings/Pie io, raising £2m to solve optimisation, routing for trucks, drivers and trailers. Consulted for Automatic, and AddisonLee in Product operation roles, solving Mobility problems for consumer and taxi drivers. More recently, leading Product Innovation at DPDgroup, 2nd largest parcel delivery carrier in EU, for the past 4 years, working on re tooling location service stack and developing new product experiences for drivers, operations and millions of daily recipients.
---
Managing supply-demand gaps by combining marketing, order transactions and supply availability data
Locale is building a location analytics product for city and business teams who want to analyze and optimize their ground operations. Think of it like Google Analytics using location data for any company with moving things. The product converts raw location data into actionable insights to help companies make very precise data-driven decisions.
Speaker Profile: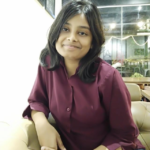 Aditi is the co-founder of Locale.ai. Prior to starting up Locale, she used to work at a data consultancy startup, SocialCops as a research analyst working with Ministry of Rural Development, United Nations and the Rajasthan Government on a number of projects. She graduated with a Masters's degree in Economics and Finance from BITS Pilani. 
---
Galileo Green Lane – easing pressure at the EU's internal borders
In times of crisis, the importance of space assets for the safeguarding of the economy becomes more apparent. The Galileo navigation system, in particular, is a key enabler of EU responsiveness to crisis situations and has demonstrated its flexibility and utility during the COVID-19 pandemic. Galileo Green Lane is an initiative developed by the European GNSS Agency with the use of European funds to facilitate the movement of goods and freight within the EU.
Speaker profile: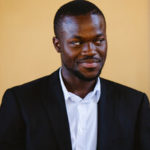 Kwaku Sumah is a Senior Consultant at a specialized space-industry consultancy firm, SpaceTec Partners. Originally from Ghana, Kwaku has since lived in three other countries and is currently living in Munich, Germany. He is passionate about the use of space technologies for socio-economic development.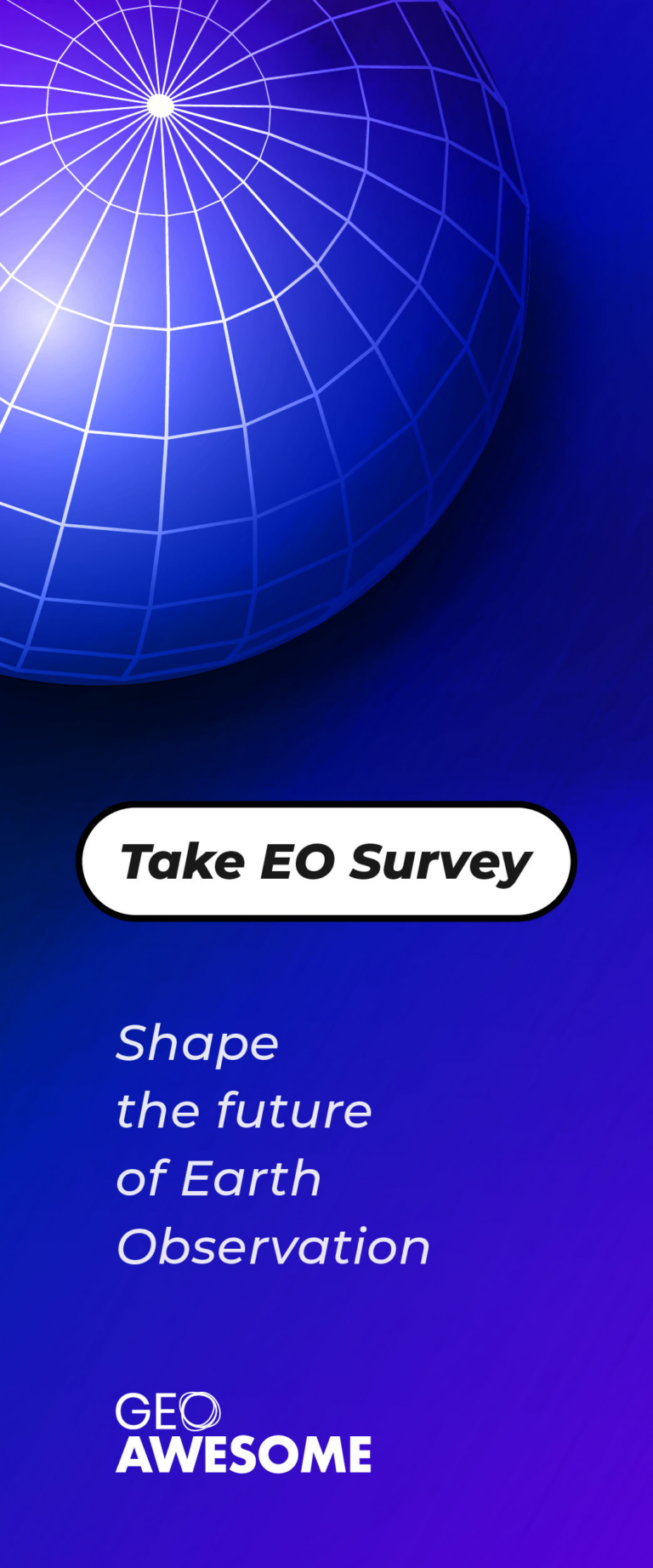 Read on