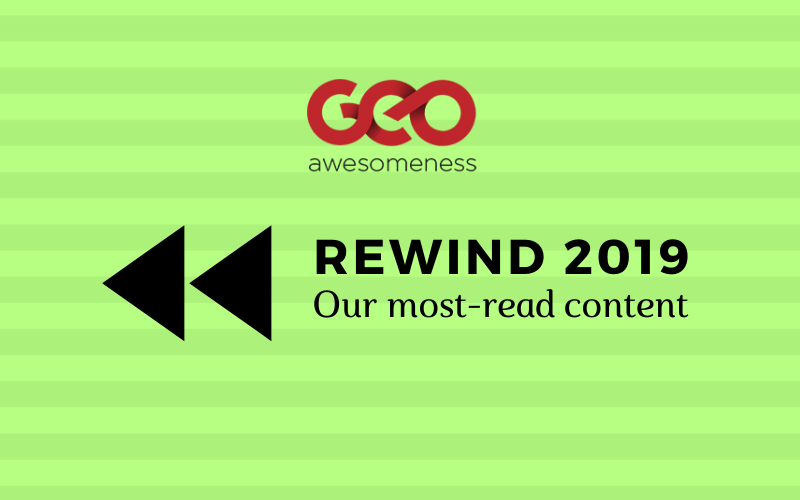 #Business #Featured #Ideas
Geoawesomeness' most-read blogs and content of 2019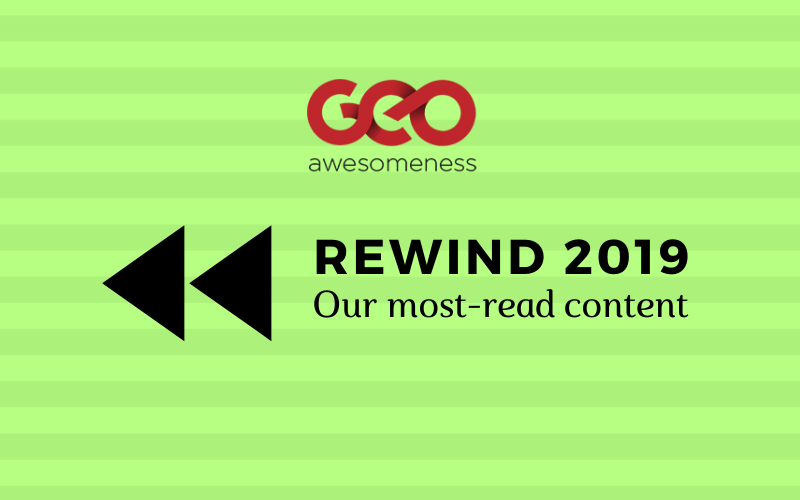 As 2019 draws to a close, it seems like a good time to dig into our site data and see which stories that we did this year caught your attention, got you talking, piqued your interest in 'all things geo', and hopefully, enhanced your knowledge in some manner. Here are our best geospatial blogs from 2019…
With details such as tech stack, funding stage, number of employees, company summary, etc., our exhaustive list of the companies and startup that we think are the 'Top 100 in 2019' received plenty of interest from our readers. We made sure to keep the entire process transparent by explaining how we came up with the list, who all were involved in its making, and which companies were considered. See the list here
At Geoawesomeness, we cover a variety of topics that are considered 'geo'. As technology advances and more companies are using location data each day, it has opened up more possibilities for geogeeks to seek geospatial jobs, no matter which career path they choose. With this vision, we created a brand-new jobs portal for GIS professionals in 2019. This portal not only gave our readers more exposure to different companies who use location data, but also highlighted the diversity of geospatial jobs for geogeeks to pursue. Check out the portal here
Most maps are pretty. Few maps are pretty and useful. Like good eye candy, a static satellite map of Paris is enjoyable for a few moments. However, a living map of Paris precisely understands how each city block, building, and street sign has changed in the last few hours. This guest blog by Ariel Seidman, CEO & Co-Founder of Hivemapper, was lapped up by our readers who wanted to understand what a living map can be effectively used for. Read the post here
If there's anything all those out-of-town road trips have taught explorers is that you cannot take GPS navigation for granted. Sure, Google Maps works like a charm when you have a solid data connection, but seamless connectivity is never a given when you are zipping down the road less traveled. Our roundup of Android and iOS mapping and navigation apps that work well even when without an Internet connection was a hot favorite of our readers in 2019. Read more
There is no doubt that What3Words has positively impacted communities where there is no formal addressing system. But what we wanted to explore was how did their mobile app fare for someone who was looking for an alternative to Google Maps. After setting out to (try to) convince everybody around us to install the What3Words app on their phone, we wrote this review.
Podcasts are a great way of staying in touch with the industry, hear about new developments, and learn something new. Best of all, they can easily be added to modern life because they can be fitted into many activities. With a wide variety of podcasts out there, it can be intimidating to choose if you are just starting out. So, we created a list of a geospatial podcasts that anybody who is into GIS and location-based technologies would love. See the list here
Facebook not only completed the most detailed population density maps of the majority of the African continent in 2019, but it also made the dataset available to the public for free! The tech giant also said that its artificial intelligence technology has become so proficient in detecting manmade buildings on satellite images that Facebook now expects to map the rest of the world's population within months. Read the blog here
Willem Strijbosch, Head of Autonomous Driving at TomTom, wrote this guest post for us, detailing how once decision-making moves from the driver to the vehicle, HD maps and sensors take over. Regardless of road conditions, HD maps confirm what the sensors see to keep passengers safe and on the move. Even as the implications of HD maps are wide and far-reaching, their importance lies in the fact that they can become the difference between life and death. Read more
This year, Lockheed Martin announced a satellite imagery recognition system which uses open-source deep learning libraries to identify and classify large datasets quickly. The Cloud-based system promised to save image analysts the trouble of spending countless hours manually categorizing and labeling items within an image, and that definitely caught the eye of our readers. See the post here
That India has great commercial potential for drones is no secret. And yet the drone industry in the country is struggling to take off. The official draft policy on drone operations spells out a number of impressive guidelines, taking a multi-modal approach at creating a unified drone ecosystem in India, but a lot of questions have been left unanswered. Read the good, the bad, and the ugly here
One of our most-read posts in 2019 came from the year before. Countless developers were hit by Google Maps' insane 1,400% API price rise in 2018 and they set out to look for a replacement, making our list of Google Maps API alternatives hugely popular. It seems that the search for a dependable alternative has continued for many in 2019, perhaps after testing out the new pricing structure proposed by Google Maps for the initial few months. So, if you are also looking for an affordable mapping API, see the best options here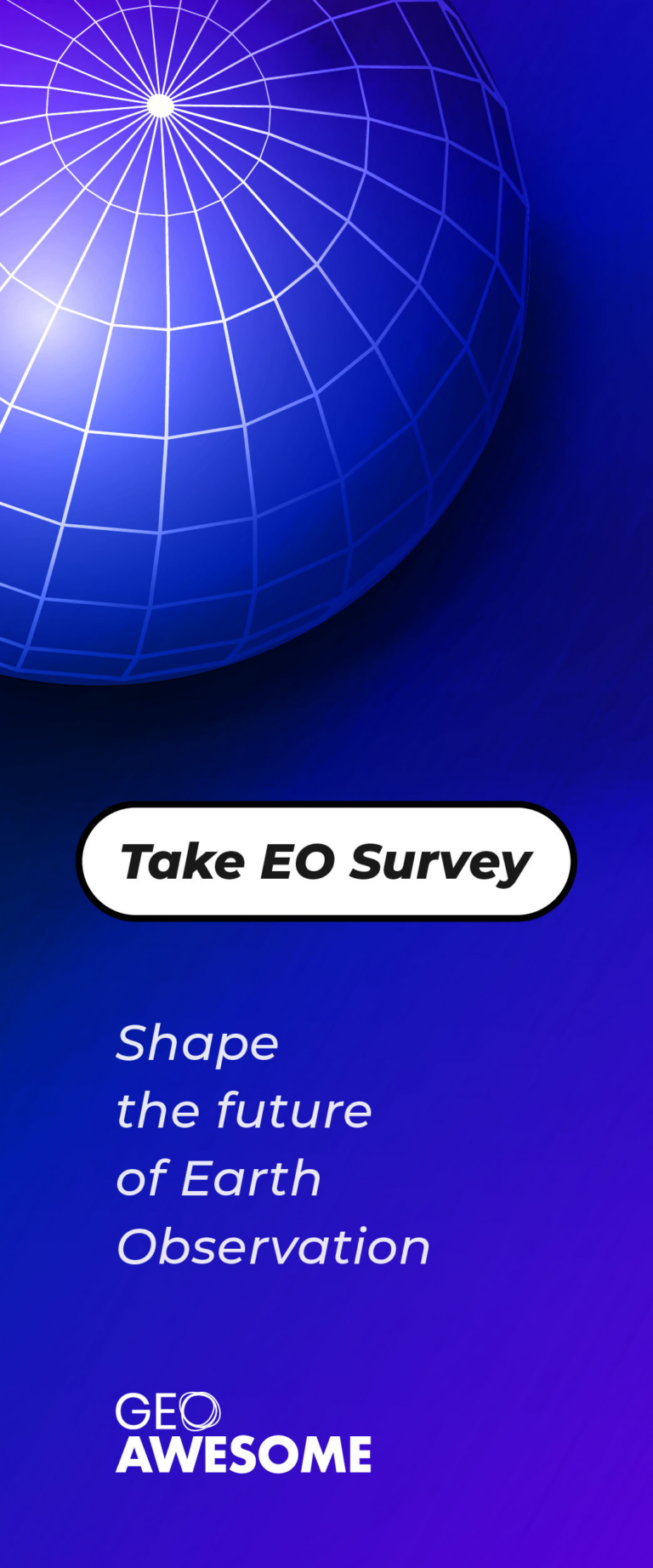 The community is supported by:

Next article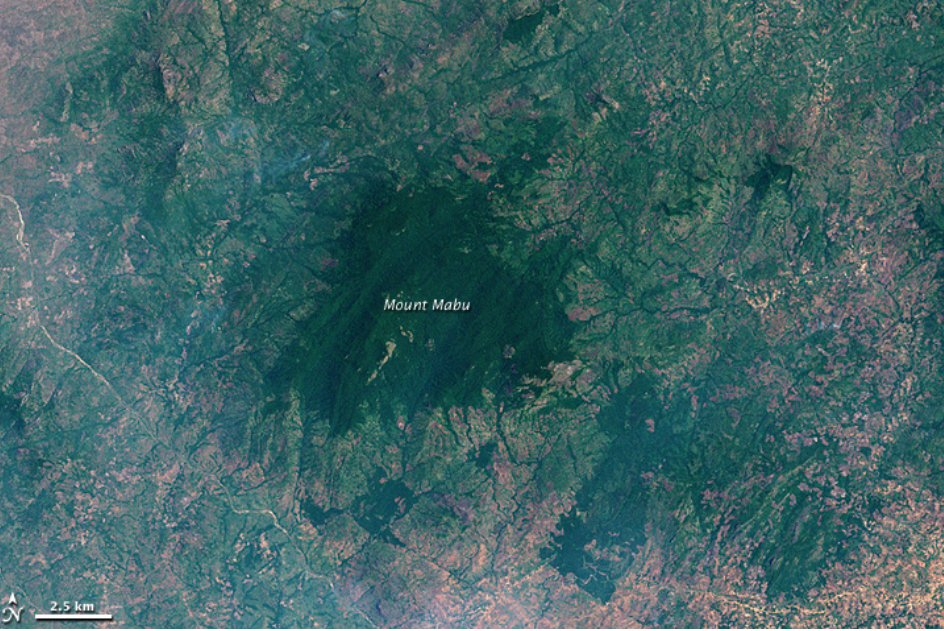 #Business #Featured #Ideas
When Google Earth helped scientists discover 2 lost rainforests in Mozambique
Read how Google Earth imagery led to the discovery of not one but two unexplored rainforests in Mozambique, Africa…
Discovering Mount Mabu: 2005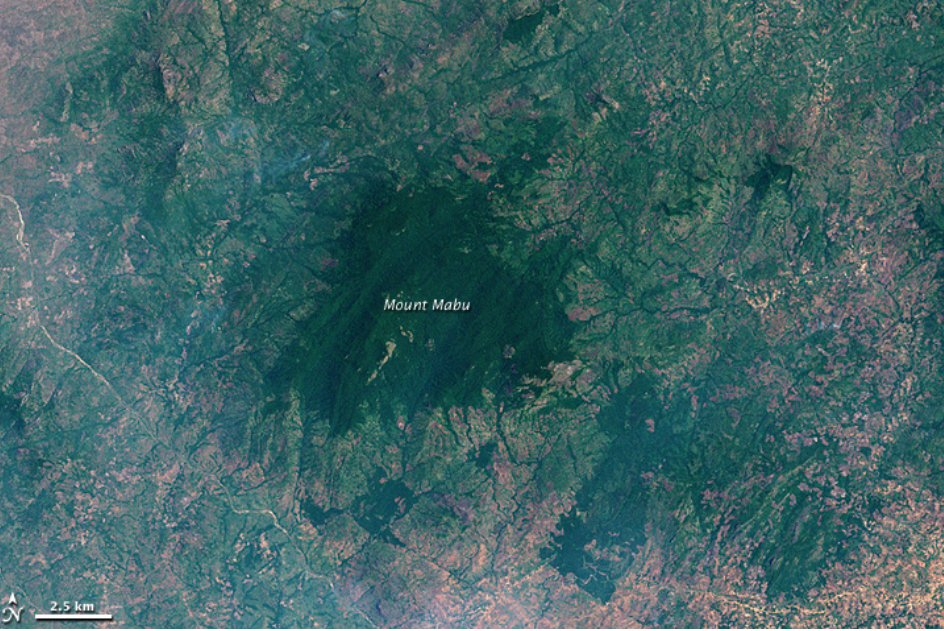 On November 8, 2001, a multispectral scanning radiometer on NASA's Landsat 7 satellite captured a patch of deep green on top of Mount Mabu, Mozambique. It was an area that had served as a refuge for the locals during a civil war witnessed by the southern African nation from 1975-1992. But it wasn't until 2005 that the rest of the world – including the majority of Mozambican citizens – came to know of its existence.
In 2005, researchers at the Royal Botanic Gardens, Kew, stumbled upon an image of this rainforest on Google Earth. They were looking for areas with potential unknown biodiversity and Mount Mabu seemed to check all the boxes. The region received high rainfall and was not easy to access.
The first expedition to scope out this electrifying discovery took place in 2008. And it did not disappoint. The scientists took over 500 plant specimens back with them to study at Kew. They came across almost 200 different varieties of butterflies (four of them turned out to be new) and many rare or endangered bird species. They also stumbled upon a new pygmy chameleon, two undiscovered snake species, and variety of frogs, snails, bats, and insects.
Finding Mount Lico: 2012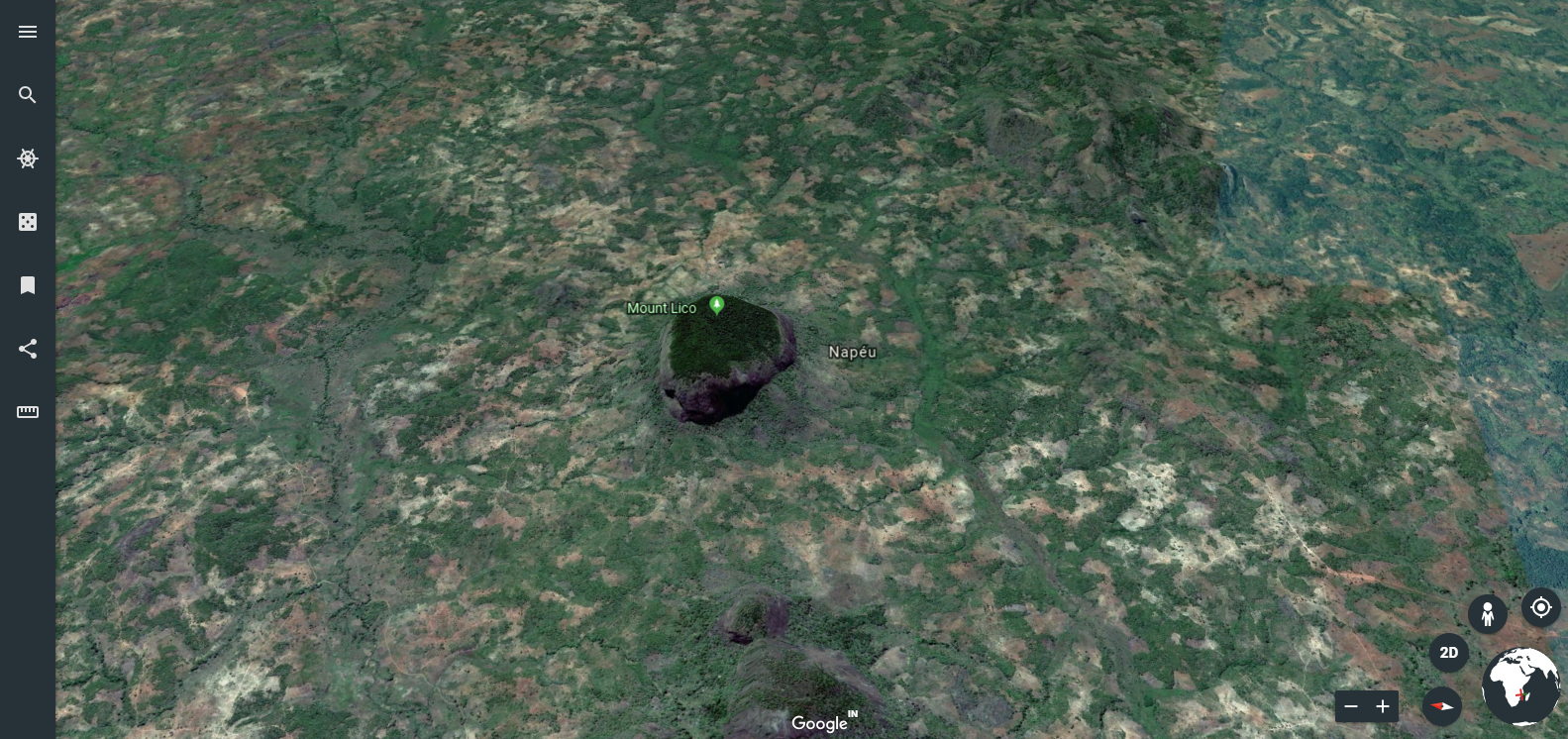 Conservation biologist Julian Bayliss (who was also a part of the Mount Mabu expedition) came across this crater-like image on Google Earth in 2012. There was no doubt in Bayliss mind he had discovered another rainforest. Zooming in on the image revealed an especially exciting fact. The thick vegetation patch was housed on an inselberg (an isolated hill) with very steep walls. Its inaccessibility meant there were high chances of finding a virgin natural environment in the rainforest.
And sure enough, when the expedition finally took place earlier this year – after years of carefully curating a dream team – scientists had to climb up a 125-meters near-vertical rock just to get to the forest. This single excursion has already unraveled a new species each of butterfly and mouse.
Well, Google Earth has surely done its part. How well these rainforests are now kept protected depends on the government of Mozambique.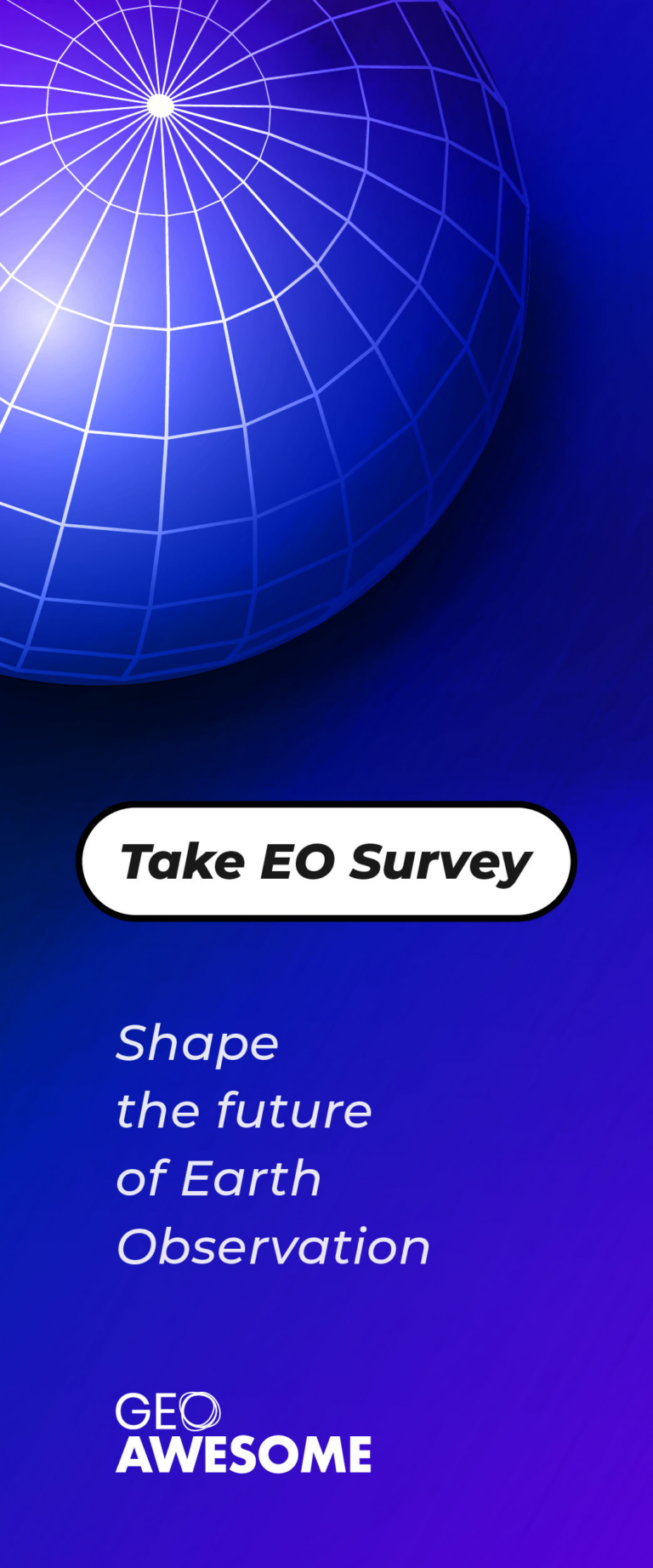 Read on