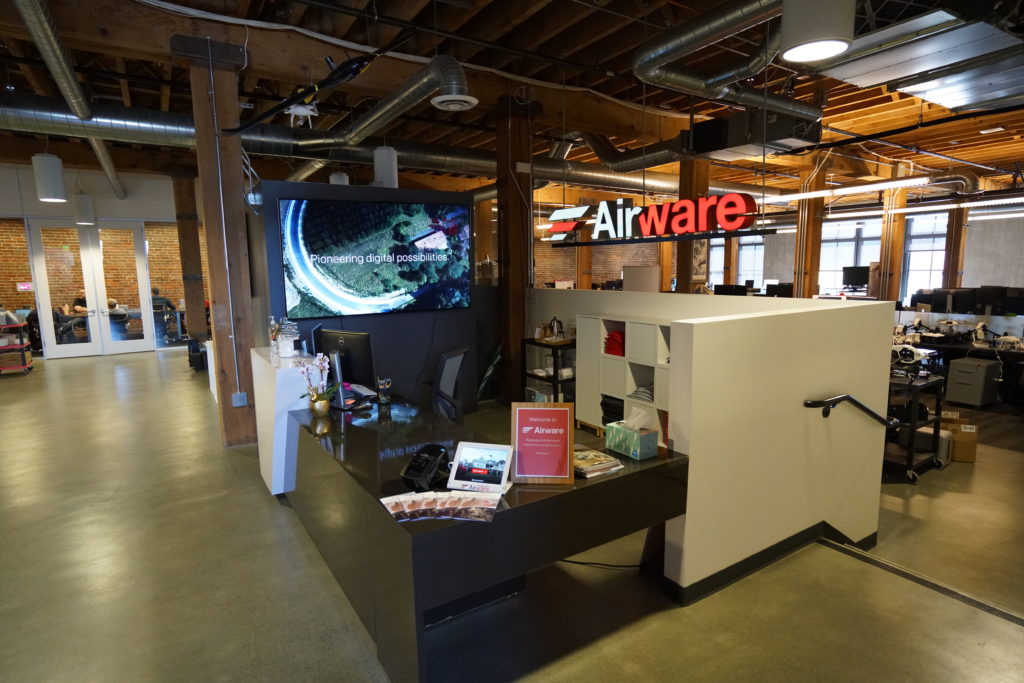 #Business
Airware shutdown: How to crash and burn a $118M drone startup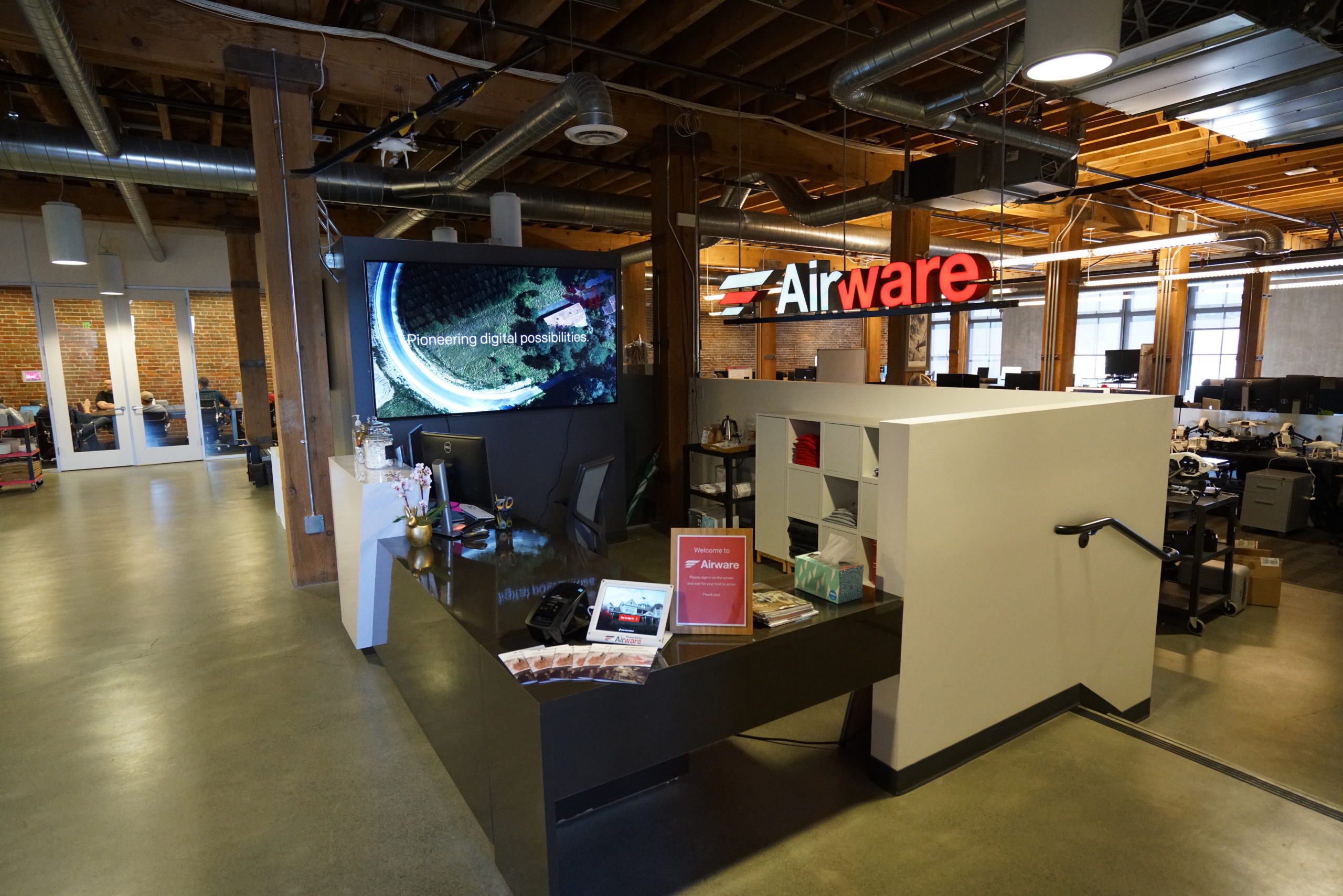 On April 19, 2018, Yvonne Wassenaar, CEO of Airware, announced in a blog post that the commercial drone technology provider had closed $8.5 million of funding, bringing its total backing to $118 million.
"We will continue to expand both our go-to-market and our product development partnerships to support our global expansion and increase the value of our solutions. And we'll keep innovating. It is in our DNA," Wassenaar insisted, pointing out how the drone startup was aggressively driving market momentum and growth since it was founded in 2011.
Fast-forward to September 14, 2018; Airware published another blog. But this time, there was no author; no one to take the ownership of the statement which read: "History has taught us how hard it can be to call the timing of a market transition… Unfortunately, the market took longer to mature than we expected. As we worked through the various required pivots to position ourselves for long term success, we ran out of financial runway. As a result, it is with a heavy heart that we notified our team, customers, and partners that we will wind down the business."
And just like that, Airware shut down. Screenshots from the Airware alumni Slack channel sent to TechCrunch detailed how the employees were told in the morning that the company will close its doors effective 2 pm that day. Almost 100 employees were laid off with just one week of severance pay.
But, where did Airware go wrong? Right from its inception, there was much hype about the company's 'vision'. The funds were also flowing in steadily. In 2016, it acquired a French cloud-based commercial drone analytics company called Redbird. The World Economic Forum acknowledged it as one of 30 global Technology Pioneers. The company also had quite a few lucrative partnerships under its belt. And, to top it all, its new office in Tokyo, Japan, had commenced operation only four days before the shutdown announcement. So, what really went wrong?
Turns out, Airware is a classic example of weak leadership combined with a startup mismanaging its funds, despite having a long list of prestigious investors backing it. A crazy amount of money that Airware raised was sunk into developing not just proprietary drones but almost everything from processors to the autopilot OS. An ex-employee detailed on Hacker News how "nothing was 'good enough' so everything was invented."
Of course, eventually, Airware founder Jonathan Downey had to concede and divest the hardware side of the business in favor of software develoment. It had become clear to him that there was no winning over the reliable, low-cost drone solutions China had started providing. Unfortunately, the pivot to software came way too late.
Meanwhile, some industry insiders are of the opinion that the company had a bigger problem than a plain hardware/software dilemma; it was simply out of touch with reality. Av8Chuck, an advanced member on UAV Coach forum ranted: "They failed because they were led by a millennial [who had] no idea [of] the history of [drone market] transformation… We competed head-to-head on a couple of large projects and they had no idea what they were doing and how two guys in a garage could compete, let alone win that size of contract."
Whatever be the case, there's no denying that the commercial UAV industry today is booming. Even developing countries like India are opening up the skies to legalize drone operations. So, here's hoping Airware's fate will not lead to bearish sentiments putting a damper on this soaring party.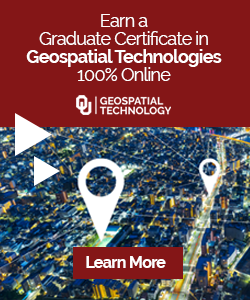 The community is supported by:

Next article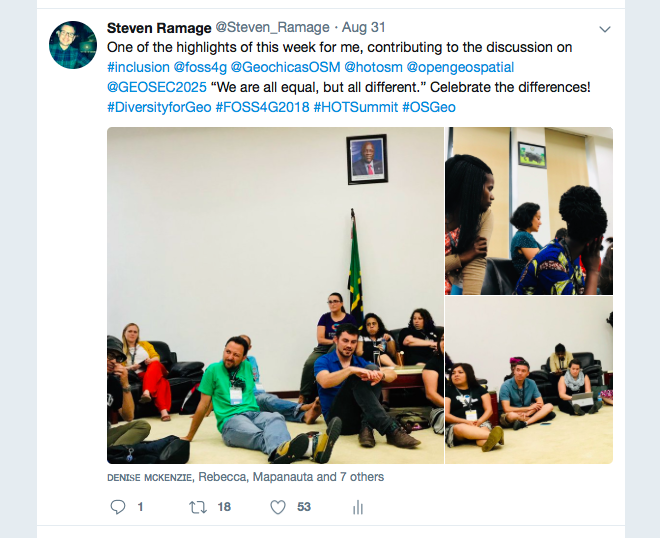 #People
Missed out on attending FOSS4G 2018? Here's an overview of what happened
As a longstanding industry commentator, I have the privilege of being invited regularly to provide my views on major geospatial events. So when I was invited to comment on FOSS4G 2018 (which incidentally I thought was an excellent, informative event great for networking and learning), it struck me that it was highly appropriate to ask others to contribute.
Therefore, I asked two sets of colleagues to provide some words. The first set – Neema Meremo and Janet Chapman from Crowd2Map and the second set – Denise McKenzie from the OGC and Rebecca Firth from HOT.
Crowd2Map
When we first heard that FOSS4G was going to be held in Dar es Salaam, we were excited but worried that the tickets would be too expensive for any of our community mappers to attend. We hoped that one or two might be able to come if we submitted a talk. In the end 20 crowd2mappers were able to participate and Neema delivered a keynote about using maps to help end FGM: female genital mutilation. There was also a group presentation about our work training local mapping groups and we delivered two practical workshops.
Many of our mappers travelled for 48 hours on a bus, for the first time to Dar Es Salaam in Tanzania. At the first gathering, a support event for women organised by @GeoChicasOSM, many were overwhelmed by the range of strong female role models from all over the world. (Author's note: I also spent a great deal of time introducing young female mappers to some of the women community leaders, such as Miriam Gonzalez and Heather Leson who were incredibly supportive, energetic and welcoming in this mentoring role).
For a technical conference, it was amazing that all the keynotes were by women. For rural women with extremely limited opportunities for networking or training, participating was a once in a lifetime experience for which they were extremely grateful.
We held a workshop in which African women outlined some of the additional challenges they face when mapping and some suggestions of how the global community can better support them. Some of the issues they face, such as men telling them they should be doing housework, refusing to give them permission, to physical harassment and threats are hard to comprehend for people unfamiliar with such environments. Some of their recommendations are below. How the community can better support female mappers:
Increase the funds available specifically for women, including travel grants (see more below on this topic)
Provide counseling and mentoring to disadvantaged groups such as rural women
Provide security guidance and equipment so women can better protect themselves when mapping in remote locations
Work with educational institutions to start educating girls in mapping and technology early in life
Create more materials on the impact of maps for development, particularly with a focus on women; and
Provide guidance on good practice in involving leaders at all levels to raise awareness of the benefits of mapping.
There are indeed more ideas on how to help women, this is just a sample.
At the end of the conference there was a surprise announcement that $15,000 of the FOSS4G 2018 surplus was to be given to Crowd2Map to continue our community mapping. This represents three times the size of our previous funding from the HOT microgrant so it is a very big deal.
There was further good news that Crowd2Map will also participate in a side event at the United Nations General Assembly in New York this month, organising a mapathon against FGM for UN staff, as well as a concurrent global mapathon where we hope to involve every country where FGM is still an issue. Everyone is invited to support this activity.
HOT and OSM
Here are a few more details on FOSS4G 2018. Hosted for the first time in Africa, and with 13% of the 1000+ conference-goers attending with a Travel Grant, FOSS4G 2018 was a turning point in the dialogue on inclusion and diversity in the open source geospatial community. 137 Travel Grants were available, the majority awarded to women from East Africa, which positively impacted the range of diversity amongst the conference attendees.
Across the technology community many conversations on diversity focus primarily on the problem: the lack of it. Keen to learn from the experiences of the broad range of international and local conference attendees, we hosted an inclusion and diversity discussion session that attracted over 50 participants. People shared the positive experiences, both at an individual and organisational level that had enabled them on their journey to becoming more involved in open source geo. These were not just experiences of gender inclusion, but also included socio-economic, cultural and disability considerations. With this experience in mind, we plan to draw up practical guidelines around improving diversity in open communities and conferences.
Whilst the dialogue on diversity and inclusion may only seem to be emerging, during our discussion session, it became clear this conversation is quite widespread, but happening in parallel in disconnected groups. To tie these separate discussions together, we created the hashtag #diversityingeo to enable us to link these conversations and more easily share and learn from other diversity and inclusion discussions in communities we may not yet be directly connected with yet.
GEO
The best way to describe some of the powerful activities that took place during FOSS4G2018 is to look at the Twitter stream. I sat on an Earth observations panel with Aimee Barciauskas @developmentseed and Krystal Wilson @SWFoundation Part of the discussion was around resources available to help practitioners and policy makers alike, particularly on the topic of open data. This could be another entire blog post based on the content presented.
A couple of my tweets that spoke volumes about some of the sentiment and interest from FOSS4G2018: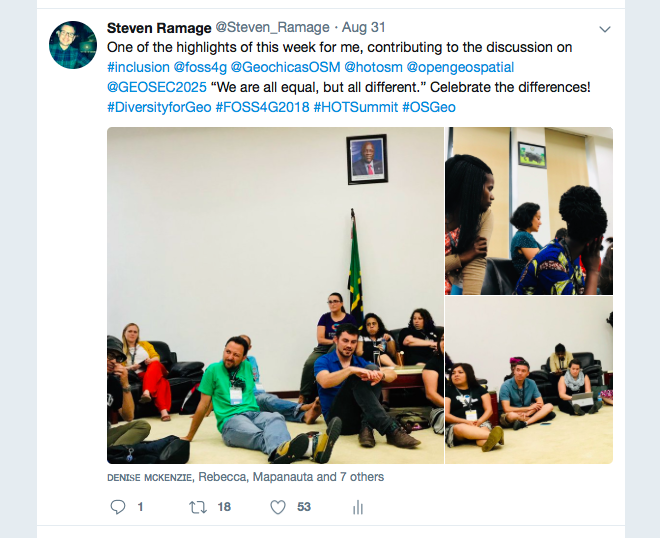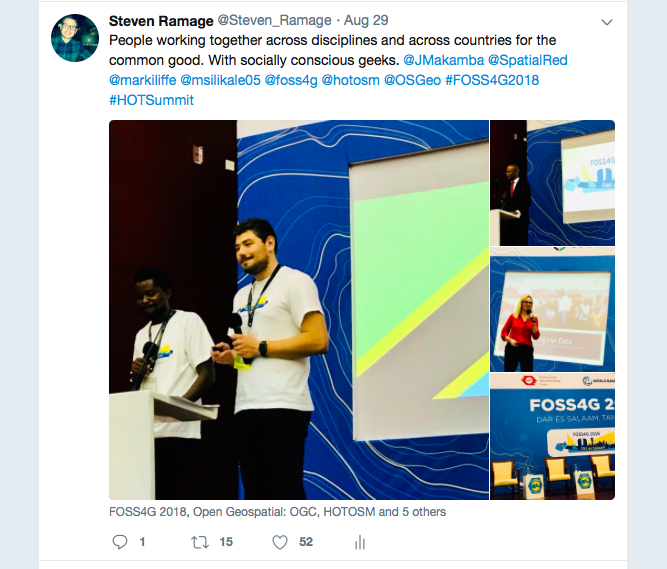 Finally, a big thank you to the main conference organisers. I have chosen not to name them individually because many others have done so already, but you know who you are and kudos to you for a fabulous experience.
About the authors
Janet is the founder of Crowd2Map Tanzania a crowdsourced mapping project aiming to put rural Tanzania on the map.  Since 2015, they have been adding schools, hospitals, roads, buildings and villages to OpenStreetMap, with the help of over 9500 volunteers worldwide and 600 on the ground in Tanzania. With minimal budget and no staff they have added over 2.9 million buildings and trained community mappers in 26 areas of Tanzania. Crowd2Map is focussed on areas of rural Tanzania where girls are at risk of Female Genital Mutilation, FGM. j.chapman@tanzdevtrust.org
Neema holds a BSc in Human Resource Management from Moi University. She is passionate about youth development and girls' rights with a history of working with NGOs that aim to eradicate FGM and child marriage. Neema is currently working with Hope for girls and women Tanzania and Crowd2Map Tanzania as a lead mapper (Mapping to end FGM). neemasamuel46@gmail.comneemasamuel46@gmail.comhold a BSc in Human Resource Management from Moi University. Passionate about youth development and girls' rights with a history of working with NGOs that work to eradicate FGM and child marriage. Currently working with Hope for girls and women Tanzania and Crowd2Map Tanzania as a lead mapper(Mapping to end FGM).
Rebecca is the Community and Partnerships Manager at Humanitarian OpenStreetMap Team (HOT – www.hotosm.org). In many places in the developing world good quality digital maps do not exist, leaving millions of people uncounted. HOT creates those maps through crowdsourcing remote volunteers and empowering local communities to maps their livelihoods. rebecca.firth@hotosm.org
Denise is the Head of Outreach for the Open Geospatial Consortium, OGC. She joined the OGC in 2012 after 12 years with the Victorian Government (in Australia) working in areas of strategic policy, collaboration and innovation. In OGC she oversees the global Communication and Outreach Program, Alliance Partnerships such as representation at the UN-GGIM and recently joined the board of the Association for Geographic Information (AGI) in the UK. dmckenzie@opengeospatial.org
Steven leads external relations at the intergovernmental partnership, the Group on Earth Observations, more commonly known as GEO (www.earthobservations.org). He is trying to help countries around the world understand the value and usefulness of Earth observations for research, policy, decision making and action. He's on the OGC Global Advisory Council, a HOT Voting Member and a Fellow of the Royal Geographical Society (RGS). Steven is also a Visiting Professor at the Future Cities Institute and a SASNet Fellow at the Urban Big Data Centre, at the Universities of Strathclyde and Glasgow respectively (both in Scotland). Steven recently became a Visiting Lecturer at the Institute for Environmental Sustainability at the University of Geneva, Switzerland. sramage@geosec.org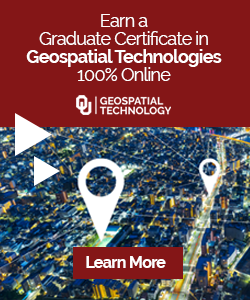 Read on