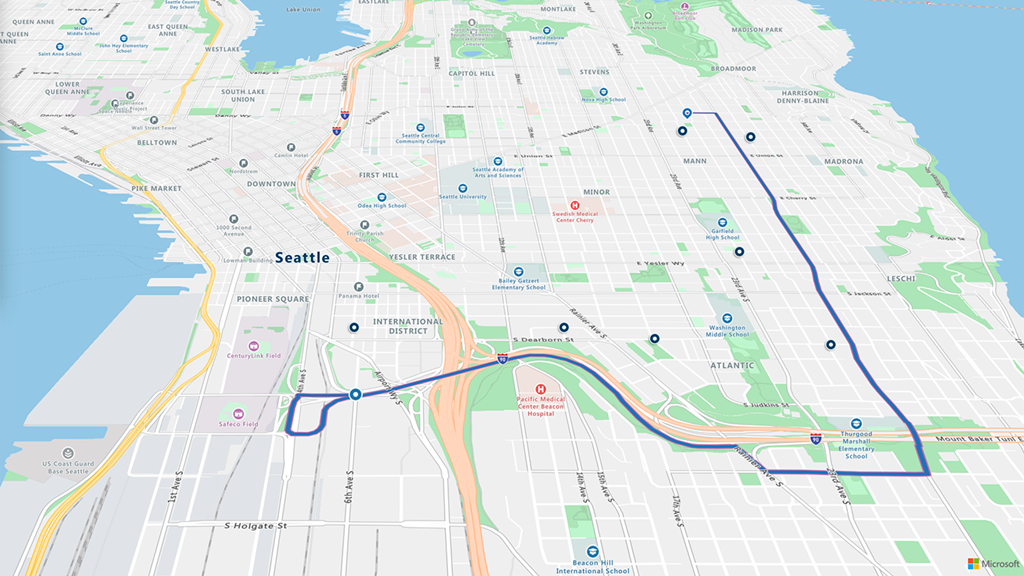 #Business
6 things you need to know about Microsoft's just-released Azure Maps
Seems like there is no dearth of excitement in the geospatial industry right now! While the businesses providing location services scramble to win market share after Google ruffling quite a few feathers with its recent Maps API pricing model changes, Microsoft has gone ahead and announced the general availability of the new kid on the block – Azure Maps.
Previously known as Azure Location Based Services, the product marks cloud computing platform Azure's first outing at providing native geospatial functionality. Microsoft says Azure Maps is designed to allow seamless integration of mapping, search, routing, traffic, and time zone queries into enterprise apps. Chris Pendleton, Principal PM Manager at Azure Maps insists that the services will be particularly useful for those engaged in the Internet of Things where location is a foundation for sensor visualization.
So, here are some interesting things you need to know about Azure Maps…
1) Search
The Search service is packed with three major functions: Geocoding, Reverse Geocoding, and Point of Interest (POI) Search. While address-level geocoding is available for 38 regions, for rest of the world, city-level geocoding is supported. In POI Search, users can look for results within a defined geometric area or specify a radius for a 'nearby' POI. Further, developers can find points of interest along a specified route as well.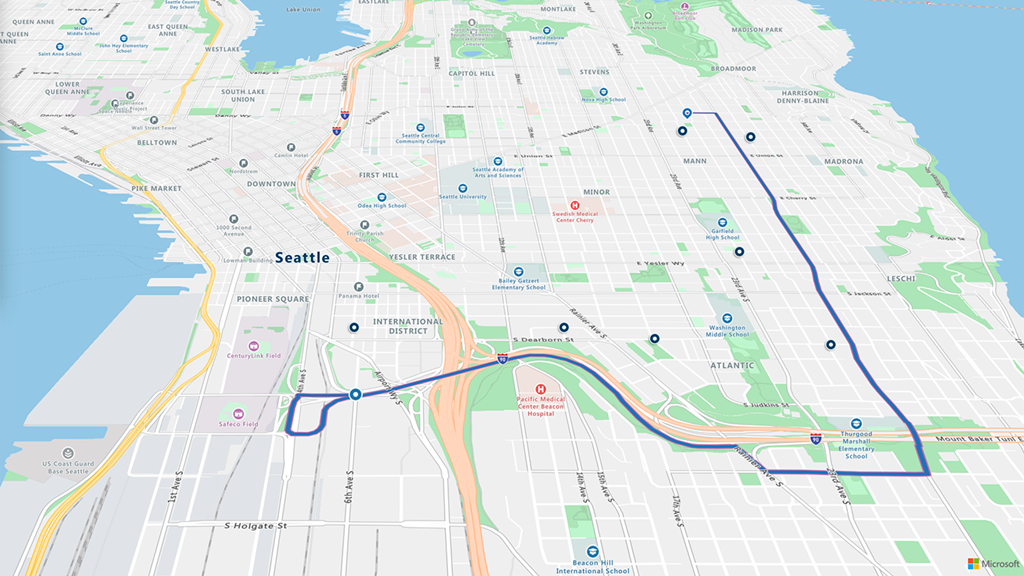 2) Routing
Azure Maps' Route service goes much beyond just step-by-step navigation. While general route calculation can be optimized for fastest, shortest, or avoidance of highly congested roads or traffic incident, when it comes to commercial routing, the service provides alternate routes made just for trucks. The latter's results are optimized after taking parameters like vehicle height, vehicle weight, number of axles, and hazardous material contents into consideration.
3) Render
Want to embed a map image into a webpage or app? Azure's map service will give you high-fidelity spatial information of more than 200 regions across the globe. Available in 35 different languages, the cartography for the service has been designed especially for the enterprise customer. Which means you can render your data atop of Azure Maps without worrying about additional detail bleeding through. You can also use their static image API to generate embeddable map images.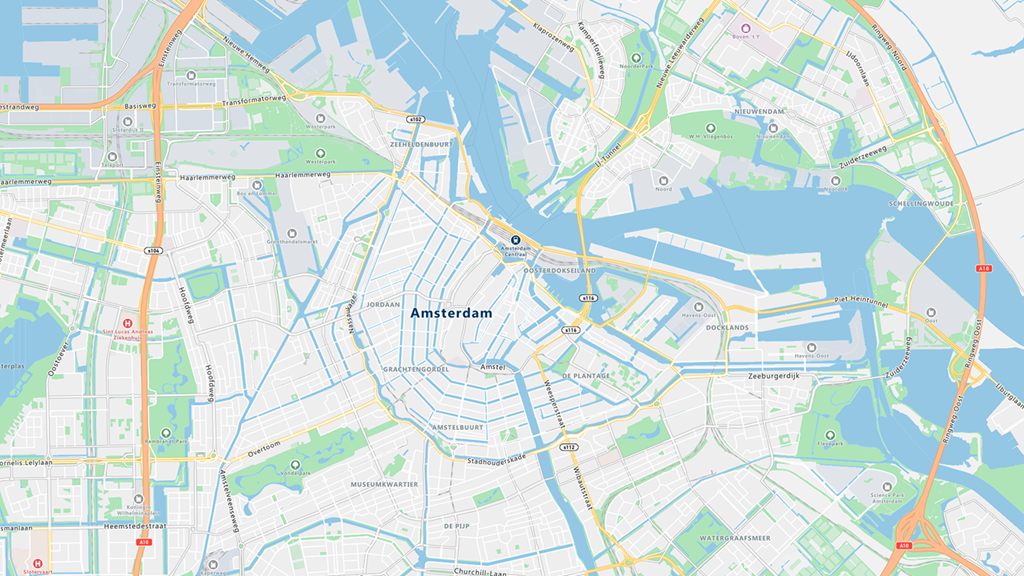 4) Time Zone
Providing localized time zone names for around 50 languages, Microsoft says this service is first of its kind in providing the ability to query time zones and time for locations around the world. Azure Maps Time Zone service also factors in changes for daylight savings while giving users access to historical and future time zone data.
5) Traffic Service
Built in partnership with TomTom, this service allows Azure Maps to offer most-up-to-date traffic information, such as the type of traffic incident and its exact location. Users can natively overlay traffic information atop of the map to view traffic issues quickly and conveniently, including how much time it would take to get out of traffic congestion or the distance and time from the current position to the 'back of the line'.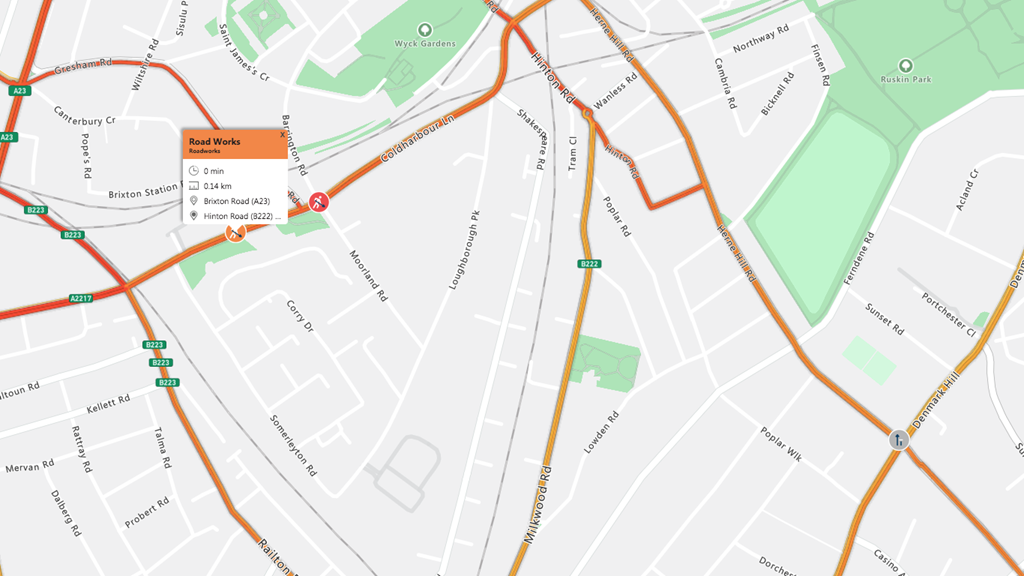 6) Azure Maps Pricing
Coming to the pricing, you get 250,000 transactions free per month for Maps and Traffic Tiles – where one transaction is created using increments of 15 tiles. For other services, free transactions are capped at 25,000. After this, every 1,000 transactions will cost $0.50.
So, do Azure Maps sound like a good alternative for Google Maps to you? If not, you can always check out our list of other alternatives here.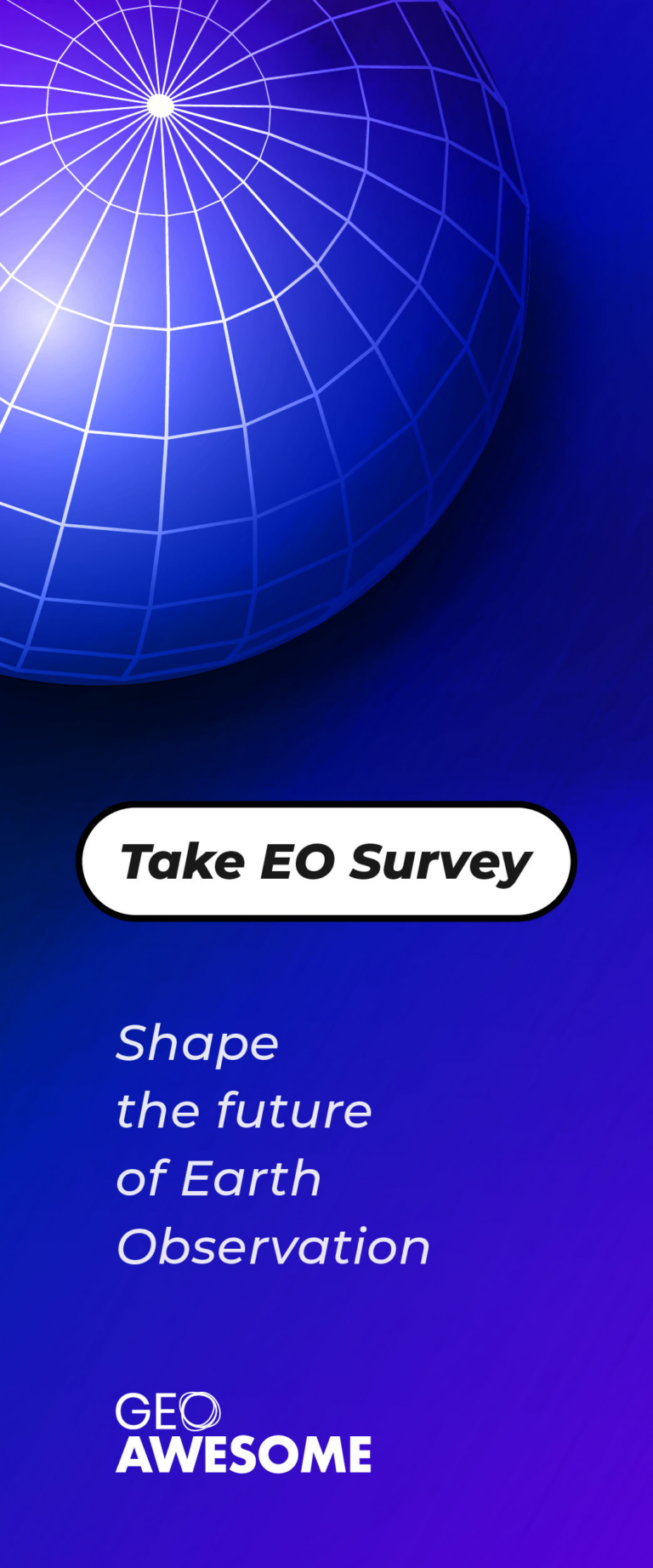 The community is supported by:

Next article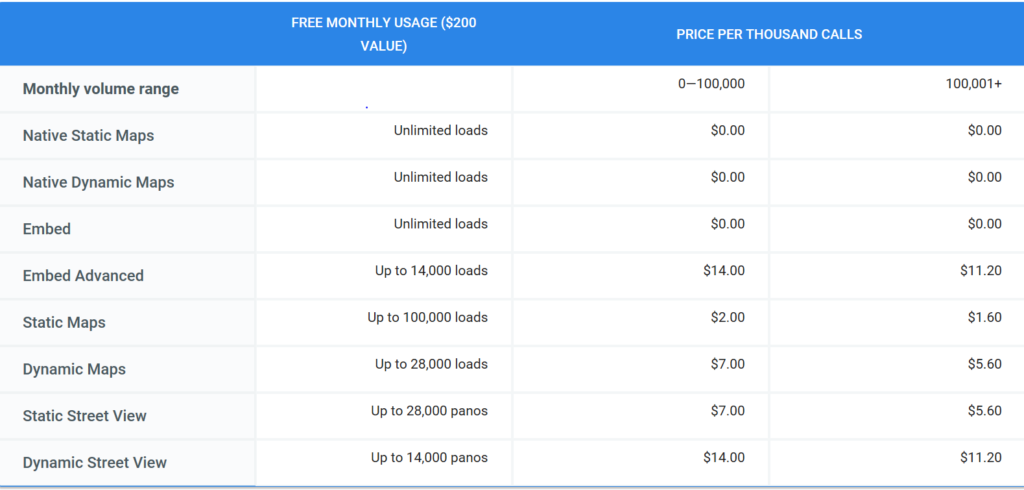 #Business #Featured #GeoDev
Google Maps API pricing got you down? See these awesome alternatives
Come June 11 and using Google Maps API is going to get a whole lot expensive for those of you looking at more than 25,000 transactions per month. See the Google Maps API pricing structure that goes into effect that day:
Read: Insane, shocking, outrageous: Developers react to changes in Google Maps API
If you're as bummed out about the recent changes announced by Google for its Maps platform as we are, you have come to the right place. With less than 6 weeks to go before the amendments take effect, developers have their work cut out for them: Audit, change, test, and deploy an alternative. So, here's something that may make the job just a teensy bit easier: A list of Google Maps API alternatives you can give a try.
[Update, Dec 16, 2020: Amazon Web Services teams with Esri, HERE to offer developers affordable, pay-as-you-go location-based data, mapping services]
1) TomTom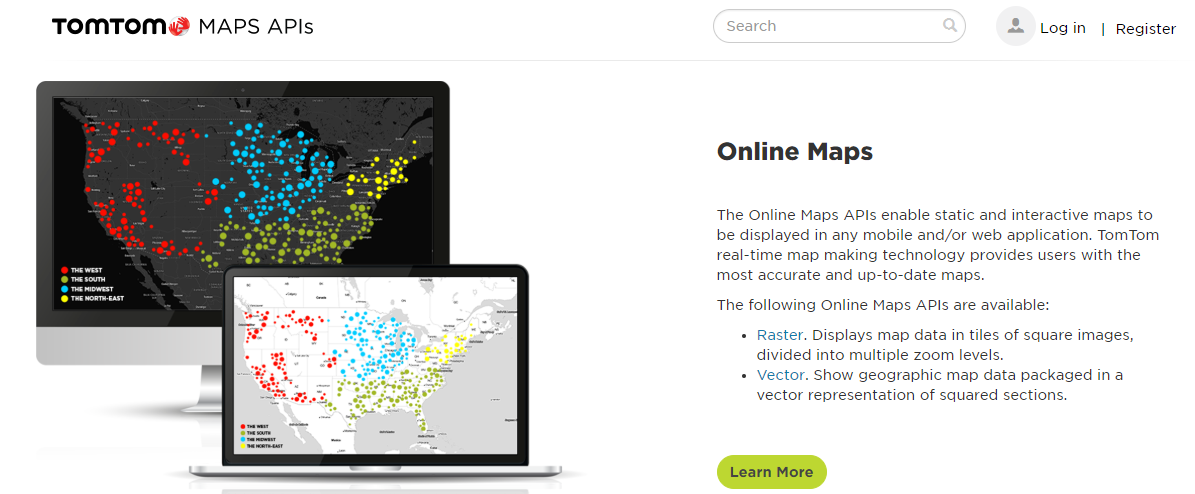 One of the first platforms that come to mind when you think of a reliable Google Maps API alternative, TomTom offers developers 2,500 free daily transactions, global customer support, and a really lucrative pay-as-you-grow credit package. Depending on your volume and usage, you can expect additional transactions to be charged at $0.5/1000 call or even less.
Explore TomTom Maps APIs here.
[Update 25th September 2018: We interviewed TomTom's head of developer relations, Gregory De Jans to learn more about their mapping APIs. Here's all you need to know about TomTom's Mapping APIs]
2) Mapbox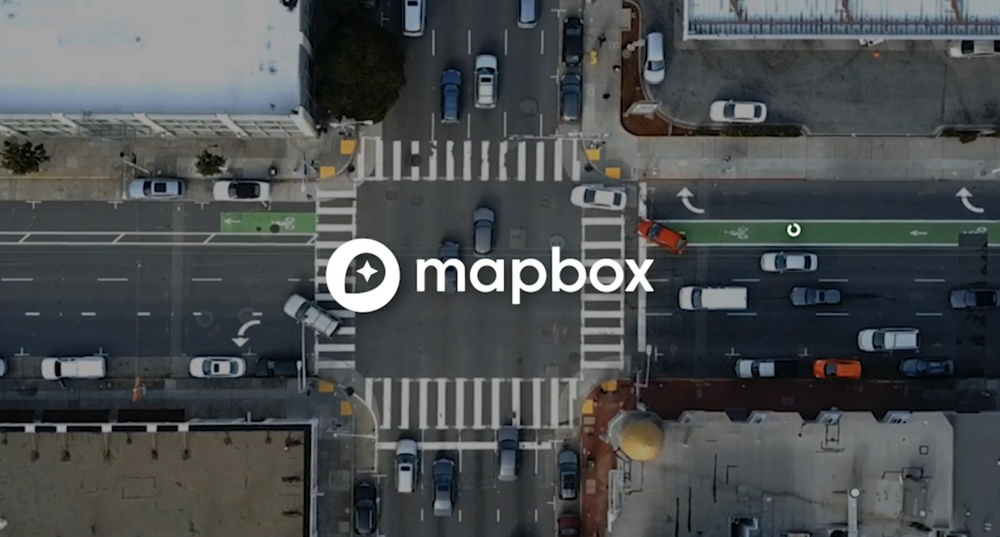 If someone recognizes an opportunity when they see it, it's the team at Mapbox. As soon as the Google Maps API news broke, Mapbox CEO Eric Gunderson made a clarion call to developers to join his bandwagon. Between now and June 11, any developer who is new to Mapbox can sign up and use all the pay-as-you-go APIs for free. You don't even need to add a credit card to get started. Just tweet #WeAreBuilders to Mapbox along with a link to your map.
Explore more here.
3) HERE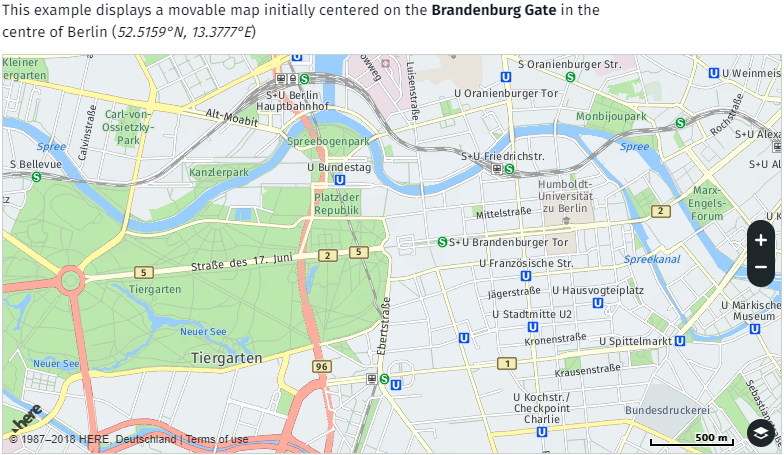 The force behind Bing Maps (which are inexplicably expensive, IMO), HERE offers a powerful set of developer tools with great features. Though its free tier has less free calls per day, at $49 for 100,000 monthly transactions, HERE's API gives you better ROI than Google Maps'. And did we mention you can use their 90-day free trial key without sharing any payment information?
Find out more about their public and business plans here.
4) Leaflet

This modern, open-source JavaScript library has quickly become very popular among developers because of its flexibility and the fact that. If you are looking for complete freedom from ambiguity, one good option would be to run your own tile server based on OpenStreetMap and then connect to it using Leaflet. Another try-worthy combination for some projects could be the Esri-Leaflet one.
You can find out more about Leaflet API reference here and OSM's Tile Usage policy here.
5) OpenLayers

Capable of pulling tiles from several different mapping sources (Bing or OSM background, vector data from KML or GML files, WMS overlays, etc.), OpenLayers is another open-source JavaScript library that you can use to display pretty much any free map service. And with its large fan base and active community members, you can expect to find well-document information and plenty of live demos to get you started.
Find more information here.
6) LocationIQ

If your project requires geocoding or reverse geocoding, LocationIQ could be a good alternative. Its super-affordable pricing model gives you 10,000 free transactions per day for non-commercial use, while for commercial users, the bestselling plan is that of 50,000 calls per day for $100. LocationIQ's data is powered by OpenStreetMap.
Get to know them here.
7) MapTiler
Powered by open-data and open-source software, 
MapTiler
provides global Street and Satellite Map APIs. MapTiler is compatible with Leaflet, OpenLayers as well as open-source Mapbox SDKs (including Android, iOS and Unity games) thanks to vector tiles, giving developers the much-needed freedom of choice of the tools. Their maps can be easily customized with brand colors, tightly integrated or even redistributed — all at 80% less cost than Google Maps.
8) AND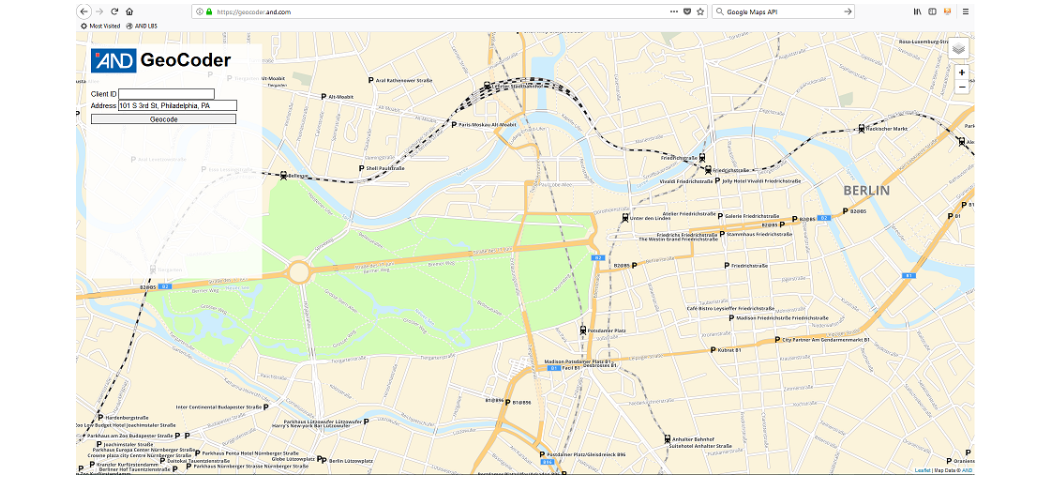 Headquartered in the Netherlands, AND comes with three decades of experience in providing APIs for location-based services. Their Map API is powered by the proprietary worldwide AND Maps and they offer the full spatial functionality based on data from OpenStreetMap. Standard features include Map Viewing, Geocoding and Reverse Geocoding.
Find out more here.
9) Sygic Maps

Sygic is an enterprise-grade map-agnostic platform that features Cloud-based maps from HERE, TomTom, OSM and others. Though their pricing is not available online, they assure us that it is quite affordable and extremely transparent, and has helped them garner 200 million users in the last 15 years. A trial API key is available on a simple request here.
10) Jawgmaps
Paris-based Jawg's API has a free tier which would give you 50,000 map views for non-commercial usage. The super-useful video above shows how you can switch from Google Maps to Jawgmaps in just 1 minute! And the good part is you would understand it even if you don't know French. To see their complete pricing structure, click here.
Of course, this is not an exhaustive list and there are plenty more Maps API alternatives out there. Foursquare has great geocoding features, while those who host their data on CartoDB can easily utilize Carto's API services. Esri's powerful ArcGIS platform can prove to be the best bet for some projects, and OSM's database is utilized by several other API providers.
In fact, if you want to switch to OpenStreetMap, this website has a full list of companies that offer consulting, tile-hosting or other services for sites wishing to switch to OSM. You can even see which company is based where, check out the basics of making the switch, see case studies, and basically find out all the information you need.
If you have a recommendation that you think could help others out, feel free to leave a comment below. Also, let us know your thoughts on this subject by voting on this tweet:
The #GoogleMapsPlatform change is dominating our timeline. Really curious to see what you #GeoGeeks think about it. Did Google "read the room" wrong? ICYMI https://t.co/2XSvkRiV9T

— Geoawesomeness (@geoawesomeness) May 4, 2018
For your geocoding needs: OpenCage
OpenCage focuses just on the geocoding piece. The offer an API for forward and reverse geocoding based on open data sources like OpenStreetMap. There is a free-trial tier and then different pricing plans depending on volume. One unique point is there is no "surge" pricing, so if you have a spike in usage or just need to geocode a bit more you do not get hit by a surprising bill.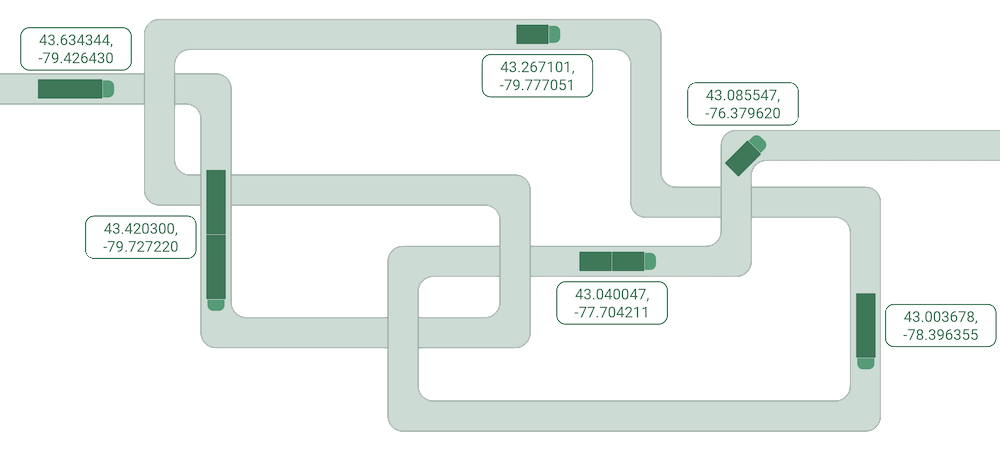 All the details are on the OpenCage site, where they have a detailed guide to switching from the Google Maps API.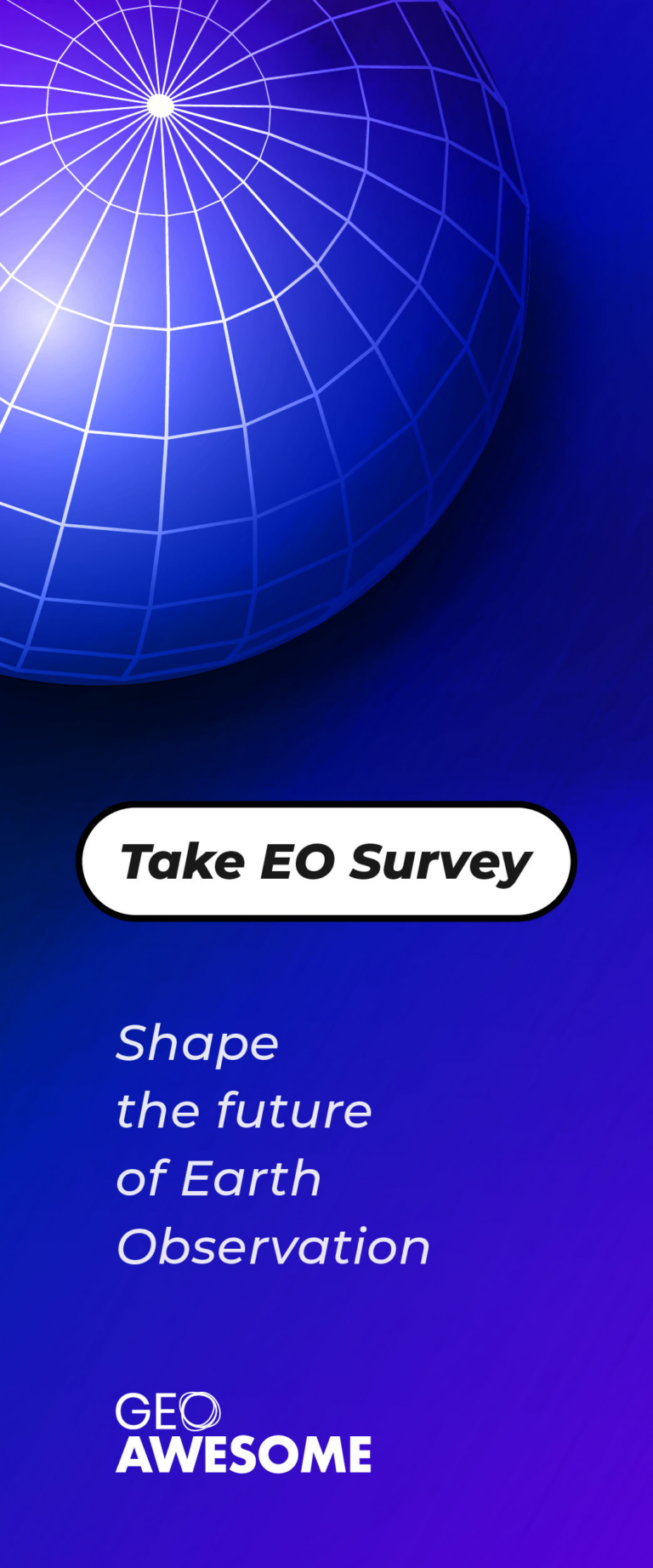 Read on